Renoprotective Effect of the Histone Deacetylase Inhibitor CG200745 in DOCA-Salt Hypertensive Rats
1
Department of Internal Medicine, Chonnam National University Medical School, Gwangju 61469, Korea
2
Department of Pharmacology, Chonnam National University Medical School, Hwasun 58128, Korea
3
Department of Pharmacology, School of Medicine, Kyungpook National University, Daegu 41944, Korea
4
CrystalGenomics, Inc., 5F, Bldg A, Korea Bio Park, Seongnam 13488, Korea
*
Authors to whom correspondence should be addressed.
Received: 19 October 2018 / Revised: 16 January 2019 / Accepted: 22 January 2019 / Published: 25 January 2019
Abstract
The novel histone deacetylase inhibitor CG200745 was initially developed to treat various hematological and solid cancers. We investigated the molecular mechanisms associated with the renoprotective effects of CG200745 using deoxycorticosterone acetate (DOCA)-salt hypertensive (DSH) rats. DOCA strips (200 mg/kg) were implanted into rats one week after unilateral nephrectomy. Two weeks after DOCA implantation, DSH rats were randomly divided into two groups that received either physiological saline or CG200745 (5 mg/kg/day) for another two weeks. The extent of glomerulosclerosis and tubulointerstitial fibrosis was determined by Masson's trichrome staining. The renal expression of fibrosis and inflammatory markers was detected by semiquantitative immunoblotting, a polymerase chain reaction, and immunohistochemistry. Pathological signs such as glomerulosclerosis, tubulointerstitial fibrosis, increased systolic blood pressure, decreased creatinine clearance, and increased albumin-to-creatinine ratios in DSH rats were alleviated by CG200745 treatment compared to those manifestations in positive control animals. Furthermore, this treatment counteracted the increased expression of αSMA, TGF-β1, and Bax, and the decreased expression of Bcl-2 in the kidneys of DSH rats. It also attenuated the increase in the number of apoptotic cells in DSH rats. Thus, CG200745 can effectively prevent the progression of renal injury in DSH rats by exerting anti-inflammatory, anti-fibrotic, and anti-apoptotic effects.
View Full-Text
►

▼

Figures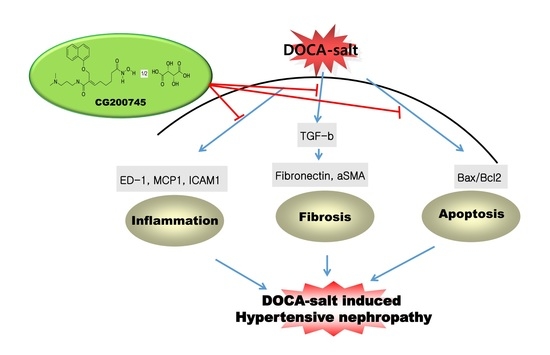 Graphical abstract
This is an open access article distributed under the
Creative Commons Attribution License
which permits unrestricted use, distribution, and reproduction in any medium, provided the original work is properly cited (CC BY 4.0).

Share & Cite This Article
MDPI and ACS Style
Bae, E.H.; Kim, I.J.; Song, J.H.; Choi, H.S.; Kim, C.S.; Eom, G.H.; Kim, I.; Cha, H.; Cho, J.M.; Ma, S.K.; Kim, S.W. Renoprotective Effect of the Histone Deacetylase Inhibitor CG200745 in DOCA-Salt Hypertensive Rats. Int. J. Mol. Sci. 2019, 20, 508.
Note that from the first issue of 2016, MDPI journals use article numbers instead of page numbers. See further details here.
Related Articles
Comments
[Return to top]