A Retrospective Analysis of the Cartilage Kunitz Protease Inhibitory Proteins Identifies These as Members of the Inter-α-Trypsin Inhibitor Superfamily with Potential Roles in the Protection of the Articulatory Surface
1
Raymond Purves Bone and Joint Research Laboratory, Kolling Institute, Northern Sydney Local Health District, St. Leonards, NSW 2065, Australia
2
Graduate School of Biomedical Engineering, University of New South Wales, Sydney, NSW 2052, Australia
3
Sydney Medical School, Northern, The University of Sydney, Royal North Shore Hospital, St. Leonards, NSW 2065, Australia
4
Faculty of Medicine and Health, University of Sydney, Royal North Shore Hospital, St. Leonards, NSW 2065, Australia
*
Author to whom correspondence should be addressed.
Received: 29 December 2018 / Revised: 17 January 2019 / Accepted: 21 January 2019 / Published: 24 January 2019
Abstract
Aim: The aim of this study was to assess if the ovine articular cartilage serine proteinase inhibitors (SPIs) were related to the Kunitz inter-α-trypsin inhibitor (ITI) family. Methods: Ovine articular cartilage was finely diced and extracted in 6 M urea and SPIs isolated by sequential anion exchange, HA affinity and Sephadex G100 gel permeation chromatography. Selected samples were also subjected to chymotrypsin and concanavalin-A affinity chromatography. Eluant fractions from these isolation steps were monitored for protein and trypsin inhibitory activity. Inhibitory fractions were assessed by affinity blotting using biotinylated trypsin to detect SPIs and by Western blotting using antibodies to α1-microglobulin, bikunin, TSG-6 and 2-B-6 (+) CS epitope generated by chondroitinase-ABC digestion. Results: 2-B-6 (+) positive 250, 220,120, 58 and 36 kDa SPIs were detected. The 58 kDa SPI contained α1-microglobulin, bikunin and chondroitin-4-sulfate stub epitope consistent with an identity of α1-microglobulin-bikunin (AMBP) precursor and was also isolated by concanavalin-A lectin affinity chromatography indicating it had
N
-glycosylation. Kunitz protease inhibitor (KPI) species of 36, 26, 12 and 6 kDa were autolytically generated by prolonged storage of the 120 and 58 kDa SPIs; chymotrypsin affinity chromatography generated the 6 kDa SPI. KPI domain 1 and 2 SPIs were separated by concanavalin lectin affinity chromatography, domain 1 displayed affinity for this lectin indicating it had
N
-glycosylation. KPI 1 and 2 displayed potent inhibitory activity against trypsin, chymotrypsin, kallikrein, leucocyte elastase and cathepsin G. Localisation of versican, lubricin and hyaluronan (HA) in the surface regions of articular cartilage represented probable binding sites for the ITI serine proteinase inhibitors (SPIs) which may preserve articulatory properties and joint function. Discussion/Conclusions: The Kunitz SPI proteins synthesised by articular chondrocytes are members of the ITI superfamily. By analogy with other tissues in which these proteins occur we deduce that the cartilage Kunitz SPIs may be multifunctional proteins. Binding of the cartilage Kunitz SPIs to HA may protect this polymer from depolymerisation by free radical damage and may also protect other components in the cartilage surface from proteolytic degradation preserving joint function.
View Full-Text
►

▼

Figures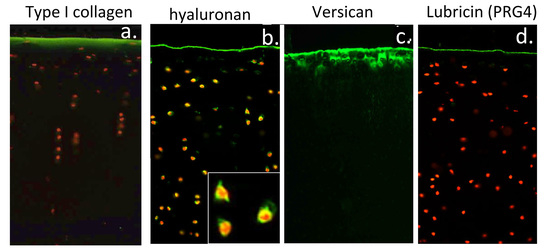 Graphical abstract
This is an open access article distributed under the
Creative Commons Attribution License
which permits unrestricted use, distribution, and reproduction in any medium, provided the original work is properly cited (CC BY 4.0).

Share & Cite This Article
MDPI and ACS Style
Smith, S.M.; Melrose, J. A Retrospective Analysis of the Cartilage Kunitz Protease Inhibitory Proteins Identifies These as Members of the Inter-α-Trypsin Inhibitor Superfamily with Potential Roles in the Protection of the Articulatory Surface. Int. J. Mol. Sci. 2019, 20, 497.
Note that from the first issue of 2016, MDPI journals use article numbers instead of page numbers. See further details here.
Related Articles
Comments
[Return to top]