Open Access This article is
freely available
re-usable
Review
Pseudoxanthoma Elasticum, Kidney Stones and Pyrophosphate: From a Rare Disease to Urolithiasis and Vascular Calcifications
1
UMR S 1155 and Physiology Unit, AP-HP, Hôpital Tenon, Sorbonne Université and INSERM, F-75020 Paris, France
2
PXE Consultation Center, MAGEC Reference Center for Rare Skin Diseases, Angers University Hospital, MITOVASC Institute, UMR CNRS 6015 INSERM U1083 Angers University, 49000 Angers, France
*
Author to whom correspondence should be addressed.
Received: 19 November 2019 / Accepted: 11 December 2019 / Published: 17 December 2019
Abstract
:
Pseudoxanthoma elasticum is a rare disease mainly due to
ABCC6
gene mutations and characterized by ectopic biomineralization and fragmentation of elastic fibers resulting in skin, cardiovascular and retinal calcifications. It has been recently described that pyrophosphate (a calcification inhibitor) deficiency could be the main cause of ectopic calcifications in this disease and in other genetic disorders associated to mutations of
ENPP1
or
CD73
. Patients affected by Pseudoxanthoma Elasticum seem also prone to develop kidney stones originating from papillary calcifications named Randall's plaque, and to a lesser extent may be affected by nephrocalcinosis. In this narrative review, we summarize some recent discoveries relative to the pathophysiology of this mendelian disease responsible for both cardiovascular and renal papillary calcifications, and we discuss the potential implications of pyrophosphate deficiency as a promoter of vascular calcifications in kidney stone formers and in patients affected by chronic kidney disease.
Keywords:
pseudoxanthoma elasticum; pyrophosphate; kidney; Randall's plaque
1. Introduction: Pseudoxanthoma Elasticum and Related Diseases
1.1. Clinical Manifestations
In addition to phenotypic resemblances, these three diseases share a common pathophysiological link: pyrophosphate (PPi) deficiency.
1.2. Pathophysiology of PXE, GACI and ACDC: Pyrophosphate Deficiency
2. Pseudoxanthoma Elasticum and Kidney Calcifications
2.1. Nephrocalcinosis and Kidney Stones: Preliminary Reports
A few preliminary and sparse reports have suggested that PXE patients may be affected by kidney stones [
36
]. In addition to kidney stones, the presence of typical nephrocalcinosis has been reported in a few patients affected by PXE [
37
,
38
,
39
]. When exposed to a procalcifying diet (high phosphate, vitamin D and low magnesium),
Abcc6
−/−
and
Enpp1−/−
mice develop rapidly a nephrocalcinosis consisting in multiple calcium phosphate tubular plugs [
40
].
2.2. High Prevalence of Kidney Stones in PXE Patients
In a recent PXE cohort study that was not specifically designed to record kidney stone prevalence, observations suggested that nephrolithiasis was an unrecognized but a prevalent feature of PXE, affecting at least 10% of patients [
11
]. To better characterize the prevalence of kidney stones among patients with PXE, we conducted a retrospective study in 170 patients participating in the Angers PXE cohort [
41
]. Among the 164 patients who received the survey, 113 fulfilled the questionaire (33 men and 80 women). Among these patients, 45 (39.8%) declared they had a past medical history of kidney stones (asymptomatic stones in four patients or renal colic in 41 patients). Although this type of study may be biased, as patients affected by kidney stones may be more prone to fulfill the survey, the prevalence of kidney stones and renal colic in PXE patients appears to be extremely high. As a matter of comparison, the lifetime expected incidence of kidney stones is nearing 10% in the general population. Usually, urolithiasis is more frequent in males than females but in PXE patients approximately two thirds of the patients are women. This is consistent with the higher prevalence of PXE in women.
The analysis of six computed tomography (CT)-scans from PXE patients revealed the presence of papillary calcifications, Randall's plaques, the first step of kidney stone formation in five of them [
41
]. This is remarkable as only the presence of massive plaques can be determined by imaging. These calcifications affected rather the tip of the renal papilla than the renal medulla. One patient had both papillary calcifications and medullary calcifications, i.e., nephrocalcinosis. CT scans had been performed in patients with a past medical history of kidney stones, but one may hypothesize that patients with PXE and without a past medical history of urolithiasis may also be affected by asymptomatic papillary calcifications. We examined a limited number of CT-scans so that we cannot estimate the prevalence of papillary calcifications/Randall's plaque and nephrocalcinosis in PXE patients. A few stones from PXE patients have been analyzed and presented Randall's plaque fragments made of carbonated apatite, suggesting that stone formation in these individuals was initiated by these plaques. No specific study dedicated to the biological risk factors of kidney stone formation in PXE has been performed to date. In the same way, chronic kidney disease (CKD) is not a classic feature of PXE and we still ignore whether some PXE patients affected by kidney stones and papillary calcifications may be at risk to develop CKD.
2.3. Abcc6−/− Mice: A Murine Model of Randall's Plaque
Abcc6−/−
mice recapitulate many of the phenotypical characteristics of the human PXE disease [
42
]. Mice are affected by ectopic calcifications involving aorta, heart, retina and vibrissae and their PPi serum level is lower than in control mice. As renal cortical and medullary calcifications had been described in these animals, especially after an "acceleration diet", we hypothesized that papillary calcification could develop in this model [
40
]. Aging
Abcc6−/−
mice actually developed kidney calcifications electively at the tip of the papilla, mainly in the interstitial tissue, round shaped and surrounding the loops of Henle and the vasa recta: they differed from the tubular plugs observed after an acceleration diet. These calcifications were made of carbonated apatite spheres as evidenced by scanning electron microscopy and Fourier transform infrared microspectroscopy [
41
]. At the nanometer scale, by using transmission electron microscopy coupled to electron energy loss spectroscopy, we evidenced that incipient calcifications were made of concentric layers containing calcium and phosphate alternating with organic compounds, as described in incipient human calcifications forming the Randall's plaque. Remarkably, the renal calcification observed in aging
Abcc6−/−
mice met the four essential criteria of Randall's plaque: (i) interstitial deposits surrounding tubules and vasa recta, (ii) electively located at the tip of the renal papilla, (iii) made of carbonated apatite, and (iv) forming nanometer-scale elementary structures made of minerals and organic compounds.
Abcc6−/−
mice had also a lower urinary excretion of PPi than control mice, and as previously described lower serum levels of PPi [
41
].
Abcc6−/−
mice expressing a functional human ABCC6 protein in the liver had an increase in serum PPi circulating levels and were protected against kidney calcifications at 18 months of age [
33
]. It seems therefore very likely that the systemic PPi deficiency in these mice was at the origin of calcium phosphate supersaturation at the tip of the papilla, leading to papillary calcification.
3. The Mystery of Randall's Plaque Formation: A Role for Calcification Inhibitors and Pyrophosphate?
4. Pyrophosphate Deficiency, the Common Link between Vascular Calcifications, Kidney Stones and Chronic Kidney Disease?
Epidemiological studies have highlighted an association between nephrolithiasis and systemic conditions including cardiovascular diseases but the underlying mechanisms remain unidentified [
69
]. Vascular calcifications are highly associated with cardiovascular mortality. Kidney stone formers, even young patients, have an increased carotid intima-media wall thickness and an increased arterial stiffness in comparison with matched populations [
70
,
71
]. Kidney stone formers have a higher degree of aortic calcification than age- and sex-matched non-stone formers and more severe coronary artery calcification, suggesting that vascular calcifications and kidney stones may have a common underlying mechanism [
72
].
The potential implication of PPi in vascular calcification is not a novel hypothesis, as Schibler et al. have reported in 1968 that PPi and polyphosphate can inhibit the induction of aortic calcifications by vitamin D, but the recent evidence that PXE patients are affected by both cardiovascular calcifications and kidney stones and Randall's plaque suggests that PPi deficiency could be involved in the development of vascular calcifications in kidney stone formers [
41
,
73
]. Here again, further studies based upon a reliable assay of serum PPi levels would be necessary to assess whether PPi deficiency is the missing link between kidney stone/Randall's plaque and vascular calcifications.
Moreover, a relative deficiency in PPi could be involved in the vascular calcifications observed in patients affected by CKD, responsible for an increased cardiovascular morbidity and mortality [
74
]. TNAP activity is increased in uremic rats, reducing PPi/inorganic phosphate ratio and ABCC6 expression is reduced in uremic mice and rats [
75
,
76
]. Exogenous PPi could in theory be of help to protect against vascular calcifications in CKD.
5. Conclusions
An increased prevalence of kidney stones has been reported recently in patients affected by PXE, a disease characterized by low circulating PPi levels and vascular calcifications. These patients are affected by massive Randall's plaques and in some cases by nephrocalcinosis. In clinical practice, patients affected by PXE should be aware that they are at high risk to form kidney stones, and preventive measures should be considered, as for any kidney stone former (increased diuresis, decreased urine calcium excretion, etc.). These observations from a rare monogenic disease evidence that PPi probably prevents the development of Randall's plaque and, in the long term, the formation of kidney stones, a disease with a lifetime incidence nearing 10% of the population. Further studies are required to assess whether PPi deficiency is involved in Randall's plaque and kidney stone formation in the general population, but also whether administration of PPi could be protective in that setting. Abcc6−/− mice can also be used as a model of Randall's plaque to test new drugs or identify potential determinants of plaque formation or worsening. In addition, PPi could be a missing link between kidney stones and the high prevalence of cardiovascular calcifications observed in kidney stone formers, a deficiency in PPi and potentially in other calcification inhibitors could promote both papillary and vascular mineralization.
Funding
This research received no external funding.
Acknowledgments
The authors thank Georges Leftheriotis (Nice, France) and Olivier Le Saux (Hawai'i, USA), all the colleagues that participated in the studies dedicated to the role of Abcc6 in kidney stone formation, the COST action CA16115 EuroSoftCalcNet and Patients associations.
Conflicts of Interest
The authors declare no conflict of interest. The funders had no role in the design of the study; in the collection, analyses, or interpretation of data; in the writing of the manuscript, or in the decision to publish the results.
Abbreviations
| | |
| --- | --- |
| PXE | Pseudoxanthoma elasticum |
| VEGF | Vascular Endothelial Growth Factor |
| GACI | Generalized arterial calcification of infancy |
| (E)NPP1 | ectonucleotide pyrophosphatase phosphodiesterase |
| ACDC | Arterial calcification due to deficiency of CD73 |
| PPi | Pyrophosphate |
| CT | Computed Tomography |
| CKD | Chronic kidney disease |
| TNAP | Tissue nonspecific alkaline phosphatase |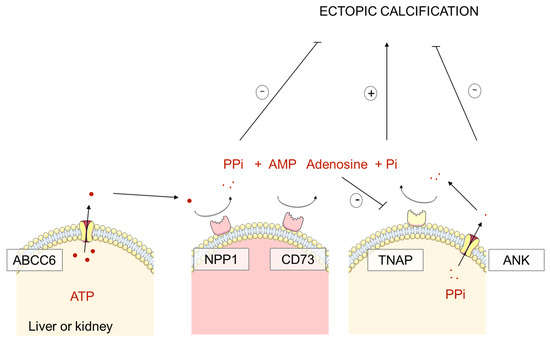 Figure 1. Systemic Pyrophosphate (PPi) synthesis. ABCC6 (expressed in hepatocytes and proximal tubular cells) and NPP1 (in arteries and capillaries) combined activity generates AMP in addition to PPi. AMP is rapidly converted into adenosine by CD73, which exerts a tonic inhibition on tissue non-specific alkaline enzyme (TNAP). TNAP degrades PPi to generate inorganic phosphate and promotes hydroxyapatite precipitation in ectopic tissues. ANK allows PPi externalization from cells, its role in ectopic calcifications is unclear.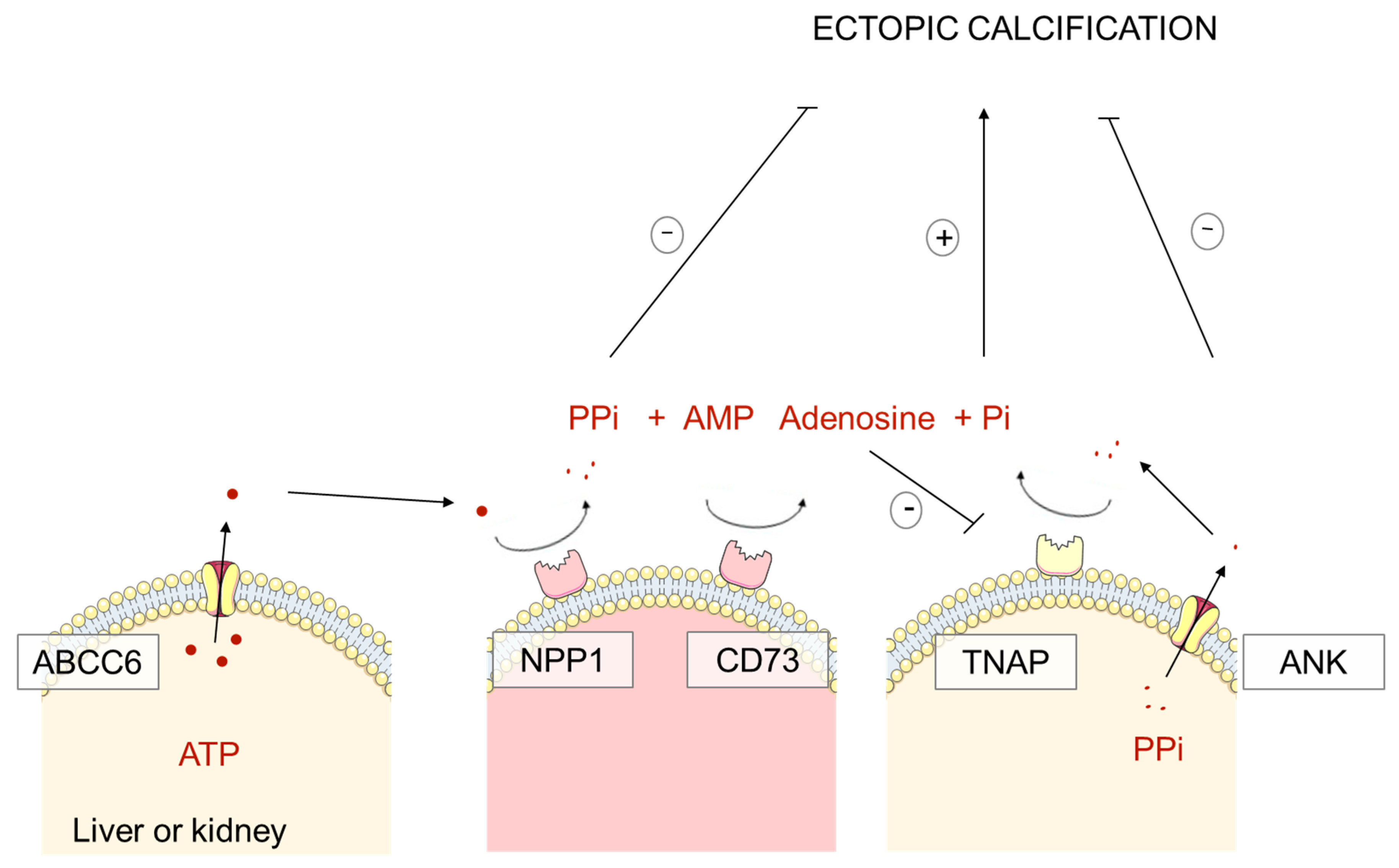 © 2019 by the authors. Licensee MDPI, Basel, Switzerland. This article is an open access article distributed under the terms and conditions of the Creative Commons Attribution (CC BY) license (http://creativecommons.org/licenses/by/4.0/).