Open Access This article is
freely available
re-usable
Article
Azathioprine Has a Deleterious Effect on the Bone Health of Mice with DSS-Induced Inflammatory Bowel Disease
1
School of Applied Sciences, Edinburgh Napier University, Edinburgh EH11 4BN, UK
2
Babraham Institute, Cambridge CB22 3AT, UK
3
The Royal (Dick) School of Veterinary Studies and The Roslin Institute, The University of Edinburgh, Edinburgh EH25 9RG, UK
*
Author to whom correspondence should be addressed.
Received: 3 November 2019 / Accepted: 28 November 2019 / Published: 3 December 2019
Abstract
:
Patients with inflammatory bowel disease (IBD) often present poor bone health and are 40% more at risk of bone fracture. Studies have implicated autophagy in IBD pathology and drugs used to treat IBD stimulate autophagy in varying degrees, however, their effect on the skeleton is currently unknown. Here, we have utilised the dextran sulphate sodium (DSS) model of colitis in mice to examine the effects of the thiopurine drug azathioprine on the skeleton. Ten-week-old male mice (
n
= 6/group) received 3.0% DSS in their drinking water for four days, followed by a 14-day recovery period. Mice were treated with 10 mg/kg/day azathioprine or vehicle control. Histopathological analysis of the colon from DSS mice revealed significant increases in scores for inflammation severity, extent, and crypt damage (
p
< 0.05). Azathioprine provided partial protection to the colon, as reflected by a lack of significant difference in crypt damage and tissue regeneration with DSS treatment. MicroCT of vehicle-treated DSS mice revealed azathioprine treatment had a significant detrimental effect on the trabecular bone microarchitecture, independent of DSS treatment. Specifically, significant decreases were observed in bone volume/tissue volume (
p
< 0.01), and trabecular number (
p
< 0.05), with a concurrent significant increase in trabecular pattern factor (
p
< 0.01). Immunohistochemical labelling for LC3 revealed azathioprine to induce autophagy in the bone marrow. Together these data suggest that azathioprine treatment may have a deleterious effect on IBD patients who may already be at increased risk of osteoporotic bone fractures and thus will inform on future treatment strategies for patient stratification.
Keywords:
bone; inflammatory bowel disease; autophagy; colitis; osteoporosis; azathioprine
Author Contributions
Conceptualization, K.A.S., C.S.; formal analysis, S.M., K.M.H., E.M.M., K.A.S., C.S.; data curation, S.M., K.M.H., E.M.M.; methodology, K.A.S., C.S., C.F.; writing—original draft preparation, S.M., K.A.S., C.S.; writing—review and editing, S.M., K.M.H., E.M.M., C.F., C.S., K.A.S.; supervision, K.A.S., C.S.; project administration, K.A.S.; funding acquisition, K.A.S., C.S.
Funding
This research was funded by an Edinburgh Napier University School of Applied Sciences Research Excellence Grant (to K.A.S. and C.S.), and an Edinburgh Napier University Vice Chancellor's Fellowship (to K.A.S.). We are also grateful to the Biotechnology and Biological Sciences Research Council (BBSRC) for Institute Strategic Programme Grant Funding to C.F. (BB/J004316/1).
Acknowledgments
We are extremely thankful to the BRF staff at the Roslin Institute, especially Izabela Sabok. Images for the graphical abstract were from Servier Medical Art.
Conflicts of Interest
The authors declare no conflicts of interest.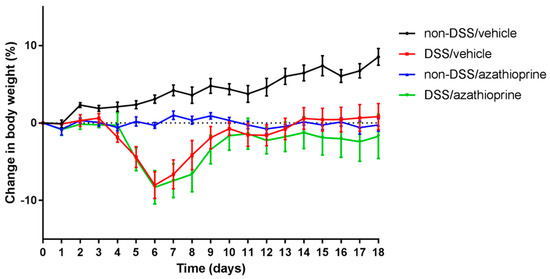 Figure 1.
Body weight changes of azathioprine and vehicle treated mice treated with dextran sulphate sodium (DSS) followed by a recovery period. Percentage change in body weight of azathioprine and vehicle mice treated with or without 3% DSS for 4 days. Data are presented as mean ± S.E.M (
n
= 6/group).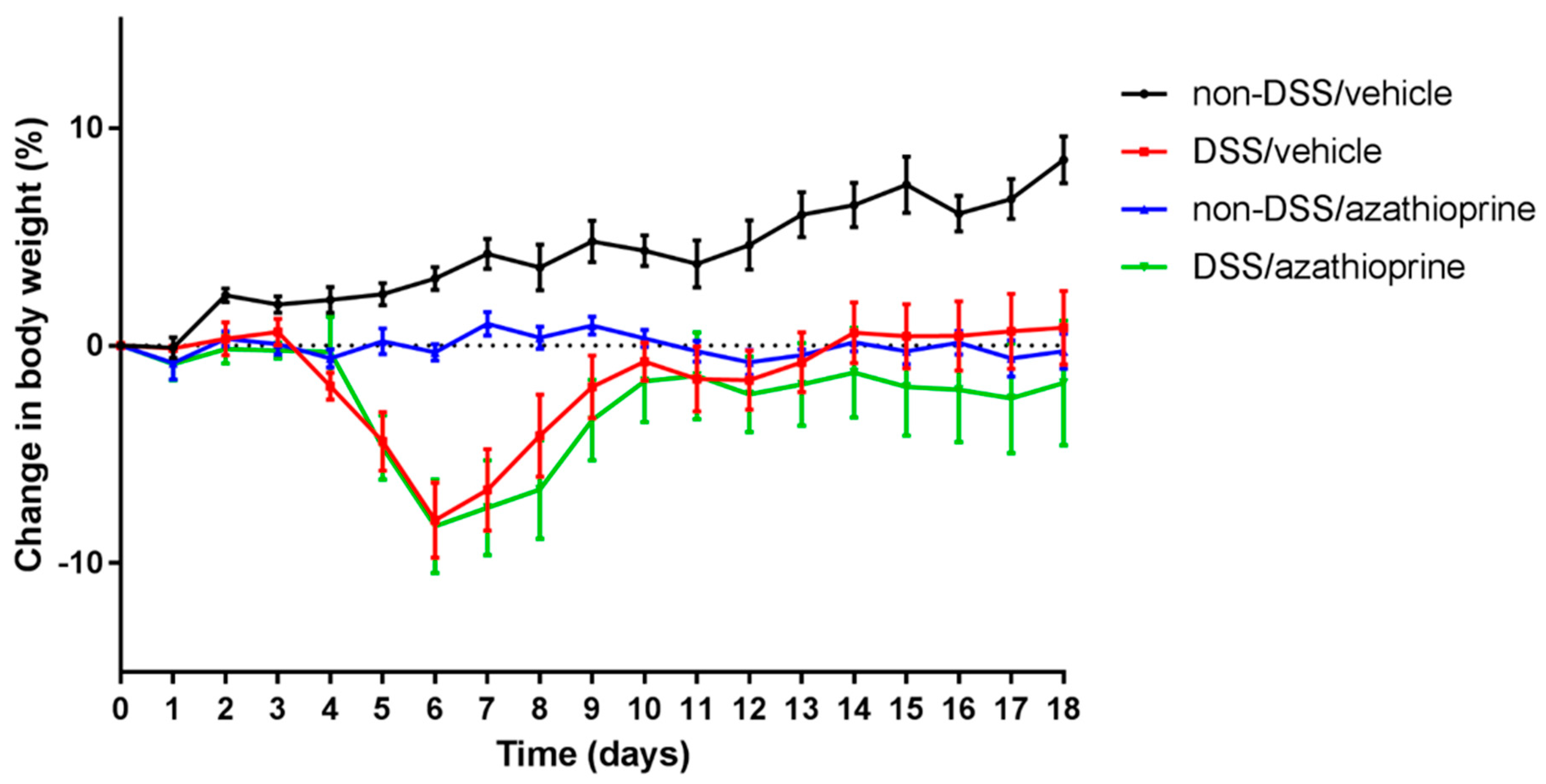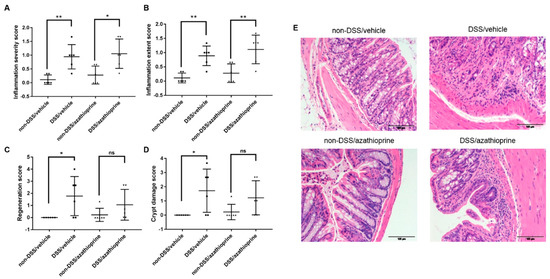 Figure 2.
Colon pathology of azathioprine and vehicle treated mice treated with 3% DSS. Histological scoring of colons, (
A
) Inflammation severity score; (
B
) inflammation extent score; (
C
) regeneration score; (
D
) crypt damage score; (
E
) representative Hematoxylin & Eosin -stained sections of colon. Data are presented as mean ± S.D. (
n
= 6/group). *
p
< 0.05, **
p
< 0.01. Scale bar = 100 µm.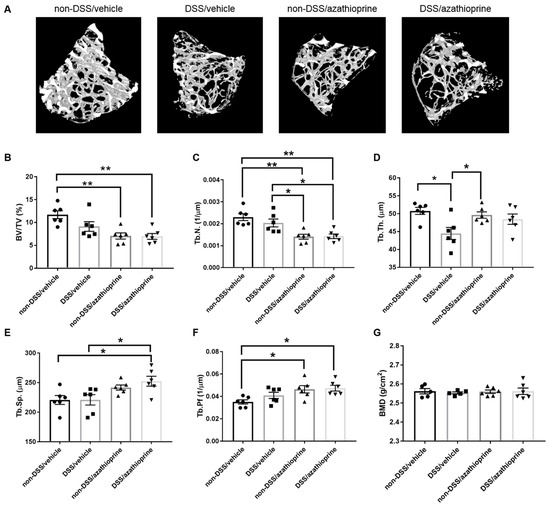 Figure 3.
Trabecular bone microarchitecture of azathioprine and vehicle treated mice treated with 3% DSS. (
A
) Representative 3D microCT reconstructions. Trabecular bone parameters between treated and control groups, (
B
) bone volume/tissue volume (BV/TV), (
C
) trabecular number (Tb. N.), (
D
) trabecular thickness (Tb. Th.), (
E
) trabecular separation (Tb. Sp.), (
F
) trabecular pattern factor (Tb. Pf.), (
G
) trabecular bone mineral density (BMD). Data are presented as mean ± S.D. (
n
= 6/group). *
p
< 0.05. **
p
< 0.01.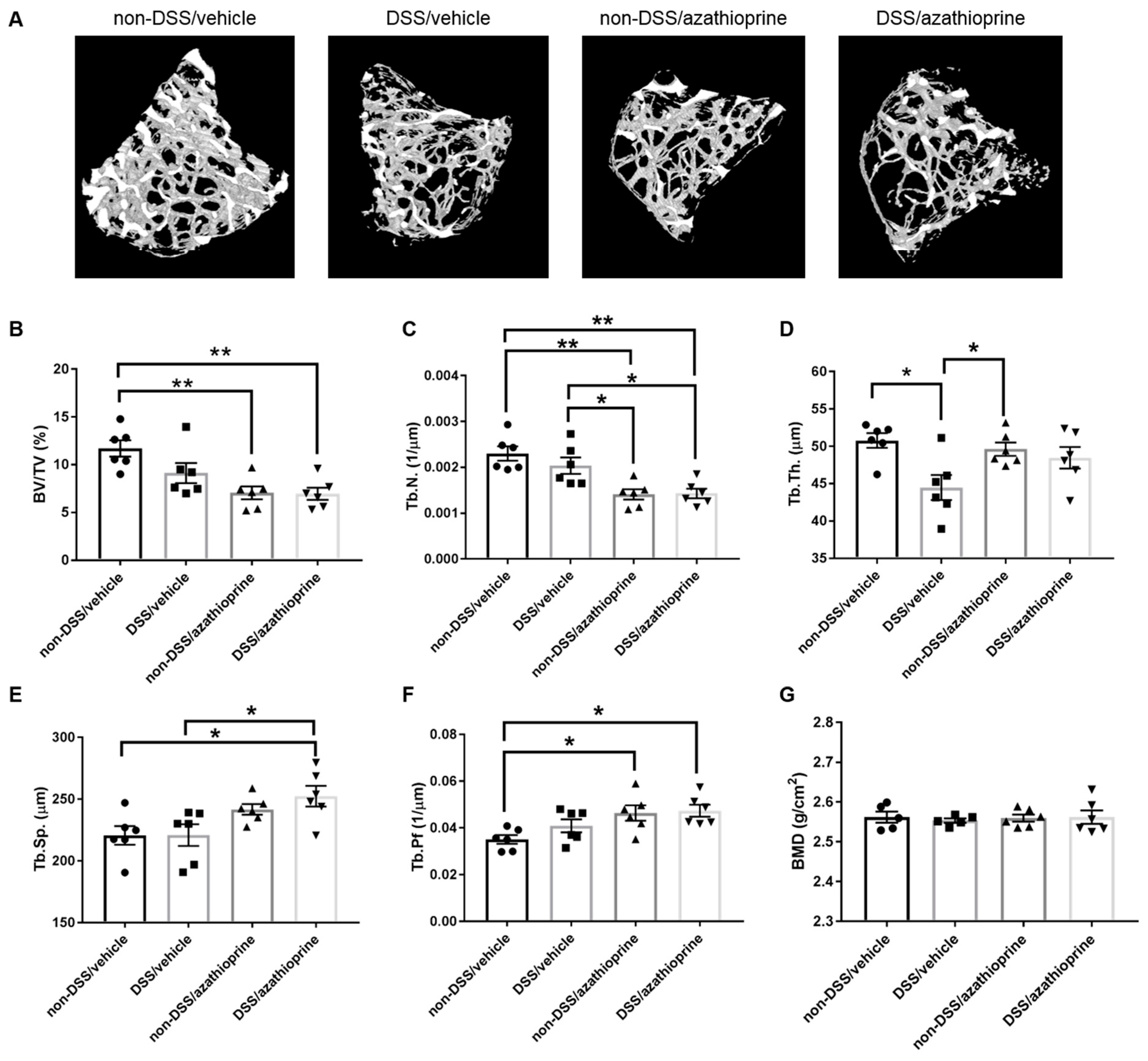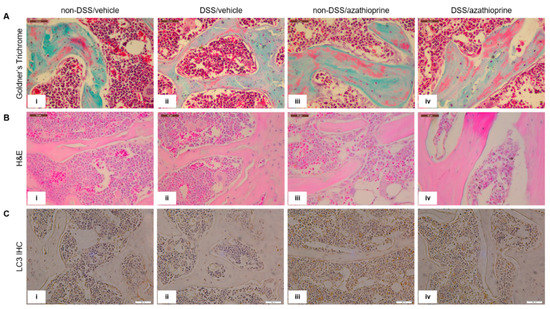 Figure 4. Histological staining and immmunohistochemical labelling of tibia trabecular bone in sections of the tibia. (A) Goldner's Trichrome, (B) H&E, (C) LC3 immunolabelling. LC3-positive immunolabelling is presented as brown staining. (i) non-DSS/vehicle; (ii) DSS/vehicle; (iii) non-DSS/azathioprine; (iv) DSS/azathioprine. Scale bar = 50 µm. Images are representative of 4 different mice/group.

© 2019 by the authors. Licensee MDPI, Basel, Switzerland. This article is an open access article distributed under the terms and conditions of the Creative Commons Attribution (CC BY) license (http://creativecommons.org/licenses/by/4.0/).