In Human and Mouse Spino-Cerebellar Tissue, Ataxin-2 Expansion Affects Ceramide-Sphingomyelin Metabolism
1
Experimental Neurology, Building 89, Goethe University Medical Faculty, Theodor Stern Kai 7, 60590 Frankfurt am Main, Germany
2
Faculty of Biosciences, Goethe-University, 60438 Frankfurt am Main, Germany
3
Max Planck Institute for Molecular Genetics, Ihnestrasse 63-73, 14195 Berlin, Germany
4
Membrane Biology and Lipid Biochemistry Unit, Life and Medical Sciences Institute, University of Bonn, 53121 Bonn, Germany
5
Cerrahpasa School of Medicine, Istanbul University, 34098 Istanbul, Turkey
*
Authors to whom correspondence should be addressed.
Received: 4 November 2019 / Revised: 19 November 2019 / Accepted: 20 November 2019 / Published: 21 November 2019
Ataxin-2 (human gene symbol
ATXN2
) acts during stress responses, modulating mRNA translation and nutrient metabolism. Ataxin-2 knockout mice exhibit progressive obesity, dyslipidemia, and insulin resistance. Conversely, the progressive ATXN2 gain of function due to the fact of polyglutamine (polyQ) expansions leads to a dominantly inherited neurodegenerative process named spinocerebellar ataxia type 2 (SCA2) with early adipose tissue loss and late muscle atrophy. We tried to understand lipid dysregulation in a SCA2 patient brain and in an authentic mouse model. Thin layer chromatography of a patient cerebellum was compared to the lipid metabolome of
Atxn2
-CAG100-Knockin (KIN) mouse spinocerebellar tissue. The human pathology caused deficits of sulfatide, galactosylceramide, cholesterol, C22/24-sphingomyelin, and gangliosides GM1a/GD1b despite quite normal levels of C18-sphingomyelin. Cerebellum and spinal cord from the KIN mouse showed a consistent decrease of various ceramides with a significant elevation of sphingosine in the more severely affected spinal cord. Deficiency of C24/26-sphingomyelins contrasted with excess C18/20-sphingomyelin. Spinocerebellar expression profiling revealed consistent reductions of CERS protein isoforms,
Sptlc2
and
Smpd3
, but upregulation of
Cers2
mRNA, as prominent anomalies in the ceramide–sphingosine metabolism. Reduction of
Asah2
mRNA correlated to deficient S1P levels. In addition, downregulations for the elongase
Elovl1
,
Elovl4
,
Elovl5
mRNAs and ELOVL4 protein explain the deficit of very long-chain sphingomyelin. Reduced ASMase protein levels correlated to the accumulation of long-chain sphingomyelin. Overall, a deficit of myelin lipids was prominent in SCA2 nervous tissue at prefinal stage and not compensated by transcriptional adaptation of several metabolic enzymes. Myelination is controlled by mTORC1 signals; thus, our human and murine observations are in agreement with the known role of ATXN2 yeast, nematode, and mouse orthologs as mTORC1 inhibitors and autophagy promoters.
3. Discussion
As a clinical anecdote, we observed a SCA2 patient with long polyQ expansion to have an unusually long survival with the habit of eating a quarter or a half pound of butter per day. It is conceivable that this diet rescued some of the deficits in cholesterol and very long-chain fatty acids, firstly via an increased supply of precursor metabolites and secondly via enhanced expression of mTORC1-dependent enzymes. Thus, our novel knowledge about metabolic deficiencies in SCA2 may pave the way to identify specific nutrient supplements that alleviate disease progression.
4. Materials and Methods
4.1. Lipid Extraction from Human Post-Mortem Tissue and Thin Layer Chromatography
For the quantification of diverse lipids, cerebellar tissue from one German SCA2 patient in technical duplicates (female, age at onset 6 years, age at death 26 years,
ATXN2
CAG expansion size 52, clinical description and neuropathology already reported [
78
]) and two sex/age-matched control individuals (BrainNet-Europe in Munich, a female who died at age 21 due to the presence of primary pulmonary fibrosis and a female who died at age 23 due to the presence of colitis ulcerosa). The analysis of human brain autopsies was reviewed by the ethics committee of the Goethe University Medical Faculty with approval code 258/18 (27 November 2018). Samples of 500 mg wet weight were dissected and processed by a previously published protocol [
50
]. In brief, sample homogenization was done after addition of chloroform, methanol, and water. The lipid extraction occurred over 24 h at 37 °C. After separation of insoluble tissue rests by filtration, the samples were divided and processed separately as described subsequently. Given that phospholipids would migrate together with gangliosides during thin layer chromatography (TLC), they were exposed to mild alkaline hydrolysis and the saponified extracts were desalted by reversed phase 18 chromatography. The other half of the samples remained untreated for the analysis of free fatty acids, since fatty acids that are released from phospholipids during alkaline hydrolysis would distort the content of endogenous fatty acids. All samples were then processed by anion exchange chromatography with diethyl-aminoethyl (DEAE)-sepharose to separate anionic (free fatty acids, sulfatide, gangliosides) versus neutral lipids (cholesterol, galactosylceramide, sphingomyelin, phosphatidylethanolamine, phosphatidylcholine). After another desalting of samples, the lipids were separated by TLC in different solvent systems. After staining of TLC plates in a phosphoric acid/cupric sulfate reagent, the quantification of lipids was performed by densitometry of the visualized bands.
4.2. Animals and Genotyping
All animals were housed at the Central Animal Facility (ZFE) of the Goethe University Medical School in Frankfurt am Main, Germany, placed in individually ventilated cages at a 12 h light/12 h dark cycle, monitored for health routinely with sentinels, and fed ad libitum. Upon manifestation of movement deficits, mutant animals were separated from competing WT controls and provided with a gel diet on the cage floor. All procedures were performed in accordance with the German Animal Welfare Act, the Council Directive of 24 November 1986 (86/609/EWG) with Annex II and the ETS123 (European Convention for the Protection of Vertebrate Animals). The animal experiments were revised by the Regierungspräsidium Darmstadt with approval code V54-19c20/15-FK/1083). Housing and genotyping of both
Atxn2
-CAG100-Knockin (KIN) and
Atxn2
-Knockout (KO) mice were done as previously reported [
50
,
51
].
4.3. Targeted Metabolome Analysis with Mass Spectrometry
Approximately 25–40 mg frozen tissue of six
Atxn2
-CAG100-KIN cerebella and six healthy WT cerebella from male mice at ages between 13 and 15 months were used for metabolite profiling. Metabolite extraction and tandem LC-MS measurements were done as previously reported by us [
184
]. In brief, methyl-tert-butyl ester (MTBE), methanol, ammonium acetate, and water were used for metabolite extraction. The subsequent separation was performed on an LC instrument (1290 series UHPLC; Agilent, Santa Clara, CA, USA) online coupled to a triple quadrupole hybrid ion trap mass spectrometer, QTrap 6500 (Sciex, Foster City, CA, USA), as reported previously [
185
]. Normalization was done according to used amounts of tissues and subsequently by internal standards, namely, by sphingomyelin (d18:1/12:0) and C12 ceramide (d18:1/12:0) for the lipids (Avanti Polar Lipids, Alabaster, AL, USA), while isotope labeled amino acids were used for other metabolites according to Reference [
185
]. Analyses were not focused on cholesterol biosynthesis and the steroidogenic pathway metabolites for technical reasons, and these quantifications will be the subject of a separate manuscript. The mass spectrometry data were deposited to the PeptideAtlas repository. At
https://db.systemsbiology.net/sbeams/cgi/PeptideAtlas/PASS_View?identifier=PASS01475
, all original LC-MS generated QTrap wiff-files as well as MuliQuant-processed peak integration q.session files can be downloaded.
The metabolite identification was based on three levels: (i) the correct retention time, (ii) up to three MRMs, (iii) and a matching MRM ion ratio of tuned pure metabolites as a reference [
185
]. Relative quantification was performed using MultiQuant software v.2.1.1 (Sciex, Foster City, CA, USA). The integration settings were a peak splitting factor of two and a Gaussian smoothing of two. All peaks were reviewed manually. Only the average peak area of the first transition was used for calculations. Normalization was conducted according to thte used amounts of tissues and subsequently by internal standards.
4.4. Mouse RNA Isolation and Expression Analyses
Following cervical dislocation, whole brain was isolated and cerebellum and spinal cord samples were isolated into separate tubes and immediately frozen in liquid nitrogen. The number of mice analyzed for each tissue is as follows: cerebellum 5 WT versus 3 KIN, 4 WT versus 4 KO; spinal cord 5 WT versus 5 KIN, 4 WT versus 4 KO. The RNA extraction from all sample types was performed with TRIzol Reagent (Sigma–Aldrich, St. Louis, MO, USA) according to the user's manual. One miligram of total RNA was used as a template for cDNA synthesis utilizing SuperScript IV VILO kit (Thermo Scientific, Schwerte, Germany) according to the manufacturer's instructions. Gene expression levels were determined via quantitative real-time PCR using StepOnePlus Real-Time PCR System (Applied Biosystems, Thermo Scientific, Schwerte, Germany). The cDNA from 25 ng total RNA was used for each PCR reaction with 1 µL TaqMan
®
Assay, 10 µL FastStart Universal Probe Master 2× (Rox) Mix (Roche, Basel, Switzerland), and ddH
2
O up to 20 µL of total volume. The TaqMan
®
Assays utilized for this study were:
Acer2
(Mm00519876_m1),
Acer3
(Mm00502940_m1),
Asah1
(Mm00480021_m1),
Asah2
(Mm00479659_m1),
Cers1
(Mm03024093_mH),
Cers2
(Mm00504086_m1),
Elovl1
(Mm01188316_g1),
Elovl2
(Mm00517086_m1),
Elovl3
(Mm00468164_m1),
Elovl4
(Mm00521704_m1),
Elovl5
(Mm00506717_m1),
Elovl6
(Mm00851223_s1),
Elovl7
(Mm00512434_m1),
Naaa
(Mm01341699_m1),
Sgms1
(Mm00522643_m1),
Sgms2
(Mm00512327_m1),
Smpd1
(Mm00488318_m1),
Smpd2
(Mm00486247_m1),
Smpd3
(Mm00491359_m1),
Smpd4
(Mm00547173_m1),
Smpd5
(Mm01205829_g1),
Sptlc1
(Mm00447343_m1),
Sptlc2
(Mm00448871_m1),
Sptlc3
(Mm01278138_m1), and
Tbp
(Mm00446973_m1). The PCR conditions were 50 °C for 2 min and 95 °C for 10 min, followed by 40 cycles of 95 °C for 15 s and 60 °C for 1 min. Gene expression data were analyzed using a 2−ΔΔCt method [
186
] with
Tbp
as the housekeeping gene.
4.5. Protein Extraction and Quantitative Immunoblots
Frozen cerebellar tissue from 5 WT versus 5 KIN animals were homogenized in 5–10×
w
/
v
amount of RIPA buffer (50 mM Tris-HCl (pH 8.0), 150 mM NaCl, 2 mM EDTA, 1% Igepal CA-630 (Sigma–Aldrich, St. Louis, MO, USA), 0.5% sodium deoxycholate, 0.1% SDS and Complete Protease Inhibitor Cocktail (Roche, Basel, Switzerland)) with a motor pestle. Twenty miligrams of total protein was mixed with 2× loading buffer (250 mM Tris-HCl pH 7.4, 20% glycerol, 4% SDS, 10% 2-mercaptoethanol, 0.005% bromophenol blue) and incubated at 90 °C for 2 min. Loading samples were separated on polyacrylamide gels and were transferred to Nitrocellulose membranes (Protran, GE Healthcare, Chicago, IL, USA). The membranes were blocked in 5% BSA/TBS-T and incubated overnight at 4 °C with primary antibodies. Primary antibodies utilized in this study were: ACTB (Sigma–Aldrich, St. Louis, MO, USA, #A5441, 1:10,000), aSMase (ASM) (Santa Cruz Biotechnology, Dallas, TX, USA, sc-9817), CERS1 (MyBioSource, San Diego, CA, USA, MBS2523738), CERS2 (Bethyl Laboratories, Montgomery, TX, USA, A303-193A), ELOVL4 (Proteintech, Rosemont, IL, USA, 55023-1-AP), nSMase1 (Abcam, Cambridge, UK, ab131330), and nSMase2 (Abcam, Cambridge, UK, ab199399). Fluorescent-labeled secondary goat anti-mouse (IRDye 800CW, Licor Biosciences, Lincoln, NE, USA) and goat anti-rabbit (IRDye 680RD, Licor Biosciences, Lincoln, NE, USA) antibodies were incubated for 1 h at room temperature. Membranes were visualized using Li-Cor Odyssey Classic instrument, and image analysis was performed using ImageStudio software (LI-COR, Lincoln, NE, USA).
4.6. Statistical Analyses
All statistical tests for expression analyses were performed using unpaired Student's
t
-tests with Welch's correction on GraphPad Prism software version 7 after establishing that each population was normally distributed (one-sided Kolmogorov–Smirnov test). Graphs display mean values with standard error of the mean (SEM). Values
p
< 0.05 were considered significant and marked with asterisks:
p
< 0.05 *,
p
< 0.01 **,
p
< 0.001 ***,
p
< 0.0001 ****.
5. Conclusions
Overall, the traditional concept of SCA2, as a primary neurodegenerative disorder with axonal atrophy followed by a secondary demyelination, may have to be revised in favor of a multi-system nervous atrophy that affects large neurons in the cerebellum and spinal cord preferentially but extends its pathology to all neurons, oligodendrocytes, and other glia cells eventually due to the broad disturbance of lipid homeostasis. The pronounced myelin instability may be explained via the influence of
ATXN2
expression in mature oligodendrocytes on mTORC1 suppression and autophagy. Clearly, the lipid profile of SCA2 brain tissue shows consistent and strong deficits of very long-chain sphingomyelins and the relevant ELOVL enzymes that are crucial for myelin versus comparatively mild neuronal anomalies.
Author Contributions
Conceptualization, K.S. and G.A.; methodology, N.-E.S., D.M., S.B. and S.G.; software, D.M.; validation, N.-E.S., A.A., C.O., J.C.-P., Z.-E.K. and S.G.; formal analysis, S.B.; investigation, N.-E.S., A.A., D.M., S.B., C.O., J.C.-P., Z.-E.K., M.-V.H., S.G.; resources, M.-V.H.; data curation, D.M.; writing—original draft preparation, N.-E.S., S.B. and G.A.; writing—review and editing, N.-E.S., D.M., K.S., G.A.; visualization, N.-E.S., D.M. and S.B.; supervision, D.M., S.G., K.S. and G.A.; project administration, G.A.; funding acquisition, K.S. and G.A.
Funding
This research was funded by the Deutsche Forschungsgemeinschaft, grant numbers AU96/11-1 and AU96/11-3. In addition, it was supported by the Max Planck Society.
Acknowledgments
We are grateful for the technical assistance of Gabriele Köpf in Frankfurt and of Beata Lukaszewsa-McGreal in Berlin.
Conflicts of Interest
The authors declare no conflict of interest. The funders had no role in the design of the study; in the collection, analyses, or interpretation of data; in the writing of the manuscript, or in the decision to publish the results.
Abbreviations
°C
degree Celsius
ΔΔCt
Delta-Delta-Count-Threshold
3-kdhSP
3-Keto-dihydro-sphingosine
aCDase
acid Ceramidase, encoded by

Asah1

ACER
alkaline Ceramidase

Acer2

alkaline Ceramidase 2 (Golgi Ceramidase)

Acer3

alkaline Ceramidase 3 (ER and Golgi Ceramidase)
ACTB
Actin-B
ALS
Amyotrophic Lateral Sclerosis, spinal motor neuron atrophy at adult age, tauopathy
ASAH

N

-Acylsphingosine Amidohydrolase (acid or neutral Ceramidase)

Asah1

N

-Acylsphingosine Amidohydrolase 1 (lysosomal acid Ceramidase)

Asah2

N

-Acylsphingosine Amidohydrolase 2 (plasma membrane/mitoch. neutral Ceramidase)
ASMase
acid Sphingomyelinase

ATXN2

Ataxin-2
BSA
Bovine serum albumin
C22 chain
Chain with a length comprising 22 carbons
CAG
Cytosine-adenine-guanine
cDNA
Complementary deoxyribo-nucleic acid
Cer
Ceramide

Cers1

Ceramide Synthase 1 (primary in brain, C18 ceramide, ER of neurons, astrocytes and OPC)

Cers2

Ceramide Synthase 2 (very long-chain ceramides, mainly in ER of mature oligodendroglia)
CoA
Coenzyme-A
CSF
Cerebrospinal fluid
d18:0
Di-hydroxy sphingoid base, 18 carbon chain length, 0 double bonds
DEAE
Diethyl-aminoethyl
dhSP
Dihydro-sphingosine
EDTA
Ethylene-Diamine-Tetra-Acetic acid

Elovl1

Elongation of very long-chain fatty acids protein 1 (oligodendrocyte, C22–26 SFA)

Elovl2

Elongation of very long-chain fatty acids protein 2 (astrocyte, C20–22 PUFA)

Elovl3

Elongation of very long-chain fatty acids protein 3 (eye, cholesterol/odd-chain elongase)

Elovl4

Elongation of very long-chain fatty acids protein 4 (neurons, C24–26 SFA)

Elovl5

Elongation of very long-chain fatty acids protein 5 (astrocyte, C18 PUFA)

Elovl6

Elongation of very long-chain fatty acids protein 6 (ubiquitous, C12–16 PUFA)

Elovl7

Elongation of very long-chain fatty acids protein 7 (oligodendrocyte, C16–20 SFA+PUFA)
ER
Endoplasmic reticulum
FA
Fatty acid
FDA
Federal Drug Administration
FTLD
Fronto-temporal lobar degeneration/dementia, cortical motor neuron atrophy, tauopathy
GalCer
Galactosyl-ceramide
GD1b
Ganglioside 1b with Di-NANA binding
GM1a
Ganglioside 1a with Mono-NANA binding
GT1b
Ganglioside 1b with Tri-NANA binding
h
Hour
HCl
Hydrochloric acid
HSAN1
Hereditary sensory and autonomic neuropathy type 1
ILVs
Intralysosomal luminal vesicles
K1
KIN sample 1
KIN
Knockin (of CAG100 mutation into

Atxn2

gene, in this case)
KO
Knockout (of

Atxn2

gene, in this case)
LC-MS
Liquid chromatography mass spectrometry
MA-nSMase
Mitochondria-associated neutral sphingomyelinase
MAPT
Microtubule-associated protein tau
µL
Microliter
µg
Microgram
mg
Milli-gram
min
Minute
Mito
Mitochondria
mRNA
Messenger RNA
MSA
Multi-system atrophy
MTBE
Methyl-tert-butyl ester
mTORC1
Mechanistic target of rapamycin complex 1, a kinase responsible for cell growth signals

Naaa

N

-Acylethanolamine acid amidase (acid ceramidase-like protein, mainly in macrophages)
NaCl
Sodiumchloride
NANA

N

-acetyl-neuraminic acid
nCDase
Neutral Ceramidase, encoded by

Asah2

ng
Nanogram
NPA
Niemann–Pick type A, caused by mutations in the aSMase

Smpd1

, neurovisceral picture
NPB
Niemann–Pick type B, caused by mutations in the aSMase

Smpd1

, visceral picture
NPC
Niemann–Pick type C, caused by

Npc1

/

Npc2

mutations, neuronopathic picture
NSMase
Neutral Sphingomyelinase
nSMase1
Neutral Sphingomyelinase 1 (encoded by

Smpd2

)
OPC
Ooligodendrocyte precursor cell
OPCA
Olivo-ponto-cerebellar atrophy
PCR
Polymerase chain reaction
PKC
Protein kinase C
polyQ
polyGlutamine
PSP
Progressive supranuclear palsy (Parkinson plus), dopaminergic neuron atrophy, tauopathy
PUFA
Poly-unsaturated fatty acid
RHEB
Ras homolog enriched in brain, mTORC1-binding protein
RIPA
Radio-immuno precipitation assay
RNA
Ribonucleic acid
s
Second
S1P
Sphingosine-1-phosphate
SAPs
sphingolipid activator proteins
SCA2
Spino-cerebellar ataxia type 2, caused by polyQ expansions in ataxin-2
SCA34
Spino-cerebellar ataxia type 34, caused by inactivity of ELOVL4
SCA38
Spino-cerebellar ataxia type 38, caused by inactivity of ELOVL5
SDS
Sodium-dodecyl-sulfate
s.e.m.
Standard error of the mean
SFA
Saturated fatty acid

Sgms1

Sphingomyelin synthase 1 (Golgi location)

Sgms2

Sphingomyelin synthase 2 (plasma membrane location)

Smpd1

Sphingomyelin phosphodiesterase 1 (acid lysosomal SMase)

Smpd2

Sphingomyelin phosphodiesterase 2 (neutral plasma membrane SMase, immune cells)

Smpd3

Sphingomyelin phosphodiesterase 3 (neutral Golgi+ plasma membrane SMase, brain stress)

Smpd4

Sphingomyelin phosphodiesterase 4 (neutral ER/Golgi membrane SMase)

Smpd5

Sphingomyelin phosphodiesterase 5 (ER and mitochondria-associated neutral SMase)
SM
Sphingomyelin
SMase
Sphingomyelinase
SMS
Sphingomyelin synthase
SPT
Serine palmitoyltransferase

Sptlc1

Serine palmitoyltransferase long-chain base subunit 1

Sptlc2

Serine palmitoyltransferase long-chain base subunit 2 (for C18 substrates, in ER)

Sptlc3

Serine palmitoyltransferase long-chain base subunit 3 (for C12-16 substrates)
Suppl.
Supplementary
Tbp
TATA-binding protein
TBS-T
Tris-buffered saline with Tween20
TGN
Trans-Golgi network
TLC
Thin layer chromatography
TLR2
Toll-like receptor 2
W1
WT sample 1
WT
Wild-type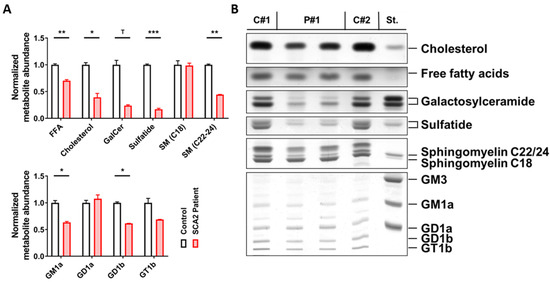 Figure 1.
Cerebellar lipid profiles of one spinocerebellar ataxia type 2 (SCA2) patient. Technical duplicates (P#1 and P#2) were studied versus two age/sex-matched controls (C#1 and C#2) which were used to normalize all values. (
A
) Significant decreases in the abundance of free fatty acids, cholesterol, sulfatide, and very long-chain sphingomyelin (C22-24 SM) were observed in SCA2, and galactosylceramide (GalCer) appeared strongly reduced; for gangliosides, significant deficits in GM1a and GD1b were also observed. (
B
) Thin layer chromatography images of the lipid species analyzed in the adjacent bar graphs. Student's
t
-tests were used with Welch's correction;
T
p
< 0.1, *
p
< 0.05, **
p
< 0.01, ***
p
< 0.001.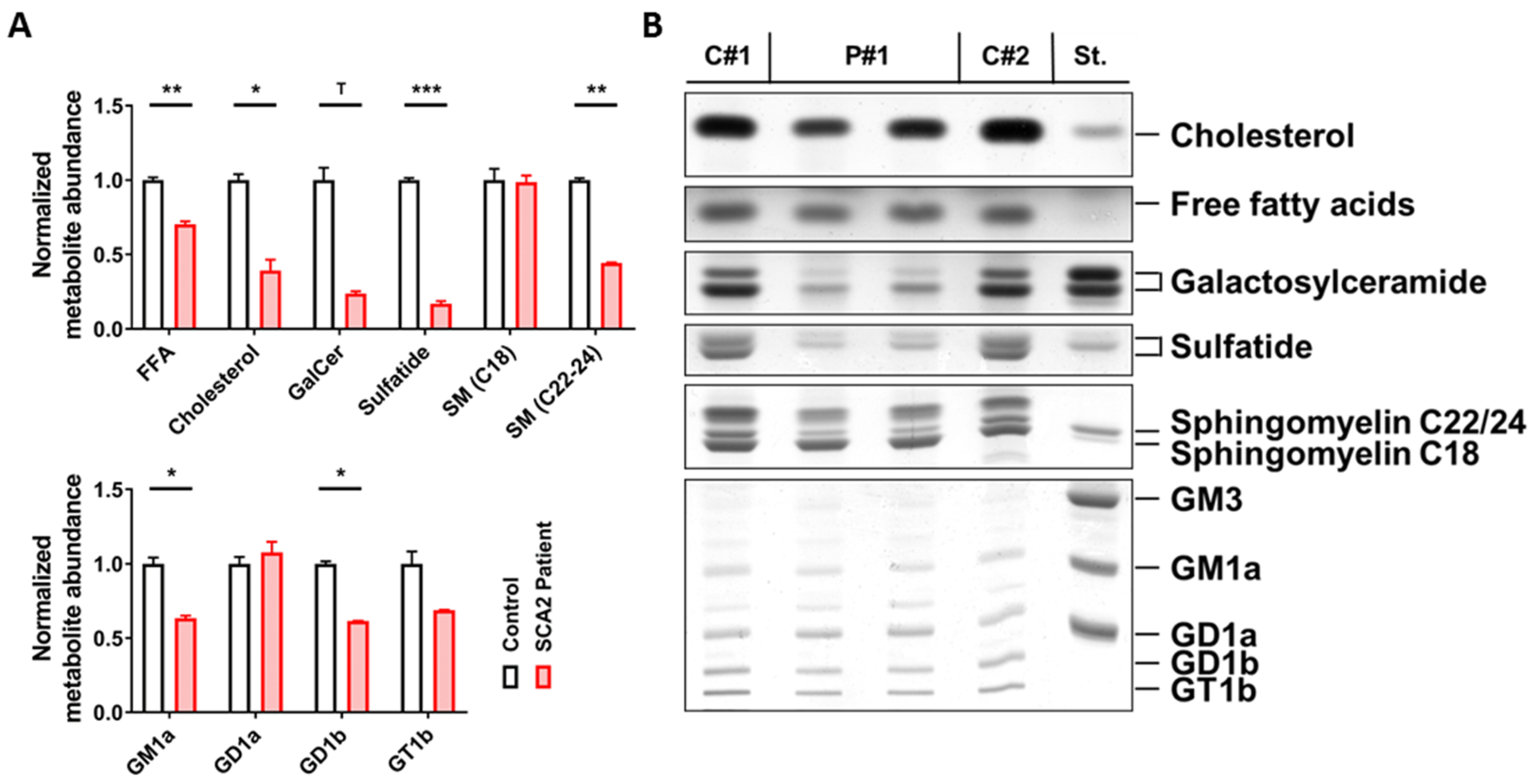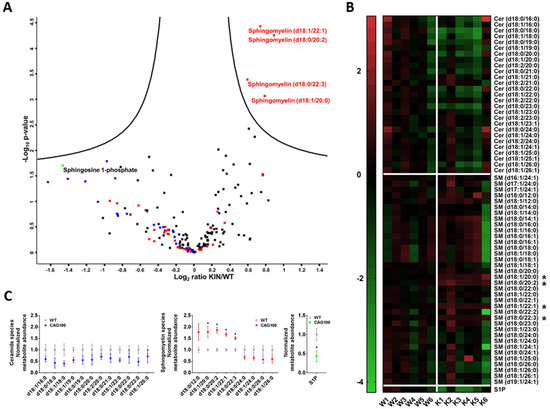 Figure 2.
Targeted metabolome analysis of >12 month old
Atxn2
-CAG100-KIN cerebellum. (
A
) Volcano plot of differentially regulated metabolites ordered by log2 fold change on the
x
-axis versus significance (−log10
p
-value) on the
y
-axis using a false discovery rate of 0.05 and an S0 of 0.1. Metabolites above the "volcano" lines were considered significantly regulated using the Perseus software (v1.6.6.0). Ceramides are depicted in blue, sphingomyelins in red, sphingosine 1-phosphate in green, and all others in black. (
B
) Heat map of all the ceramide and sphingomyelin species sorted by carbon chain length, which were measured in the targeted metabolome analysis, showing the metabolite abundances for individual mice. Image was generated with GraphPad Prism (v.7) software using normalized intensity values. Metabolites showing significant dysregulation in the volcano plot were marked with asterisks. A general consistent tendency to decreased levels in knockin (KIN) cerebellum was detected for all ceramide species as well as the very long-chain sphingomyelin species as visualized by green field color. (
C
) Normalized abundances of all ceramide and sphingomyelin species and sphingosine-1-phosphate that showed >30% up- or downregulations in the metabolome data. Graphs were generated with GraphPad Prism (v.7) software using normalized fold-change values. Unpaired Student's
t
-test showed significant increases for four sphingomyelin species with long-chain fatty acids (up to d18:0/22:3), consistent with the volcano plot. Sphingomyelins with very long-chains were found consistently decreased, and all ceramide species were found decreased irrespective of chain length. The decrease in sphingosine-1-phosphate abundance was also found significant upon unpaired student's t-test in contrast to volcano plot statistics.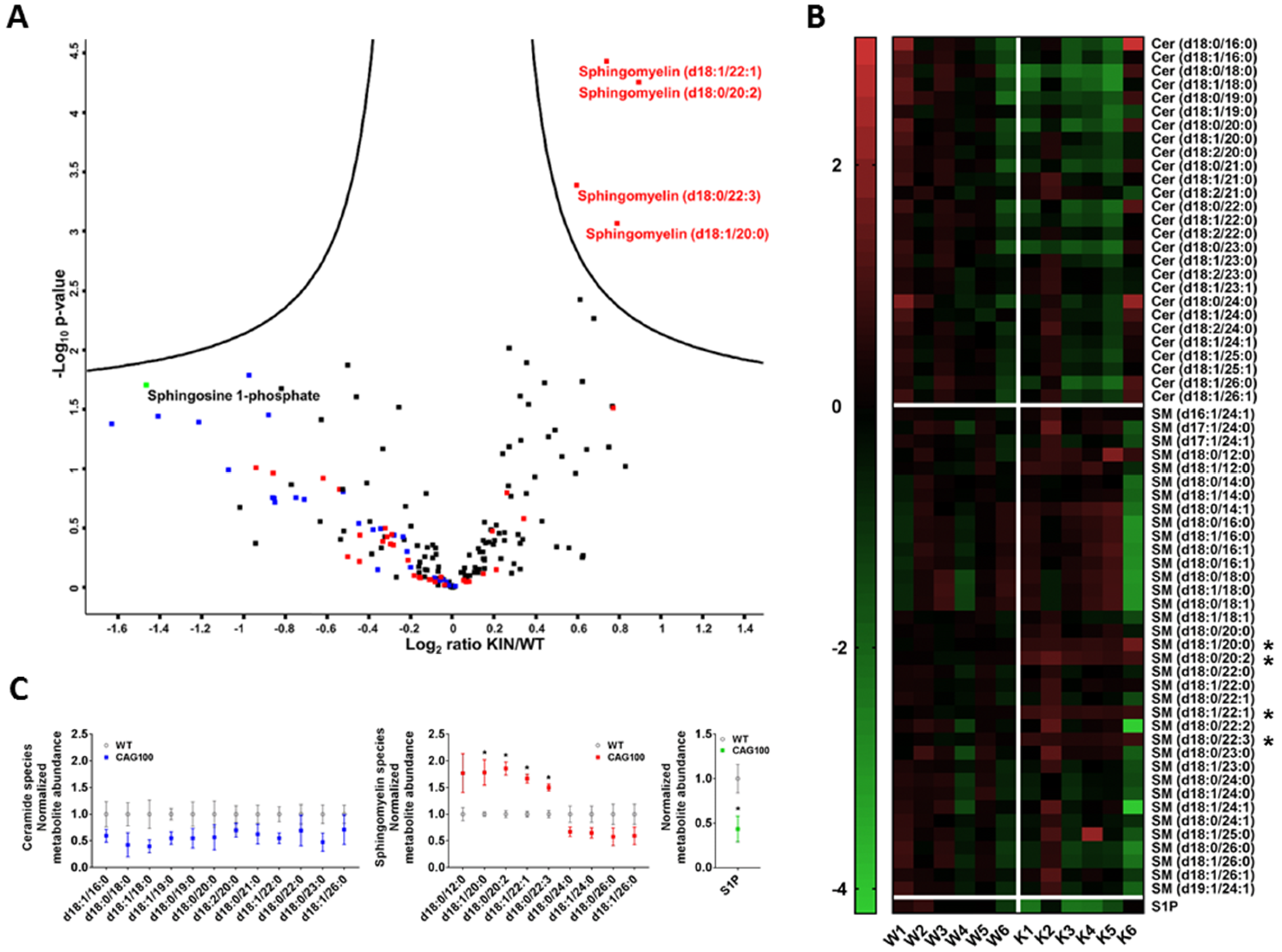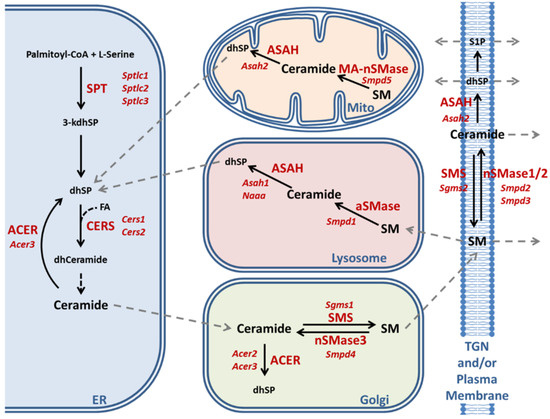 Figure 3.
Schematic representation of ceramide–sphingomyelin metabolism modified after References [
107
,
108
]. The abbreviations together with information about differential cell type expression, subcellular localizations, and substrate preference for various enzyme isoforms are listed at the end of the article.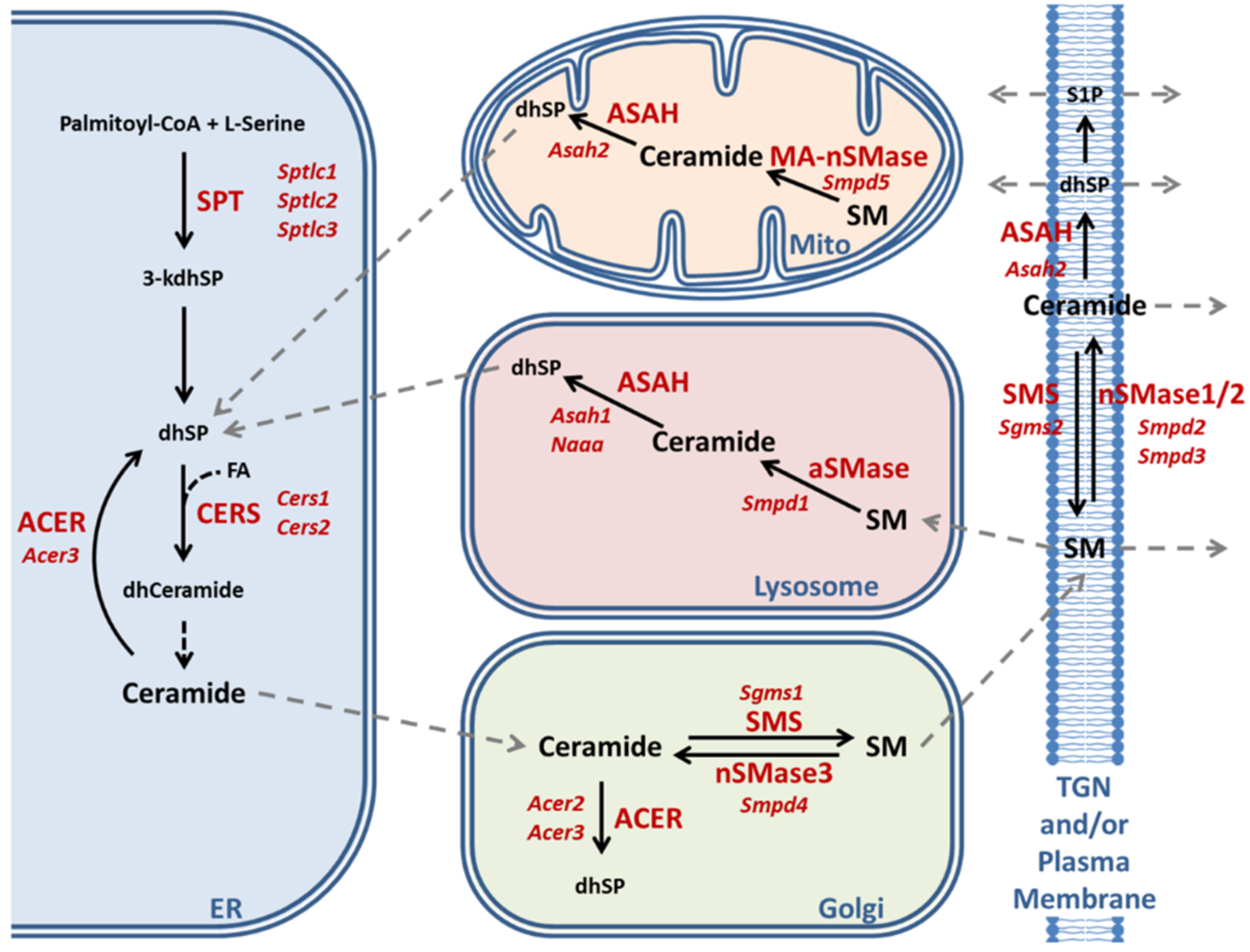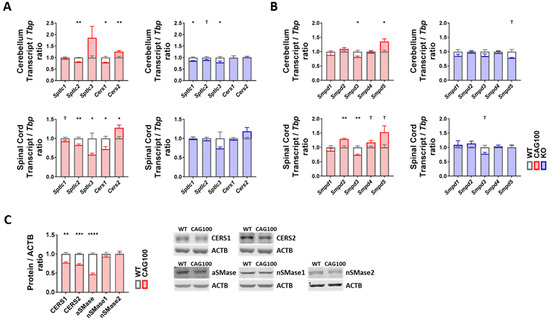 Figure 4.
Transcript and protein levels of the enzymes involved in ceramide production were studied in the cerebellum and spinal cord of
Atxn2
-CAG100-KIN and
Atxn2
-KO mice. (
A
) Expression levels of the de novo ceramide synthesis pathway components. (
B
) Expression levels of different sphingomyelinase isoforms catalyzing the breakdown of sphingomyelin species into ceramide. (
C
) Protein levels of the de novo ceramide synthesis (CERS1, CERS2) and sphingomyelin breakdown (aSMase, nSMase1, nSMase2) pathway components in >12 month old
Atxn2
-CAG100-KIN cerebellum tissue. Student's
t
-test was used with Welch's correction;
T
p
< 0.1, *
p
< 0.05, **
p
< 0.01, ***
p
< 0.001, ****
p
< 0.0001.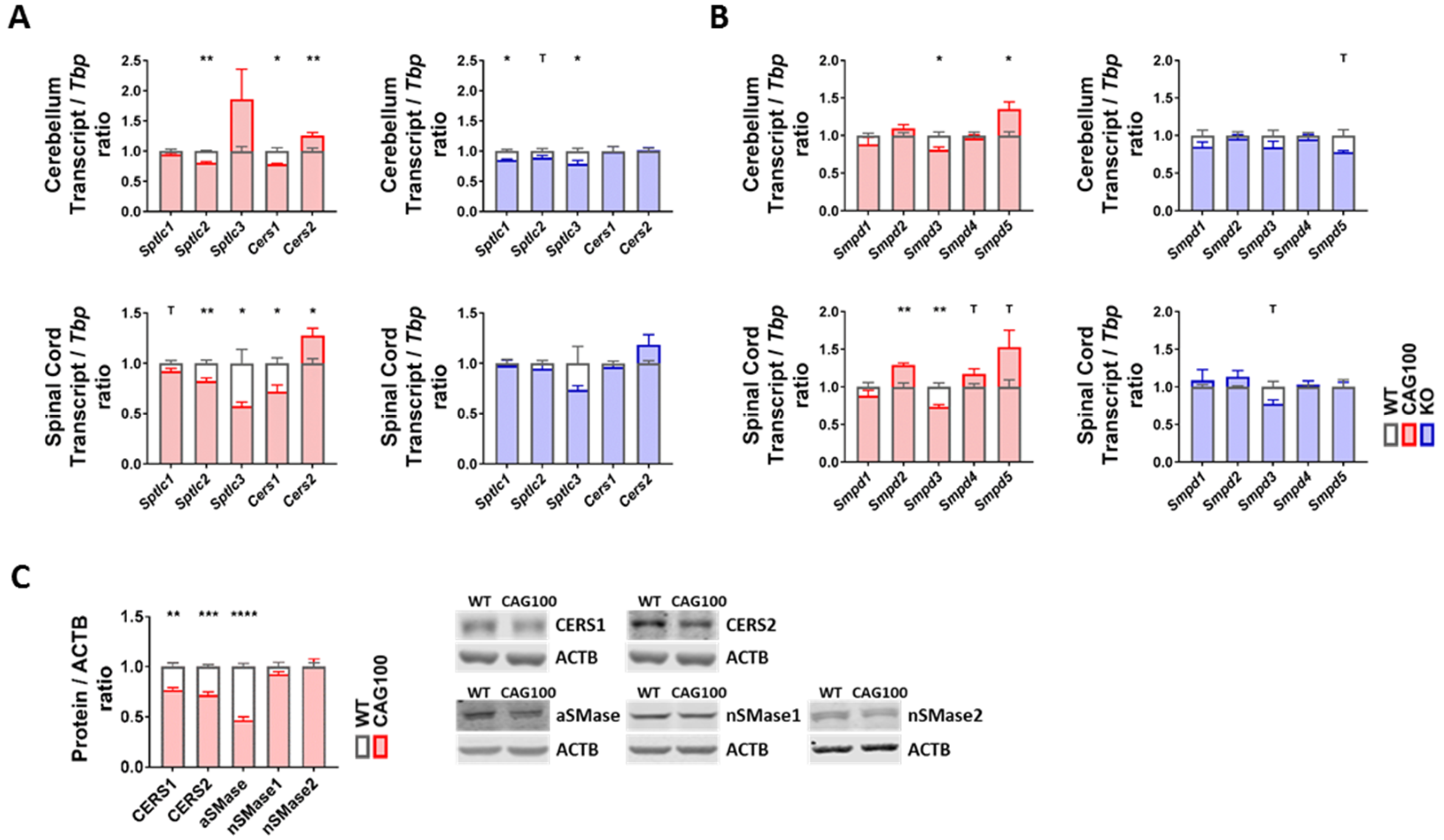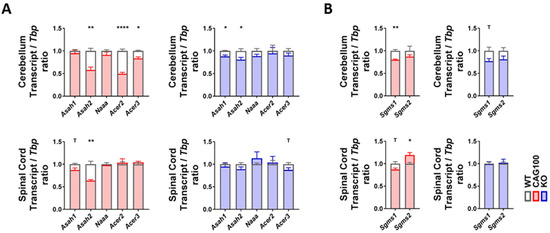 Figure 5.
Transcript levels of the enzymes utilizing ceramide were studied in the cerebellum and spinal cord of
Atxn2
-CAG100-KIN and
Atxn2
-KO mice. (
A
) Expression levels of ceramidase isoforms involved in ceramide breakdown into sphingosine/sphinganine. (
B
) Expression levels of sphingomyelin synthase isoforms catalyzing the synthesis of sphingomyelin species utilizing ceramide. Student's
t
-test was used with Welch's correction;
T
p
< 0.1, *
p
< 0.05, **
p
< 0.01, ****
p
< 0.0001.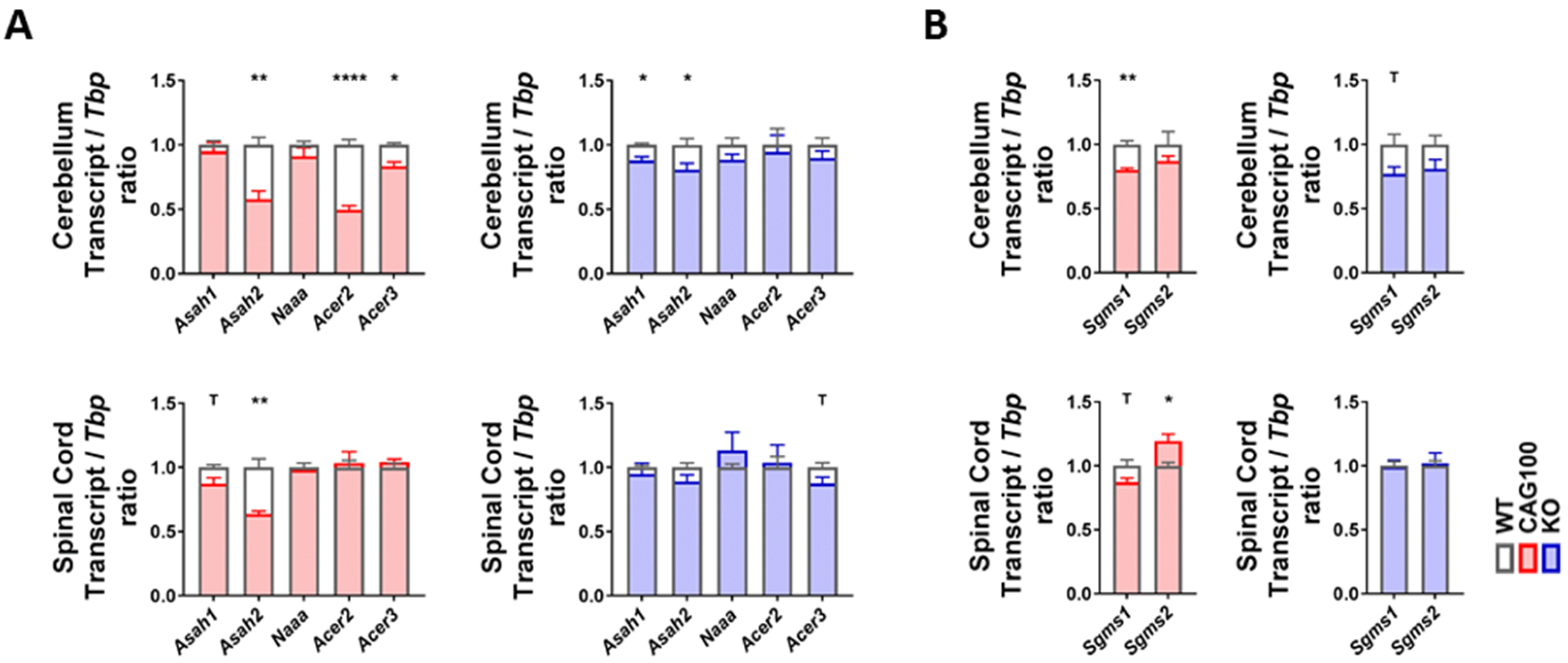 Figure 6.
Strong and consistent downregulations were observed for elongase enzymes in the cerebellum and spinal cord of
Atxn2
-CAG100-KIN and
Atxn2
-KO mice which would affect synthesis of very long-chain fatty acids. (
A
) Transcript expression levels for different elongase isoforms. (
B
) Protein levels of ELOVL4 were documented in >12 month old
Atxn2
-CAG100-KIN cerebellum tissue. Student's
t
-tests were used with Welch's correction;
T
p
< 0.1, *
p
< 0.05, **
p
< 0.01, ***
p
< 0.001.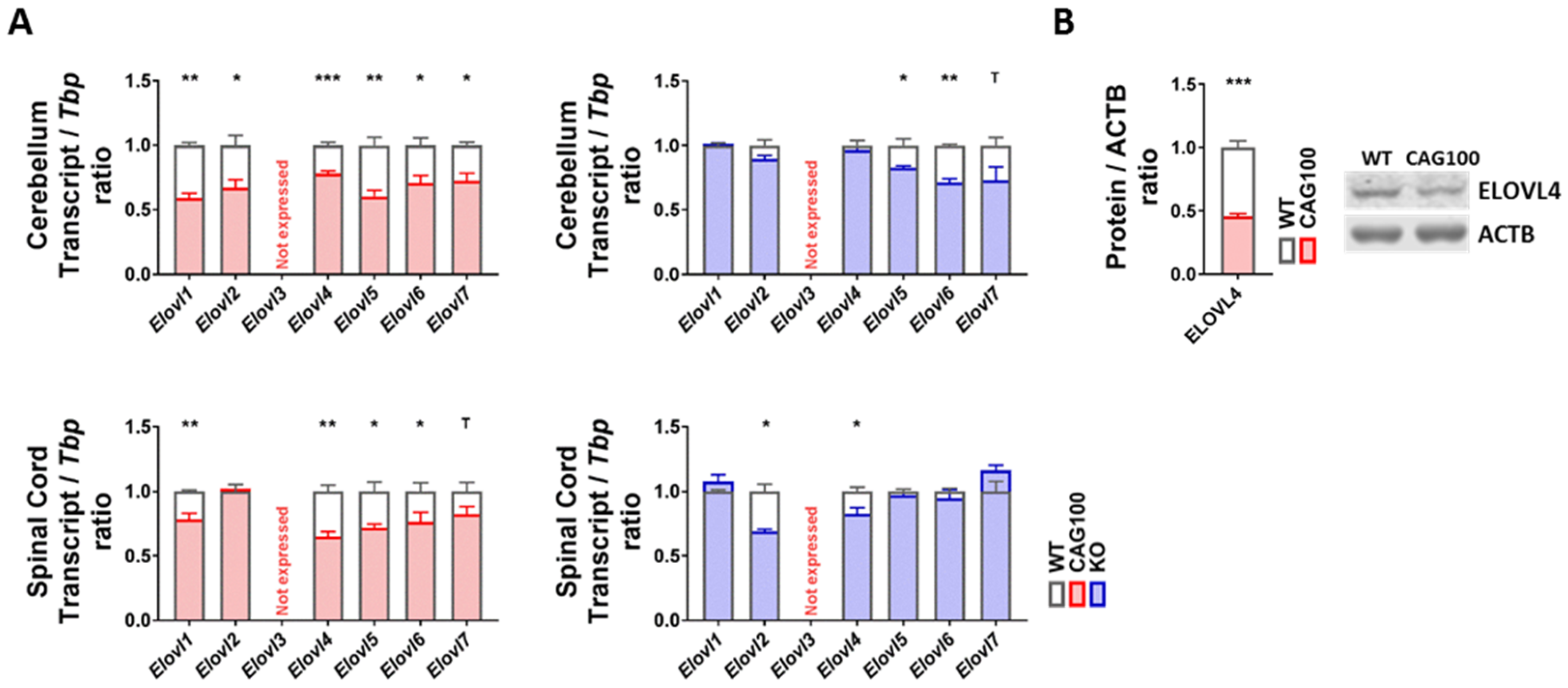 © 2019 by the authors. Licensee MDPI, Basel, Switzerland. This article is an open access article distributed under the terms and conditions of the Creative Commons Attribution (CC BY) license (http://creativecommons.org/licenses/by/4.0/).