Open Access This article is
freely available
re-usable
Review
Cellular Stress-Modulating Drugs Can Potentially Be Identified by in Silico Screening with Connectivity Map (CMap)
1
Department of New Biology, Daegu Gyeongbuk Institute of Science and Technology (DGIST), Daegu 42988, Korea
2
Well Aging Research Center, Daegu Gyeongbuk Institute of Science and Technology (DGIST), Daegu 42988, Korea
†
These authors contributed equally to this work.

Received: 1 October 2019 / Accepted: 6 November 2019 / Published: 9 November 2019
Abstract
:
Accompanied by increased life span, aging-associated diseases, such as metabolic diseases and cancers, have become serious health threats. Recent studies have documented that aging-associated diseases are caused by prolonged cellular stresses such as endoplasmic reticulum (ER) stress, mitochondrial stress, and oxidative stress. Thus, ameliorating cellular stresses could be an effective approach to treat aging-associated diseases and, more importantly, to prevent such diseases from happening. However, cellular stresses and their molecular responses within the cell are typically mediated by a variety of factors encompassing different signaling pathways. Therefore, a target-based drug discovery method currently being used widely (reverse pharmacology) may not be adequate to uncover novel drugs targeting cellular stresses and related diseases. The connectivity map (CMap) is an online pharmacogenomic database cataloging gene expression data from cultured cells treated individually with various chemicals, including a variety of phytochemicals. Moreover, by querying through CMap, researchers may screen registered chemicals in silico and obtain the likelihood of drugs showing a similar gene expression profile with desired and chemopreventive conditions. Thus, CMap is an effective genome-based tool to discover novel chemopreventive drugs.
Keywords:
cellular stress; endoplasmic reticulum stress; ER stress; mitochondrial stress; oxidative stress; hypoxia; connectivity map; CMap; drug discovery
1. Introduction
Recent progresses in public health, the health care system, and medicine have greatly helped to extend our life span [
1
]. However, extended life span inevitably increases the risk of aging-associated diseases including cardiovascular diseases and cancers. Furthermore, a surplus of food consumption and lack of physical activity from a sedentary lifestyle has led to the drastic increase of obesity and its associated metabolic disorders such as type 2 diabetes [
2
,
3
]. Recent studies have demonstrated that aging-associated diseases, metabolic disorders, and cancers are caused by prolonged exposure to cellular stresses such as endoplasmic reticulum (ER) stress, mitochondrial stress, heat shock stress, and oxidative stress [
4
,
5
]. For example, the development of leptin resistance and insulin resistance leads to obesity and type 2 diabetes, respectively, and chronic inflammation and cellular stresses, including ER stress, oxidative stress, and mitochondrial stress have been reported to contribute to leptin and insulin resistance [
4
,
5
,
6
,
7
]. Furthermore, metabolic and cellular stresses also play a crucial role in the development of cancer and its pathophysiology [
4
,
8
,
9
]. Chronic exposure of cells to cellular stresses such as oxidative stress may lead to tumorigenesis; however, elevated cellular stresses such as hypoxia and ER stress may kill cancer cells [
4
,
8
,
9
]. Indeed, cancer cells have been shown to actively employ stress responses (e.g., unfolded protein response (UPR) against ER stress) to survive from excess cellular stresses [
4
,
8
,
9
]. Therefore, alleviating certain cellular stresses may prevent the development of cancer, whereas suppressing adaptive responses and escalating stresses can be useful in removing existing cancer cells [
4
,
8
,
9
].
Therefore, developing chemopreventive ways to target appropriate cellular stresses could be an effective prevention and therapeutic treatment toward various aging-associated disorders [
10
]. However, cellular stresses and related molecular responses are mediated by a myriad of molecules encompassing multiple signaling pathways [
4
,
5
]. In addition, categorized cellular stresses do not take place solely inside of cells; instead, several stresses appear altogether [
4
,
5
]. For this reason, a target-based drug discovery process (reverse pharmacology) may not be adequate to discover novel chemicals that can address cellular stresses and associated disorders, although this is currently being used widely in academia and pharmaceutical companies (
Figure 1
A).
Phenotypic drug discovery (forward pharmacology) started to regain interest recently due to its potential usefulness in finding novel drugs to target complex diseases wherein the mechanism needs to be understood further, thanks to recent technological advances in cell-based phenotypic screening and analysis of vast genomic data (
Figure 1
B) [
11
]. The connectivity map (CMap) is an online genome-based database established by Todd R. Golub's group at the Broad Institute (Boston, MA, USA), and catalogs transcriptome data from cultured cells treated individually with small molecules (
Figure 1
C) [
12
,
13
]. By searching on CMap, researchers can screen registered chemicals in silico and obtain the list of drugs displaying a similar gene expression profile with the desired biological or pathological conditions as a rank. Numerous studies have successfully demonstrated CMap's potential as an effective pharmacogenomic drug discovery tool. In this article, we review the current understanding of cellular stresses and signaling responses, and discuss CMap as a potentially useful in silico drug screening tool to unearth novel drugs and phytochemicals to address cellular stresses and their related disorders.
2. Cellular Stresses
2.1. Heat Shock Stress and Heat Shock Response
2.2. Endoplasmic Reticulum (ER) Stress and Unfolded Protein Response (UPR)
2.3. Mitochondrial Stress
2.5. Oxidative Stress
Oxidation–reduction (redox) homeostasis is crucial to maintaining nearly all principal cellular processes. During the redox reaction, various oxidants and antioxidants are generated endogenously, and when oxidants are produced or obtained beyond the balancing redox capacity of cells, it leads to oxidative stress. ROS, which causes oxidative stress, includes not only narrowly defined ROS but also various other kinds of chemicals such as reactive nitrogen species, reactive chlorine/bromine species, reactive sulfur species, reactive carbonyl species, and reactive selenium species [
123
,
124
]. ROS is continuously generated during metabolism, which has been considered to facilitate accumulated DNA damages and ultimately lead to the development of cancers and cellular aging. ROS and accompanying oxidative stress also have been demonstrated to contribute to the pathophysiologies of various chronic diseases such as cardiovascular diseases, obesity, diabetes, and neurodegenerative diseases [
125
]. However, recent studies also show that ROS plays a beneficial role in many cellular functions. For example, ROS generated from phagocytes constitutes a pathogen-killing mechanism during phagocytosis. Furthermore, some ROS such as hydrogen peroxide (H
2
O
2
) and nitric oxide (NO) play a role in cellular signaling and in post-translational modifications of proteins such as sulfenylation and S-nitrosylation [
126
,
127
,
128
,
129
,
130
]. The majority of ROS is produced from the electron transport chain of mitochondria as a superoxide anion radical, O
2
•
−
, and most of O
2
•
−
is converted to H
2
O
2
by manganese superoxide dismutase (MnSOD) [
131
,
132
,
133
]. Additionally, NADPH oxidases, which are activated by growth factors, also generate H
2
O
2
[
134
], whereas NO synthases produce NO [
135
].
Because oxidative stress can be produced at every cellular metabolic process, a myriad of signaling responses even in other stress responses are employed to curb oxidative stresses, which include NRF2-KEAP1, p53, MAPKs (JNK, p38 MAPK, ERK), PI3K/Akt, NF-κB, heat shock response, and UPR [
125
,
136
]. In general, the majority of these pathways exercise pro-survival responses, whereas some responses from JNK, p38, p53, and UPR pathways (e.g., CHOP) exert cell death [
5
,
125
]. Among these oxidative stress responses, NRF2-KEAP1 is regarded as one of the main regulators of the cellular antioxidant responses. NRF2 is a transcription factor and its protein levels are maintained at low under unstressed conditions by three E3 ubiquitin ligase complexes—KEAP1-CUL3-RBX1, β-TrCP-SKP1-CUL1-RBX1, and HRD1 [
137
]. However, KEAP1-CUL3-RBX1 is considered as a principal negative regulator responding to the changes of redox condition [
136
,
137
]. KEAP1 is a substrate adaptor protein of the CUL3-RBX1 E3 ligase complex and binds to NRF2 to prompt NRF2 ubiquitylation and its subsequent degradation during unstressed conditions. Under oxidative stress condition, excessive ROS reacts with cysteines (especially Cys151) at the N-terminal part of KEAP1, leading to its conformational changes and subsequent loss of affinity to NRF2. In turn, NRF2 translocates to the nucleus, forms a heterodimer with sMAF, and then transcribes its target genes with antioxidant response element, many of which contribute to antioxidant responses (e.g., glucose 6-phosphate dehydrogenase, 6-phosphogluconate dehydrogenase, malic enzyme 1, and isocitrate dehydrogenase 1, which are involved in NADPH production) [
136
,
137
].
Many studies have suggested that ROS and oxidative stress contribute to cellular senescence, aging, and aging-associated diseases [
125
]. During the progression of type 2 diabetes, pancreatic β-cell dysfunction is caused by increased ER stress, mitochondrial stress, and oxidative stress [
138
]. Moreover, ROS-induced DNA damage, in addition to the chemical modifications of macromolecules such as lipids and proteins, is considered to lead to the development of cancer, whereas many chemotherapy and radiation therapy treatments induce excessive oxidative stress to kill cancer cells [
139
,
140
]. Furthermore, genes in the KEAP1-NRF2 pathway are frequently mutated in certain cancers such as squamous cell carcinoma and lung adenocarcinoma showing the strong resistance to chemotherapy and radiation therapy [
141
,
142
].
3. Connectivity Map (CMap)
As we explained above, cellular stresses and their related signaling responses are mediated by various environmental factors (e.g., heat, oxidants, osmotic stress, and over-nutrition) and a plethora of signaling molecules. Therefore, finding chemopreventive and even therapeutic chemicals targeting cellular stresses and their associated diseases is challenging and has proven to be difficult with target-based drug discovery. Because of its potential advantage to address complex diseases that require more understanding of their mechanisms, and also recent advances in screening methods for phenotypic drug discovery such as cell-based phenotypic screening and pharmacogenomic analysis, phenotypic drug discovery has started to regain its interest and usage in drug screening.
4. Conclusions and Future Perspectives
As our modern society enters the state of population aging, aging-associated diseases such as cardiovascular diseases, obesity, diabetes, neurodegenerative diseases, and cancers have become a major health threat as well as a serious economic and social burden. Even though tremendous efforts have expanded our understanding of the pathophysiologies of these disorders and have also developed numerous medications against them, such efforts still fell short to alleviate significantly chronic and aging-associated disorders. This is partly due to their compounding nature in which a myriad of genetic and environmental factors are interwoven with each other. Recently, a growing number of studies have documented that cellular stresses caused by the disruption of homeostasis within the cell contribute to the development of aging-associated diseases and have suggested that ameliorating these cellular stresses could be an effective prevention and therapeutic treatment. There are several uniquely categorized cellular stresses such as heat shock stress, ER stress, mitochondrial stress, oxidative stress, and hypoxia. However, it should be noted that cellular stresses do not occur individually but frequently happen together. Due to these complexities, developing chemopreventive and therapeutic treatments against cellular stresses and their associated diseases has not yet achieved any significant progress. However, recent technological and genomic advances bring new opportunities to tackle many debilitating chronic disorders. Among them, CMap and its upgraded L1000 are potentially powerful genome-based in silico drug discovery methods based on phenotypic drug discovery, and many studies have successfully used CMap to uncover novel chemicals to alleviate cellular stresses and aging-associated diseases. Furthermore, there are still many possibilities to expand CMap and L1000 in the future in order to be more effective as follows. (1) The numbers of perturbagens (small chemicals and genetic modulations) in CMap/L1000 could increase further, including numerous phytochemicals available currently, and CRISPR/cas9 could be also utilized as genetic perturbation. (2) CMap/L1000 could include more cell types, especially induced pluripotent stem cells (iPSC) and tissue-specific organoids. Additionally, (3) future CMap/L1000 or other pharmacogenomic tools could include more phenotypic information, including proteomic and epigenetic data and also high-content imaging profiles. Furthermore, (4) recent advances in machine learning could empower future genome-based in silico drug discovery tools by potentially providing the information about probable modes of action and target proteins of small molecules.
Historically, phytochemicals have provided huge medical benefits to humankind, as famously shown by salicin (from the willow tree and modified to aspirin®), morphine (from the opium poppy), cocaine (from coca leaves), guanidine (from the French lilac and modified to metformin), and many other examples. However, many phytochemicals' potential medical benefits are still unknown. However, with recent phenotypic drug discovery tools such as CMap, we can finally be in the position to uncover novel functions of phytochemicals which could be both chemopreventive and therapeutic toward many chronic diseases caused by cellular stresses.
Author Contributions
All authors contributed to researching the literature and writing the article.
Funding
This work was supported by DGIST R&D and the Basic Science Research Program through the National Research Foundation of Korea (NRF) funded by the Ministry of Science and ICT (MSIT) or the Ministry of Education of the Republic of Korea to S.K. (2018R1A6A3A01013000), Y.-I.L. (18-LC-01, 19-BT-01), and J.L. (18-LC-01, 2017R1A2B4006200). J.L. also received funding from the Korea Institute of Oriental Medicine (KIOM) provided by the MSIT (KSN1812160).
Conflicts of Interest
The authors declare no conflict of interest.
Abbreviations
| | |
| --- | --- |
| β-TrCP | Beta-transducin repeat containing E3 ubiquitin protein ligase |
| AAA | ATPases associated with diverse cellular activities |
| AFG3L2 | AFG3-like protein 2 |
| ALS | Amyotrophic lateral sclerosis |
| AMPK | AMP-activated protein kinase |
| BNIP3L | BCL2 interacting protein 3 like |
| BRD7 | Bromodomain-containing protein 7 |
| CLPP | Clp protease proteolytic subunit |
| CUL1 | Cullin 1 |
| CUL3 | Cullin 3 |
| ERK | Extracellular signal-regulated kinase |
| FDA | Food and Drug Administration, USA |
| HRD1 | HMG-CoA reductase degradation 1 homolog |
| IDH2 | Isocitrate dehydrogenase 2 |
| IKKβ | Inhibitor of nuclear factor kappa-B kinase subunit beta |
| JNK | c-Jun N-terminal kinase |
| KEAP1 | Kelch-like ECH-associated protein 1 |
| MAPK | Mitogen-activated protein kinase |
| NADPH | Nicotinamide adenine dinucleotide phosphate, reduced form |
| NF-κB | Nuclear factor kappa-light-chain-enhancer of activated B cells |
| NRF2 | Nuclear factor erythroid 2-related factor 2 |
| PGC-1α | Peroxisome proliferator-activated receptor gamma coactivator-1 alpha |
| PI3K | Phosphoinositide 3-kinase |
| PINK1 | PTEN-induced kinase 1 |
| RBX1 | Ring box 1 |
| SKP1 | S-phase kinase-associated protein 1 |
| sMAF | Small musculoaponeurotic fibrosarcoma |
| SPG7 | Spastic paraplegia 7 |
| TCA | Tricarboxylic acid |
| VEGF-B | Vascular endothelial growth factor B |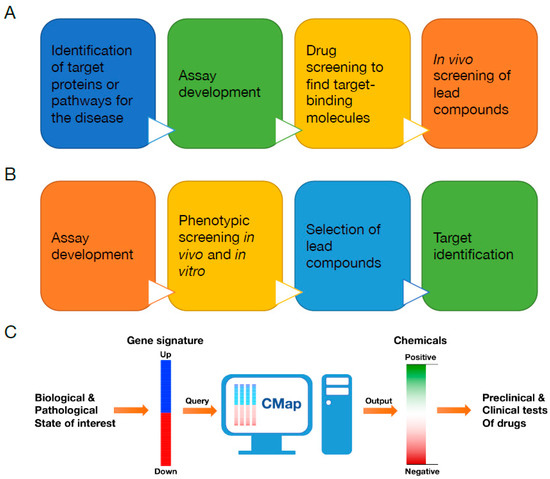 Figure 1. Drug discovery using the connectivity map (CMap). (A) Target-based drug discovery. (B) Phenotypic drug discovery. (C) CMap-based drug discovery. Gene signature of the biological or pathological state of interest can be used as a query to search through CMap. CMap provides the search result as a list of small molecules scored to predict their probability to mimic or reverse gene expression profiles of the state of interest. Candidate chemicals can be further tested in in vitro cell culture and in vivo animal experiments before proceeding with clinical trials to human subjects.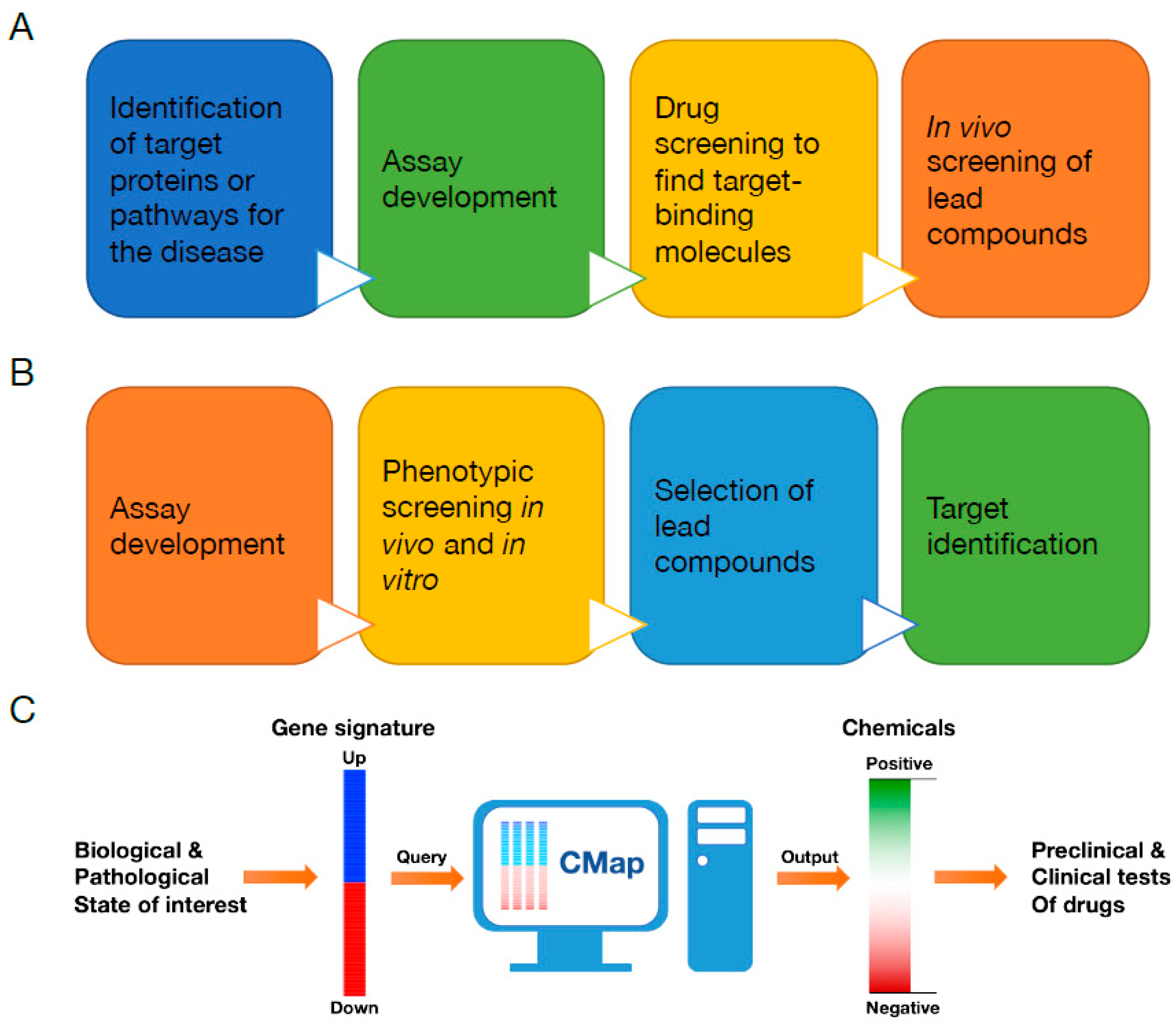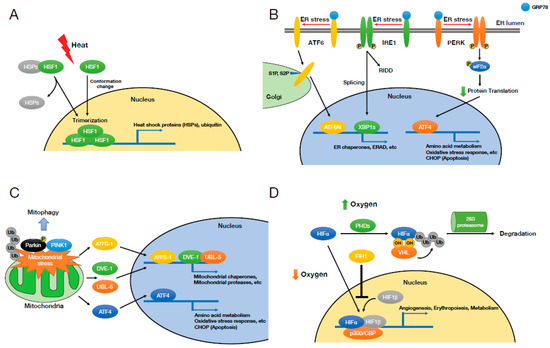 Figure 2.
Cellular stresses and signaling responses. (
A
) Heat shock stress and heat shock response. The stressors such as heat lead to releasing of heat shock proteins (HSPs) from heat shock factor 1 (HSF1) or directly changing the conformation of HSF1 resulting in its trimerization, nuclear translocation, and target gene transcription. (
B
) Endoplasmic reticulum (ER) stress and unfolded protein response (UPR). The accumulation of unfolded or misfolded proteins activates three ER transmembrane proteins—activating transcription factor-6 (ATF6), inositol requiring protein-1 (IRE1), and protein kinase RNA-like ER kinase (PERK). ATF6 and IRE1 generate the functional transcription factors, ATF6N and spliced form of X-box binding protein 1 (XBP1s), which translocate to the nucleus and transcribe their target genes, whereas PERK suppresses protein translation and thus reduces protein load into the ER. (
C
) Mitochondrial stress and mitochondrial unfolded protein response (UPR
mt
). Mitochondrial stress activates several transcription factors, activating transcription factor associated with stress-1 (ATFS-1) and defective proventriculus (Drosophila) homolog-1/ubiquitin-like 5 (DVE-1/UBL-5) (
Caenorhabditis elegans
) and ATF4 (mammals), which promote their target gene expression to restore mitochondrial homeostasis. Mitochondrial stress also triggers autophagy (mitophagy) via Parkin and Pink1. (
D
) Hypoxia and hypoxia-induced factor. Under normoxia, hypoxia-inducible factor α (HIFα) is hydroxylated on proline by prolyl hydroxylase domain enzymes (PHDs) or on asparagine by factor inhibiting HIF1 (FIH1), and the activity of HIFα is suppressed by its von Hippel–Lindau (VHL)-mediated ubiquitylation and degradation or its loss of the interaction with p300/CREB-binding protein (CBP).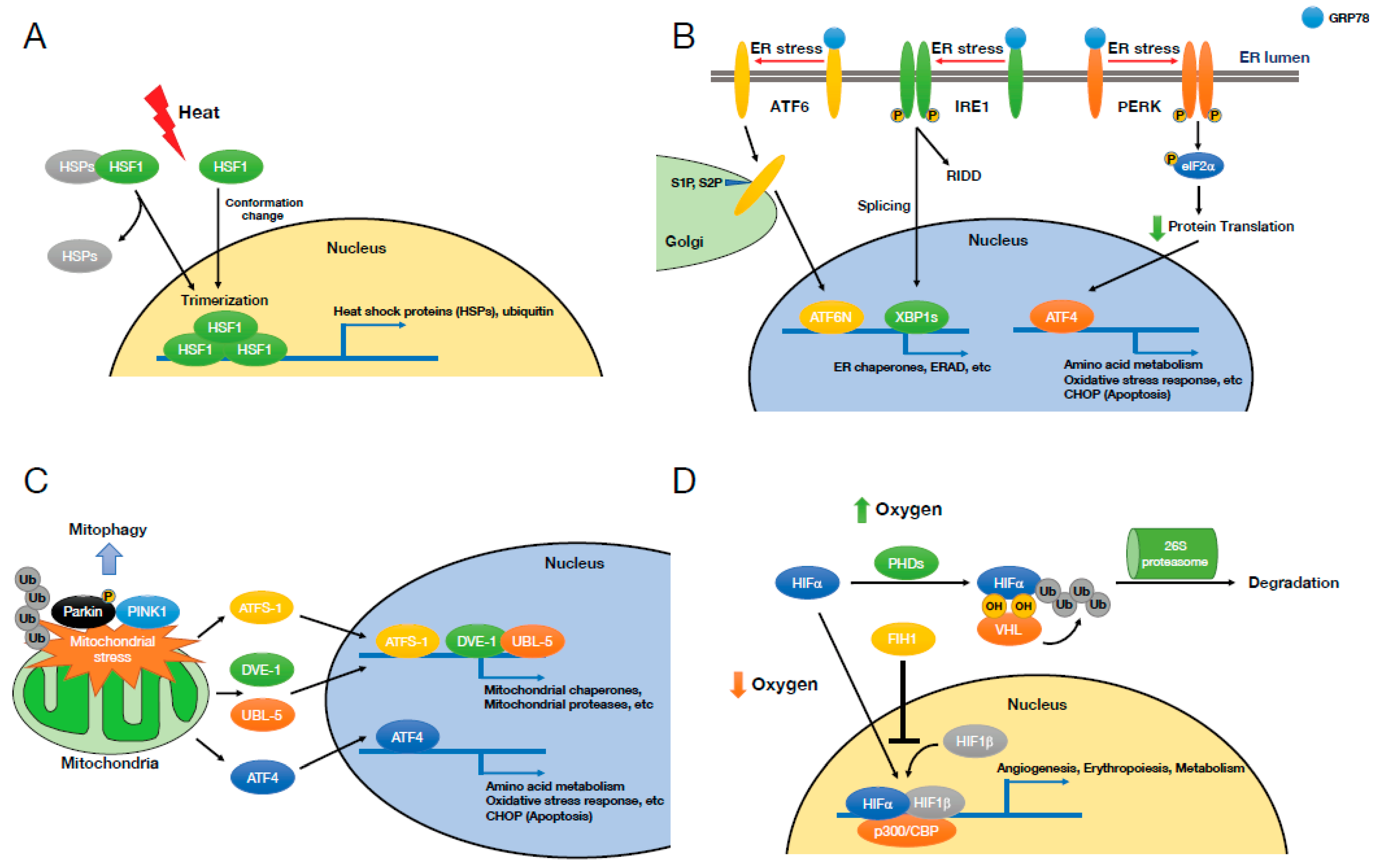 © 2019 by the authors. Licensee MDPI, Basel, Switzerland. This article is an open access article distributed under the terms and conditions of the Creative Commons Attribution (CC BY) license (http://creativecommons.org/licenses/by/4.0/).