Open Access This article is
freely available
re-usable
Review
Omega-3 Polyunsaturated Fatty Acids and Stroke Burden
1
Department of Neurology, Juntendo University Faculty of Medicine, Tokyo 113-8421, Japan
2
Stroke Center and Division of Neurology, Department of Medicine, Jichi Medical University, Tochigi 329-0498, Japan
*
Author to whom correspondence should be addressed.
Received: 12 October 2019 / Accepted: 5 November 2019 / Published: 7 November 2019
Abstract
:
Stroke is a major leading cause of death and disability worldwide. N-3 polyunsaturated fatty acids (PUFAs) including eicosapentaenoic acid and docosahexaenoic acid have potent anti-inflammatory effects, reduce platelet aggregation, and regress atherosclerotic plaques. Since the discovery that the Greenland Eskimo population, whose diet is high in marine n-3 PUFAs, have a lower incidence of coronary heart disease than Western populations, numerous epidemiological studies to explore the associations of dietary intakes of fish and n-3 PUFAs with cardiovascular diseases, and large-scale clinical trials to identify the benefits of treatment with n-3 PUFAs have been conducted. In most of these studies the incidence and mortality of stroke were also evaluated mainly as secondary endpoints. Thus, a systematic literature review regarding the association of dietary intake of n-3 PUFAs with stroke in the epidemiological studies and the treatment effects of n-3 PUFAs in the clinical trials was conducted. Moreover, recent experimental studies were also reviewed to explore the molecular mechanisms of the neuroprotective effects of n-3 PUFAs after stroke.
Keywords:
stroke; omega-3 PUFA; eicosapentaenoic acid; docosahexaenoic acid
1. Introduction
There were an estimated 6.33 million deaths due to stroke and 42.43 million patients suffering from stroke according to the Global Burden of Diseases, Injuries, and Risk Factors 2015 study [
1
]. In particular, stroke burden and mortality were greater in low-income countries [
1
,
2
]. Although age-standardized rates of stroke mortality recently decreased by 30% worldwide, the absolute numbers of stroke patients are increasing because of a reduction in stroke case fatality rates, as well as population growth and aging [
3
].
Hypertension, diabetes mellitus, dyslipidemia, and atrial fibrillation are fundamental risk factors for stroke [
4
,
5
,
6
]. Emerging data have indicated that lifestyle risk factors such as smoking, high body mass index, low physical activity, and high alcohol consumption could be important risk factors for the development of stroke [
7
,
8
,
9
]. In a population-based cohort study of 31,696 Swedish women, decreasing the number of these lifestyle risk factors was associated with reduction of stroke, especially cerebral infarction [
8
]. It was shown that stroke survivors who continued to smoke had a two-fold higher risk for recurrent stroke, while physical inactivity increased mortality and the incidence of stroke by 25% to 30% [
10
,
11
,
12
]. Thus, management of not only fundamental atherosclerotic vascular risk factors, but also lifestyle risk factors is critical in stroke prevention. More importantly, of these lifestyle risks, dietary habits were shown to be the most relevant to stroke [
12
,
13
,
14
,
15
,
16
]. Among the sorts of foods, there is evidence that every 200 g/day in intake of fruits and vegetables is correlated with a decrease in the risk of stroke by 32% and 11%, respectively [
17
]. Little information has been available on the association of stroke with ketogenic (low carbohydrate–high fat) and vegetarian and vegan (plant-based) diets, while the Atkins (low carbohydrate–high protein) diet could increase the stroke risk [
18
].
The n-3 polyunsaturated fatty acids (PUFAs) are a class of essential fatty acids required for normal biological activity and function in living organisms. The n-3 PUFAs are poorly synthesized in the human body, and they are composed of marine fish-derived agents such as eicosapentaenoic acid (EPA) and docosahexaenoic acid (DHA). It is well known that n-3 PUFAs reduce the risk of cardiovascular diseases through multiple actions, including an anti-inflammatory effect, reduction of platelet aggregation, and stabilization of atherosclerotic plaques [
19
,
20
,
21
,
22
,
23
,
24
]. Thus, less dietary intake of n-3 PUFAs can result in an increase in the incidence of cardiovascular diseases.
Considerable insight has been gained into the n-3 PUFAs, through their dietary intake and their use as therapy for the risk of cardiovascular diseases. However, the association of ingestion of n-3 PUFAs with stroke burden has not been adequately studied. The current article reviews the associations of dietary n-3 PUFA intake with stroke and the effects of treatment with n-3 PUFAs on stroke in the previous high-impact studies, and moreover, the mechanistic role of n-3 PUFAs and their metabolites related to stroke burden was investigated.
2. The Impact of Dietary Intake of n-3 PUFAs on Stroke
It is well known that dietary habits, especially fish consumption, differ by race, religion, country, and continent. So far, many large-scale population studies to determine the relationships of n-3 PUFAs consumed as food with disease have been carried out in the USA, Europe, and Eastern Asia. In this section, the links of dietary fish intake with stroke incidence and mortality in association with the amount of fish consumed among the different continents are reviewed.
3. Therapeutic Use of n-PUFAs and Stroke Burden
4. Levels of n-3 PUFAs as Surrogate Markers of Stroke
5. Biological Effects of Omega-3 PUFAs for Stroke
5.1. Omega-3 PUFAs and Their Metabolites
EPA competitively inhibits prostaglandin E2 formation by cyclooxygenase (COX) 1/2 from AA, and it produces less-inflammatory prostaglandin E3, thereby showing an anti-inflammatory effect, inhibition of monocyte adhesion and platelet aggregation, and improvement of endothelial injury [
67
,
68
]. EPA also decreases the production of mediators and enzymes from inflammatory cells such as macrophages and stabilizes atherosclerotic plaques [
22
,
23
,
24
]. There is evidence that DHA suppresses inflammation more potently than EPA [
69
,
70
]. Importantly, EPA and DHA are metabolized via the COX and lipoxygenase pathways into a new class of lipid mediators [
67
,
68
]. Specialized pro-resolving lipid mediators, including resolvins, maresins, and protectins, are synthesized from n-3 PUFAs. In the metabolism of EPA, 18-hydroxyeicosapentaenoic acid (18-HEPE) is converted from EPA in the cyclooxygenase-2 or cytochrome P450 pathways, and further metabolized to the resolvin E series including resolvin E1, E2, and E3 (
Figure 2
) [
71
,
72
]. In the metabolism of DHA, 12-lipoxygenase converted DHA to maresins, while the resolvin D-series were converted from DHA to the intermediate 17S-hydroperoxy-DHA by 15-lipoxygenase and further metabolized by 5-lipoxygenase. Protectins were converted from DHA by 15-lipoxygenase. These metabolites have powerful anti-inflammatory effects. In experimental stroke models, it has been shown that maresins, protectins, and resolvin D-series derived from DHA exerted an anti-inflammatory response, ameliorated stroke injuries, and induced neurogenesis and angiogenesis [
73
,
74
,
75
,
76
].
5.2. Treatment with Omega-3 PUFAs in Experimental Stroke
So far, underlying molecular mechanisms after supplementation with n-3 PUFAs have been studied in vivo and in vitro. In a middle cerebral artery occlusion (MCAO) model in rodents, it was shown that treatment with n-3 PUFAs prior to MCAO [
77
,
78
,
79
,
80
], after MCAO [
81
,
82
], and both [
83
] decreased infarct volume and improved neurological deficits and motor function. In vitro, n-3 PUFAs suppressed lipopolysaccharide-induced nitric oxide and tumor necrosis factor-α release and the inflammatory response, altered the shift from M1 to M2 phenotype, enhanced myelin phagocytosis in cultured microglia, and activated nuclear factor E2-related factor 2 and upregulated heme oxygenase-1 in neurons [
82
,
84
,
85
]. With regard to neuroprotective effects of EPA, suppression of oxidative stress and endothelial Rho-kinase activation were induced after ischemia [
79
]. In ovariectomized rats subjected to transient MCAO, EPA regulated post-ischemic high mobility group box 1/toll-like receptor 9 pathway proliferator-activated receptor gamma-dependently and -independently [
80
]. On the other hand, DHA reduced the expansion of infarct area due to a subsequent inflammatory response elicited by ischemia, via the promotion of conversion from 15-lipoxygenase-1 to neuroprotectin D1, exhibiting cell-protective, anti-inflammatory, and anti-apoptotic responses [
86
]. Other studies showed that DHA induced neurological recovery and reduced infarct size by diminishing blood-brain-barrier damage, regulating microglial infiltration, and reducing oxidative stress and activating AKT cascades in neurons [
85
,
87
,
88
] (
Figure 2
).
5.3. Role of Omega-3 PUFAs and Their Metabolites before and after Stroke
The aforementioned data indicated that various anti-inflammatory effects, anti-oxidative stress, diminishing blood–brain-barrier damage, and regulation of signaling pathways have been implicated in the mechanisms of the roles of n-3 PUFAs against brain injury after stroke, which were clearly shown in vivo and in vitro in rodents. It is reasonable that treatment with PUFAs prior to stroke displayed a protective effect against ischemic injury, which might be consistent with the results from previous epidemiological and other studies, showing partial effects for reduction of stroke burden. Likewise, a beneficial effect of n-3 PUFA treatment immediately after stroke could indicate that the n-3 PUFAs are potential candidates for acute stroke therapy (
Figure 3
). In clinical trials involving stroke patients, no evidence has been available on the effects of n-3 PUFA supplementation for stroke outcome. Future research may facilitate the development of possible treatment agents for ischemic stroke in humans.
6. Conclusions
Since a series of epidemiological studies of the Greenland Eskimo population in the late 1970s, numerous epidemiological studies and large-scale clinical trials have been carried out. However, the effectiveness of n-3 PUFAs for secondary prevention of stroke is yet to be elucidated. Further study is warranted to show that dietary intake of or treatment with n-3 PUFAs reduces stroke burden and mortality, which may offer a potential candidate for public health benefit to prevent stroke, as well as cardiovascular diseases.
Funding
This work was supported, in part, by the Japan Society for the Promotion of Science (grant number JP17K09764 to Dr. Ueno), a Grant-in-Aid (S1411066) from the Foundation of Strategic Research Projects in Private Universities from the Ministry of Education, Culture, Sports, Science, and Technology, and a grant from the Takeda Science Foundation.
Conflicts of Interest
The authors declare no conflict of interest.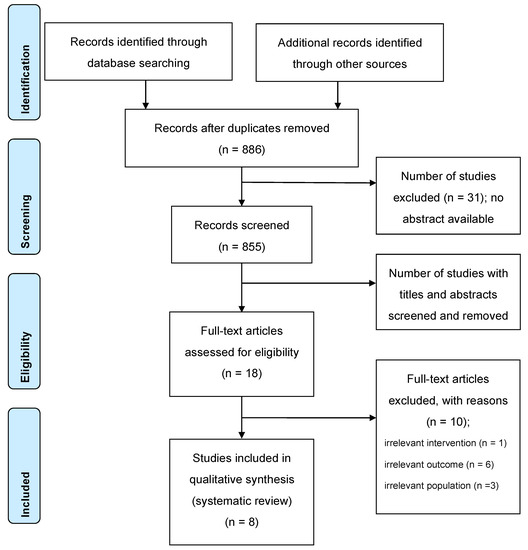 Figure 1. Flow diagram of the systematic literature search. Preferred Reporting Items for Systematic Reviews and Meta-Analyses (PRISMA) flow diagram indicates the number of records identified, included, and excluded through the different phases of a systematic review.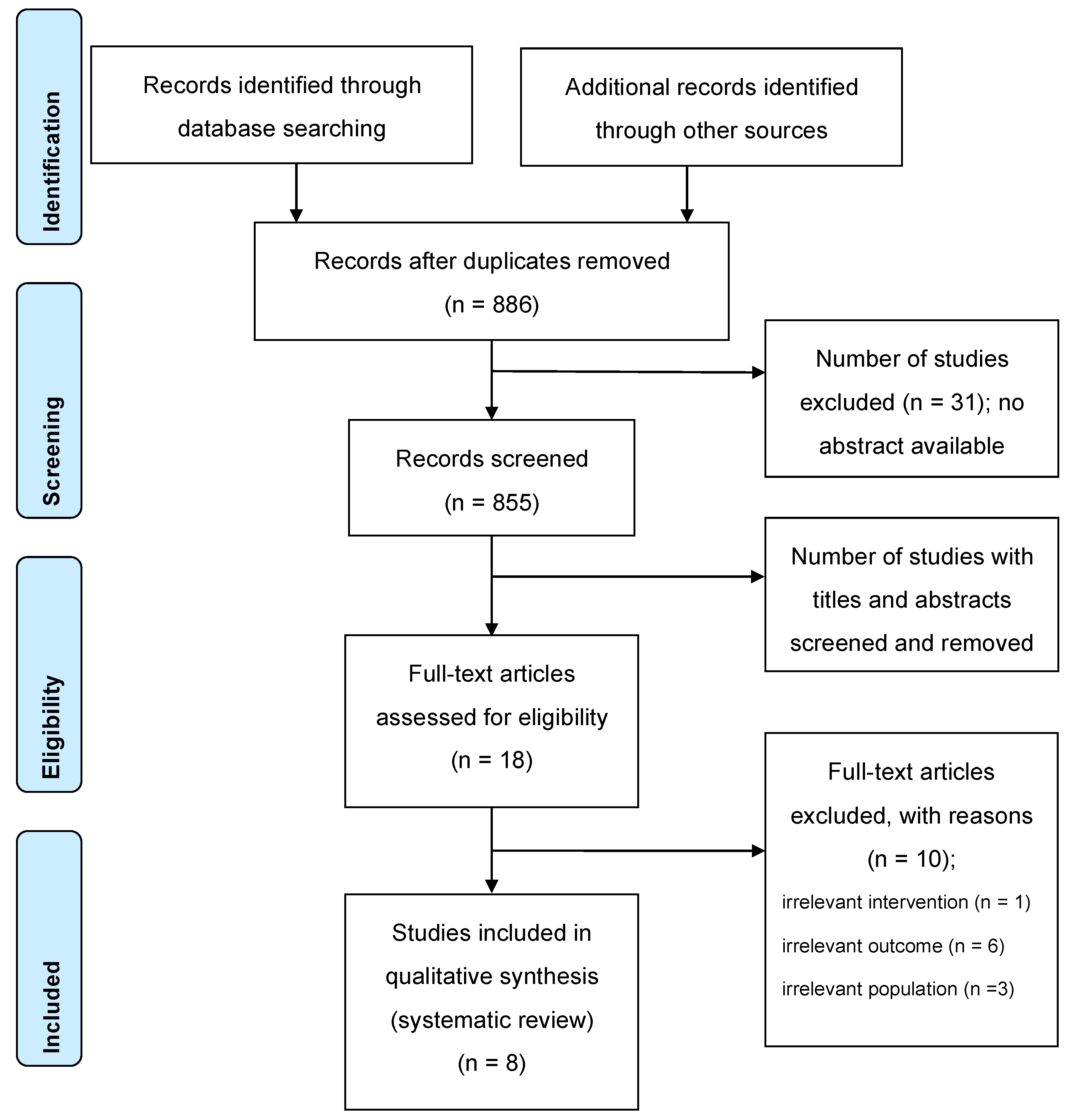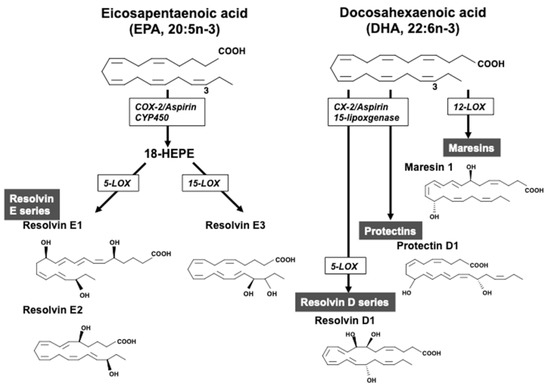 Figure 2. Omega-3 polyunsaturated fatty acids and specific pre-resolving lipid mediators. Eicosapentaenoic acid (EPA) is converted to resolvin E1 and E2 by 5-lipoxgenase (LOX) and resolvin E3 by 15-LOX. Docosahexaenoic acid (DHA) is converted to resolvin D1 by cyclooxygenase (COX)-2/aspirin/15-LOX, and further 5-LOX, protectin D1 by COX-2/aspirin/15-LOX, and maresin 1 by 12-LOX.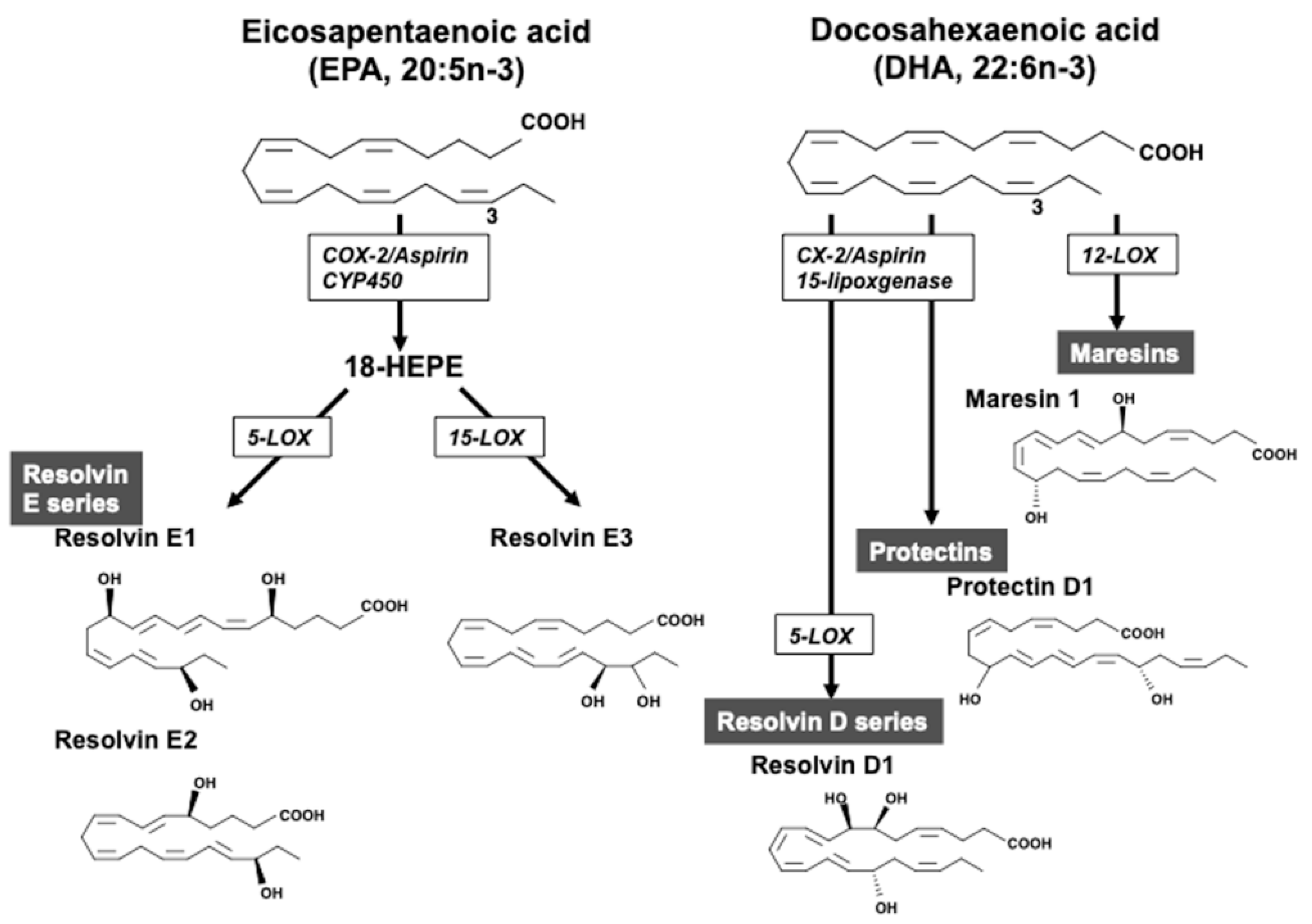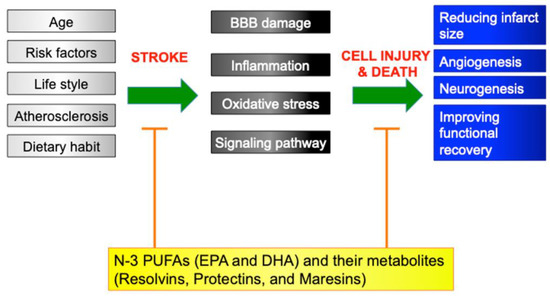 Figure 3. Scheme of underlying mechanisms before and after stroke. Age, cardiovascular risk factors, atherosclerosis, lifestyle, and dietary habits could be implicated in the mechanisms of stroke development in humans. On the other hand, previous experimental studies showed that the blood–brain barrier (BBB), inflammation, oxidative stress, and pathologic signaling pathways contributed to the mechanisms after stroke. N-3 polyunsaturated fatty acids including eicosapentaenoic acid (EPA) and docosahexaenoic acid (DHA), and its metabolites, resolvins, protectins, and maresins, suppressed these pathomechanisms, and reduced infarct size, induced angiogenesis and neurogenesis, and improved functional recovery. Bar-headed lines indicate an inhibition, and arrows represent a production and induction.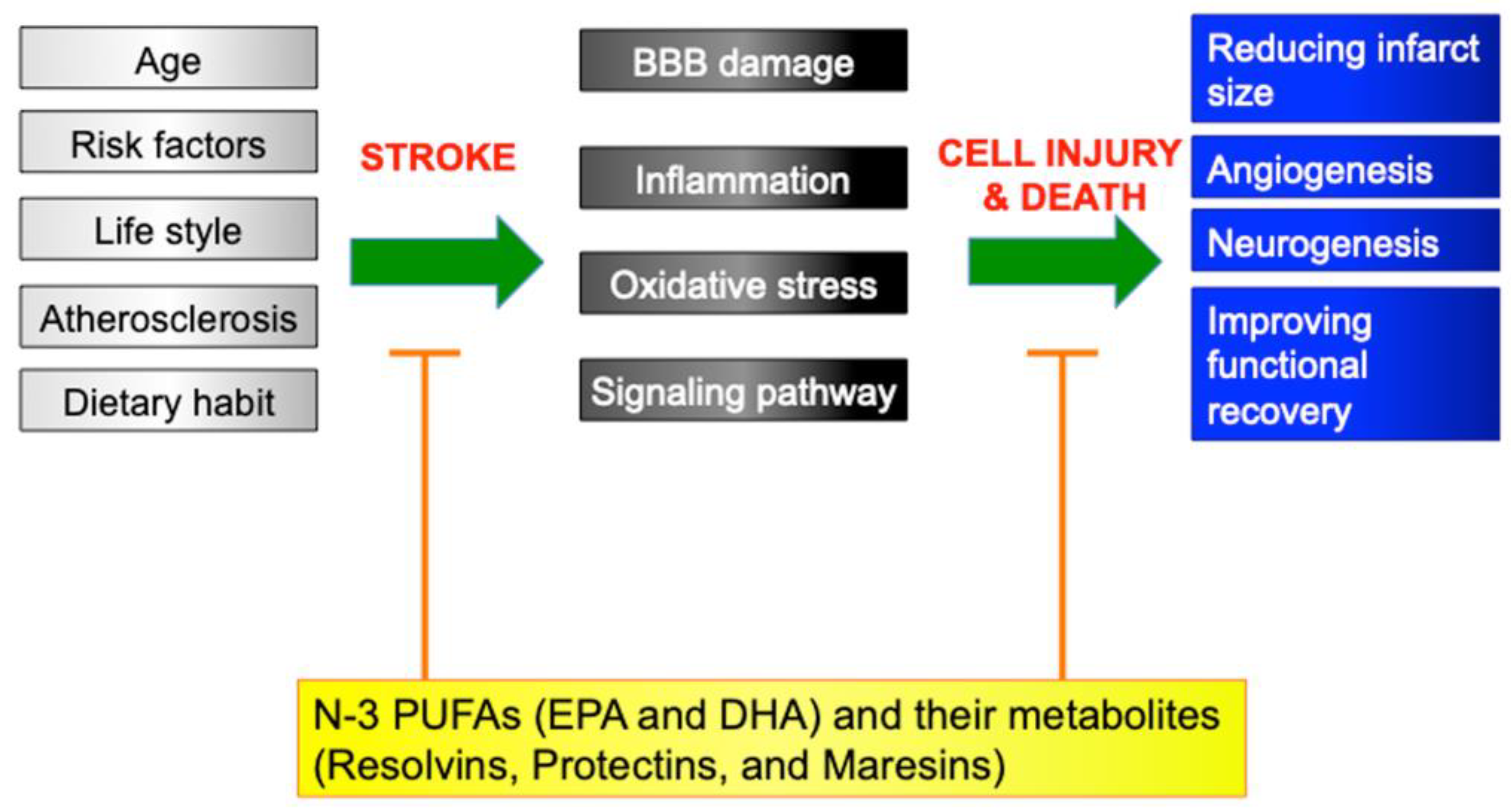 Study
GISSI-P
JELIS
GISSI-HF
ORIGIN
SU.FOL.OM3
ASCEND
VITAL
REDUCE-IT
Subjects
Post MI (< 3 mo)
T-C ≥6.5 mmol/L1, or LDL-C ≥4.4 mmol/L
Chronic heart failure (NYHA class II–IV)
≥50 y, diabetes or prediabetes, and high risk of CVD
MI, unstable angina, and ischemic stroke
≥40 y, with diabetes mellitus, and without CVD
Men ≥50 y, women ≥55 y
≥45 y with established CVD or ≥50 y with diabetes and ≥1 additional RF, and with fasting TG level of 1.69 to 5.63 mmol/L, LDL-C, 1.06 to 2.59 mmol/L, and had been treated with statins for ≥4 weeks
Components of n-3 agents
EPA/DHA
EPA
EPA/DHA
EPA/DHA
EPA/DHA
EPA/DHA
EPA/DHA
EPA
Dosage (g/day)
1
1.8
1
1
0.6
1
1
4
No. of subjects
11,324
18,645
6975
12,536
2501
15,480
25,871
8179
Enrollment period
1993–1995
1996–1999
2002–2005
2003–2005
2003–2007
2005–2011
2011–2014
2011–2016
Follow-up
(median, y)
3.5
4.6
3.9
6.2
4.7
7.4
5.3
4.9
Primary endpoints
All-cause death, non-fatal MI, and non-fatal stroke
Major coronary event(b)
All-cause death
Cardiovascular death
Non-fatal MI, ischemic stroke, and
Non-fatal MI, stroke, TIA, and vascular death excluding ICH
Major cardiovascular events(e)
Cardiovascular death, non-fatal MI, nonfatal stroke, coronary revascularization, and unstable angina
n-3 PUFA treatment results for PE, HR or RR (95% CI)
0.85 (0.74–0.98) (a)
0.81 (0.69–0.95)
0.91 (0.833–0.998)
0.98 (0.87–1.10)
1.08 (0.79–1.47)
0.97 (0.87–1.08)
0.92 (0.80–1.06)
0.75 (0.68–0.83)
Stroke outcome
Fatal and non-fatal stroke
Fatal and non-fatal stroke
Fatal and non-fatal stroke
Fatal and non-fatal stroke
Fatal and non-fatal stroke, and death from cardiovascular diseases
Non-fatal ischemic stroke
Fatal and non-fatal stroke
Fatal and non-fatal stroke
n–3 PUFA treatment results for SO, HR or RR (95% CI)
0.95 (0.61–1.47) (a)
1.08 (0.95–1.72) (c)
1.16 (0.89–1.51)
0.92 (0.79–1.08)
1.04 (0.62–1.75)
1.01 (0.84–1.22)
1.04 (0.83–1.31)
0.72 (0.55–0.93)
0.8 (0.64–0.997) (d)
Reference number
[44]
[51,52]
[45,46]
[48]
[47]
[50]
[49]
[53,54]
MI = myocardial infarction, mo = month, T-C = total cholesterol, LDL-C = low-density lipoprotein cholesterol, y = years, NYHA = New York Heart Association, CVD = cardiovascular disease, RF = risk factors, TG = triglyceride, EPA = eicosapentaenoic acid, DHA = docosahexaenoic acid, TIA = transient ischemic attack, ICH = intracranial hemorrhage, PUFAs = polyunsaturated fatty acids, PE = primary endpoint, HR = hazard ratio, RR = risk ratio, CI = confidence interval, SO = stroke outcome. (a) = calculated by four-way analysis. (b) = sudden cardiac death, fatal and non-fatal myocardial infarction, and other non-fatal events including unstable angina pectoris, angioplasty, stenting, or coronary artery bypass grafting. (c) = subgroup of primary prevention for stroke (n = 17,703). (d) = subgroup of secondary prevention for stroke (n = 942). (e) = myocardial infarction, stroke, and death from cardiovascular causes.

© 2019 by the authors. Licensee MDPI, Basel, Switzerland. This article is an open access article distributed under the terms and conditions of the Creative Commons Attribution (CC BY) license (http://creativecommons.org/licenses/by/4.0/).