Insights into the Pathophysiology of Infertility in Females with Classical Galactosaemia
1
National Centre for Inherited Metabolic Disorders, Adult Services, Mater Misericordiae University Hospital, Dublin, Ireland
2
Department of Paediatrics, Trinity College Dublin, Dublin, Ireland
3
School of Medicine and Medical Sciences, University College Dublin, Dublin, Ireland
*
Author to whom correspondence should be addressed.
Received: 27 September 2019 / Revised: 14 October 2019 / Accepted: 16 October 2019 / Published: 22 October 2019
Classical galactosaemia (CG) (OMIM 230400) is a rare inborn error of galactose metabolism caused by the deficiency of the enzyme galactose-1-phosphate uridylyltransferase (GALT, EC 2.7.7.12). Primary ovarian insufficiency (POI) is the most common long-term complication experienced by females with CG, presenting with hypergonadotrophic hypoestrogenic infertility affecting at least 80% of females despite new-born screening and lifelong galactose dietary restriction. In this review, we describe the hypothesized pathophysiology of POI from CG, implications of timing of the ovarian dysfunction, and the new horizons and future prospects for treatments and fertility preservation.
1. Introduction
Classical galactosaemia (CG) (OMIM 230400) is a rare inborn error of galactose metabolism caused by deficiency of the enzyme galactose-1-phosphate uridylyltransferase (GALT, EC 2.7.7.12), the second enzyme in the Leloir pathway, the pathway for galactose metabolism [
1
]. Classical galactosaemia is also known as Type 1. Type 2 galactosaemia is caused by mutation of the
GALK1
gene, characterized by deficiency of galactose kinase 1 enzyme. Type 3 is caused by mutations involving the
GALE
gene, characterized by deficiency of the enzyme UDP-galactose-4-epimerase. Recently, Wada et al. [
2
] described novel finding pathogenic variants of the
GALM
gene which encodes galactose mutarotase, the enzyme which catalyzes the epimerization between β and α-D-galactose in the first step of the Leloir pathway in patients with 'unexplained congenital galactosaemia. This has suggested a new Type IV classification for galactosaemia [
2
].
The prevalence of classical galactosaemia (CG), Type 1, ranges from 1:16,000 to 1:60,000 in Europe and USA [
3
,
4
]. The incidence in the Irish population is 1:16,476 and is 1:430 in the Irish Traveller community [
4
]. Although classical galactosaemia has been described since 1908 and the gene identified in 1992, it is still considered a partially treated rare disease. Restriction of galactose is life-saving in the neonate and improves the neonatal intoxication manifestations of feeding difficulties, failure to thrive, sepsis, hepatocellular damage, renal tubulopathy, and cataracts. Affected individuals develop long term complications affecting the central nervous system, bone density/metabolism, and primary ovarian insufficiency and subfertility in females despite dietary galactose restriction [
4
,
5
,
6
,
7
,
8
,
9
]. Primary ovarian insufficiency in CG, first described in 1978 [
10
] with ovarian follicular depletion is reported in at least 80% of females [
9
]. This is a particularly devastating complication for affected females. Moreover, the timing of the ovarian insult and its pathophysiology are poorly understood, which limits interventions. This article aims to clarify recent insights into the pathophysiology of this presentation, and the consideration of new therapeutic interventions.
2. Methods
Literature on the effects of CG on the female reproductive system was reviewed by an extensive Pubmed search (publications from January 1975 to September 2019) using the keywords: galactosaemia; ovarian function/dysfunction; primary ovarian insufficiency/failure; follicle stimulating hormone (FSH); oxidative stress; fertility preservation. In addition, articles cited in the search articles and literature known to the authors were also included in this review. A review of the Cochrane database was also performed with the condition 'Galactosaemia.' This did not indicate any review relating to infertility in females with CG.
3. Background
3.1. Galactosaemia and Galactose Metabolism
Galactose is converted to glucose-1-phosphate and metabolized to release energy, or alternatively, galactose may be metabolized to UDP-galactose (UDP-GAL) and its derivatives. UDP-GAL is an essential cofactor for the galactose transferases that are involved in the incorporation of galactose into glycoproteins and glycolipids [
11
]. Galactosaemia is an inborn error of metabolism resulting in impaired activity of one of the four enzymes involved in the main galactose metabolism pathway (known as the Leloir pathway): galactokinase (GALK), galactose-1-phosphate uridylyltransferase (GALT), UDP galactose 4-epimerase (GALE) and the recently described galactose mutarotase (GALM) deficiency, (
Figure 1
a). Deficiency in GALT causes classical galactosaemia Type 1 (CG). Although the liver is the major organ for galactose metabolism, the enzymes of the Leloir pathway have been found in many cell types and tissues, including the gonads, intestinal mucosa, kidneys, skeletal muscles, fibroblasts, leukocytes, and red cells. Galactose-1-phosphate uridylyltransferase and galactokinase are present in fetal red cells, the liver, the lung, the spleen, and cardiac muscle from at least 10 weeks' gestation, and their activities are higher in the second and third trimesters than at any time postnatally [
12
]. This suggests the possibility that damage may occur in utero in GALT deficiency. Studies in rat tissue showed the liver to have the highest GALT mRNA and GALT activity. Kidneys, ovaries, and the heart have similar but lower mRNA and GALT activities, and skeletal muscle and testes have the least [
13
]. The long-term complications of CG are known to be present in organs with high physiological GALT-expression. Endogenous galactose production occurs in utero and throughout life. It is age-related, with higher levels in children than in adults. The endogenous production of circulating free galactose in adults ranges from 0.53 to 1.05 mg/kg/h [
14
,
15
].
Classical galactosaemia represents the most severe form of this disorder as a result of profound impairment in
GALT
resulting in accumulation of galactose, galactose-1-phosphate, galactitol, and galactonate in body tissues and fluid. Over 300 different mutations are described in the
GALT
gene [
21
]. The commonest genotype in European populations is the homozygous
GALT
Q188R genotype which involves the enzyme's active catalytic site and is associated with a severe phenotype [
22
]. The S135L variant, predominantly found in the African and African-American populations, results in significant GALT residual activity and a generally milder phenotype [
23
].
3.2. Primary Ovarian Insufficiency in Female Galactosaemia Patients
It was also proposed that auto-ovarian antibodies could cause ovarian insufficiency in CG. This mechanism has not been confirmed, however, in CG.
3.3. Link to Primordial Germ Cell Signalling
Oogenesis, oocyte and follicular growth, and the development and oocyte maturation are complex processes regulated by intra and extra ovarian factors and signalling mechanisms, which, due to the systemic cell signalling abnormalities in galactosaemia, are proposed to be aberrant in galactosaemia. Oocytes originate from primordial germ cells in the extra embryonic mesoderm. Ovarian factors produced by theca/stromal cells, somatic granulosa cells, participate and regulate oocyte and follicle development at each of the developmental stages [
20
].
The first production of primordial follicles contributes to the onset of female puberty and fertility. The continuing adult production of primordial follicles provides fertility to usual female menopause. The majority of ovarian primordial follicles are maintained quiescently as a reserve for the reproductive life span. In recent years the molecular and signalling mechanisms that regulate the activation of primordial follicles have been described. Pathways, such as the phosphatidylinositol 3 kinase (PI3K) pathway with its regulator repressor protein PTEN, and the linked MTORC1 pathway and FOXO3 protein, have central roles [
59
,
60
]. FOXO3 is considered to have a repressor function. Kim et al., has confirmed the pivotal role of PTEN–PI3K signalling in the activation of primordial follicles [
60
]. We propose that dysregulation of the PTEN–PI3K signalling pathway in galactosaemia patients was identified in our studies and in the Gal deficient mouse model may be implicated in the primordial follicular dysgenesis observed in galactosaemia (
Figure 1
b) [
17
,
18
].
Recent studies have reported successful in vitro activation of mammalian primordial follicles with synthetic PTEN inhibitors [
60
,
61
]. The use of existing primordial follicles as a source for obtaining fertilizable oocytes offers a new, exciting addition for the treatment of females diagnosed with POI. Successful in vitro activation of mouse and human primordial follicles with the synergistic use of an MTORI activator and a PTEN inhibitor has now been reported [
62
,
63
].
4. Approaches to Treatment
Fertility Preservation
One of the key challenges to prevention of POI from CG remains the uncertainty of the timing of the irreversible changes, which may be within the first 10 years of life with a likely prenatal effect. The current approach to treatment for galactosaemic women with POI mainly involves hormonal replacement with oestrogen supplementation and added progesterone to reduce the risk of endometrial hyperplasia or cancer.
5. New Horizons and Future Prospects for Fertility Treatments in Classical Galactosaemia
A major breakthrough in infertility is the activation of dormant ovarian follicles using phosphatidylinositol-3-kinase activators and the suppression of the Hippo signalling pathway—with successful pregnancies reported using this method [
69
,
70
]. This may be applicable to galactosaemia given that this pathway is involved. However, an overall approach to timely stabilisation of the function of the mutant GALT enzyme during the critical early childhood period (or indeed prenatal period) may be required to stabilise not only the galactose and its products' intoxication effects, but also the dysfunctional systemic glycosylation defects, and subsequent systemic signalling abnormalities.
Therapeutic strategies for intervention (new treatments in development for CG), such as chaperones, antioxidants, substrate inhibitors, aldose reductase inhibitors, gene modification strategies, proteostasis regulator, or mRNA approaches will also need to consider the prenatal period, although ethical and practical concerns would accompany such intervention. It will be important also to consider at which stage in the postnatal period that any given form of intervention may have the greatest chance for success [
58
,
71
,
72
].
Other treatment options on the horizon include tissue or organ transplantation; for example, liver and in vivo or ex vivo gene therapy. The prospect of utilizing ovarian stem-cell based therapeutics for ovarian regeneration is also interesting. Such advances in reproductive medicine in the pipeline are bringing new hope to women diagnosed with POI from CG [
73
,
74
].
6. Conclusion
Despite several studies, the underlying pathophysiological mechanism and the timing of the ovarian dysfunction of POI from CG remain unclear. Substantial progress accomplished through exponential increase in knowledge in the field of infertility with better understanding of key signalling pathways and biomarkers offer exciting new discoveries and methods to preserve fertility in CG patients.
Author Contributions
The authors Z.A. and E.P.T. were involved in the conceptualisation of the review. Z.A. performed the literature review and first draft of the article. Both Z.A. and E.P.T. were involved in writing and reviewing the manuscript.
Funding
The authors acknowledge an Irish HRB funding award (HRA-POR-2014-623) to EPT which supported these studies.
Conflicts of Interest
The authors declare no conflict of interest.
Abbreviations
| | |
| --- | --- |
| Akt | Protein kinase B |
| AMH | Anti-Mullerian hormone |
| CG | Classical Galactosaemia |
| FOX03 | Forkhead box 03 gene |
| FSH | Follicle stimulating hormone |
| LH | Luteinizing hormone |
| Gal | Galactosaemia |
| Gal-1-P | Galactose-1-phosphate |
| GALT | Galactose-1-phosphate uridylytransferase |
| GALE | Galactose epimerase |
| GALK | Galactokinase |
| GALM | Galactose mutarotase |
| MTORC1 | Mammalian target of rapamycin complex 1 |
| P13K | Phosphatidylinositol 3-kinase |
| POI | Primary Ovarian Insufficiency |
| PTEN | Phosphatase and tensin homolog |
| UDP-Gal | Uridine diphosphate galactose |
| UGP | UDP-glucose pyrophosphorylase |
Figure 1.
(
a
) Illustration of the pathways of galactose metabolism, with inhibition of the key enzyme: galactose-1-phosphate uridylytransferase. The key enzymes involved are shaded. (
b
) Illustration of the steps in oogenesis and folliculogenesis over the prenatal to menopause time period that may be influenced by GALT deficiency [
16
,
17
,
18
,
19
,
20
] with the proposed site of the PI3K/AKT regulation as cited by Sanchez and Smitz [
20
]. The abbreviations used are listed in the abbreviations list.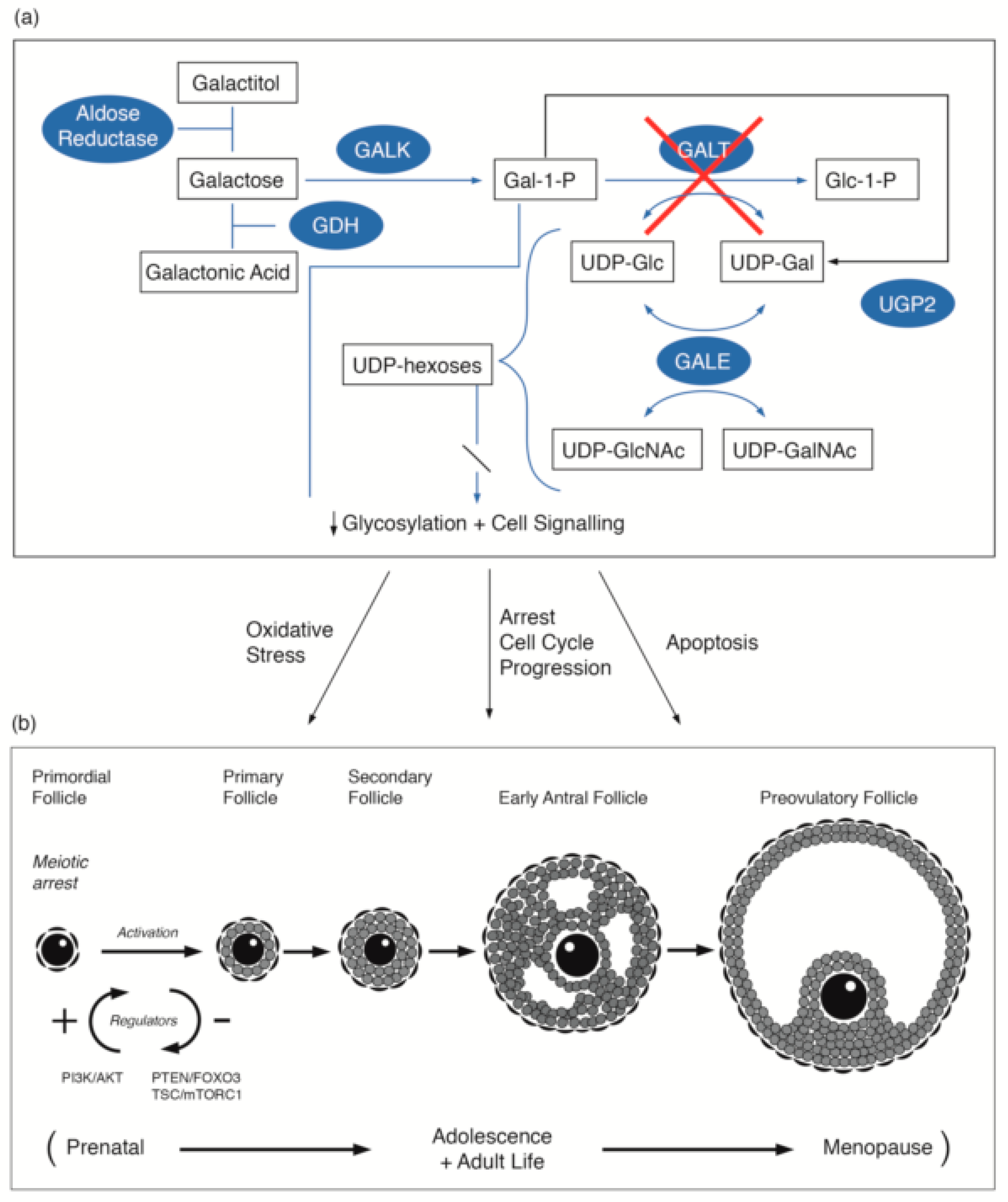 © 2019 by the authors. Licensee MDPI, Basel, Switzerland. This article is an open access article distributed under the terms and conditions of the Creative Commons Attribution (CC BY) license (http://creativecommons.org/licenses/by/4.0/).