Targeting SUMO Modification of the Non-Structural Protein 5 of Zika Virus as a Host-Targeting Antiviral Strategy
1
State Key Laboratory of Emerging Infectious Diseases, The University of Hong Kong, Pokfulam, Hong Kong Special Administrative Region, China
2
Department of Microbiology, Li Ka Shing Faculty of Medicine, The University of Hong Kong, Pokfulam, Hong Kong Special Administrative Region, China
3
Hainan Medical University-The University of Hong Kong Joint Laboratory of Tropical Infectious Diseases, Hainan Medical University, Haikou, Hainan, and The University of Hong Kong, Pokfulam, Hong Kong Special Administrative Region, China
4
Department of Pathogen Biology, Hainan Medical University, Haikou, Hainan 571101, China
5
Key Laboratory of Translational Tropical Medicine, Hainan Medical University, Haikou, Hainan 571101, China
6
School of Biomedical Sciences, The University of Hong Kong, Pokfulam, Hong Kong Special Administrative Region, China
7
Carol Yu Centre for Infection, Li Ka Shing Faculty of Medicine, The University of Hong Kong, Pokfulam, Hong Kong Special Administrative Region, China
8
The Collaborative Innovation Center for Diagnosis and Treatment of Infectious Diseases, The University of Hong Kong, Pokfulam, Hong Kong Special Administrative Region, China
*
Authors to whom correspondence should be addressed.
†
These authors contributed equally to this work as co-first authors.
Received: 7 December 2018 / Revised: 14 January 2019 / Accepted: 15 January 2019 / Published: 17 January 2019
Abstract
Post-translational modifications of host or viral proteins are key strategies exploited by viruses to support virus replication and counteract host immune response. SUMOylation is a post-translational modification process mediated by a family of ubiquitin-like proteins called small ubiquitin-like modifier (SUMO) proteins. Multiple sequence alignment of 78 representative flaviviruses showed that most (72/78, 92.3%) have a putative SUMO-interacting motif (SIM) at their non-structural 5 (NS5) protein's
N
-terminal domain. The putative SIM was highly conserved among 414 pre-epidemic and epidemic Zika virus (ZIKV) strains, with all of them having a putative SIM core amino acid sequence of VIDL (327/414, 79.0%) or VVDL (87/414, 21.0%). Molecular docking predicted that the hydrophobic SIM core residues bind to the β2 strand of the SUMO-1 protein, and the acidic residues flanking the core strengthen the binding through interactions with the basic surface of the SUMO protein. The SUMO inhibitor 2-D08 significantly reduced replication of flaviviruses and protected cells against ZIKV-induced cytopathic effects in vitro. A SIM-mutated ZIKV NS5 failed to efficiently suppress type I interferon signaling. Overall, these findings may suggest SUMO modification of the viral NS5 protein to be an evolutionarily conserved post-translational modification process among flaviviruses to enhance virus replication and suppress host antiviral response.
View Full-Text
►

▼

Figures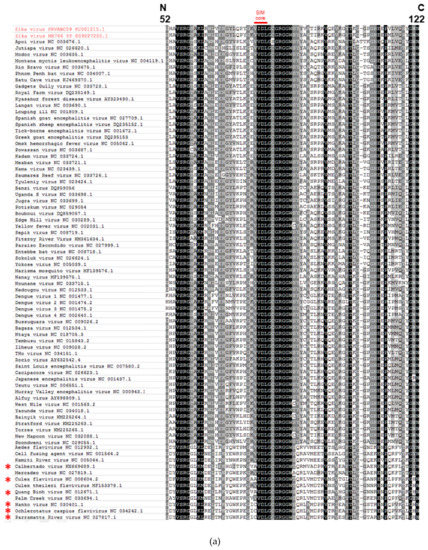 Figure 1
This is an open access article distributed under the
Creative Commons Attribution License
which permits unrestricted use, distribution, and reproduction in any medium, provided the original work is properly cited (CC BY 4.0).

Share & Cite This Article
MDPI and ACS Style
Zhu, Z.; Chu, H.; Wen, L.; Yuan, S.; Chik, K. .-H.; Yuen, T. .-T.; Yip, C. .-Y.; Wang, D.; Zhou, J.; Yin, F.; Jin, D.-Y.; Kok, K.-H.; Yuen, K.-Y.; Chan, J. .-W. Targeting SUMO Modification of the Non-Structural Protein 5 of Zika Virus as a Host-Targeting Antiviral Strategy. Int. J. Mol. Sci. 2019, 20, 392.
Note that from the first issue of 2016, MDPI journals use article numbers instead of page numbers. See further details here.
Related Articles
Comments
[Return to top]