Oxazole-Bridged Combretastatin A-4 Derivatives with Tethered Hydroxamic Acids: Structure–Activity Relations of New Inhibitors of HDAC and/or Tubulin Function
1
Department of Chemistry, University of Bayreuth, Universitaetsstrasse 30, 95447 Bayreuth, Germany
2
Institute of Physiology, Charité–Universitätsmedizin Berlin, Charitéplatz 1, 10117 Berlin, Germany
3
In Silico Toxicology Group, Institute of Physiology, Charité–Universitätsmedizin Berlin, Charitéplatz 1, 10117 Berlin, Germany
4
Internal Medicine IV, University Hospital Halle (Saale), Ernst-Grube-Str. 40, 06120 Halle, Germany
*
Authors to whom correspondence should be addressed.
Received: 21 December 2018 / Revised: 3 January 2019 / Accepted: 14 January 2019 / Published: 17 January 2019
Abstract
New inhibitors of tubulin polymerization and/or histone deacetylase (HDAC) activity were synthesized by attaching alkyl tethered hydroxamic acid appendages of varying length to oxazole-bridged combretastatin A-4 analogous caps. While their antiproliferative and microtubule disrupting effect was most pronounced for derivatives with short spacers, HDAC inhibition was strongest for those with longer spacers. These findings were further supported by computational methods such as structure-based docking experiments exploring the target interactions of the derivatives with varying linkers. For instance, compounds featuring short four-atom spacers between cap and hydroxamic acid inhibited the growth of various cancer cell lines and human endothelial hybrid cells with IC
50
values in the low nanomolar range. In line with their ability to inhibit the microtubule assembly, four- and five-atom spacered hydroxamic acids caused an accumulation of 518A2 melanoma cells in G2/M phase, whereas a compound featuring a six-atom spacer and performing best in HDAC inhibition, induced a G1 arrest in these cells. All these beneficial anticancer activities together with their selectivity for cancer cells over non-malignant cells, point out the great potential of these novel pleiotropic HDAC and tubulin inhibitors as drug candidates for cancer therapy.
View Full-Text
►

▼

Figures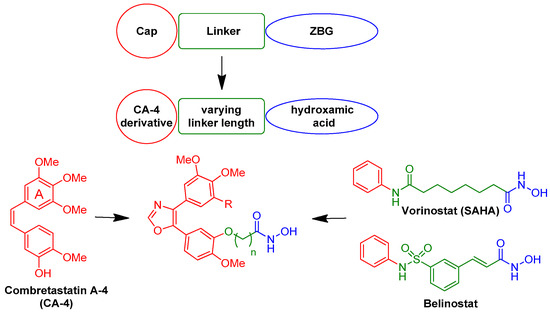 Figure 1
This is an open access article distributed under the
Creative Commons Attribution License
which permits unrestricted use, distribution, and reproduction in any medium, provided the original work is properly cited (CC BY 4.0).

Share & Cite This Article
MDPI and ACS Style
Schmitt, F.; Gosch, L.C.; Dittmer, A.; Rothemund, M.; Mueller, T.; Schobert, R.; Biersack, B.; Volkamer, A.; Höpfner, M. Oxazole-Bridged Combretastatin A-4 Derivatives with Tethered Hydroxamic Acids: Structure–Activity Relations of New Inhibitors of HDAC and/or Tubulin Function. Int. J. Mol. Sci. 2019, 20, 383.
Note that from the first issue of 2016, MDPI journals use article numbers instead of page numbers. See further details here.
Related Articles
Comments
[Return to top]