Cellular Responses of Industrially Relevant Silica Dust on Human Glial Cells In Vitro
1
Department of Biological and Chemical Work Environment, National Institute of Occupational Health, Pb 8149 Dep., N-0033 Oslo, Norway
2
Department of Industrial Process, Technology SINTEF Materials and Chemistry, PB 4760, N-7465 Trondheim, Norway
*
Author to whom correspondence should be addressed.
†
Present address: Faculty of Chemistry, Biotechnology and Food Sciences, Norwegian University of Life Sciences, Aas, Norway.
Received: 26 November 2018 / Revised: 28 December 2018 / Accepted: 28 December 2018 / Published: 16 January 2019
Abstract
Despite the rigorous emission control measures in the ferroalloy industry, there are still emissions of dust during the production of various alloys. Dust particles were collected from laboratory scale processes where oxide particulate matter was formed from liquid silicon (metallurgical grade). The dust was produced in a dry air atmosphere to mimic industrial conditions. To investigate possible effects of ultrafine dust on the central nervous system, a human astrocytic cell line was employed to investigate inflammatory effects of particles as astrocytes play a number of active and neuron supporting roles in the brain. Toxicity on the astrocytes by amorphous silica generated in laboratory scale was compared to crystalline macro-sized silica using several doses to determine toxicological dose response curves. The cell viability experiments indicated that low particle doses of amorphous silica induced a small nonsignificant reduction in cell viability compared to crystalline silica which led to increased levels of toxicity. The gene expression of amyloid precursor protein (APP), a biomarker of neurodegenerative disease, was affected by particle exposure. Furthermore, particle exposure, in a dose-and time-dependent manner, affected the ability of the cells to communicate through gap junction channels. In conclusion, in vitro studies using low doses of particles are important to understand mechanisms of toxicity of occupational exposure to silica particles. However, these studies cannot be extrapolated to real exposure scenarios at work place, therefore, controlling and keeping the particle exposure levels low at the work place, would prevent potential negative health effects.
View Full-Text
►

▼

Figures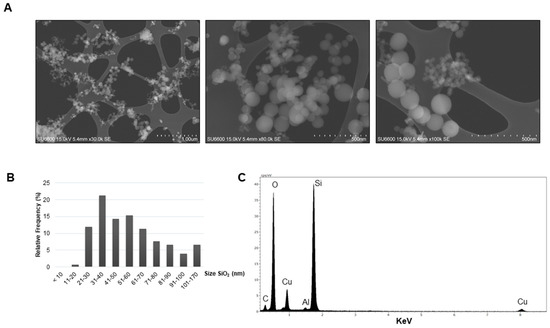 Figure 1
This is an open access article distributed under the
Creative Commons Attribution License
which permits unrestricted use, distribution, and reproduction in any medium, provided the original work is properly cited (CC BY 4.0).

Share & Cite This Article
MDPI and ACS Style
Arnoldussen, Y.J.; Kringlen Ervik, T.; Baarnes Eriksen, M.; Kero, I.; Skaug, V.; Zienolddiny, S. Cellular Responses of Industrially Relevant Silica Dust on Human Glial Cells In Vitro. Int. J. Mol. Sci. 2019, 20, 358.
Note that from the first issue of 2016, MDPI journals use article numbers instead of page numbers. See further details here.
Related Articles
Comments
[Return to top]