Transcriptional Alterations by Ischaemic Postconditioning in a Pig Infarction Model: Impact on Microvascular Protection
1
Department of Cardiology, Medical University of Vienna, A-1090 Vienna, Austria
2
Department of Pharmacology and Pharmacotherapy, Semmelweis University, 1085 Budapest, Hungary
3
Department of Biomedical Imaging and Image-Guided Therapy, Medical University of Vienna, A-1090 Vienna, Austria
4
Center for MR-Research, University Children's Hospital, 8032 Zurich, Switzerland
5
Institute of Diagnostic Imaging and Radiation Oncology, University of Kaposvár, 7400 Kaposvár, Hungary
6
Center for Medical Statistics, Informatics, and Intelligent Systems, Medical University of Vienna, A-1090 Vienna, Austria
7
Department of Radiology, University of Pécs, 7624 Pécs, Hungary
8
Institute of Physiology, Justus Liebig University Giessen, 35392 Giessen, Germany
9
Pharmahungary Group, Graphisoft Park, 7 Záhony Street, H-1031 Budapest, Hungary
*
Author to whom correspondence should be addressed.
Received: 30 November 2018 / Revised: 4 January 2019 / Accepted: 8 January 2019 / Published: 15 January 2019
Abstract
Although the application of cardioprotective ischaemia/reperfusion (I/R) stimuli after myocardial infarction (MI) is a promising concept for salvaging the myocardium, translation to a clinical scenario has not fulfilled expectations. We have previously shown that in pigs, ischaemic postconditioning (IPostC) reduces myocardial oedema and microvascular obstruction (MVO), without influencing myocardial infarct size. In the present study, we analyzed the mechanisms underlying the IPostC-induced microvascular protection by transcriptomic analysis, followed by pathway analysis. Closed-chest reperfused MI was induced by 90 min percutaneous balloon occlusion of the left anterior descending coronary artery, followed by balloon deflation in anaesthetised pigs. Animals were randomised to IPostC (
n
= 8), MI (non-conditioned,
n
= 8), or Control (sham-operated,
n
= 4) groups. After three hours or three days follow-up, myocardial tissue samples were harvested and subjected to RNA-seq analysis. Although the transcriptome analysis revealed similar expression between IPostC and MI in transcripts involved in cardioprotective pathways, we identified gene expression changes responding to IPostC at the three days follow-up. Focal adhesion signaling, downregulated genes participating in cardiomyopathy and activation of blood cells may have critical consequences for microvascular protection. Specific analyses of the gene subsets enriched in the endothelium of the infarcted area, revealed strong deregulation of transcriptional functional clusters, DNA processing, replication and repair, cell proliferation, and focal adhesion, suggesting sustentative function in the endothelial cell layer protection and integrity. The spatial and time-dependent transcriptome analysis of porcine myocardium supports a protective effect of IPostC on coronary microvasculature post-MI.
View Full-Text
►

▼

Figures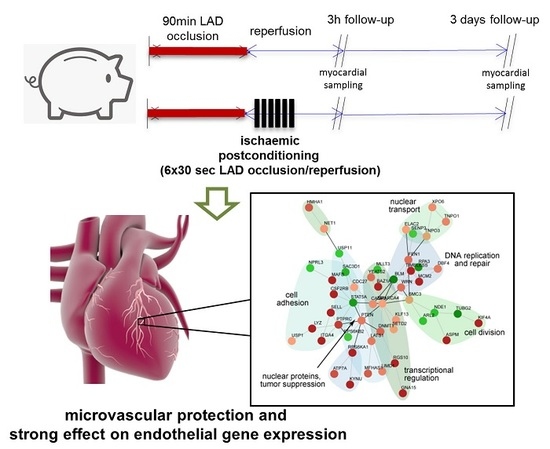 Graphical abstract
This is an open access article distributed under the
Creative Commons Attribution License
which permits unrestricted use, distribution, and reproduction in any medium, provided the original work is properly cited (CC BY 4.0).

Share & Cite This Article
MDPI and ACS Style
Lukovic, D.; Gugerell, A.; Zlabinger, K.; Winkler, J.; Pavo, N.; Baranyai, T.; Giricz, Z.; Varga, Z.V.; Riesenhuber, M.; Spannbauer, A.; Traxler, D.; Jakab, A.; Garamvölgyi, R.; Petnehazy, Ö.; Pils, D.; Tóth, L.; Schulz, R.; Ferdinandy, P.; Gyöngyösi, M. Transcriptional Alterations by Ischaemic Postconditioning in a Pig Infarction Model: Impact on Microvascular Protection. Int. J. Mol. Sci. 2019, 20, 344.
Note that from the first issue of 2016, MDPI journals use article numbers instead of page numbers. See further details here.
Related Articles
Comments
[Return to top]