Maternal High Fat Diet-Induced Obesity Modifies Histone Binding and Expression of
Oxtr

in Offspring Hippocampus in a Sex-Specific Manner

Centre for Neuroendocrinology, Department of Anatomy, University of Otago, Dunedin 9016, New Zealand

*

Author to whom correspondence should be addressed.

Received: 29 November 2018 / Revised: 7 January 2019 / Accepted: 9 January 2019 / Published: 15 January 2019
Abstract
Maternal obesity during pregnancy increases risk for neurodevelopmental disorders in offspring, although the underlying mechanisms remain unclear. Epigenetic deregulation associates with many neurodevelopmental disorders, and recent evidence indicates that maternal nutritional status can alter chromatin marks in the offspring brain. Thus, maternal obesity may disrupt epigenetic regulation of gene expression during offspring neurodevelopment. Using a C57BL/6 mouse model, we investigated whether maternal high fat diet (mHFD)-induced obesity alters the expression of genes previously implicated in the etiology of neurodevelopmental disorders within the Gestational Day 17.5 (GD 17.5) offspring hippocampus. We found significant two-fold upregulation of oxytocin receptor (
Oxtr
) mRNA in the hippocampus of male, but not female, GD 17.5 offspring from mHFD-induced obese dams (
p
< 0.05). To determine whether altered histone binding at the
Oxtr
gene promoter may underpin these transcriptional changes, we then performed chromatin immunoprecipitation (ChIP). Consistent with the
Oxtr
transcriptional changes, we observed increased binding of active histone mark H3K9Ac at the
Oxtr
transcriptional start site (TSS) in the hippocampus of mHFD male (
p
< 0.05), but not female, offspring. Together, these data indicate an increased vulnerability of male offspring to maternal obesity-induced changes in chromatin remodeling processes that regulate gene expression in the developing hippocampus, and contributes to our understanding of how early life nutrition affects the offspring brain epigenome.
View Full-Text
►

▼

Figures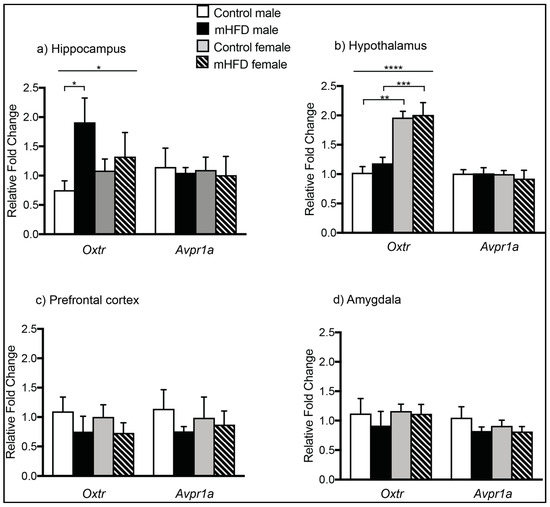 Figure 1
This is an open access article distributed under the
Creative Commons Attribution License
which permits unrestricted use, distribution, and reproduction in any medium, provided the original work is properly cited (CC BY 4.0).

Share & Cite This Article
MDPI and ACS Style
Glendining, K.A.; Jasoni, C.L. Maternal High Fat Diet-Induced Obesity Modifies Histone Binding and Expression of Oxtr in Offspring Hippocampus in a Sex-Specific Manner. Int. J. Mol. Sci. 2019, 20, 329.
Note that from the first issue of 2016, MDPI journals use article numbers instead of page numbers. See further details here.
Related Articles
Comments
[Return to top]