Genome-Wide Identification and Characterization of the AREB/ABF/ABI5 Subfamily Members from
Solanum tuberosum
1
Key Laboratory of Horticultural Plant Biology, Ministry of Education, Huazhong Agricultural University, Wuhan 430070, China
2
Key Laboratory of Potato Biology and Biotechnology, Ministry of Agriculture and Rural Affairs, Huazhong Agricultural University, Wuhan 430070, China
3
College of Horticulture, Henan Agricultural University, Zhengzhou 450002, China
*
Author to whom correspondence should be addressed.
Received: 13 December 2018 / Revised: 1 January 2019 / Accepted: 10 January 2019 / Published: 14 January 2019
Abstract
Abscisic acid (ABA) plays crucial roles in plant development and adaption to environmental stresses. The ABA-responsive element binding protein/ABRE-binding factor and ABA INSENSITIVE 5 (AREB/ABF/ABI5) gene subfamily members, which belong to the basic domain/leucine zipper (bZIP) transcription factors family, participate in the ABA-mediated signaling pathway by regulating the expression of their target genes. However, information about potato (
Solanum tuberosum
) AREB/ABF/ABI5 subfamily members remains scarce. Here, seven putative
AREB/ABF/ABI5
members were identified in the potato genome. Sequences alignment revealed that these members shared high protein sequence similarity, especially in the bZIP region, indicating that they might possess overlapping roles in regulating gene expression. Subcellular localization analysis illustrated that all seven AREB/ABF/ABI5 members were localized in the nucleus. Transactivation activity assays in yeast demonstrated that these AREB/ABF/ABI5 members possessed distinct transcriptional activity. Electrophoretic mobility shift assays (EMSA) confirmed that all of these AREB/ABF/ABI5 members could have an affinity to ABRE in vitro. The expression patterns of these
AREB/ABF/ABI5
genes showed that they were in response to ABA or osmotic stresses in varying degrees. Moreover, most
AREB/ABF/ABI5
genes were induced during stolon swelling. Overall, these results provide the first comprehensive identification of the potato AREB/ABF/ABI5 subfamily and would facilitate further functional characterization of these subfamily members in future work.
View Full-Text
►

▼

Figures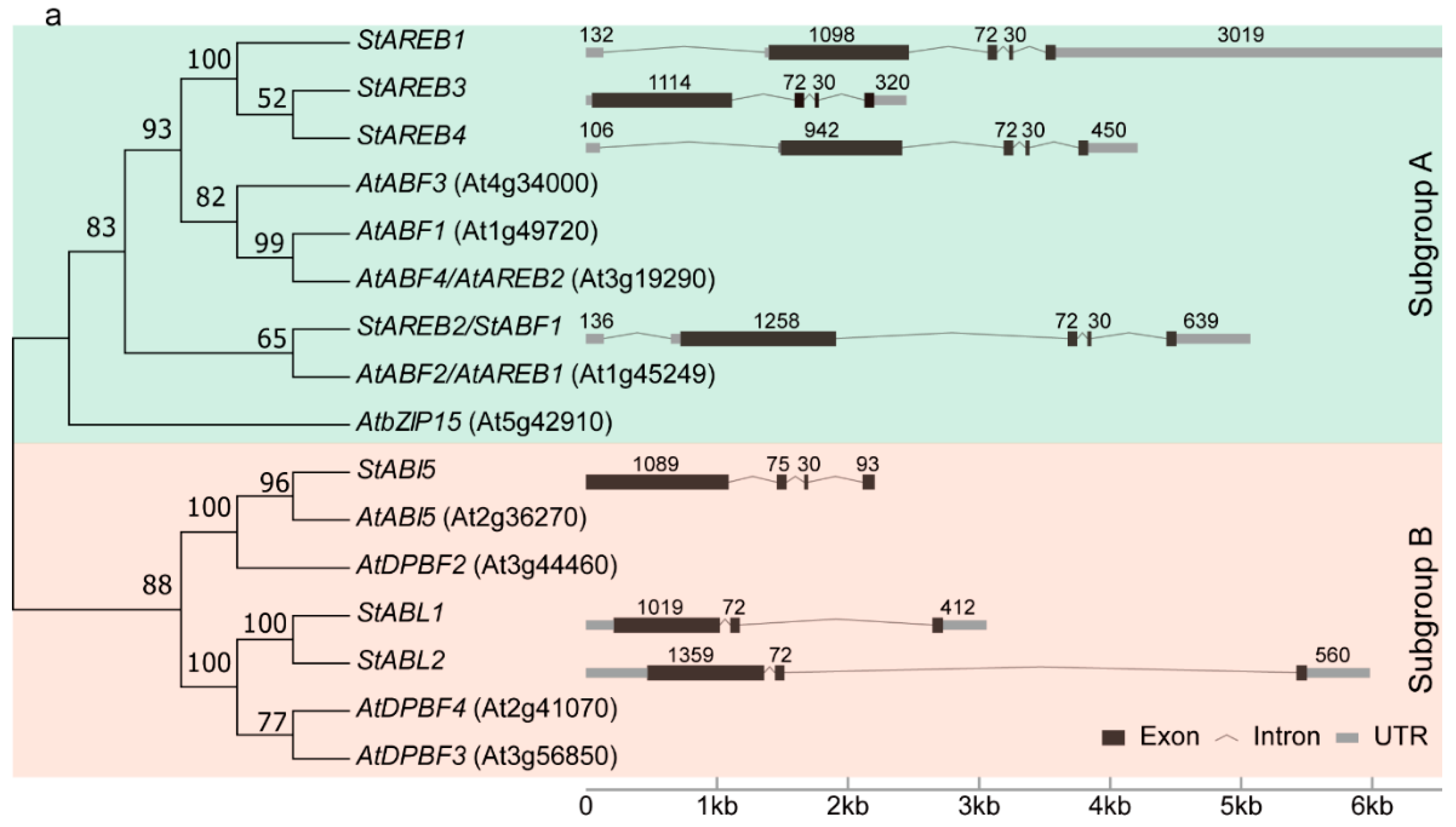 Figure 1
This is an open access article distributed under the
Creative Commons Attribution License
which permits unrestricted use, distribution, and reproduction in any medium, provided the original work is properly cited (CC BY 4.0).

Share & Cite This Article
MDPI and ACS Style
Liu, T.; Zhou, T.; Lian, M.; Liu, T.; Hou, J.; Ijaz, R.; Song, B. Genome-Wide Identification and Characterization of the AREB/ABF/ABI5 Subfamily Members from Solanum tuberosum. Int. J. Mol. Sci. 2019, 20, 311.
Note that from the first issue of 2016, MDPI journals use article numbers instead of page numbers. See further details here.
Related Articles
Comments
[Return to top]