HIF-1-Dependent Reprogramming of Glucose Metabolic Pathway of Cancer Cells and Its Therapeutic Significance
1
Laboratory of Cancer Cell Biology, Graduate School of Biostudies, Kyoto University, Yoshida Konoe-cho, Sakyo-ku, Kyoto 606-8501, Japan
2
Research Center for Advanced Science and Technology, The University of Tokyo, 4-6-1 Komaba, Meguro-ku, Tokyo 153-8904, Japan
*
Author to whom correspondence should be addressed.
Received: 5 December 2018 / Revised: 27 December 2018 / Accepted: 30 December 2018 / Published: 9 January 2019
Abstract
Normal cells produce adenosine 5′-triphosphate (ATP) mainly through mitochondrial oxidative phosphorylation (OXPHOS) when oxygen is available. Most cancer cells, on the other hand, are known to produce energy predominantly through accelerated glycolysis, followed by lactic acid fermentation even under normoxic conditions. This metabolic phenomenon, known as aerobic glycolysis or the Warburg effect, is less efficient compared with OXPHOS, from the viewpoint of the amount of ATP produced from one molecule of glucose. However, it and its accompanying pathway, the pentose phosphate pathway (PPP), have been reported to provide advantages for cancer cells by producing various metabolites essential for proliferation, malignant progression, and chemo/radioresistance. Here, focusing on a master transcriptional regulator of adaptive responses to hypoxia, the hypoxia-inducible factor 1 (HIF-1), we review the accumulated knowledge on the molecular basis and functions of the Warburg effect and its accompanying pathways. In addition, we summarize our own findings revealing that a novel HIF-1-activating factor enhances the antioxidant capacity and resultant radioresistance of cancer cells though reprogramming of the glucose metabolic pathway.
View Full-Text
►

▼

Figures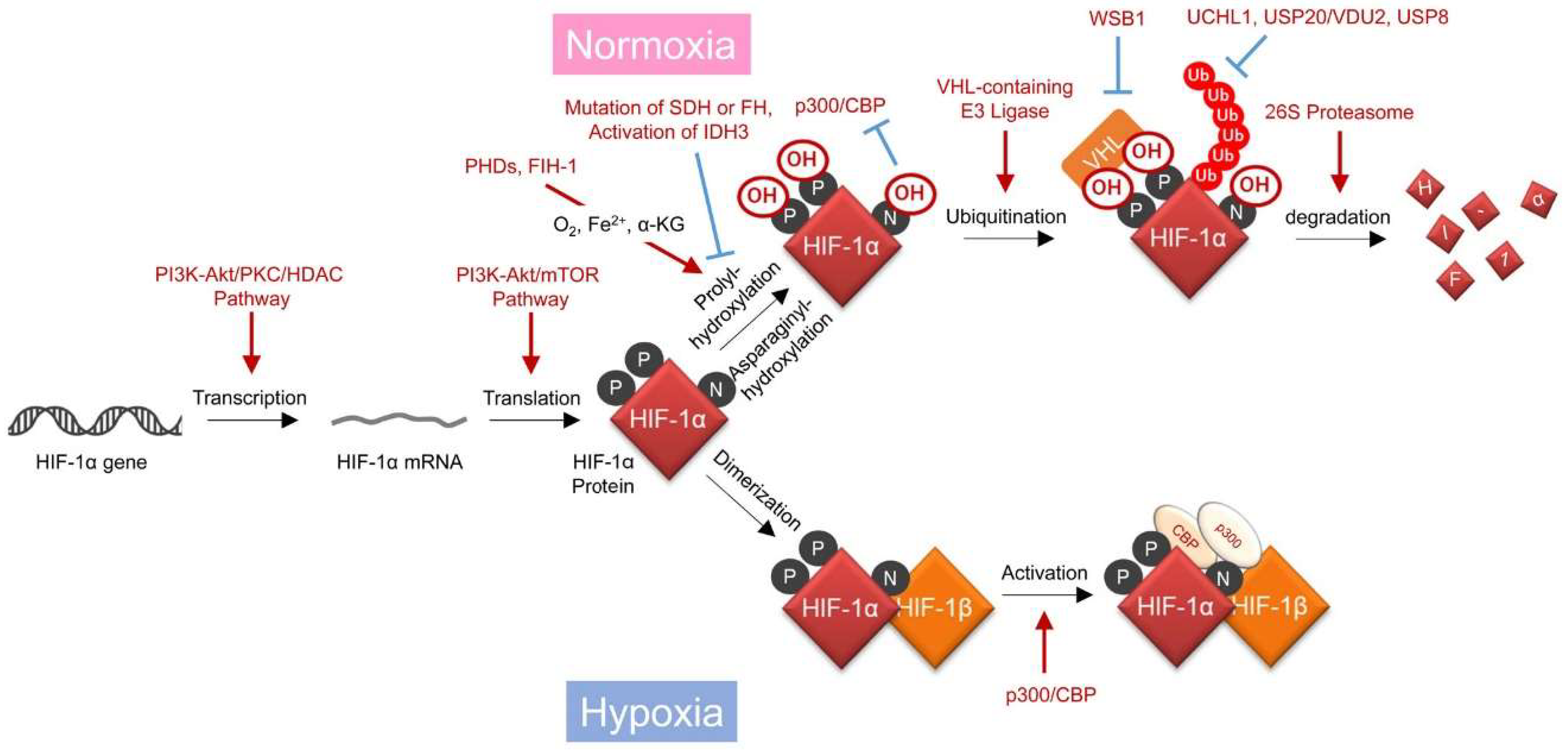 Figure 1
This is an open access article distributed under the
Creative Commons Attribution License
which permits unrestricted use, distribution, and reproduction in any medium, provided the original work is properly cited (CC BY 4.0).

Share & Cite This Article
MDPI and ACS Style
Nagao, A.; Kobayashi, M.; Koyasu, S.; Chow, C.C.T.; Harada, H. HIF-1-Dependent Reprogramming of Glucose Metabolic Pathway of Cancer Cells and Its Therapeutic Significance. Int. J. Mol. Sci. 2019, 20, 238.
Note that from the first issue of 2016, MDPI journals use article numbers instead of page numbers. See further details here.
Related Articles
Comments
[Return to top]