Open Access This article is
freely available
re-usable
Review
ZO-2 Is a Master Regulator of Gene Expression, Cell Proliferation, Cytoarchitecture, and Cell Size
Center for Research and Advanced Studies (Cinvestav), Department of Physiology, Biophysics and Neuroscience, Mexico City 07360, Mexico
*
Author to whom correspondence should be addressed.
Received: 17 July 2019 / Accepted: 10 August 2019 / Published: 24 August 2019
Abstract
:
ZO-2 is a cytoplasmic protein of tight junctions (TJs). Here, we describe ZO-2 involvement in the formation of the apical junctional complex during early development and in TJ biogenesis in epithelial cultured cells. ZO-2 acts as a scaffold for the polymerization of claudins at TJs and plays a unique role in the blood–testis barrier, as well as at TJs of the human liver and the inner ear. ZO-2 movement between the cytoplasm and nucleus is regulated by nuclear localization and exportation signals and post-translation modifications, while ZO-2 arrival at the cell border is triggered by activation of calcium sensing receptors and corresponding downstream signaling. Depending on its location, ZO-2 associates with junctional proteins and the actomyosin cytoskeleton or a variety of nuclear proteins, playing a role as a transcriptional repressor that leads to inhibition of cell proliferation and transformation. ZO-2 regulates cell architecture through modulation of Rho proteins and its absence induces hypertrophy due to inactivation of the Hippo pathway and activation of mTOR and S6K. The interaction of ZO-2 with viral oncoproteins and kinases and its silencing in diverse carcinomas reinforce the view of ZO-2 as a tumor regulator protein.
Keywords:
tight junctions; ZO-2; cholestasis; gene transcription; hypertrophy; tumor suppressor; NLS; NES; CaSR; RhoA
2. ZO-2 During Early Development
In mouse preimplantation embryos, ZO-2 assembles at blastomere junctional sites at the 16-cell stage, at the same time as cingulin but later than ZO-1α
-
, rab13, and the Par-3/Par-6/aPKC complex, which reach the junctions after the compaction of 8-cell morulae. At the 16-cell stage, ZO-2 co-localizes with E-cadherin in a transient complex that contains proteins of both the TJ and the AJ. From the 32-cell stage onwards, ZO-2 and the rest of the TJ proteins, also including occludin and claudins, separate from those of the AJ and a blastocoel cavity is formed [
13
] (for review see [
14
]). Lack of ZO-2 in the trophectoderm of mouse preimplantation embryos delays the formation of the blastocoel cavity and induces an increased assembly of ZO-1, suggesting a compensatory mechanism of ZO proteins. In accordance, the double KD of ZO-1 and ZO-2 induces a more severe inhibition of blastocoel formation [
13
]. Early after implantation, KO of ZO-2 is lethal and mouse embryos die, showing decreased proliferation at embryonic day 6.5 (E6.5) and increased apoptosis at E7.5 [
15
]. However, embryonic lethality of ZO-2 KO mice was rescued by injecting ZO-2 KO embryonic stem cells into wild type blastocysts to generate viable ZO-2 chimeras, hence indicating that ZO-2 is crucial for extraembryonic tissue rather than for the development of the embryo
per se
[
16
].
3. ZO-2 Presence at TJs Is Crucial in the Mouse Testis and the Human Liver and Inner Ear
ZO-2 is present in the TJs of all epithelial cells and has a role on the barrier function of TJs, as ZO-2 KD cells achieve a much lower peak value of transepithelial electrical resistance (TER) than parental cells [
17
,
18
]. Therefore, the observation that the absence of ZO-2 causes severe barrier impairment in mouse testes and human liver and inner ear tissue suggests that compensatory mechanisms, like the over-expression of ZO-1, are not effective in these tissues, where ZO-2 plays a critical and non-redundant role (
Table 1
).
3.1. ZO-2 and the Blood–Testis Barrier
TJs form the blood–testis barrier (BTB) at the lowermost portion of the lateral membrane of Sertoli cells. This barrier divides the paracellular space in two compartments: The basal compartment, which contains diploid spermatogonia, and the adluminal compartment, which contains differentiating spermatocytes and haploid spermatids. The BTB, constituted by occludin, claudin-3 and -11, ZO-1, and ZO-2, is critical for the maintenance of a proper microenvironment for germinal cells and to prevent autoimmunity (for review see [
29
]). Male ZO-2 chimera mice generated from wild type blastocysts, in which ZO-2 KO embryonic stem cells substituted the normal stem cells, showed reduced fertility, smaller testes, degeneration of seminiferous tubules, and permeable BTB, even when the other TJ proteins were present at the BTB. This suggests that ZO-2 plays a unique and critical role in the BTB [
16
].
Moreover, the organophosphate pesticide methamidophos (MET), which is widely used in agriculture in developing countries and is known to cause adverse effects in human male reproductive function, opens the BTB of mice and perturbs spermatogenesis. These changes correlate with MET formation of covalent bonds with ZO-2 in serine, tyrosine, and lysine residues. MET bonds formed in ZO-2 are proposed to interfere with ZO-2 degradation and TJ sealing, since cultured Madin-Darby canine kidney (MDCK) cells transfected with ZO-2 mutated at MET target sites developed lower values of TER [
30
].
3.2. ZO-2 in the Liver
In the liver, TJs present in hepatocytes and cholangiocytes in intrahepatic canaliculi prevent leakage of biliary components through the paracellular space and into the liver parenchyma. Familial hypercholanemia is a rare disease characterized by elevated serum bile acid concentration, pruritus, and fat malabsorption. In Amish individuals with this condition, the missense mutation V48A in the first PDZ domain of TJP2 was identified. This mutation reduces PDZ1 domain stability and binding to the C-terminal domain peptides of claudin-1, -2, -3, -5, and -7. In some individuals, this mutation is associated with an additional missense mutation on the gene for bile acid Coenzyme A (BAAT), a bile-conjugating enzyme. In a patient homozygous for the
TJP2
mutation and heterozygous with respect to the
BAAT
mutation, TJ depth viewed by transmission electron microscopy was greater than in control individuals. Considering that greater TJ depth was observed in liver disease associated with greater TJ permeability, it was concluded that the missense mutation in
TJP2
generated leakier TJs in the liver, which affected bile acid localization [
21
].
In children with familial intrahepatic cholestasis, a condition where bile does not flow through the intrahepatic ducts of the liver, homozygous protein truncating mutations in
TJP2
leading to a complete absence of the protein were detected. In this case, the absence of ZO-2 is accompanied by a failure of localization of claudin-1, but not of claudin-2, to the canalicular membrane [
31
]. Another case of compound heterozygous mutations in
TJP2
predicted to abolish TJ protein translation was observed in a young child with familial intrahepatic cholestasis [
24
]. Additional cases of infants with progressive intrahepatic cholestasis that led to chronic cholestatic hepatitis with cirrhosis and hepatocellular carcinoma were also reported. In these cases, homozygous and heterozygous
TJP2
mutations were present, ZO-2 expression was absent, and claudin-1 expression was decreased [
25
,
26
,
27
].
Intrahepatic cholestasis of pregnancy, characterized by pruritus, hepatic impairment, and elevated serum bile acids, can lead to spontaneous preterm delivery and stillbirth. In women with this condition, heterozygous mutations in
TJP2
were discovered. These novel T62M and T626S mutations were respectively located in the PDZ1 and the SH3 domains of ZO-2; and no patient harbored more than one mutation [
28
]. Since only three patients were identified with these mutations, larger cohorts of pregnant patients should be studied to understand why these variants give rise to leaky TJs in the liver during pregnancy (
Table 1
).
3.3. ZO-2 in the Inner Ear
In the mammalian ear, the hair cells of the cochlea convert the vibrations induced by sound into electrical signals by K
+
-mediated depolarization. A K
+
-rich fluid, named endolymph and produced by the stria vascularis, bathes the apical surface of hair cells. The basolateral surface of a hair cell is surrounded by the perilymph, which has a low K
+
concentration. To prevent mixing endolymph and perilymph and to maintain a high resting potential in the endolymph (≈90 mV), the cells surrounding the liquid are sealed with TJs, which are very tight in hair cells and supporting cells in the reticular lamina of the organ of Corti and in some cells of the stria vascularis. Accordingly, hearing loss associated with the degeneration of cochlear hair cells was observed in KO mice for claudin-14 [
32
], occludin [
33
], tricellulin [
34
], and ILDR-1/angulin-2 [
35
], and in a mice carrying a missense mutation of claudin-9 [
36
]. Claudin-11-null mice lacked TJs in the basal cells of the stria vascularis and their deafness was associated with a low endocochlear potential [
37
,
38
].
Autosomal dominant nonsyndromic hearing loss caused by mutations in the
TJP2
gene was observed in a Chinese family involving the missense mutation 2081G>A (G694E) [
20
], located within the GuK domain of ZO-2, and in the Korean population due to two pathogenic variations: 334G>A (A112T), which is present in the PDZ1 domain of ZO-2, and 3562A>G (T1188A), which is situated within the carboxyl terminal PDZ binding motif TEL of ZO-2 [
19
]. Since the latter, as well as the PDZ1 and GuK domains of ZO-2, are protein–protein binding regions, it is expected that mutations at these sites would compromise TJ stability and the interaction of ZO-2 with other TJ proteins and signaling molecules (
Table 1
).
4. Subcellular Localization and Traffic of ZO-2
5. Interaction of ZO-2 with Nuclear Proteins
ZO-2 is present in the nuclear matrix interacting with lamin B1 and actin [
51
]. Nuclear ZO-2 concentrates at speckles, which are active places that coordinate transcription and splicing. Accordingly, nuclear ZO-2 co-localizes with the essential pre-mRNA splicing protein SC-35 [
39
], the speckle protein ZASP [
52
], and the C-terminal portion of scaffold attachment factor-B (SAF-B) [
40
]. The latter is involved in transcriptional repression (for review on SAFB1/SAFB2 see [
53
]), associates with E-boxes in DNA [
54
,
55
], recruits histone deacetylases allowing histones to wrap the DNA more tightly [
55
,
56
], and binds and inhibits SRPK1 [
57
] (
Figure 3
).
In addition, a proteomic analysis revealed the presence of ZO-2 in a complex derived from an immunoprecipitation (IP) of SRm160 from a HeLa cell nuclear extract. SRm160 is a serine/arginine repeat nuclear matrix protein that promotes splicing and stimulates 3′-end processing [
58
].
In HEK293 cells, liquid chromatography-tandem mass spectometry (LC-MS/MS) revealed the presence of ZO-2 in SIRT7 immunoisolates [
59
]. SIRT7 is a nucleoli enzyme that associates with RNA Pol I machinery and is required for rDNA transcription. This is noteworthy, since ZO-2 does not co-localize at the nucleoli with nucleolin [
39
]. LC-MS/MS has also shown the presence of ZO-2 in a soluble protein complex with: (a) Ubinuclein [
60
], a nuclear protein that enhances the stability and function of human histone H3.3 chaperone complex HUCA (HIRA/UBN1/CABIN1/ASF1a) [
61
] and that in confluent epithelial cells interacts with cingulin and ZO-1 at TJs [
62
]; (b) WDR36/UTP21 [
60
], a protein required for the biogenesis of 18S ribosomal RNA [
63
]; (c) ZMYM3 [
60
], a chromatin-interacting protein that promotes DNA repair by homologous recombination [
64
]; (d) the estrogen-related receptor α (ERRα) [
60
], a nuclear receptor that interacts with estrogen, activates reporters containing steroidogenesis factor 1 response elements [
65
], and modulates the activity of estrogen receptor α (ERα) in breast, uterus, and bone (for review see [
65
]); (e) MCM3, a protein involved in the initiation of eukaryotic genome replication [
66
]; and f) PUS7 [
66
], a pseudouridine synthase that enhances RNA stability [
67
].
Altogether, these observations suggest that nuclear ZO-2 forms part of a complex that couples chromatin structure to transcription and RNA processing.
6. ZO-2 as Repressor of Gene Transcription
7. ZO-2 and Cell Proliferation
8. ZO-2 in Apoptosis and Cell Degeneration
Apoptosis is a form of programmed cell death present in multicellular organisms. In contrast to necrosis, which is a traumatic cell death after acute cellular injury, apoptosis is a highly regulated and controlled process. Some factors, like Fas receptors and caspases, which are a family of cysteinyl-aspartate proteases that signal through a cascade, promote apoptosis, while proteins of the BCL-2 family inhibit apoptosis.
9. ZO-2 Associates with the Cortical Actomyosin Ring and Regulates Cytoarchitecture
10. ZO-2 as a Modulator of Cell Size
ZO-2 silencing in MDCK cells produces an increase in cell size also known as hypertrophy, where 67% of cells have a cell diameter of 55–60 nm instead of the 35–40 nm present in 73% of parental cells [
73
]. Hypertrophy has been associated with the activation of cyclin D without the concurrent upregulation of cyclin E, which triggers an increase in the physical growth of cells in early G1 and delayed entry into the S phase [
113
,
114
]. In ZO-2 KD cells this appears to be the case, as cyclin D1 content is increased, while entry into the S phase exhibits a delay [
73
].
In ZO-2 KD cells, hypertrophy is also due to inhibition of the Hippo pathway and activation of mTOR signaling [
73
]. The absence of ZO-2 induces the concentration of YAP at the nucleus and its transcriptional activity that promotes the expression of the catalytic pik3cb subunit of phosphatidylinositol 3-kinase (PI3K) and, through an miRNA-dependent process, blocks the translation of the phosphate and tensin homologue (PTEN). Consequently, the concentration of phosphatidylinositol(3,4,5)-trisphosphate (PIP3) increases and recruits PDK1 and AKT to the plasma membrane, triggering the phosphorylation and activation of AKT and the subsequent phosphorylation of mTORC1 and its downstream target, the ribosomal protein S6 kinase 1 (S6K1), which increases protein synthesis. Altogether, this leads to an increased protein/DNA ratio that produces hypertrophy [
73
], in agreement with previous observations in renal cells where hypertrophy appears to be a result of an increase in the protein synthesis/degradation rate [
115
,
116
]. Moreover, in renal compensatory hypertrophy induced by the removal of one kidney or uninephrectomy, the size of cells in the proximal tubules of the remaining kidney increased, while the expression of ZO-2 decreased and YAP accumulated in the nucleus. These results hence show that both
in vivo
and
in vitro
ZO-2 silencing correlates with cell hypertrophy.
11. ZO-2 as a Tumor Regulator Protein
In summary, ZO-2 could be viewed as a tumor suppressor protein due to its structural similarity with known tumor suppressor proteins and considering that it is a target of oncogenic kinases, is silenced in various carcinomas, and exerts transcriptional repression on genes involved in cell proliferation and EMT. However, since oncogenic HPVs upregulate ZO-2 expression and forced nuclear accumulation of ZO-2 increases cell proliferation and confers metabolic benefit to cancer cells, we think ZO-2 might be considered as a tumor regulator rather than a tumor suppressor.
Funding
This work was supported by a grant from the Miguel Alemán Valdés Foundation to L.G.M. and by a SEP-Cinvestav grant to L.G.M. The APC was funded by Cinvestav.
Acknowledgments
H.G.G.: L.G.G. and C.H.G. were recipients of doctoral fellowship from the Mexican council of Science and Technology (Conacyt) (282075, 340209 and 407499) and H.G.G. was also a recipient of a scholarship from Mexiquense Council of Science and Technology (Comecyt, 2018AD0009-11).
Conflicts of Interest
The authors declare no conflict of interest.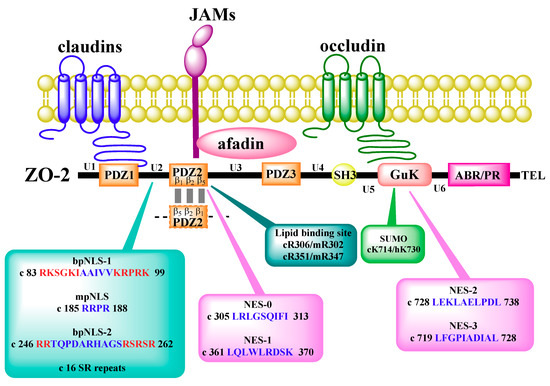 Figure 1. ZO-2 molecular organization and interactions with integral tight junction (TJ) proteins at the plasma membrane. ZO-2 domains (PDZ, SH3, and GuK), regions (U, unique; ABR, actin binding; PR, proline rich), and PDZ-binding motif (TEL) are indicated, as well as the nuclear localization signals (NLS) and exportation signals (NES), SUMOylation (SUMO) and lipid binding sites, and dimerization region. The ZO-2 sequence is identified by letters: c, canine; m, mouse; h, human. Numbers correspond to amino acids. Clusters of basic amino acids (K/R) in the bpNLS are shown in red. bp, bipartite; mp, monopartite.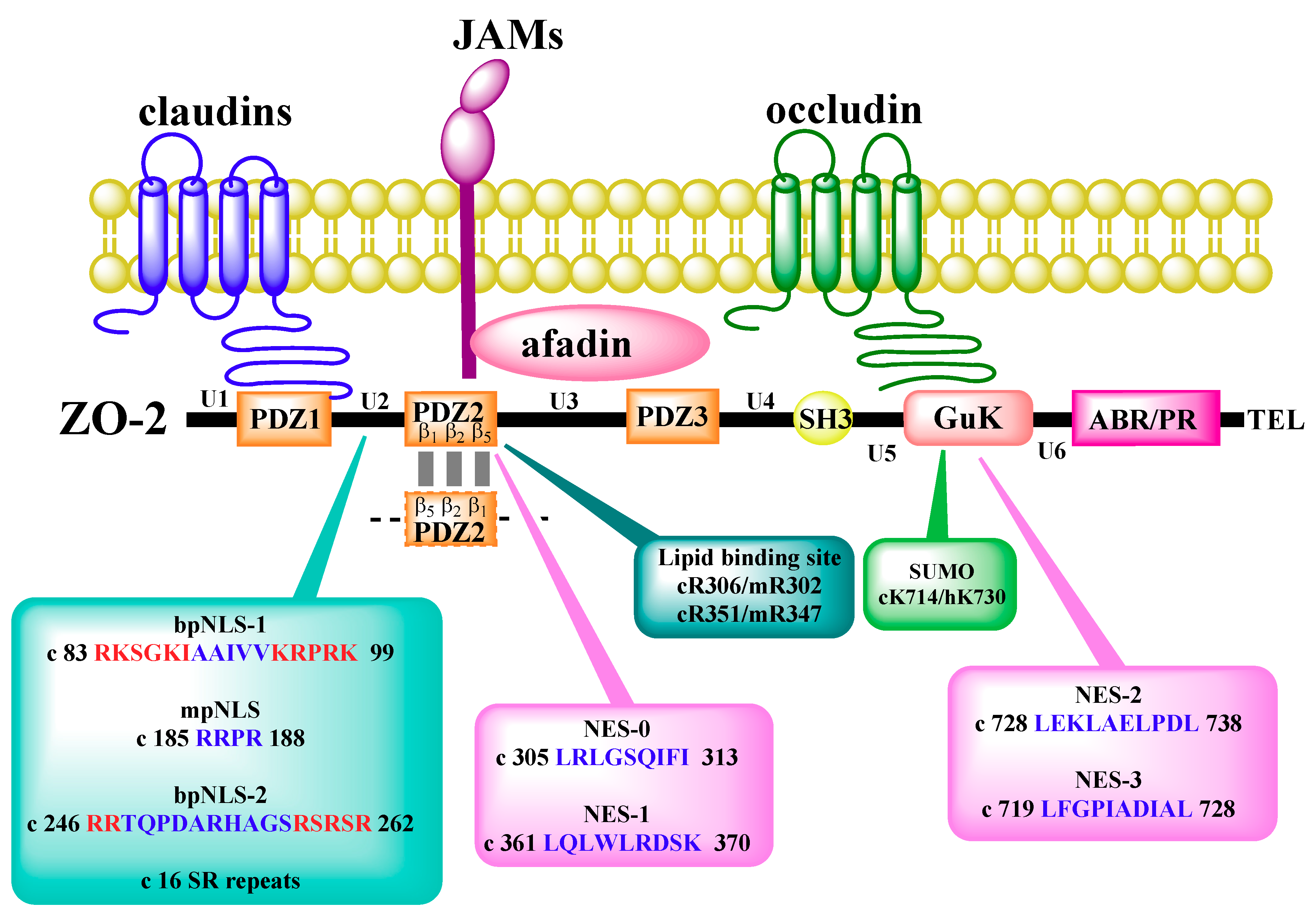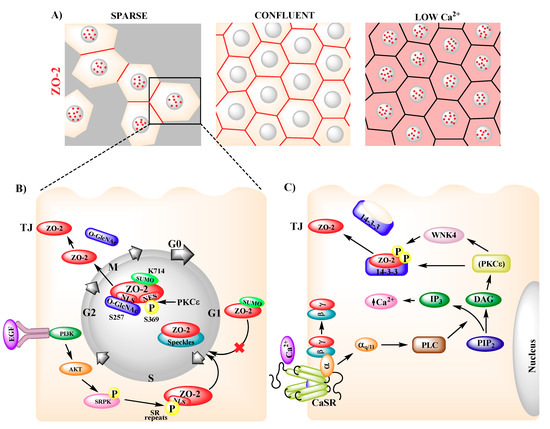 Figure 2.
Intracellular movement of ZO-2. (
A
) In sparse cultures, ZO-2 is present in nuclear speckles (red dots) and TJs (red cell borders), whereas in confluent cells ZO-2 concentrates at TJs (red cell borders). In cells cultured with low Ca
2+
(1–5 μM) ZO-2 distributes diffusely in the cytoplasm (pink cytoplasmic staining) and concentrates in nuclear speckles (red dots). (
B
) In sparse cultures, epidermal growth factor (EGF) induces AKT activation, which triggers ZO-2 phosphorylation of serine-arginine (SR) repeats by SR protein kinase (SRPK). Nuclear localization signals (NLSs) of ZO-2 and phosphorylated SR repeats induce the arrival of ZO-2 to nuclear speckles at late G1. ZO-2 exit from the nucleus requires the phosphorylation of Ser369 within a nuclear exportation signal (NES) by PKCԑ and the inactivation of bpNLS-2 by
O
-GlcNAc of Ser257, and is facilitated by SUMOylation of Lys714. (
C
) Extracellular Ca
2+
activates the Ca
2+
-sensing receptor (CaSR) present in the plasma membrane that signals through the Gα
q/11
subunit, activating PLC, which hydrolyzes PIP2 into DAG and IP3. DAG activates PKCԑ, leading to ZO-2 phosphorylation by WNK4. This phosphorylation induces the disassembly of ZO-2 from 14-3-3 proteins in the cytoplasm and triggers the relocation of ZO-2 to the plasma membrane.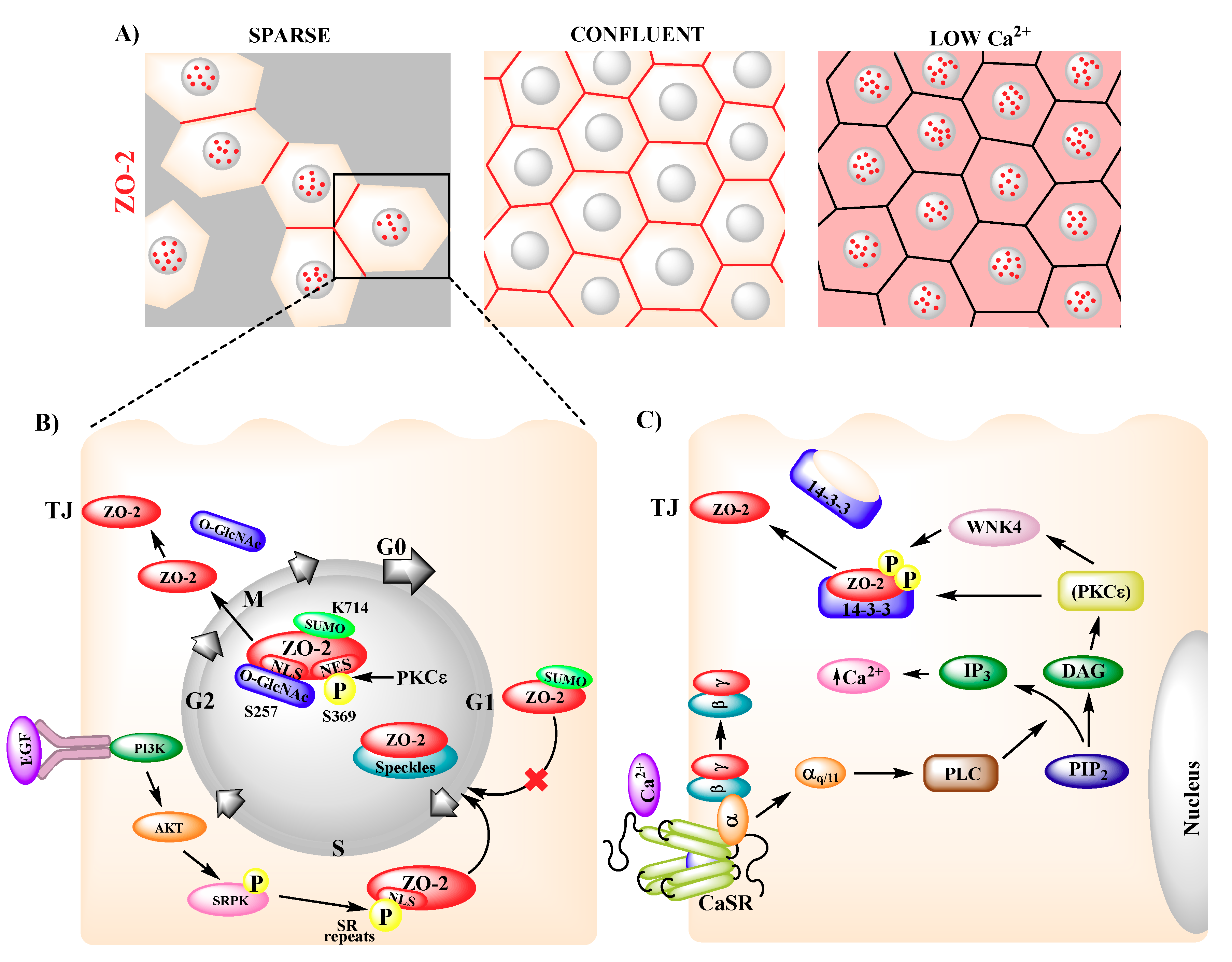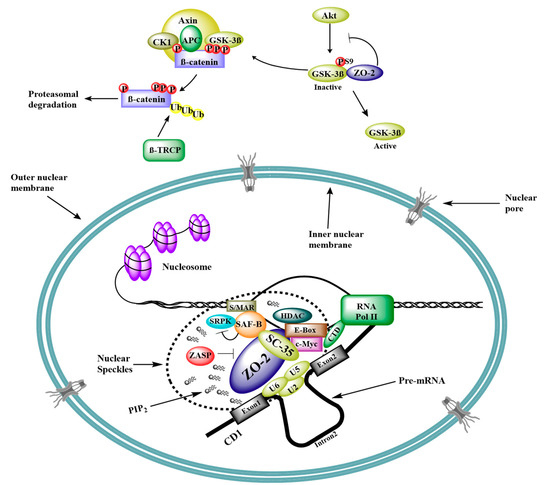 Figure 3. Schematic diagram of ZO-2 as a scaffold for transcription and splicing. ZO-2 expression blocks GSK-3β inhibitory phosphorylation at Ser9. GSK-3β phosphorylates β-catenin and targets it for ubiquitination and proteasomal degradation. Consequently, β-catenin entry into the nucleus and transcriptional activity is inhibited. At the nucleus, ZO-2 localizes in speckles associated to PIP2 and ZASP and inhibits transcription of CD1 through its interaction with an E-box in the promoter region, mediated by c-Myc transcription factor. In addition, ZO-2 is proposed to participate in mRNA splicing due to its association with the essential splicing protein SC-35 and the scaffold attachment factor SAF-B. S/MAR, scaffold/matrix attachment región; P, phosphate; Ub, ubiquitin; U2, U5, and U6, splicing ribonucleoproteins; PIP2, phosphatidylinositol (4,5)-bisphosphate.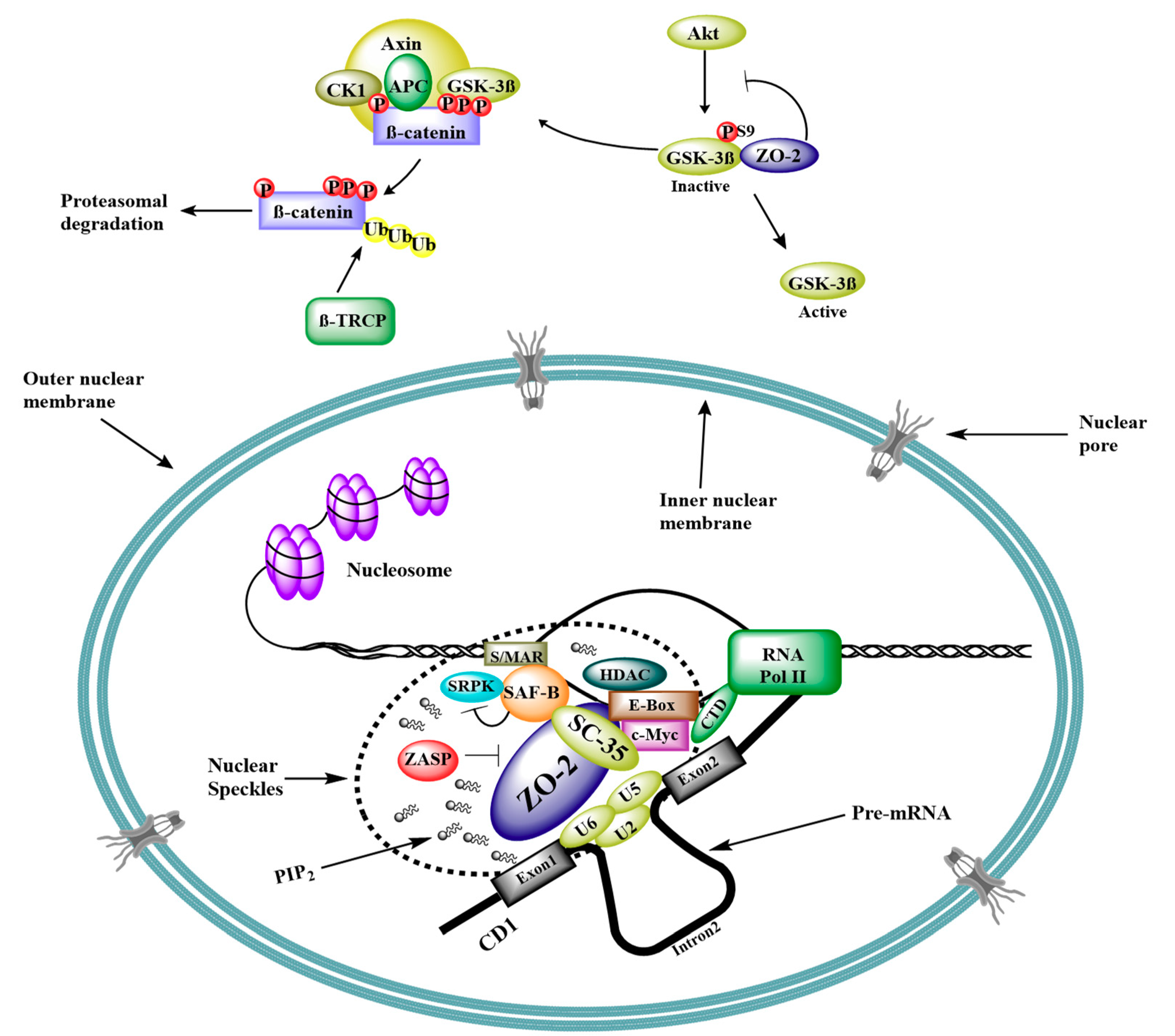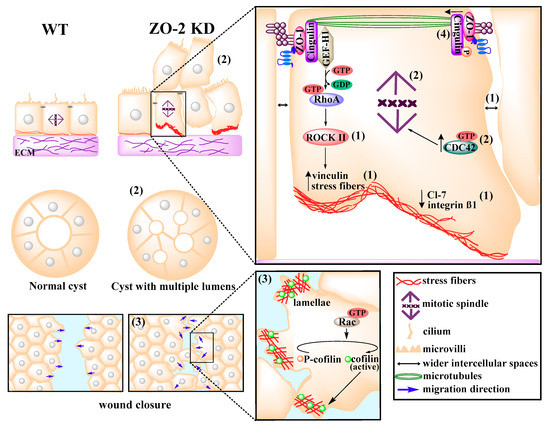 Figure 4. ZO-2 modulates cell size and tissue architecture. Absence of ZO-2 induces cell hypertrophy and development of an atypical cytoarchitecture characterized by: (1) Wider intercellular spaces and the detachment of cells from the substrate accompanied by a reduced expression of claudin-7 and integrin β1, an increased recruitment of vinculin to focal adhesions, and the proliferation of stress fibers induced by RhoA/ROCK-II activation; (2) an augmented activation of CDC42 that triggers the disorientation of the mitotic spindle and leads to the growth of cells on top of each other in 2D and 3D cultures and then to the formation of multiple lumens per cyst; (3) the activation of Rac and cofilin, which promote the formation of multiple lamellipodia, reduce directional persistence, and increase wound closure; and (4) the disappearance of a planar network of microtubules at the cell border.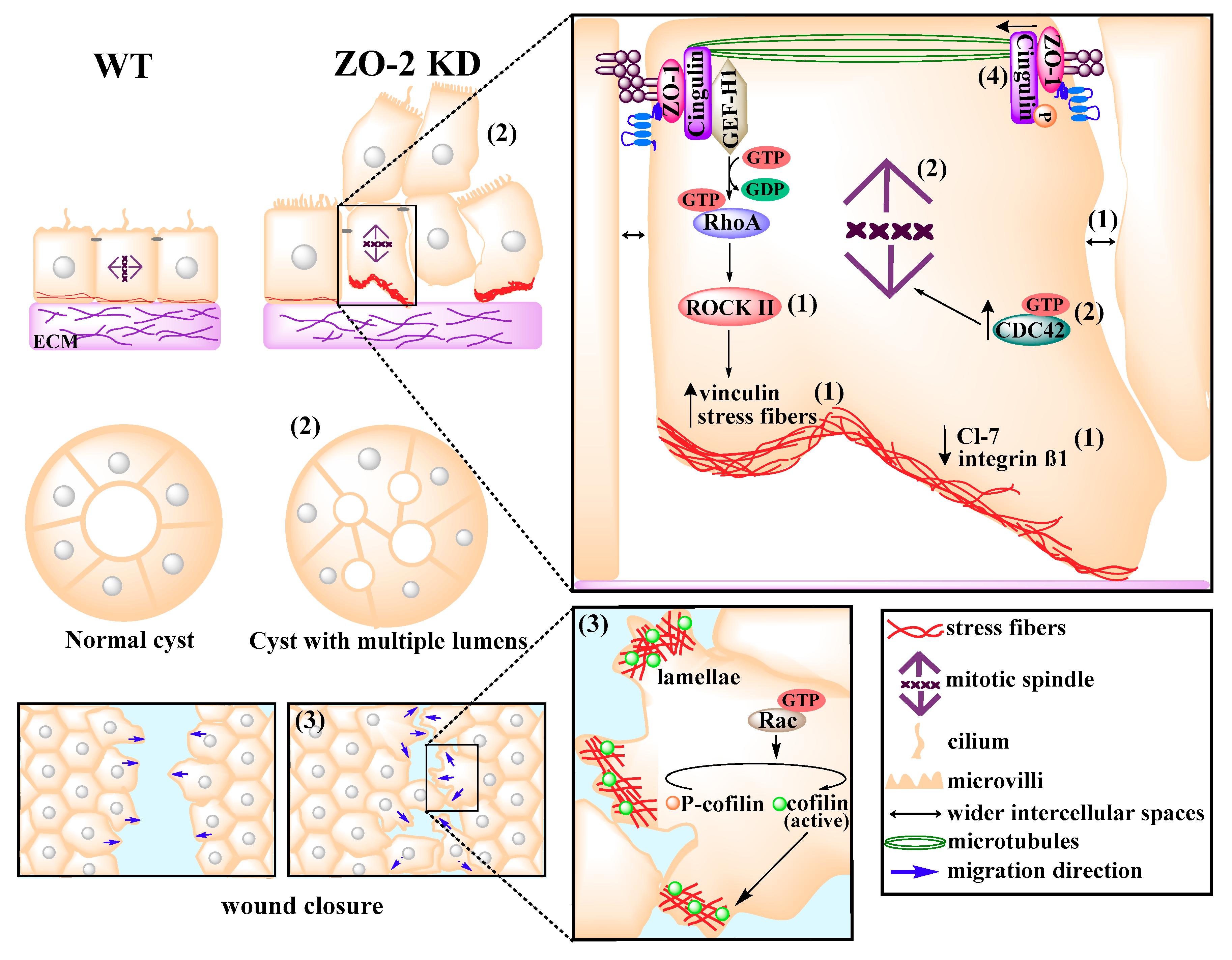 Species
Disease
Alteration
Location within ZO-2
Features of Disease
Reference
Human
ADNSHL
A112T
PDZ1
[19]
T1188A
TEL
G694E
GuK
[20]
Genomic duplication at chromosome 9p13.3-q21.13
[4]
Familial hypercholanemia
V48A
PDZ1
Patients with itching, elevated bile acid concentration and fat malabsorption. TJP2 mutation combined with bile acid Coenzyme A (BAAT) mutation
[21]
Intrahepatic cholestasis
I875T
GuK
71-year-old patient
[22]
R322W
PDZ2
Disease since early infancy
A256T
ZO-2 deficiency
[23]
S296A
Y261S
A454G
A664S
Q318G
A632fs
S1136A
T880S
[24]
N814Q
Disease since early infancy that leads to hepatocellular carcinoma
[25]
A273fs
[26]
Exon 18 deletion
[27]
T62M
PDZ1
Intrahepatic cholestasis of pregnancy (ICP)
[28]
T626S
SH3
Mouse
ZO-2 KO
Reduced male fertility
[16]
ADNSHL: Autosomal dominant non-syndromic hearing loss.

© 2019 by the authors. Licensee MDPI, Basel, Switzerland. This article is an open access article distributed under the terms and conditions of the Creative Commons Attribution (CC BY) license (http://creativecommons.org/licenses/by/4.0/).