A Novel Peptide Ameliorates LPS-Induced Intestinal Inflammation and Mucosal Barrier Damage via Its Antioxidant and Antiendotoxin Effects
1
Laboratory of Feed Biotechnology, State Key Laboratory of Animal Nutrition, College of Animal Science and Technology, China Agricultural University, Beijing 100193, China
2
Prestage Department of Poultry Science, North Carolina State University, Raleigh, NC 27695, USA
*
Author to whom correspondence should be addressed.
Received: 1 August 2019 / Revised: 12 August 2019 / Accepted: 14 August 2019 / Published: 15 August 2019
Abstract
Intestinal inflammation is an inflammatory disease resulting from immune dysregulation in the gut. It can increase the risk of enteric cancer, which is a common malignancy globally. As a new class of anti-inflammatory agents, native peptides have potential for use in the treatment of several intestinal inflammation conditions; however, their potential cytotoxicity and poor anti-inflammatory activity and stability have prevented their development. Hybridization has been proposed to overcome this problem. Thus, in this study, we designed a hybrid peptide (LL-37-TP5, LTP) by combing the active centre of LL-37 (13–36) with TP5. The half-life and cytotoxicity were tested in vitro, and the hybrid peptide showed a longer half-life and lower cytotoxicity than its parental peptides. We also detected the anti-inflammatory effects and mechanisms of LTP on Lipopolysaccharide (LPS)-induced intestinal inflammation in murine model. The results showed that LTP effectively prevented LPS-induced weight loss, impairment of intestinal tissues, leukocyte infiltration, and histological evidence of inflammation. Additionally, LTP decreased the levels of tumour necrosis factor-alpha, interferon-gamma, and interleukin-6; increased the expression of zonula occludens-1 and occludin; and reduced permeability in the jejunum of LPS-treated mice. Notably, LTP appeared to be more potent than the parental peptides LL-37 and TP5. The anti-inflammatory effects of LTP may be associated with the neutralization of LPS, inhibition of oxidative stress, and inhibition of the NF-κB signalling pathway. The findings of this study suggest that LTP might be an effective therapeutic agent for treating intestinal inflammation.
View Full-Text
►

▼

Figures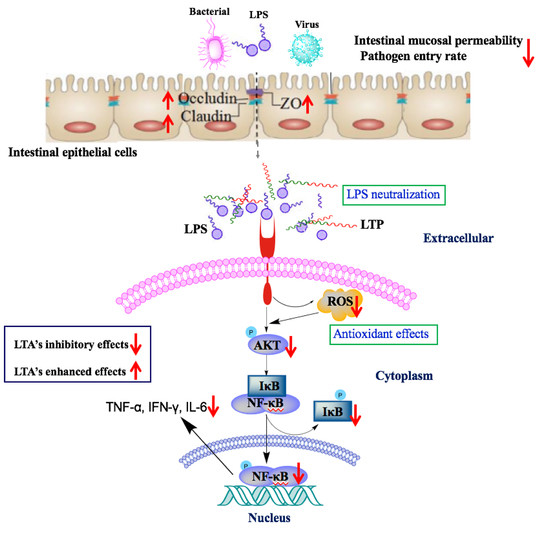 Graphical abstract
This is an open access article distributed under the
Creative Commons Attribution License
which permits unrestricted use, distribution, and reproduction in any medium, provided the original work is properly cited (CC BY 4.0).

Share & Cite This Article
MDPI and ACS Style
Zhang, L.; Wei, X.; Zhang, R.; Si, D.; Petitte, J.N.; Ahmad, B.; Zhang, M. A Novel Peptide Ameliorates LPS-Induced Intestinal Inflammation and Mucosal Barrier Damage via Its Antioxidant and Antiendotoxin Effects. Int. J. Mol. Sci. 2019, 20, 3974.
Note that from the first issue of 2016, MDPI journals use article numbers instead of page numbers. See further details here.
Related Articles
Comments
[Return to top]