Targeting Mitochondrial Fission Using Mdivi-1 in A Clinically Relevant Large Animal Model of Acute Myocardial Infarction: A Pilot Study
1
Cardiovascular and Metabolic Disorders Program, Duke-National University of Singapore Medical School, Singapore 169857, Singapore
2
Department of Cardiovascular, Renal and Metabolic Medicine, School of Medicine, Sapporo Medical University, Hokkaido 060-8543, Japan
3
National Heart Research Institute Singapore, National Heart Centre, Singapore 169609, Singapore
4
Institute of Biochemistry, Medical School, Justus-Liebig University, 35392 Giessen, Germany
5
Innoheart Pte Ltd., Singapore 119844, Singapore
6
Health and Social Sciences Cluster, Singapore Institute of Technology, Singapore 138683, Singapore
7
Tecnologico de Monterrey, Centro de Biotecnologia-FEMSA, Monterrey, NL 64849, Mexico
8
Institute of Fundamental Medicine and Biology, Kazan (Volga Region) Federal University, 420008 Kazan, Russian
9
Yong Loo Lin School of Medicine, National University Singapore, Singapore 119228, Singapore
10
The Hatter Cardiovascular Institute, Institute of Cardiovascular Science, University College London, London WC1E 6HX, UK
11
The National Institute of Health Research University College London Hospitals Biomedical Research Centre, London W1T 7DN, UK
*
Authors to whom correspondence should be addressed.
†
These two authors are joint senior authors.
Received: 8 July 2019 / Revised: 9 August 2019 / Accepted: 14 August 2019 / Published: 15 August 2019
Abstract
Background
: New treatments are needed to reduce myocardial infarct size (MI) and prevent heart failure (HF) following acute myocardial infarction (AMI), which are the leading causes of death and disability worldwide. Studies in rodent AMI models showed that genetic and pharmacological inhibition of mitochondrial fission, induced by acute ischemia and reperfusion, reduced MI size. Whether targeting mitochondrial fission at the onset of reperfusion is also cardioprotective in a clinically-relevant large animal AMI model remains to be determined.
Methods
: Adult pigs (30–40 kg) were subjected to closed-chest 90-min left anterior descending artery ischemia followed by 72 h of reperfusion and were randomized to receive an intracoronary bolus of either mdivi-1 (1.2 mg/kg, a small molecule inhibitor of the mitochondrial fission protein, Drp1) or vehicle control, 10-min prior to reperfusion. The left ventricular (LV) size and function were both assessed by transthoracic echocardiography prior to AMI and after 72 h of reperfusion. MI size and the area-at-risk (AAR) were determined using dual staining with Tetrazolium and Evans blue. Heart samples were collected for histological determination of fibrosis and for electron microscopic analysis of mitochondrial morphology.
Results
: A total of 14 pigs underwent the treatment protocols (eight control and six mdivi-1). Administration of mdivi-1 immediately prior to the onset of reperfusion did not reduce MI size (MI size as % of AAR: Control 49.2 ± 8.6 vs. mdivi-1 50.5 ± 11.4; p = 0.815) or preserve LV systolic function (LV ejection fraction %: Control 67.5 ± 0.4 vs. mdivi-1 59.6 ± 0.6; p = 0.420), when compared to vehicle control. Similarly, there were no differences in mitochondrial morphology or myocardial fibrosis between mdivi-1 and vehicle control groups.
Conclusion
: Our pilot study has shown that treatment with mdivi-1 (1.2 mg/kg) at the onset of reperfusion did not reduce MI size or preserve LV function in the clinically-relevant closed-chest pig AMI model. A larger study, testing different doses of mdivi-1 or using a more specific Drp1 inhibitor are required to confirm these findings.
View Full-Text
►

▼

Figures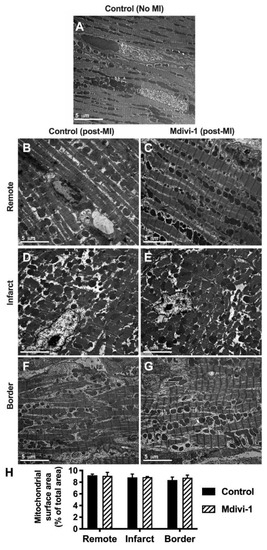 Figure 1
This is an open access article distributed under the
Creative Commons Attribution License
which permits unrestricted use, distribution, and reproduction in any medium, provided the original work is properly cited (CC BY 4.0).

Share & Cite This Article
MDPI and ACS Style
Ong, S.-B.; Kwek, X.-Y.; Katwadi, K.; Hernandez-Resendiz, S.; Crespo-Avilan, G.E.; Ismail, N.I.; Lin, Y.-H.; Yap, E.P.; Lim, S.-Y.; Ja, K.P.M.M.; Ramachandra, C.J.; Tee, N.; Toh, J.J.; Shim, W.; Wong, P.; Cabrera-Fuentes, H.A.; Hausenloy, D.J. Targeting Mitochondrial Fission Using Mdivi-1 in A Clinically Relevant Large Animal Model of Acute Myocardial Infarction: A Pilot Study. Int. J. Mol. Sci. 2019, 20, 3972.
Note that from the first issue of 2016, MDPI journals use article numbers instead of page numbers. See further details here.
Related Articles
Comments
[Return to top]