Metabolomic Profiling of the Host Response of Tomato (
Solanum lycopersicum)

Following Infection by

Ralstonia solanacearum

Centre for Plant Metabolomics Research, Department of Biochemistry, University of Johannesburg, P.O. Box 524, Auckland Park, Johannesburg 2006, South Africa

*

Author to whom correspondence should be addressed.

Received: 8 July 2019 / Revised: 7 August 2019 / Accepted: 8 August 2019 / Published: 14 August 2019
Abstract
Tomato (
Solanum lycopersicum
) is an important dietary source of bioactive phytochemicals and active breeding programs constantly produce new cultivars possessing superior and desirable traits. The phytopathogenic
Ralstonia solanacearum
, the causal agent of bacterial wilt, is a highly destructive bacterial disease with a high economic impact on tomato production. This study followed an untargeted metabolomic approach involving four tomato cultivars and aimed at the identification of secondary metabolites involved in plant defense after infection with
R. solanacearum
. Liquid chromatography coupled to mass spectrometry (LC-MS) in combination with multivariate data analysis and chemometric modelling were utilized for the identification of discriminant secondary metabolites. The total of 81 statistically selected features were annotated belonging to the metabolite classes of amino acids, organic acids, fatty acids, various derivatives of cinnamic acid and benzoic acids, flavonoids and steroidal glycoalkaloids. The results indicate that the phenylpropanoid pathway, represented by flavonoids and hydroxycinnamic acids, is of prime importance in the tomato defense response. The hydroxycinnamic acids esters of quinic acid, hexoses and glucaric acids were identified as signatory biomarkers, as well as the hydroxycinnamic acid amides to polyamines and tyramine. Interestingly, the rapid and differential accumulation of putrescine, dopamine, and tyramine derivatives, along with the presence of a newly documented metabolite, feruloyl serotonin, were documented in the infected plants. Metabolite concentration variability in the different cultivar tissues point to cultivar-specific variation in the speed and manner of resource redistribution between the host tissues. These metabolic phenotypes provide insights into the differential metabolic signatures underlying the defense metabolism of the four cultivars, defining their defensive capabilities to
R. solanacearum
.
View Full-Text
►

▼

Figures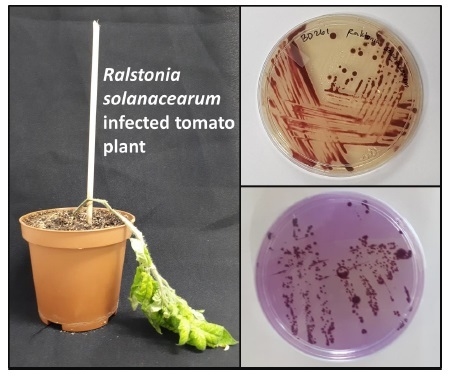 Graphical abstract
This is an open access article distributed under the
Creative Commons Attribution License
which permits unrestricted use, distribution, and reproduction in any medium, provided the original work is properly cited (CC BY 4.0).

Share & Cite This Article
MDPI and ACS Style
Zeiss, D.R.; Mhlongo, M.I.; Tugizimana, F.; Steenkamp, P.A.; Dubery, I.A. Metabolomic Profiling of the Host Response of Tomato (Solanum lycopersicum) Following Infection by Ralstonia solanacearum. Int. J. Mol. Sci. 2019, 20, 3945.
Note that from the first issue of 2016, MDPI journals use article numbers instead of page numbers. See further details here.
Related Articles
Comments
[Return to top]