Open Access This article is
freely available
re-usable
Review
Future Aspects of CDK5 in Prostate Cancer: From Pathogenesis to Therapeutic Implications
1
Department of Life Sciences, National Chung Hsing University, Taichung 40227, Taiwan
2
Department of Urology, Chang Bing Show Chwan Memorial Hospital, Changhua 505, Taiwan
3
Translational Cell Therapy Center, Department of Medical Research, China Medical University Hospital, Taichung 40447, Taiwan
4
Division of Urology, Department of Surgery, Taichung Veterans General Hospital, Taichung 40705, Taiwan
5
Division of Hematology/Medical Oncology, Department of Internal, Medicine, Taichung Veterans General Hospital, Taichung 40705, Taiwan
6
Division of Chest Medicine, Department of Internal Medicine, Taichung Veterans General Hospital, Taichung 40705, Taiwan
7
Department of Nuclear Medicine, Taichung Veterans General Hospital, Taichung 40705, Taiwan
8
Department of Surgery, Tung's Taichung Metro Harbor Hospital, Taichung 435, Taiwan
9
Department of Physiology, School of Medicine, Chung Shan Medical University, Taichung 40201, Taiwan
10
Department of Microbiology and Immunology, Chang Gung Medical University, Taoyuan 33302, Taiwan
11
Department of Urology, University of Texas Southwestern Medical Center, Dallas, TX 75390, USA
12
Program in Translational Medicine and Rong Hsing Research Center for Translational Medicine, National Chung Hsing University, Taichung 40227, Taiwan
†
These authors contributed equally to this work.

‡
Bionova Scientific Inc., Fremont, CA 94538, USA.

Received: 23 June 2019 / Accepted: 7 August 2019 / Published: 9 August 2019
Abstract
:
Cyclin-dependent kinase 5 (CDK5) is a unique member of the cyclin-dependent kinase family. CDK5 is activated by binding with its regulatory proteins, mainly p35, and its activation is essential in the development of the central nervous system (CNS) and neurodegeneration. Recently, it has been reported that CDK5 plays important roles in regulating various biological and pathological processes, including cancer progression. Concerning prostate cancer, the androgen receptor (AR) is majorly involved in tumorigenesis, while CDK5 can phosphorylate AR and promotes the proliferation of prostate cancer cells. Clinical evidence has also shown that the level of CDK5 is associated with the progression of prostate cancer. Interestingly, inhibition of CDK5 prevents prostate cancer cell growth, while drug-triggered CDK5 hyperactivation leads to apoptosis. The blocking of CDK5 activity by its small interfering RNAs (siRNA) or Roscovitine, a pan-CDK inhibitor, reduces the cellular AR protein level and triggers the death of prostate cancer cells. Thus, CDK5 plays a crucial role in the growth of prostate cancer cells, and AR regulation is one of the important pathways. In this review paper, we summarize the significant studies on CDK5-mediated regulation of prostate cancer cells. We propose that the CDK5–p35 complex might be an outstanding candidate as a diagnostic marker and potential target for prostate cancer treatment in the near future.
Keywords:
cyclin-dependent kinase 5 (CDK5); p35; androgen receptor (AR); prostate cancer
Author Contributions
Conceptualization, M.-C.C., and H.L.; investigation, F.-N.H.; writing—original draft preparation, E.L. and M.O.; writing—review and editing, M.O., M.-C.C., G.M.S.H.P., G.M.S.H.P., H.L., C.-H.L., and J.-T.H.; visualization, M.O.; project administration, F.-N.H.; funding acquisition, C.-H.Y. (Chia-Herng Yue), K.-Y.C., C.-L.J.T., T.-Y.Y., H.-Y.W., and C.-H.Y. (Ching-Han Yu).
Funding
This study was supported by the Ministry of Science and Technology, Taiwan (106-2320-B-005-002-MY3/108-2911-I-005-509 to H.L.), the grant of NCHU ENABLE Center (108-16 to H.L.), Taichung Veterans General Hospital/National Chung Hsing University Joint Research Program (TCVGH-NCHU-1097615 to H.L.), Tung's Taichung Metro Harbor Hospital (TTMHH-NCHULS107004 to H.L.), and National Chung Hsing University/Chung Shan Medical University Joint Research Program (NCHU-CSMU-10710).
Conflicts of Interest
The authors declare no conflict of interest. The funders had no role in the design of the study; in the collection, analyses, or interpretation of data; in the writing of the manuscript, or in the decision to publish the results.
Abbreviations
| | |
| --- | --- |
| CDK5 | Cyclin-dependent kinase 5 |
| CNS | Central nervous system |
| AR | Androgen receptor |
| siRNA | Small interfering RNAs |
| AD | Alzheimer's disease |
| StAR | Steroidogenic acute regulatory |
| STAT3 | Signal transducer and activator of transcription 3 |
| PKC | Protein kinase C |
| DBD | DNA binding domain |
| AREs | Androgen responsive elements |
| IGF | Insulin-like growth factor |
| RA | Retinoic Acid |
| ADT | Androgen deprivation treatment |
| CRPC | Castration-resistant prostate cancer |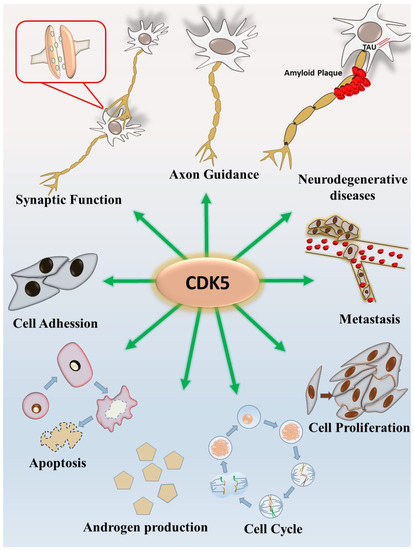 Figure 1. A summary of the various cyclin-dependent kinase 5 (CDK5)-mediated biological processes. CDK5 plays important roles not only in the central nervous system but also in different biological processes. Functions in the central nervous system include synaptic function, axon guidance, cell adhesion, and neurodegenerative diseases. Functions outside of the central nervous system include androgen production, cell cycle, cancer cell proliferation/apoptosis, and tumor metastasis.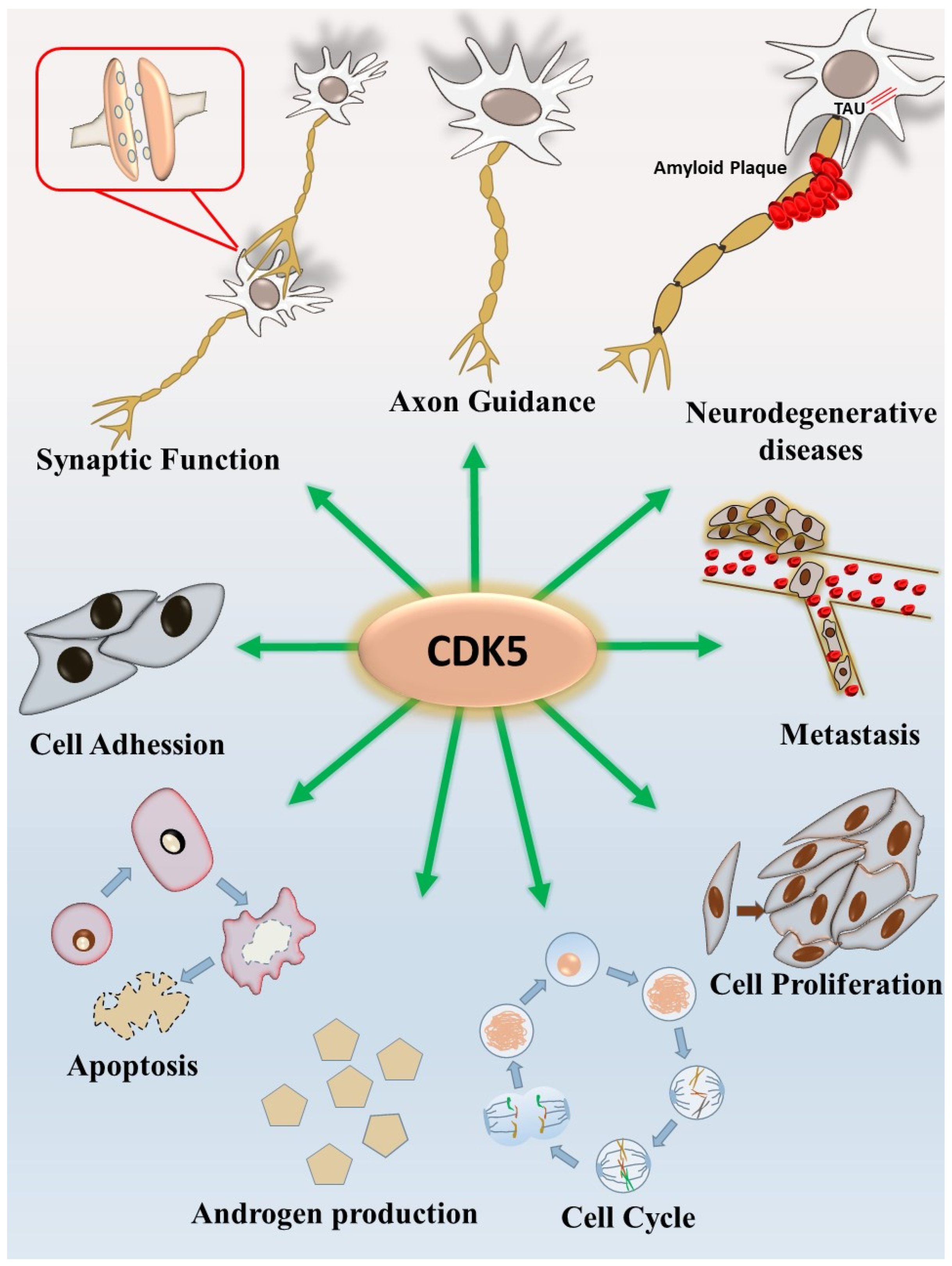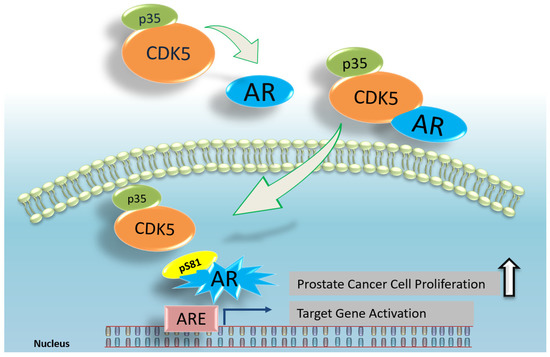 Figure 2. A schematic representation of the regulation of androgen receptor (AR) protein by the interaction of CDK5 and p35. CDK5 and p35 regulate AR by direct biochemical interaction. CDK5 increases the stabilization and transcriptional activation of the AR protein. The consequence of this regulation is the promotion of prostate cancer cell growth.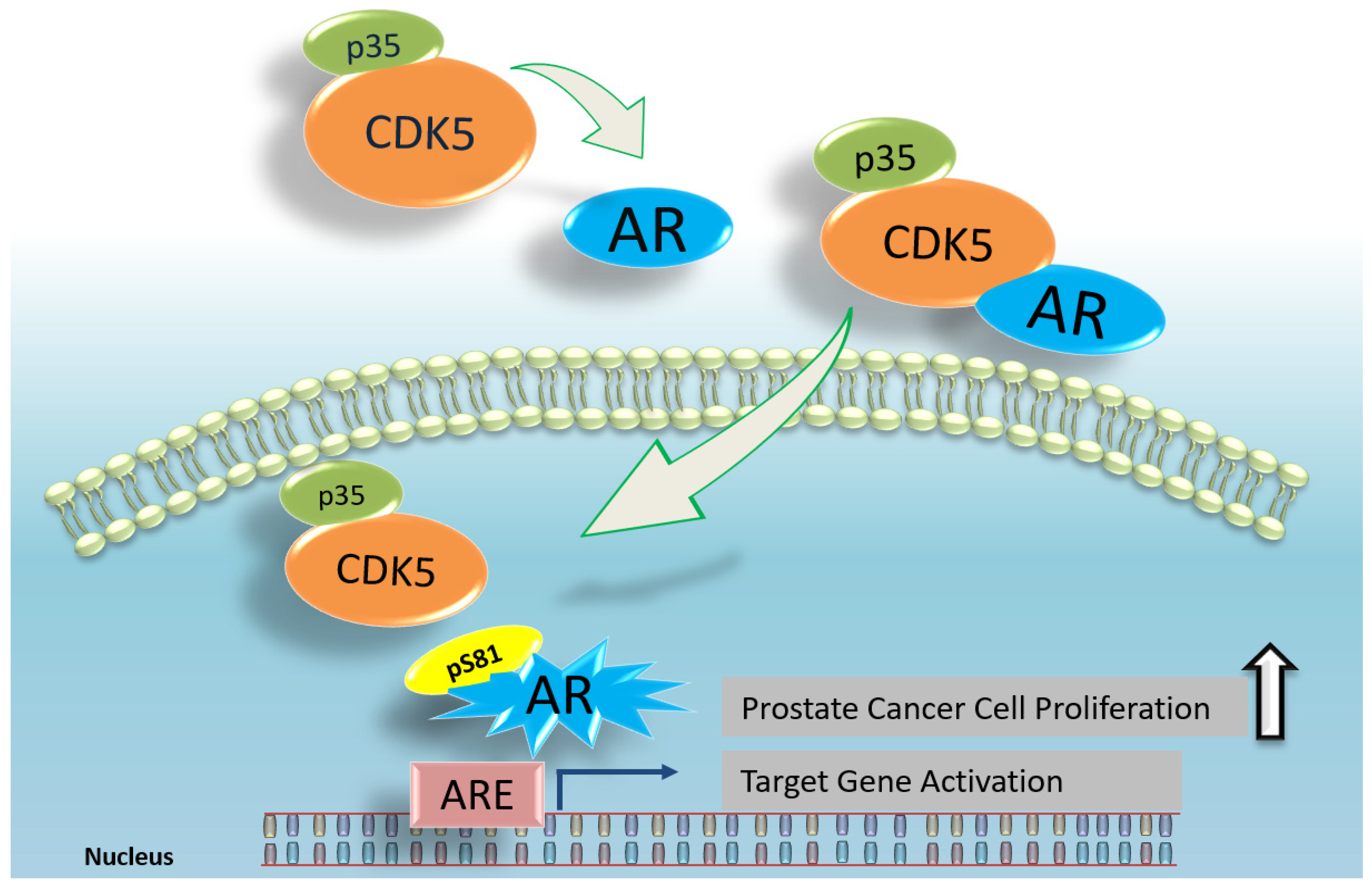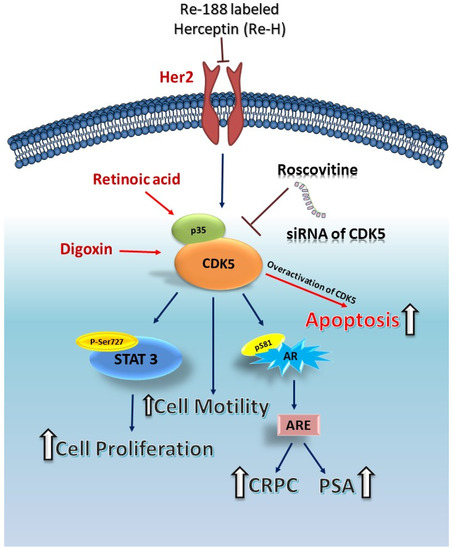 Figure 3. A schematic summary of the regulatory role of CDK5 in prostate cancer. Re-188 labeled Herceptin (Re-H) targets the Her2 receptor and reduces the expression level of p35. CDK5 activates signal transducer and activator of transcription 3 (STAT3) and AR proteins at the specific phosphorylation site. Activation of STAT3 or AR causes prostate cancer proliferation and castration resistance of prostate cancer. Blocking of CDK5 by Roscovitine or small interfering RNA (siRNA) decreases the cell proliferation ability and prostate-specific antigen (PSA) level. CDK5 also plays a regulatory role in apoptosis of prostate cancer cells. Digoxin and Retinoic acid trigger p35 or p25 activation and cause overactivation of CDK5, resulting in apoptosis.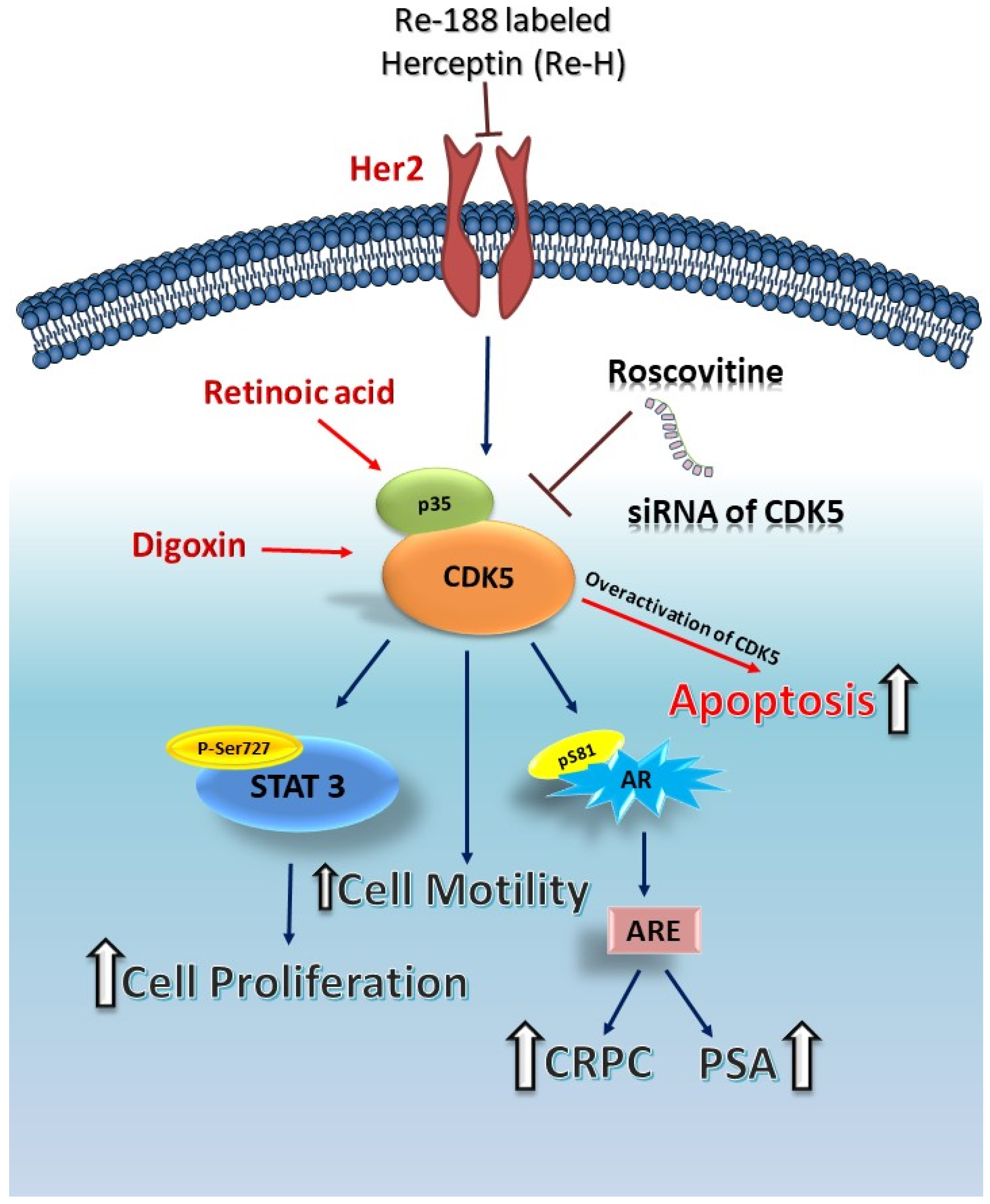 © 2019 by the authors. Licensee MDPI, Basel, Switzerland. This article is an open access article distributed under the terms and conditions of the Creative Commons Attribution (CC BY) license (http://creativecommons.org/licenses/by/4.0/).