Magnesium Is a Key Player in Neuronal Maturation and Neuropathology
1
Center for Biosciences and Informatics, School of Fundamental Science and Technology Graduate School of Science and Technology, Keio University, Yokohama, Kanagawa 223-8522, Japan
2
Faculty of Pharmaceutical Sciences, Sanyo-Onoda City University, Sanyo-Onoda, Yamaguchi 756-0884, Japan
3
Graduate Institute of Medicine, College of Medicine, Kaohsiung Medical University, Kaohsiung City 80708, Taiwan
4
Waseda Research Institute for Science and Engineering, Waseda University, 2-2 Wakamatsucho, Shinjuku, Tokyo 162-8480, Japan
*
Author to whom correspondence should be addressed.
Received: 16 June 2019 / Revised: 6 July 2019 / Accepted: 9 July 2019 / Published: 12 July 2019
Abstract
Magnesium (Mg) is the second most abundant cation in mammalian cells, and it is essential for numerous cellular processes including enzymatic reactions, ion channel functions, metabolic cycles, cellular signaling, and DNA/RNA stabilities. Because of the versatile and universal nature of Mg
2+
, the homeostasis of intracellular Mg
2+
is physiologically linked to growth, proliferation, differentiation, energy metabolism, and death of cells. On the cellular and tissue levels, maintaining Mg
2+
within optimal levels according to the biological context, such as cell types, developmental stages, extracellular environments, and pathophysiological conditions, is crucial for development, normal functions, and diseases. Hence, Mg
2+
is pathologically involved in cancers, diabetes, and neurodegenerative diseases, such as Parkinson's disease, Alzheimer's disease, and demyelination. In the research field regarding the roles and mechanisms of Mg
2+
regulation, numerous controversies caused by its versatility and complexity still exist. As Mg
2+
, at least, plays critical roles in neuronal development, healthy normal functions, and diseases, appropriate Mg
2+
supplementation exhibits neurotrophic effects in a majority of cases. Hence, the control of Mg
2+
homeostasis can be a candidate for therapeutic targets in neuronal diseases. In this review, recent results regarding the roles of intracellular Mg
2+
and its regulatory system in determining the cell phenotype, fate, and diseases in the nervous system are summarized, and an overview of the comprehensive roles of Mg
2+
is provided.
View Full-Text
►

▼

Figures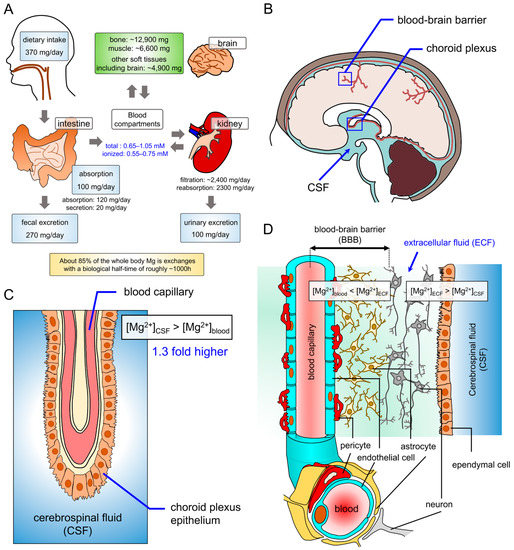 Figure 1
This is an open access article distributed under the
Creative Commons Attribution License
which permits unrestricted use, distribution, and reproduction in any medium, provided the original work is properly cited (CC BY 4.0).

Share & Cite This Article
MDPI and ACS Style
Yamanaka, R.; Shindo, Y.; Oka, K. Magnesium Is a Key Player in Neuronal Maturation and Neuropathology. Int. J. Mol. Sci. 2019, 20, 3439.
Note that from the first issue of 2016, MDPI journals use article numbers instead of page numbers. See further details here.
Related Articles
Comments
[Return to top]