Open Access This article is
freely available
re-usable
Review
Human DNA Virus Exploitation of the MAPK-ERK Cascade
1
Department of Molecular and Biomedical Sciences, The University of Maine, Orono, ME 04401, USA
2
Graduate School in Biomedical Sciences and Engineering, The University of Maine, Orono, ME 04401, USA
*
Author to whom correspondence should be addressed.
Received: 31 May 2019 / Accepted: 11 July 2019 / Published: 12 July 2019
Abstract
:
The extracellular signal-regulated kinases (ERKs) comprise a particular branch of the mitogen-activated protein kinase cascades (MAPK) that transmits extracellular signals into the intracellular environment to trigger cellular growth responses. Similar to other MAPK cascades, the MAPK-ERK pathway signals through three core kinases—Raf, MAPK/ERK kinase (MEK), and ERK—which drive the signaling mechanisms responsible for the induction of cellular responses from extracellular stimuli including differentiation, proliferation, and cellular survival. However, pathogens like DNA viruses alter MAPK-ERK signaling in order to access DNA replication machineries, induce a proliferative state in the cell, or even prevent cell death mechanisms in response to pathogen recognition. Differential utilization of this pathway by multiple DNA viruses highlights the dynamic nature of the MAPK-ERK pathway within the cell and the importance of its function in regulating a wide variety of cellular fates that ultimately influence viral infection and, in some cases, result in tumorigenesis.
Keywords:
mitogen-activated protein kinase; viruses; cellular signaling; infection
1. Introduction
As obligate intracellular parasites, viruses require host cells for productive infection and replication. While the specific host-cell mechanisms required for successful infection vary between virus types, the induction or manipulation of host-cell signaling cascades is essential for successful viral infection and can influence viral pathogenesis. One pathway known to be required by many different types of DNA and RNA viruses is the extracellular signal-regulated kinase (ERK) cascade, a specific facet of the mitogen-activated protein kinase (MAPK) pathway (MAPK-ERK). As a central regulator of cellular response to environmental stimuli, the MAPK-ERK pathway predominantly transmits extracellular signals that induce cellular proliferation, differentiation, and survival [
1
]. Both DNA and RNA viruses usurp the MAPK-ERK signaling pathway to mediate multiple aspects of the virus infectious cycle [
2
,
3
,
4
]. DNA viruses alter MAPK-ERK signaling to promote viral internalization, dysregulate the cell cycle, regulate viral replication, and prevent host-cell death (
Figure 1
). Interestingly, the majority of DNA viruses traffic to the host-cell nucleus to carry out transcription and replication of the viral genome through the utilization of host-cell machinery. Thus, elucidating how DNA viruses regulate cell growth pathways such as the MAPK-ERK pathway is critical for a better understanding of viral infection and pathogenesis, including viral-induced cancers. This review is designed to provide an overview of how human DNA viruses exploit the MAPK-ERK signaling pathway to facilitate viral replication and subsequent pathogenesis.
2. MAPK-ERK Cascade
There are four distinct MAPK signaling cascades that play central roles in transmitting and interpreting extracellular stimuli into intracellular responses, including the extracellular signal-regulated kinase (ERK1/2), p38 MAPK, c-Jun N-terminal kinases (JNK1/2/3), and ERK5 [
5
]. The MAPK pathways are comprised of highly conserved serine/threonine kinases that are activated in response to external stimuli propagated through the phosphorylation of upstream MAP kinases [
6
]. These external stimuli can include hormones, growth factors, stress signals, or even invading pathogens that often interact with membrane-bound receptors to initiate the signaling cascade [
7
]. The MAPK-ERK pathway signals through three core kinases—Raf, MAPK/ERK kinase (MEK1/2), and ERK1/2—which are responsible for regulating a plethora of cellular responses including differentiation, proliferation, and survival [
8
]. Upon stimulation, the upstream MAP kinase kinase kinase (Raf) activates the MAP kinase kinase (MEK1/2), culminating in the phosphorylation of the MAP kinase (ERK1/2). The activation of this pathway can induce cellular growth and differentiation by means of upregulating host-cell DNA machineries downstream of phosphorylated ERK (pERK) [
9
]. Activated ERK1/2 proteins have been shown to interact with over 200 known cellular substrates, located in both the cytoplasm (RSK, FAK, MNK, etc.) and within the nucleus (Elk-1, c-Fos, c-Jun, etc.), giving this signaling pathway immense influence over the fate of the cell [
10
]. ERK1/2 regulates an array of nuclear transcription factors through phosphorylation, which in turn can regulate gene expression based upon the initial input stimulus. Moreover, these ERK-activated transcription factors like the AP-1 complex, can directly influence cyclins and thus cyclin-dependent kinases (CDKs) that regulate the cell cycle driving cells from G1 (gap 1, resting) to S (synthesis) phase [
7
,
11
]. On the flip side, the MAPK signaling cascade is further regulated by MAPK phosphatases (MKPs), which can act as negative or positive regulators of MAPK-ERK signaling. Protein phosphate 2A (PP2A) is essential as a negative regulator of the MAPK pathway through mechanisms including but not limited to the dephosphorylation of MEK or ERK [
12
]. Thus, by commandeering this canonical signaling mechanism, viral pathogens can utilize the MAPK-ERK cascade to fine tune the pathway for optimal viral replication.
Studies of the MAPK-ERK cascade within the field of virology, cellular biology, and biochemistry have made use of cell-based and biochemical assays to better define the utilization and molecular patterns of this pathway [
13
]. Cell-based assays are utilized to define the role of specific components of the MAPK pathways through treatment of cells with inhibitors and measuring infectivity or cell-signaling outcomes. Commercially available, highly selective inhibitors have made the study of the MAPK pathway in cultured cells relatively straightforward and reproducible. Specific inhibitors that have been widely utilized within the studies presented herein include PD98059 (2′-Amino-3′-methoxyflavone) and U0126 (1,4-diamino-2,3-dicyano-1,4-bis[2-aminophenylthio] butadiene), which both bind to MEK1 and MEK2, preventing ERK phosphorylation [
14
,
15
]. In addition to these inhibitors, the use of siRNAs to target Raf, ERK, or other components of the MAPK signaling pathway have provided added experimental advantages [
4
,
13
]. In addition to cell-based infectivity assays, biochemical assays to measure phosphorylation of the kinases within the MAPK cascade have been carried out using Western blotting or In-cell Western (ICW)
TM
technologies [
16
]. Together, advances in experimental technologies have significantly increased our understanding of the MAPK pathway during the viral infectious cycle. However, this remains an important and active area of inquiry. Defining the signaling pathways utilized by viruses provides tremendous insight into virus–host cell interactions, shedding light on viral evolution, evasion of the host immune response, virus-induced cancers, and identifying potential antiviral therapeutics for pathogenic viruses.
Author Contributions
J.K.D. and M.S.M. wrote the review.
Funding
Research in the Maginnis laboratory is funded by NIH/NIAID R15AI144686.
Acknowledgments
We sincerely thank the members of the Maginnis laboratory for material discussion. We thank the researchers that contributed to the work discussed herein and acknowledge that we were not able to include all of the important work that has contributed to our current knowledge in the field.
Conflicts of Interest
The authors declare no conflict of interest.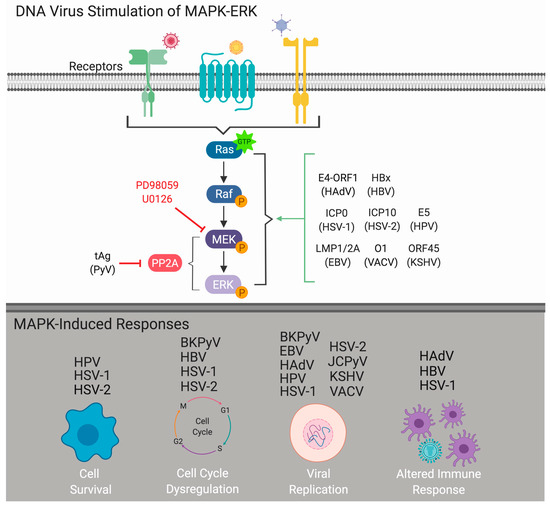 Figure 1. DNA virus stimulation of the mitogen-activated protein kinase extracellular signal-regulated kinase (MAPK-ERK) cascade. Viral stimulation of the MAPK-ERK pathway induces sequential phosphorylation of the core kinase of the MAPK-ERK signaling mechanism: Raf, MAPK/ERK kinase (MEK), and ERK. Upon activation of this pathway, multiple responses can be induced to help facilitate viral infection including promoting cell survival, cell cycle dysregulation, enhancement of viral replication, or alterations to host immune responses. Abbreviations: BK polyomavirus (BKPyV), Epstein-Barr virus (EBV), human adenovirus (HAdV), hepatitis B virus (HBV), human papillomavirus (HPV), herpes simplex virus 1 (HSV-1), herpes simplex virus 2 (HPV-2), JC polyomavirus (JCPyV), Kaposi's sarcoma-associated virus (KSHV), vaccinia virus (VACV). Created with BioRender.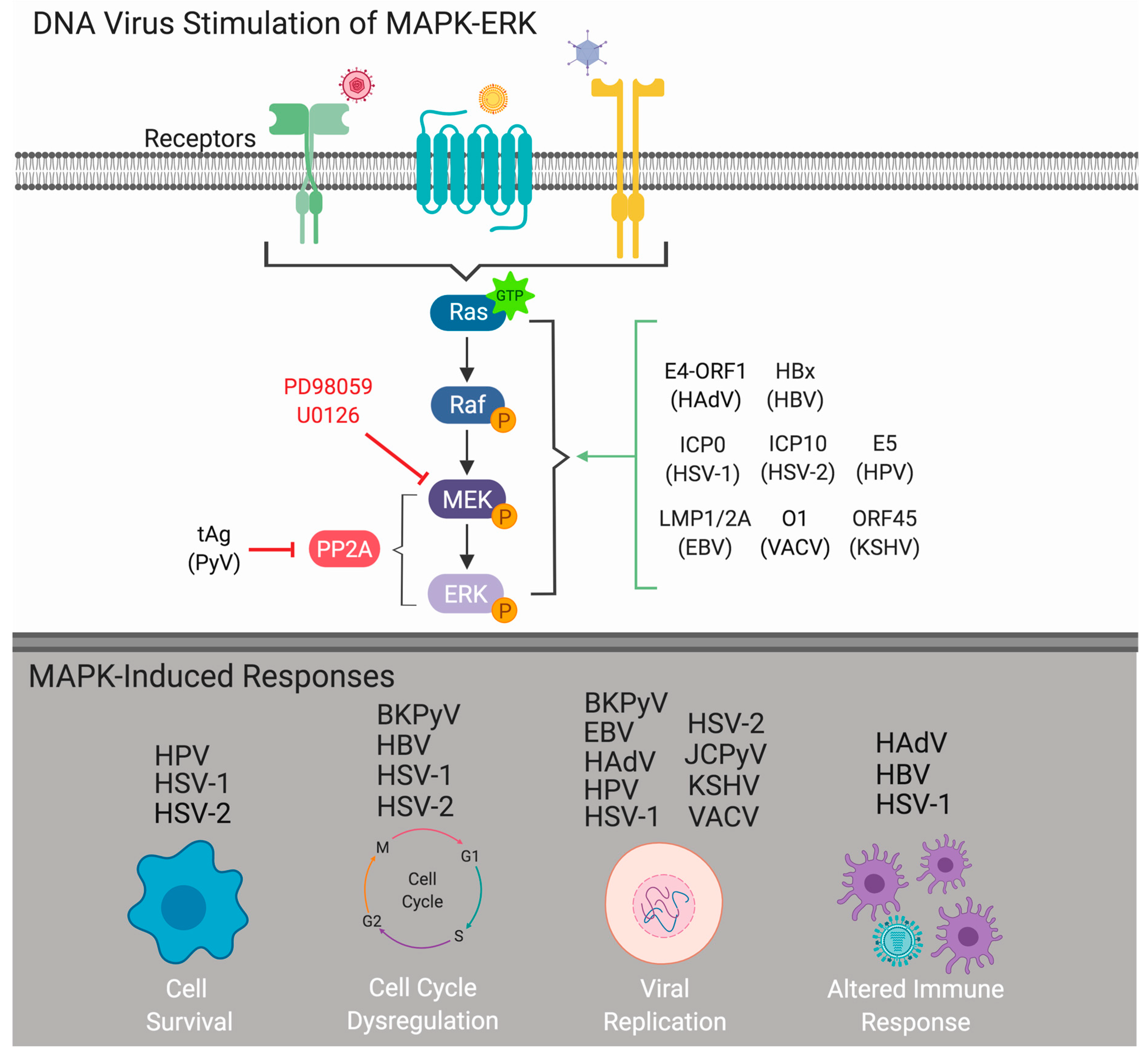 Table 1. Role of MAPK-ERK in infectious lifecycle of DNA viruses. (+) indicate viral induction of the MAPK-ERK pathway to facilitate the indicated response, with the associated viral protein that influences MAPK-ERK signaling indicated (if known).
Viral Family
Virus
MAPK-ERK Role in Infectious Lifecycle
Enhances Viral Replication
Cell Cycle Dysregulation
Altered Immune Response
Promote Cell Survival

Adenoviridae

HAdV
+
+
(E4-ORF1)

Poxviridae

VACV
+
(O1)

Polyomaviridae

JCPyV
+
(tAg)
BKPyV
+
+
(tAg)

Papillomaviridae

HPV
+
+
(E5)

Herpesviridae

HSV-1
+
+
+
+
(ICP0)
(ICP34.5)
(US3)
HSV-2
+
+
+
(ICP10)
(ICP10)
KSHV
+
(ORF45)
EBV
+
(LMP1/2A)

Hepadnaviridae

HBV
+
+
+
(HBx)
(MHBs(t))
(HBcAg)

© 2019 by the authors. Licensee MDPI, Basel, Switzerland. This article is an open access article distributed under the terms and conditions of the Creative Commons Attribution (CC BY) license (http://creativecommons.org/licenses/by/4.0/).