Version is current.
Loss of Non-Apoptotic Role of Caspase-3 in the PINK1 Mouse Model of Parkinson's Disease
1
Laboratory of Neurophysiology and Plasticity, IRCCS Fondazione Santa Lucia, 00143 Rome, Italy
2
Department of Systems Medicine, University of Rome "Tor Vergata", 00133 Rome, Italy
*
Author to whom correspondence should be addressed.
†
They are Co-first Authors.
‡
They are Co-senior Authors.
Received: 24 June 2019 / Revised: 4 July 2019 / Accepted: 9 July 2019 / Published: 11 July 2019
Abstract
Caspases are a family of conserved cysteine proteases that play key roles in multiple cellular processes, including programmed cell death and inflammation. Recent evidence shows that caspases are also involved in crucial non-apoptotic functions, such as dendrite development, axon pruning, and synaptic plasticity mechanisms underlying learning and memory processes. The activated form of caspase-3, which is known to trigger widespread damage and degeneration, can also modulate synaptic function in the adult brain. Thus, in the present study, we tested the hypothesis that caspase-3 modulates synaptic plasticity at corticostriatal synapses in the phosphatase and tensin homolog (PTEN) induced kinase 1 (PINK1) mouse model of Parkinson's disease (PD). Loss of PINK1 has been previously associated with an impairment of corticostriatal long-term depression (LTD), rescued by amphetamine-induced dopamine release. Here, we show that caspase-3 activity, measured after LTD induction, is significantly decreased in the PINK1 knockout model compared with wild-type mice. Accordingly, pretreatment of striatal slices with the caspase-3 activator α-(Trichloromethyl)-4-pyridineethanol (PETCM) rescues a physiological LTD in PINK1 knockout mice. Furthermore, the inhibition of caspase-3 prevents the amphetamine-induced rescue of LTD in the same model. Our data support a hormesis-based double role of caspase-3; when massively activated, it induces apoptosis, while at lower level of activation, it modulates physiological phenomena, like the expression of corticostriatal LTD. Exploring the non-apoptotic activation of caspase-3 may contribute to clarify the mechanisms involved in synaptic failure in PD, as well as in view of new potential pharmacological targets.
View Full-Text
►

▼

Figures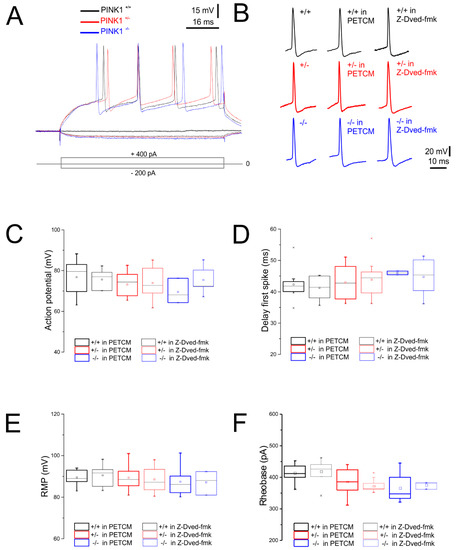 Figure 1
This is an open access article distributed under the
Creative Commons Attribution License
which permits unrestricted use, distribution, and reproduction in any medium, provided the original work is properly cited (CC BY 4.0).

Share & Cite This Article
MDPI and ACS Style
Imbriani, P.; Tassone, A.; Meringolo, M.; Ponterio, G.; Madeo, G.; Pisani, A.; Bonsi, P.; Martella, G. Loss of Non-Apoptotic Role of Caspase-3 in the PINK1 Mouse Model of Parkinson's Disease. Int. J. Mol. Sci. 2019, 20, 3407.
Note that from the first issue of 2016, MDPI journals use article numbers instead of page numbers. See further details here.
Related Articles
Comments
[Return to top]