Anti-Apoptotic Effect of G-Protein-Coupled Receptor 40 Activation on Tumor Necrosis Factor-α-Induced Injury of Rat Proximal Tubular Cells
Department of Internal Medicine, Chonnam National University Medical School, Gwangju 61469, Korea
*
Authors to whom correspondence should be addressed.
Received: 21 June 2019 / Revised: 8 July 2019 / Accepted: 8 July 2019 / Published: 10 July 2019
Abstract
G-protein-coupled receptor 40 (GPR40) has an anti-apoptotic effect in pancreatic β-cells. However, its role in renal tubular cell apoptosis remains unclear. To explore the role of GPR40 in renal tubular apoptosis, a two-week unilateral ureteral obstruction (UUO) mouse model was used. The protein expression of GPR40 was decreased, while the Bax/Bcl-2 protein expression ratio, the expression of tumor necrosis factor (TNF)-α mRNA, and angiotensin II type 1 receptor (AT1R) protein were increased in mice with UUO. In vitro, pretreatment of rat proximal tubular (NRK52E) cells with GW9508, a GPR40 agonist, attenuated the decreased cell viability, increased the Bax/Bcl-2 protein expression ratio, increased protein expression of cleaved caspase-3 and activated the nuclear translocation of nuclear factor-κB (NF-κB) p65 subunit induced by TNF-α treatment. TNF-α treatment significantly increased the expression of AT1R protein and the generation of reactive oxygen species (ROS), whereas GW9508 treatment markedly reversed these effects. Pretreatment with GW1100, a GPR40 antagonist, or silencing of GPR40 in NRK52E cells promoted the increased expression of the cleaved caspase-3 protein by TNF-α treatment. Our results demonstrate that decreased expression of GPR40 is associated with apoptosis via TNF-α and AT1R in the ureteral obstructed kidney. The activation of GPR40 attenuates TNF-α-induced apoptosis by inhibiting AT1R expression and ROS generation through regulation of the NF-κB signaling pathway.
View Full-Text
►

▼

Figures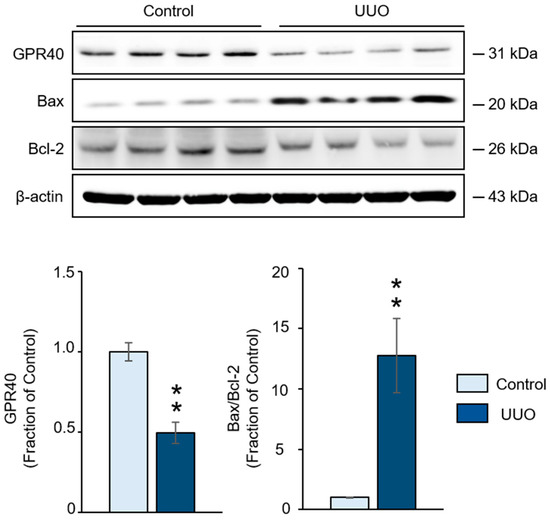 Figure 1
This is an open access article distributed under the
Creative Commons Attribution License
which permits unrestricted use, distribution, and reproduction in any medium, provided the original work is properly cited (CC BY 4.0).

Share & Cite This Article
MDPI and ACS Style
Kim, C.S.; Joo, S.Y.; Kim, I.J.; Choi, H.-I.; Bae, E.H.; Kim, S.W.; Ma, S.K. Anti-Apoptotic Effect of G-Protein-Coupled Receptor 40 Activation on Tumor Necrosis Factor-α-Induced Injury of Rat Proximal Tubular Cells. Int. J. Mol. Sci. 2019, 20, 3386.
Note that from the first issue of 2016, MDPI journals use article numbers instead of page numbers. See further details here.
Related Articles
Comments
[Return to top]