Inhibition of Phosphatidylinositol 3-kinase (PI3K) Signaling Synergistically Potentiates Antitumor Efficacy of Paclitaxel and Overcomes Paclitaxel-Mediated Resistance in Cervical Cancer
1
Department of Gynecology and Obstetrics, Seoul St. Mary's Hospital, The Catholic University of Korea, Seoul 06591, Korea
2
Cancer Research Institute, Department of Medical Life Science, and Cancer Evolution Research Center, College of Medicine, The Catholic University of Korea, Seoul 06591, Korea
3
Department of Health Sciences and Technology, SAIHST, Sungkyunkwan University, Seoul 06591, Korea
*
Authors to whom correspondence should be addressed.
Received: 13 May 2019 / Revised: 30 June 2019 / Accepted: 8 July 2019 / Published: 10 July 2019
Abstract
Acquired paclitaxel (PTX) resistance limits its effectiveness and results in advanced cancer progression. This review investigated whether the inhibition of phosphatidylinositol 3-kinase (PI3K) signaling overcomes paclitaxel resistance in cervical cancer. It was established paclitaxel-resistant cell lines (PTX-R ME180/PTX-R HeLa) and determined the combination index for paclitaxel and PI3K inhibitors (BYL-719/ LY294002) by tetrazolium dye assay. Flow cytometry was used to detect the cell cycle and apoptosis. Migration and invasion were explored by wound healing and transwell assays. Genes related to multiple pathways were assessed by a western blot. It was found that the PI3K pathway was significantly activated in paclitaxel-resistant HeLa and ME180 cells compared to parental cells. PTX + PI3K inhibitor combined therapy showed a synergistic effect by strengthening paclitaxel-induced S and G
2
M arrest in PTX-R cell sublines by the inactivation of cyclin A1, cyclin B1, cyclin E, and Cdc2 expression. Moreover, combination therapy significantly enhanced drug sensitivity and apoptosis through the activation of Bax, and cleavage of poly-(ADP-ribose) polymerase compared with paclitaxel alone. In addition, PI3K inhibition also suppressed tumor migration and invasion by targeting β-catenin and matrix metalloproteinase-2/9. The authors suggest that the combination of a PI3K inhibitor with paclitaxel may enhance antitumor activity through a cascade of PI3K signaling events.
View Full-Text
►

▼

Figures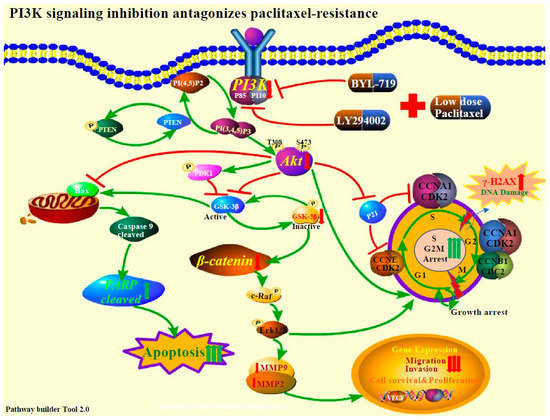 Graphical abstract
This is an open access article distributed under the
Creative Commons Attribution License
which permits unrestricted use, distribution, and reproduction in any medium, provided the original work is properly cited (CC BY 4.0).

Share & Cite This Article
MDPI and ACS Style
Liu, J.J.; Ho, J.Y.; Lee, H.W.; Baik, M.W.; Kim, O.; Choi, Y.J.; Hur, S.Y. Inhibition of Phosphatidylinositol 3-kinase (PI3K) Signaling Synergistically Potentiates Antitumor Efficacy of Paclitaxel and Overcomes Paclitaxel-Mediated Resistance in Cervical Cancer. Int. J. Mol. Sci. 2019, 20, 3383.
Note that from the first issue of 2016, MDPI journals use article numbers instead of page numbers. See further details here.
Related Articles
Comments
[Return to top]