Functional Analysis of M-Locus Protein Kinase Revealed a Novel Regulatory Mechanism of Self-Incompatibility in
Brassica napus

L.

1

National Key Laboratory of Crop Genetic Improvement, National Center of Rapeseed Improvement in Wuhan, Huazhong Agricultural University, Wuhan 430070, China

2

Key Laboratory of Horticultural Plant Biology, Ministry of Education, Huazhong Agricultural University, Wuhan 430070, China

*

Authors to whom correspondence should be addressed.

†

These authors contributed equally to this work.

Received: 23 May 2019 / Revised: 24 June 2019 / Accepted: 4 July 2019 / Published: 5 July 2019
Abstract
Self-incompatibility (SI) is a widespread mechanism in angiosperms that prevents inbreeding by rejecting self-pollen. However, the regulation of the SI response in
Brassica napus
is not well understood. Here, we report that the M-locus protein kinase (
MLPK
)
BnaMLPKs
, the functional homolog of
BrMLPKs
in
Brassica rapa
, controls SI in
B. napus
. We identified four paralogue
MLPK
genes in
B. napus
, including
BnaA3.MLPK
,
BnaC3.MLPK
,
BnaA4.MLPK
, and
BnaC4.MLPK
. Two transcripts of
BnaA3.MLPK
,
BnaA3.MLPKf1
and
BnaA3.MLPKf2
, were generated by alternative splicing. Tissue expression pattern analysis demonstrated that
BnaA3.MLPK
, especially
BnaA3.MLPKf2
, is highly expressed in reproductive organs, particularly in stigmas. We subsequently created RNA-silencing lines and CRISPR/Cas9-induced quadruple mutants of
BnaMLPKs
in
B. napus
SI line S-70. Phenotypic analysis revealed that SI response is partially suppressed in RNA-silencing lines and is completely blocked in quadruple mutants. These results indicate the importance of
BnaMLPKs
in regulating the SI response of
B. napus
. We found that the expression of SI positive regulators S-locus receptor kinase (
SRK
) and Arm-Repeat Containing 1 (
ARC1
) are suppressed in
bnmlpk
mutant, whereas the self-compatibility (SC) element Glyoxalase I (
GLO1
) maintained a high expression level. Overall, our findings reveal a new regulatory mechanism of
MLPK
in the SI of
B. napus.
View Full-Text
►

▼

Figures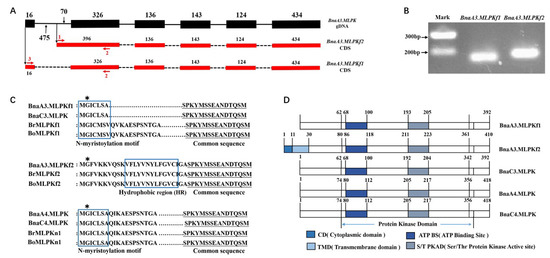 Figure 1
This is an open access article distributed under the
Creative Commons Attribution License
which permits unrestricted use, distribution, and reproduction in any medium, provided the original work is properly cited (CC BY 4.0).

Share & Cite This Article
MDPI and ACS Style
Chen, F.; Yang, Y.; Li, B.; Liu, Z.; Khan, F.; Zhang, T.; Zhou, G.; Tu, J.; Shen, J.; Yi, B.; Fu, T.; Dai, C.; Ma, C. Functional Analysis of M-Locus Protein Kinase Revealed a Novel Regulatory Mechanism of Self-Incompatibility in Brassica napus L.. Int. J. Mol. Sci. 2019, 20, 3303.
Note that from the first issue of 2016, MDPI journals use article numbers instead of page numbers. See further details here.
Related Articles
Comments
[Return to top]