Open Access This article is
freely available
re-usable
Article
A Free-Operant Reward-Tracking Paradigm to Study Neural Mechanisms and Neurochemical Modulation of Adaptive Behavior in Rats
Institute of Pathophysiology, University Medical Center of the Johannes Gutenberg University Mainz, 55131 Mainz, Germany
*
Authors to whom correspondence should be addressed.
Received: 4 April 2019 / Accepted: 22 May 2019 / Published: 25 June 2019
Abstract
:
The ability to respond flexibly to changing environmental circumstances is a hallmark of goal-directed behavior, and compromised flexibility is associated with a wide range of psychiatric conditions in humans, such as addiction and stress-related disorders. To identify neural circuits and transmitter systems implicated in the provision of cognitive flexibility, suitable animal paradigms are needed. Ideally, such models should be easy to implement, allow for rapid task acquisition, provide multiple behavioral readouts, and permit combination with physiological and pharmacological testing and manipulation. Here, we describe a paradigm meeting these requirements and employ it to investigate the neural substrates and neurochemical modulation of adaptive behavior. Water-restricted rats learned to emit operant responses for positive reinforcement (water reward) within minutes in a free-operant conditioning environment. Without further training, animals were able to track changes in the reward schedule. Given prior evidence that the medial prefrontal cortex (mPFC) and the dopaminergic system are required for flexible behavior, we aimed to assess both in more detail. Silencing of mPFC compromised flexible behavior when avoidance of punishment was required. Systemic injections of the D2-receptor agonist quinpirole and the D2-receptor antagonist eticlopride had complex, differential impacts on reward seeking and adaptive behavior.
Keywords:
dopamine receptors; muscimol; matching law; operant conditioning; reversal learning; punishment
1. Introduction
We will first describe the task structure and acquisition in detail. Then, we further characterize task performance under conditions of changing reinforcement schedules (requiring adaptive behavior). Last, we demonstrate in two experiments how the task can be combined with pharmacological manipulation of the brain, and that inactivation of the medial prefrontal cortex (mPFC) and alterations in dopaminergic transmission both affect adaptive behavior in a distinctive manner.
2. Results
We adapted, modified, and extended a simple reward-based learning task from Reference [
19
]. Rats were tested in an operant chamber featuring three conical nose ports arranged next to each other at one wall of the chamber (
Figure 1
). Rats were required to poke into the left (L) and right (R) ports to trigger reward delivery at the center (C) port. Reward delivery could be elicited by pokes of >0.4 s duration into either the left or the right port on two concurrent RI (random interval) schedules. More specifically, at each port, the reward could be triggered after a random time interval had elapsed (the port is then said to be 'armed'); the inter-reward time was the mean of the RI schedule, the distribution of inter-reward times is geometric (see
Section 4
, Materials and Methods, for details). Two concurrent and independent RI schedules were set up for the two operant ports L and R. The optimal strategy to harvest as many rewards as possible in a given session from a given port is to poke at intervals shorter than the minimum RI at that port. To harvest the maximum number of rewards from both ports, animals should distribute their responses such that they visit a port with a lower RI (more frequent arming) more often than a port with a higher RI (less frequent arming). In such situations, animals have been found to allocate their responses such that the relative response proportion for one port approximates the relative reward proportion for that port, a classic finding from experimental psychology known as the 'Matching Law' [
25
]:
RL/(RL + RR) = RfL/(RfL + RfR)
In the context of our task, R
L
is the number of nose pokes allocated to the left nose port, R
R
is the number of nose pokes allocated to the right nose port, Rf
L
is the number of reinforcers (water rewards) obtained after leftward choices (nose pokes), and Rf
R
is the number of reinforcers obtained after rightward nose pokes. In the following, the left-hand side of Equation (1) will be referred to as P(R
L
), the right-hand side will be referred to as P(Rf
L
). Matching behavior is optimal in the sense that it maximizes long-term reward [
26
,
27
].
In the following, we describe a series of experiments conducted to establish and characterize task performance, as well as to investigate the degree to which responding is determined by prefrontal and dopaminergic mechanisms. First, we examined how quickly animals acquire the basic structure of the task. Second, we quantified the extent to which the animals exhibit matching behavior in stationary environmental contingencies by running the animals on five different reinforcement schedules, each of which lasted three days. Third, we explored how cognitive flexibility manifested itself as animals were required to track repeated changes in reward rates and rapidly adapt behavior. Fourth, we extended the task to require flexible avoidance of punishment for either RL or RR, and tested to what extent the effects of punishment on behavior are altered by transient inactivation of mPFC. Finally, we carried out systemic administration of drugs modulating dopaminergic D2-receptors to examine their involvement in task performance.
3. Discussion
Rapid task acquisition not only saves experimental time, but will also allow for the tracking of single neurons electrophysiologically during learning, which is often not feasible in operant conditioning which frequently takes several days or weeks, and it is difficult to track the same neurons over more than a few hours with standard electrode arrays designed for chronic implantation. Also, the rapidness of learning will easily allow for an investigation into the effects of certain drugs on the establishment of an operantly conditioned response.
In summary, administration of drugs acting on dopamine D2 receptors led to alterations in operant behavior presumably by interfering with the postulated involvement of dopaminergic signaling in reward-related processes and related modulation of cognitive flexibility.
4. Materials and Methods
4.1. Subjects
Subjects were twelve male Long Evans rats (Charles River, Sulzfeld, Germany). The rats were six weeks old upon arrival in the lab and weighed between 200 and 250 g. All experimental protocols and animal procedures were approved by local authorities (Landesuntersuchungsamt Rheinland-Pfalz, the national investigation office of the state of Rhineland-Palatinate, Germany, permit G14-1-069, issued 2014/10/10). Animals had free access to food, but their water consumption was restricted. During the weekend and on days without experimental sessions, animals were given ad libitum access to water. On days of testing, animals received their daily water ration in the experimental chamber. The weight of the animals, as well as the amount of water reward obtained during the session was controlled on a daily basis, and supplemental water was provided if an animal received less than 8 mL water reward during a single training session. Previous studies showed that rats continuously gain weight under similar water restriction schedules and do not exhibit weight loss or suffer from physiological impairments as assessed by post-mortem organ inspection and hematologic examination [
59
,
60
,
61
]. Rats were housed in individual cages in an air flow cabinet (UniProtect, Zoonlab, Castrop-Rauxel, Germany) which maintained a constant temperature around 23 °C and humidity at >50%. Animals were kept on a 12-h inverted light-dark cycle (lights on at 8 pm). Experiments were carried out at a regular time during the dark phase.
4.2. Behavioral Apparatus
Behavioral testing was performed in an operant conditioning test chamber (ENV-008, Med Associates, Georgia, VT, USA) with inner dimensions 48 × 27 × 28 cm (L × W × H), equipped with three nose ports with a conical entry (LIC.80117RM, Lafayette Instrument, Lafayette, IN, USA) and a stainless steel grid rod floor (
Figure 1
). The operant chamber was enclosed within a sound-attenuating cubicle. Nose ports were located 4 cm above the level of the floor at the front wall and had a diameter of 3 cm and were spaced at intervals of six centimeters. The chamber was constantly illuminated by a house light. A webcam was used for continuous monitoring of behavioral performance. The center port ("reward port") was used for water reward delivery, and the two side ports (henceforth, "operant ports" or "response ports") were used as operant response devices. Entries of the nose ports were signaled by a photo beam detector. Water rewards were delivered via silicone tubing into the apertures of the central port from an external peristaltic pump. Behavioral testing and online data collection were controlled by a Windows computer system with in-house software written in Spike2 and a Power1401-3 data acquisition interface (Cambridge Electronic Design Limited, Cambridge, UK). The auditory stimulus used in punishment and pharmacology experiments (1.4-kHz pure tone, 4 s, ~85 dB SPL) was delivered through a speaker attached to the ceiling of the sound-attenuating chamber. Scrambled foot shocks were administered through a stainless-steel grid floor at intensities of 0.27–0.53 mA using a standalone shocker module (ENV-414SA, Med Associates, Georgia, VT, USA). The intensity was adjusted individually for rats.
4.3. Behavioral Testing
Lastly, to investigate whether dopamine is implicated in task performance, we tested the same and additional six subjects after injection of either a dopamine D1-receptor agonist (quinpirole) or a D2-receptor antagonist. Before the start of the pharmacological tests, we slightly modified the behavioral procedure. First, we moved the center reward port to the opposite side of the chamber. This was done after we observed that after extensive training (several months during which intracerebral infusions of the GABA-A agonist muscimol into the medial prefrontal cortex were made), animals became insensitive to reward contingency changes and executed seemingly stereotypic action sequences (pokes left–center–right–center–left, etc.). Moving the reward port to the opposite side of the chamber was intended to disrupt habitual behavior and render responding sensitive to reward manipulations again (which was successful). Moreover, in order to signal animals when a visit to the center port was in order, we introduced a tone whenever poking into a side port triggered reinforcement at the center port. After tone onset, animals had four seconds to enter the reward port and to trigger reward delivery. Entering the center port turned off the tone and triggered reward delivery, while poking after tone offset was not rewarded, and the reward was omitted altogether. Within 1–2 sessions, the animals picked up the changed arrangement and successfully harvested more than 90% of the scheduled rewards. Motivated by the observation that animals switch between left and right at a very high frequency, we added another variable that defines the minimum time that a poke triggering a reward can have to the previous poke in the opposite response port (CODOP, 2 s). If the animals switch between the options quicker than determined by CODOP, the clock reset, and no reward is delivered. This makes sure that the animals are not uniformly switching between left and right response ports.
4.4. Hot-Plate Test
To assess the effect of mPFC inactivation on pain perception, we employed the hot-plate test (Hot/Cold Plate NG 35100, Ugo-Basile, Gemonio, Italy). Animals were placed on a metal plate which was enclosed in a transparent plastic cylinder to prevent the animal from escaping. The temperature of the plate was set to 50 °C. The dependent variable was the time from placement until the animal either licked its hind paws or jumped. As soon as either of the two responses was observed, the plastic cylinder was removed, and the animal could move off the plate. Every examination was video recorded and scored by impartial observers. Unlike the simpler tail-flick test which is believed to predominantly reflect spinal pain reflexes, the withdrawal responses observed in the hot-plate test reflects supraspinal functioning [
63
].
4.5. Surgical Procedures
Animals were anesthetized via intraperitoneal injection of Medetomidine (0.15 mg kg−1), Midazolam (2.0 mg kg−1) and Fentanyl (0.005 mg kg−1). The fur was shaved off the head, and the animals were placed in the stereotaxic frame (Parallel Rail Stereotaxic Instrument; Stoelting, DublinIreland) and fixed using atraumatic ear bars. To maintain a surgical plane of anesthesia, half of the initial dose was administered subcutaneously after 45 min or as soon as the animal exhibited a reflexive toe pinch-response. The scalp was retracted, and the skull was exposed. Stainless steel guide cannulas for intracranial drug infusion (C315G, PlasticsOne, Roanoke, VA, USA, diameter 0.5 mm) were implanted bilaterally at the following coordinates: Anteroposterior (AP), +3.0 mm from bregma; mediolateral (ML), ± 0.6 mm from the midline, dorsoventral (DV) −3.1 mm below the dural surface. Cannulas were implanted at an outwards angle of 10°. After the cannulas were slowly inserted into the brain, the cannula assembly was fixed with dental cement to five skull screws. Dummy cannulas consisting of a stylet and cap were used as protection. During surgery, the rats received between 10 and 18 mL of isotonic saline and 5% glucose solution as fluid substitution and to maintain circulation and metabolism. After completion of the surgery and administration of analgesics (Carprofen) and antibiotics (Enrofloxacin) the anesthesia was antagonized by a subcutaneously administered mixture of Atipamezole (0.75 mg kg–1), Flumazenil (0.2 mg kg−1) and Naloxone (0.12 mg kg−1). Rats were given 7 to 10 days to recover from surgery before behavioral training recommenced. During recovery, rats were given ad libitum access to food and water and were handled for at least 30 min per day.
4.6. Intracerebral Drug Infusions
The GABA-A receptor agonist muscimol (Sigma-Aldrich, St. Louis, MO, USA) was dissolved in 0.9 % saline at a concentration of 1 µg/µL and was stored at −18 °C. Before each infusion, rats were mildly anesthetized with isoflurane. An injection cannula (C315I, PlasticsOne) was connected to a 10-μL Hamilton syringe placed in the syringe holder of an infusion pump (Pump 11 Elite, Harvard Apparatus, Holliston, MA, USA). The injection cannula was inserted into the guide cannula to deliver either saline or muscimol into the mPFC at a flow rate of 0.25 µL/min. After the infusion was complete, the injector cannula was left in place for one additional minute to allow for drug diffusion. Anesthesia was discontinued, and rats were placed in their home cage and tested 45 min after the infusion. Muscimol is known to abolish cortical activity for several hours [
64
]. Due to the explorative nature of these experiments, we tested different dosages of muscimol (range: 0.35–0.6 µL), but found that the effects were extremely similar. Therefore, we averaged the data across dosages separately for each animal and conducted statistical analyses on that data.
4.7. Systemic Drug Administration
The D2-type receptor agonist quinpirole and D2-type receptor antagonist eticlopride hydrochloride (both Sigma Aldrich) were dissolved in physiological 0.9% saline and stored at −4 °C. The dose was chosen based on published experiments, as well as on data from pilot experiments with the same rats. We injected either the dopamine D2-receptor agonist quinpirole (0.125 mg/kg dissolved in 0.5 mL physiological saline), the D2-receptor antagonist eticlopride (0.05 mg/kg, dissolved in 0.5 mL saline), or 0.5 mL vehicle (saline) subcutaneously.
Prior to injection, rats were briefly anesthetized with isoflurane (EZ-B800, World Precision Instruments, Sarasota, FL, USA) and received a subcutaneous injection of either the drug or saline. Approximately 20 min after the injection, the animals were tested on the behavioral task (as in previous studies [
65
]).
Two rats were excluded from the analysis of eticlopride data, due to the insufficient number of operant responses (less than 20). Another rat had to be excluded from the pharmacology experiments altogether because it exhibited increasing difficulties to perform the task even without drug injection.
4.8. Histology
After experiments were completed, the rats were given an infusion of 0.025 % Evans Blue (Sigma Aldrich) in order to verify cannula placement. Approximately 30 min following infusion of the dye, the rats were anesthetized with a mixture of ketamine/xylazine and perfused with 4% paraformaldehyde fixative. Brains were removed and post-fixed in the same fixative for several days, and were subsequently transferred to a 30% sucrose solution for another 2–3 days before slicing. The brains were then frozen and sectioned coronally into 100-µm slices. Prior to mounting onto slides, every other slice was stained with cresyl violet (Nissl), while the other slices were left unstained to better visualize the Evans Blue labeled regions under a fluorescence microscope (Keyence BZ-8000K, Osaka, Japan). All cannula tips were found to be located in mPFC (
Figure 7
).
4.9. Statistical Analysis
The main dependent variables were P(RL) and P(RfL). Data were analyzed with paired t-tests and repeated-measures ANOVA. All analyses were performed in Matlab R2018b (The Mathworks, Natick, MA, USA). Change-points were detected using the function findchangepts.m.
Author Contributions
Conceptualization, V.V.S. and M.C.S.; methodology, V.V.S. and M.C.S.; software, V.V.S. and M.C.S.; validation, V.V.S. and M.C.S.; formal analysis, V.V.S. and M.C.S.; investigation, S.A.W.; resources, M.C.S.; data curation, V.V.S.; writing—original draft preparation, V.V.S. and M.C.S.; writing—review and editing, V.V.S., S.A.W and M.C.S.; visualization, V.V.S. and M.C.S.; supervision, M.C.S; project administration, M.C.S.; funding acquisition, M.C.S.
Funding
This research was funded by an intramural research grant from the University Medical Center Mainz, Germany.
Acknowledgments
The authors thank the members of the workshop of the Institute of Pathophysiology, Richard Necel, Michael Marx, and Stefan Schön for providing technical support.
Conflicts of Interest
The authors declare no conflict of interest.
Abbreviations
C
center
CF
cognitive flexibility
CODOP
changeover delay after other-port response

conc

RI x s RI y s
concurrent random-interval random interval schedule at with a mean of x seconds inter-reinforcement times at the left choice port and a mean of y seconds at the right
D2
D2-receptor
DA
dopamine
dB SPL
decibel Sound Pressure Level
Eti
eticlopride
GABA
gamma-aminobutyric acid
GABA-A
GABA receptor type A
Hz
Hertz
L
left
mPFC
medial prefrontal cortex
OCD
obsessive-compulsive disorder
PFC
Prefrontal cortex
P(RL), P(RfL)
relative rate of operant L responses and relative rate of reinforcements from L responses, respectively
Qnp
quinpirole
R
right
RI
random interval
RfL, RfR
reinforcement (water delivery at the center port) triggered by nose-poking into the left and right choice port, respectively
RL, RR
responses by nose-poking into the left and right choice port, respectively
Sal
saline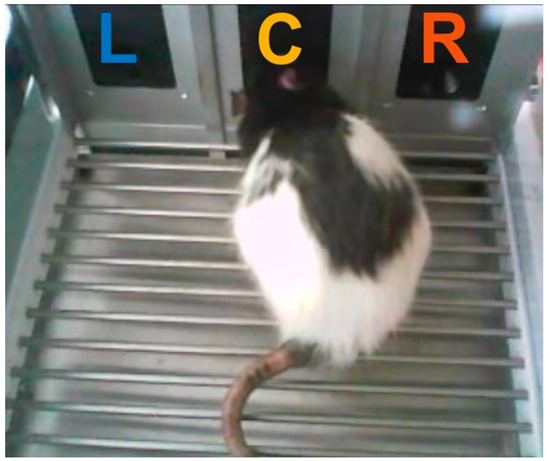 Figure 1. Picture of the operant chamber with a rat poking into the center (reward) port. Reward (30 µL of water) could be triggered by poking into the left (L) and right (R) ports at random intervals. Water reward is delivered at the center (C) port. The stainless steel grid floor was used to deliver mild foot shocks in later experiments.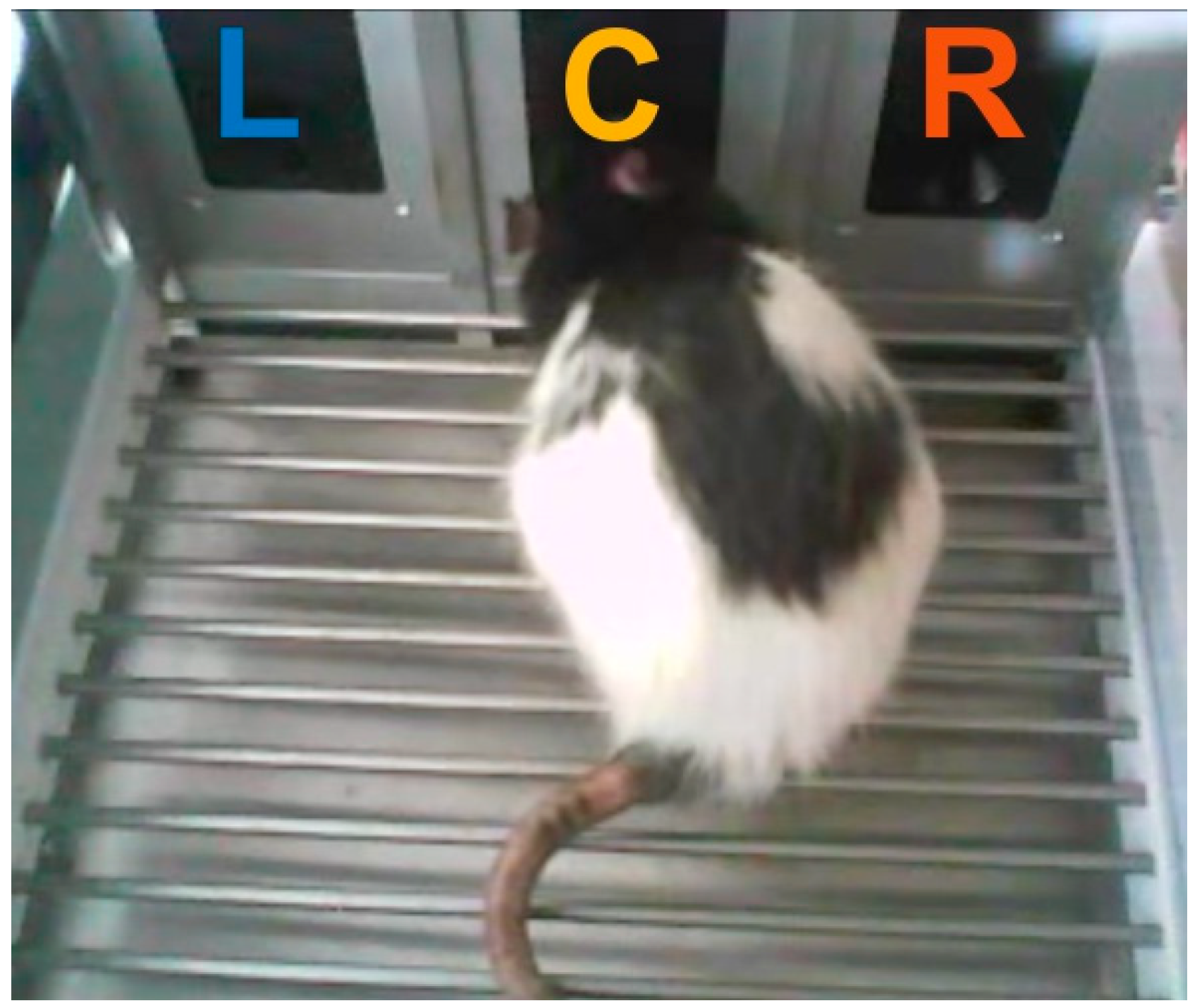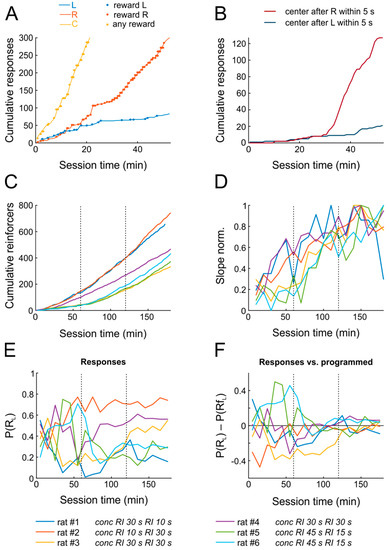 Figure 2. Rats pick up the basic task structure in the very first training session. (A) Cumulative numbers of operant responses in 1-min bins (time intervals) for pokes into the left (blue), right (red), and center (reward, yellow) port for one example animal on the first day of training. (B) Cumulative responses into the center port within 2 s after left (blue) or right pokes (red) for the same animal. (C) Cumulative numbers of reinforcers (in bins of 10 min) for all six rats across the first three sessions (separated by vertical dotted lines). The color code key for panels CDEF is given at the bottom of the figure. (D) The number of reinforcers obtained per 10-min bin over the first three days, normalized to the maximum number of reinforcers obtained in any bin by a given rat. For five out of six rats, the maximum number was obtained well before the end of the third session. (E) Relative response proportions P(RL) for the six rats over the first three days. (F) As in E, but after subtraction of programmed relative reinforcement proportions P(RfL) from P(RL) to highlight that all animals attained matching (horizontal line, zero difference) by the third day of training.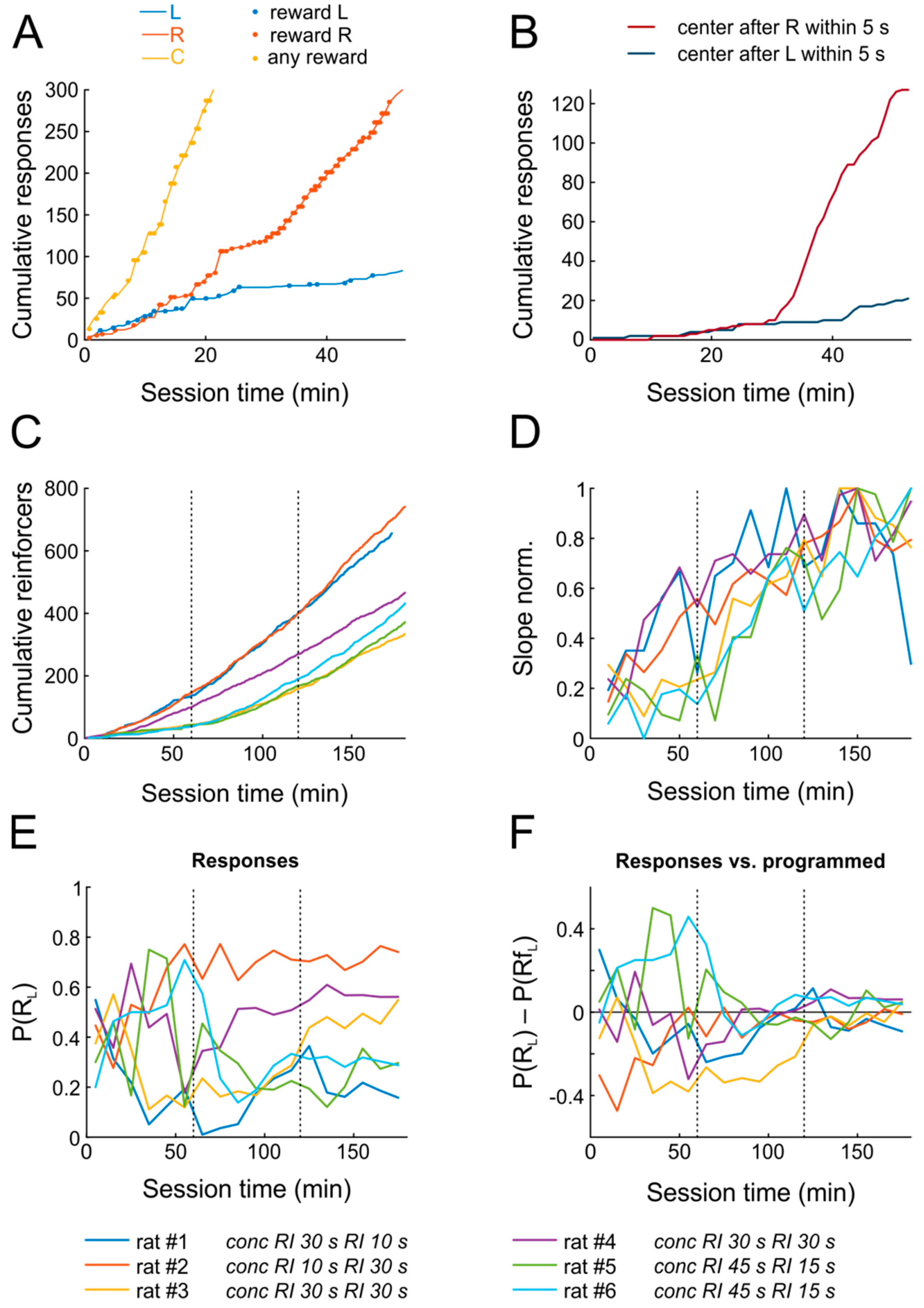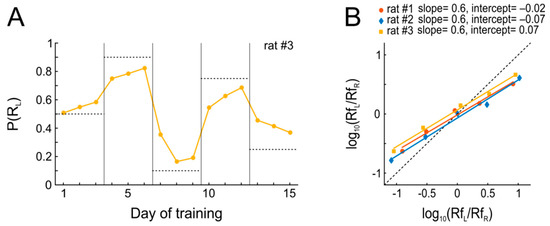 Figure 3. Rats quickly adapt when reinforcement contingencies change every three days. (A) Adaptation to new reward contingencies over five blocks. The panel depicts P(RL) of an example animal over time. Horizontal dotted lines represent P(RL) which would perfectly match P(RfL) within each block. Vertical lines separate blocks of conditions. (B) Matching behavior after three days of constant contingencies for all three animals. Regression lines were fitted to the data separately for each animal using Equation (2). Dotted black main diagonal represents the strict matching relation.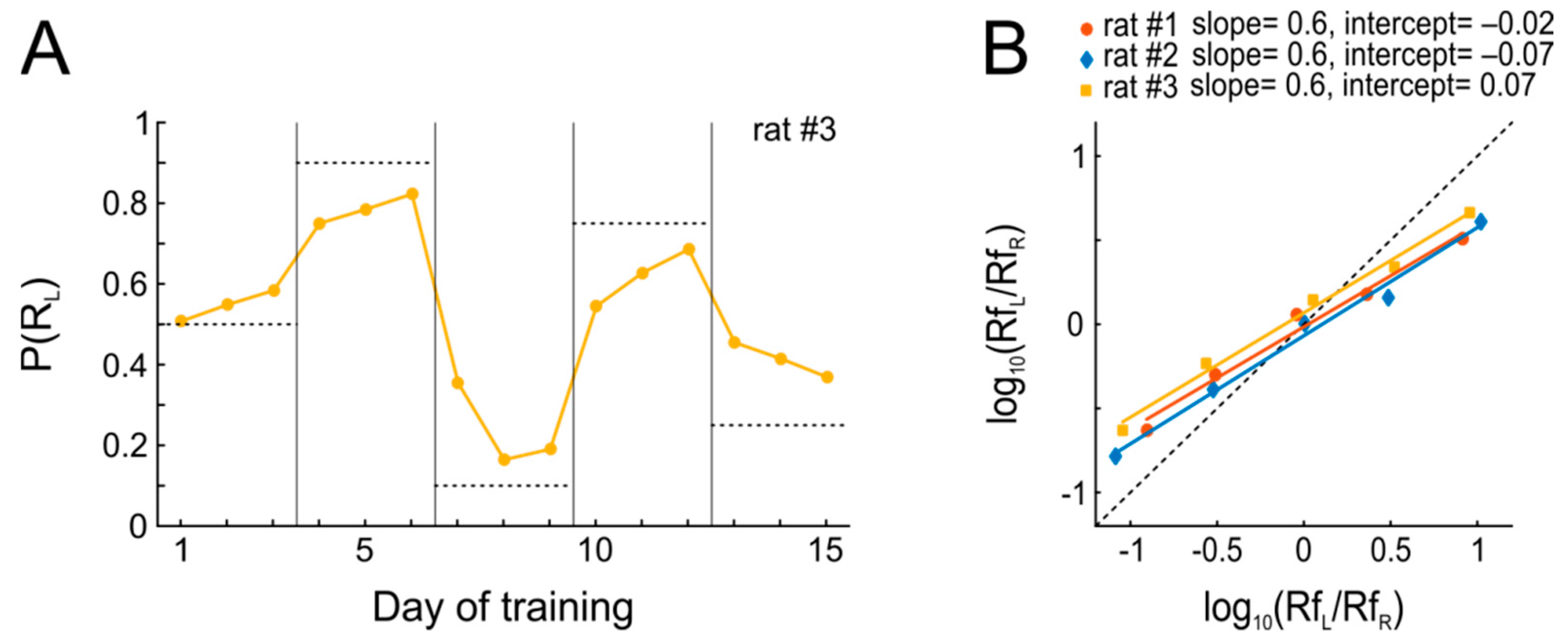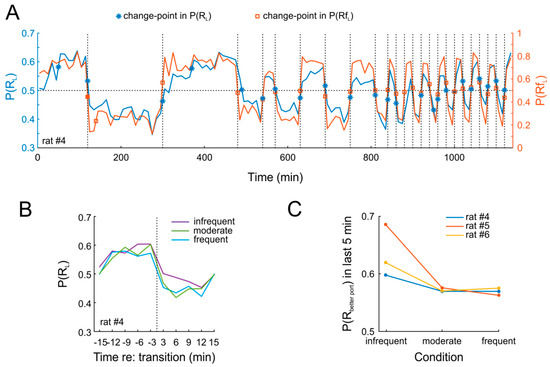 Figure 4. Rats quickly adapt when reinforcement contingencies change multiple times per session. (A) Dynamic response allocation resulting from changes in P(RfL) across all 15 experimental sessions in 10-min bins for an example animal. Blue and red symbols denote change-points for responses (asterisks) and reinforcements (squares). Thin horizontal dotted line denotes unbiased responding; vertical dotted lines denote changes in P(RfL). (B) Relative choice proportion before and after changes in reinforcement contingency (vertical dotted line) for infrequent (purple), moderately frequent (green), and frequent (cyan) changes. The data from the other rats tested with different sequences were highly similar. (C) Comparison of relative response proportions during the last five minutes prior to transitions across all three conditions.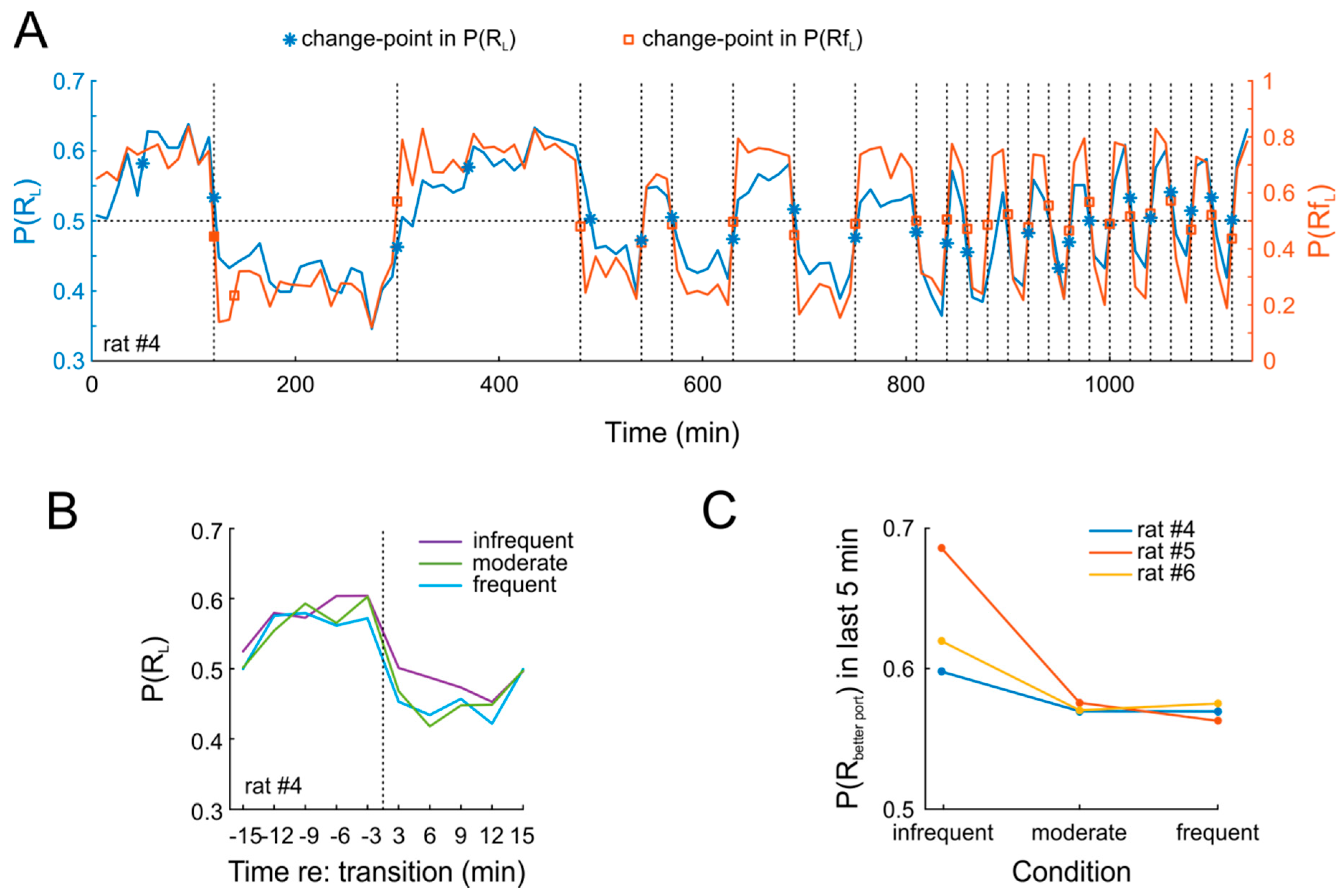 Figure 5. Adaptation to punishment and involvement of mPFC. (A) Mean P(RL) in consecutive, non-overlapping 2-min bins across animals after saline (blue) or muscimol (red) infusion. P(RL) was rectified, such that values <0.5 signify a preference for the unpunished response port. Under saline, the animals exhibited a clear preference for the non-punished option. Vertical dotted line highlights the time of punishment introduction. (B) As in (A), but showing operant responses. (C) As in (A), but showing the number of rewards retrieved per time bin. (D) As in (A), but showing the number of non-retrieved rewards in all panels. Shading represents SEM.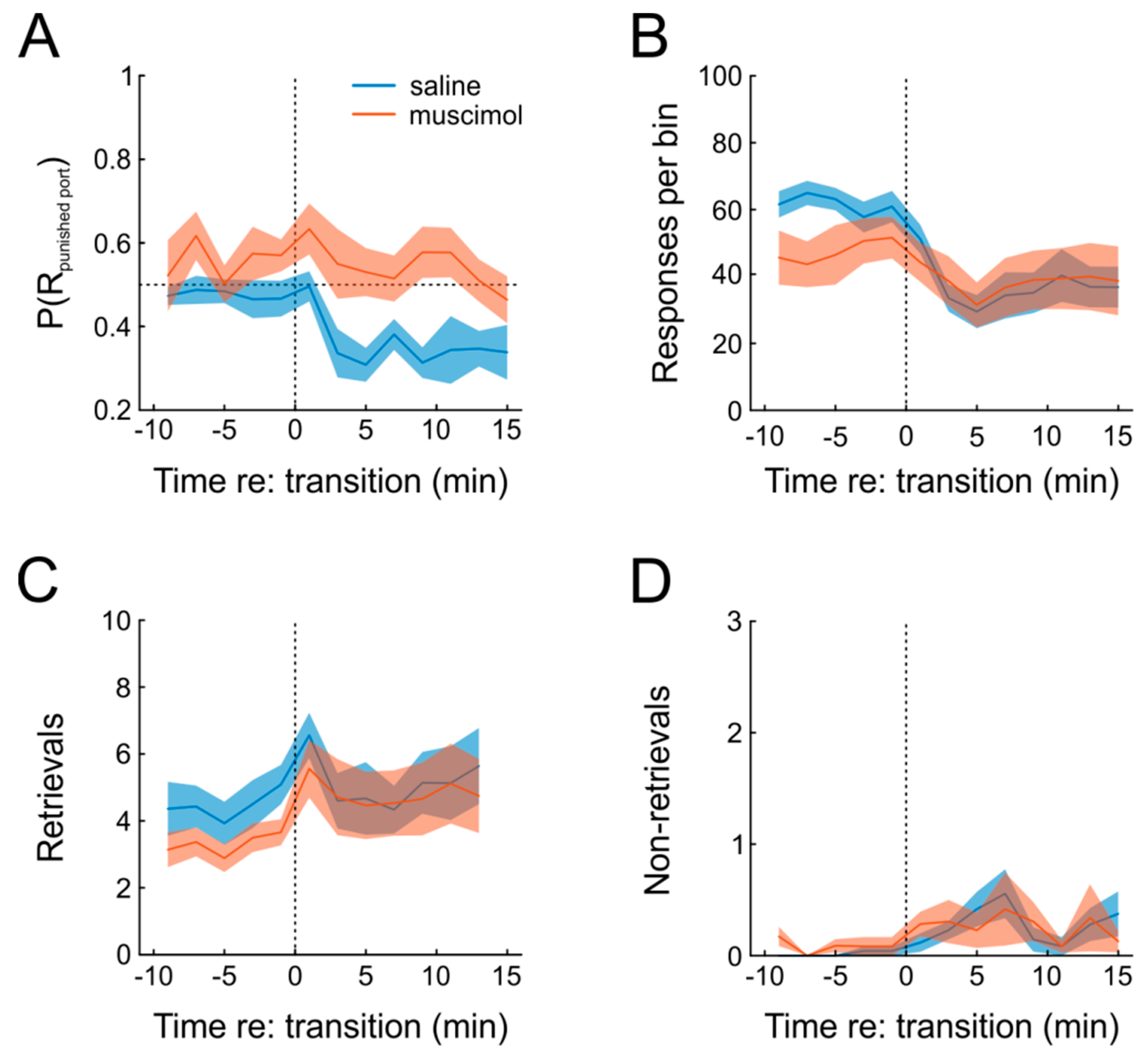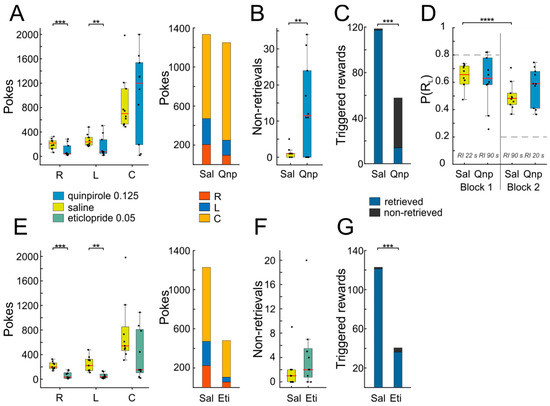 Figure 6. Systemic administration of dopamine D2-receptor compounds alters task performance. (A) Left: Quinpirole administration reduced overall responding to both response ports (L and R), but not at the reward port (C). Right: Total number of pokes at the L, R and C ports displayed separately for saline (Sal) and quinpirole (Qnp). (B) Quinpirole significantly increased the number of non-retrieved rewards. (C) A total number of triggered rewards with those that were retrieved in blue and those that were not retrieved in black. (D) P(RL) before (Block 1) and after (Block 2) mid-session change in the reward schedule, which required the animals to adapt their responses to the reversed reward ratio as in the first half of the session. Animals changed their responses, according to the reinforcement ratio (indicated in the graph) after saline administration, but not after quinpirole administration. Dashed horizontal lines indicate optimal behavior as predicted by the Matching law. (E–G) As in A–D, but for behavior after eticlopride vs. vehicle administration. In all box plots, individual data points (black dots) are laid over a box depicting the 25th and 75th percentiles; the horizontal red mark indicates the median, whiskers extend to the most extreme observations, outliers are plotted individually. Asterisks indicate significant differences between drug and vehicle as determined by paired samples t-tests (** ≤ 0.01, *** ≤ 0.001, **** ≤ 0.0001).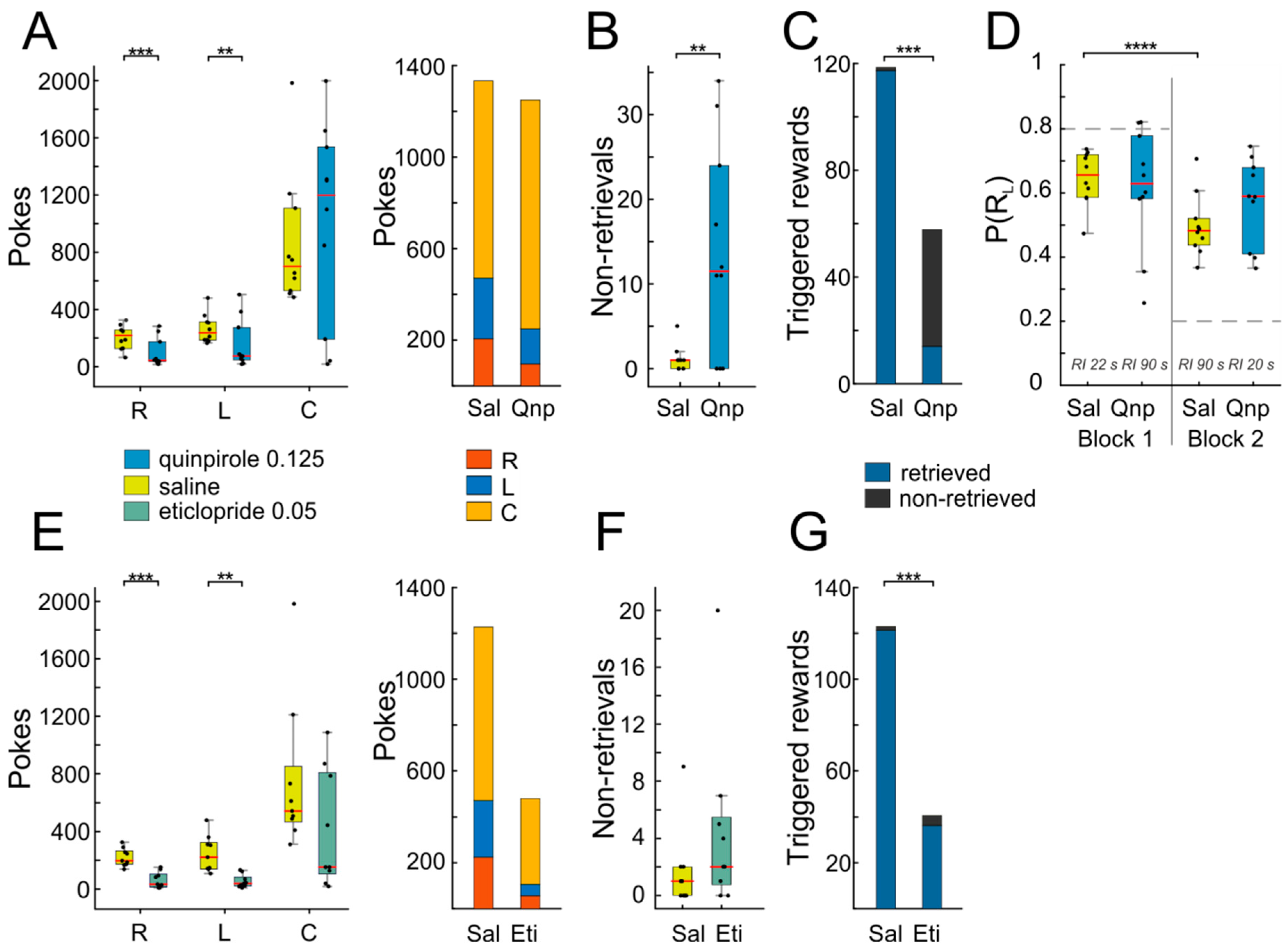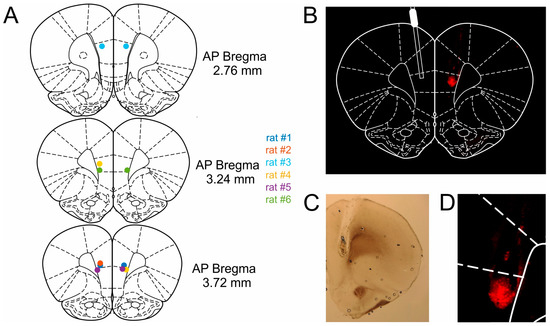 Figure 7.
Bilateral microinfusion sites in the mPFC. (
A
) Cannula locations in mPFC, colored dots represent cannula tips of individual rats. Brain diagrams adapted from Reference [
66
]. (
B
) Coronal slice of the right hemisphere with Evans Blue fluorescence region (right) and schematic representation of the guide cannula (left). The fluorescence is restricted to the prelimbic portion of mPFC. (
C
) Image of a coronal slice under bright field illumination. (
D
) Magnified image of the Evans Blue spread shown in (
B
).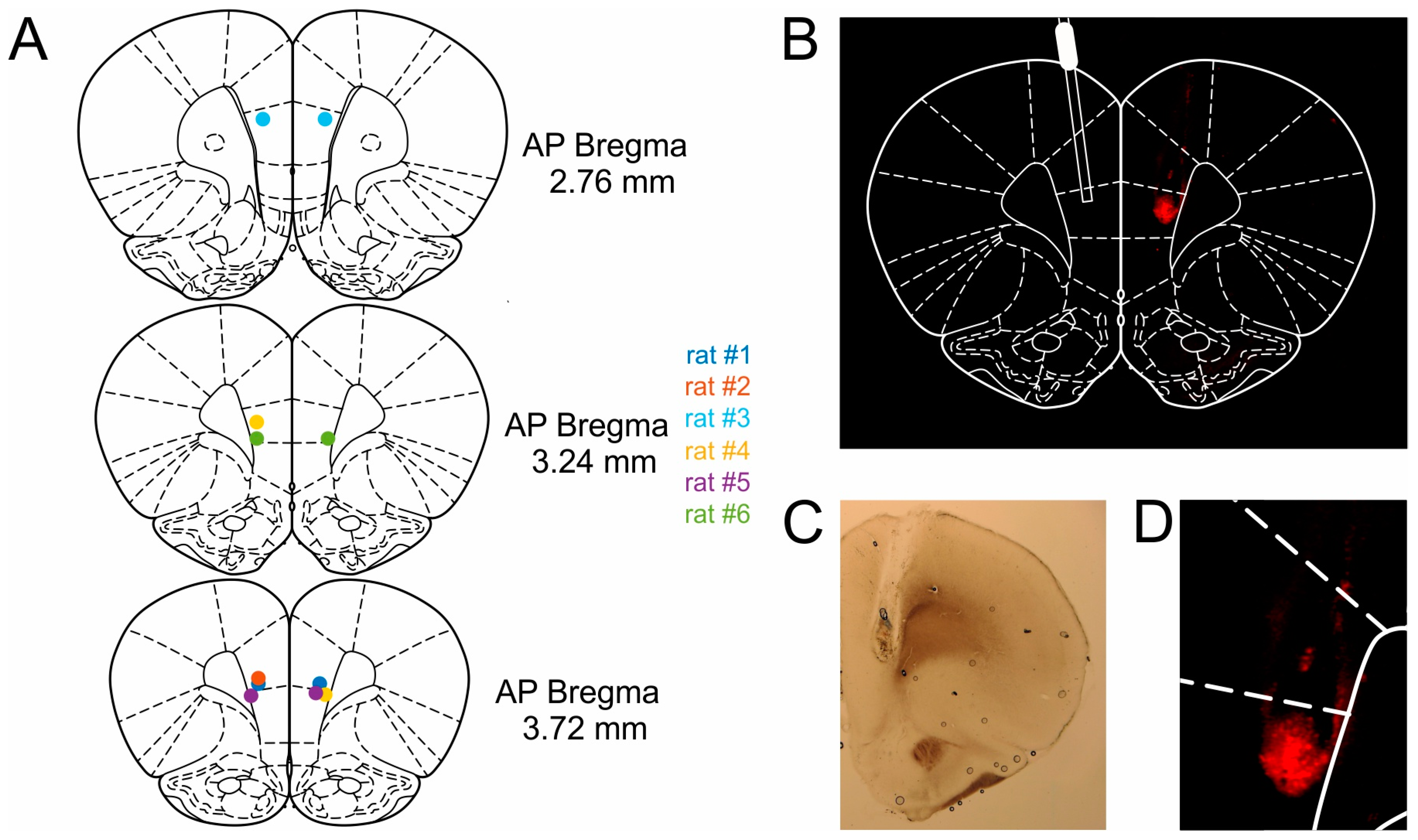 Table 1. Testing sequence of reinforcement schedules to assess steady-state matching behavior. Each column specifies reinforcement schedules that the respective subject was assigned to during the 15 days of experimentation.
Day
Rat #1
Rat #2
Rat #3
1–3

conc

RI 45 s RI 15 s

conc

RI 15 s RI 45 s

conc

RI 30 s RI 30 s
4–6

conc

RI 15 s RI 45 s

conc

RI 45 s RI 15 s

conc

RI 5 s RI 55 s
7–9

conc

RI 55 s RI 5 s

conc

RI 5 s RI 55 s

conc

RI 55 s RI 5 s
10–12

conc

RI 5 s RI 55 s

conc

RI 55 s RI 5 s

conc

RI 15 s RI 45 s
12–15

conc

RI 30 s RI 30 s

conc

RI 30 s RI 30 s

conc

RI 45 s RI 15 s

Table 2.
The sequence of reward rate changes per experimental session for each of three animals. We ran three different blocks of sessions with frequent (three per session) or infrequent (every third day) changes in
conc
RI RI. Numbers in cells thus indicate the number of reward rate switches per day.
| Day | 1 | 2 | 3 | 4 | 5 | 6 | 7 | 8 | 9 | 10 | 11 | 12 | 13 | 14 | 15 | 16 | 17 | 18 | 19 |
| --- | --- | --- | --- | --- | --- | --- | --- | --- | --- | --- | --- | --- | --- | --- | --- | --- | --- | --- | --- |
| rat #4 | 0 | 0 | 1 | 0 | 0 | 1 | 0 | 0 | 1 | 1 | 1 | 1 | 1 | 1 | 3 | 3 | 3 | 3 | 3 |
| rat #5 | 3 | 3 | 3 | 3 | 3 | 1 | 1 | 1 | 1 | 1 | 0 | 0 | 1 | 0 | 0 | 1 | 0 | 0 | 1 |
| rat #6 | 1 | 1 | 1 | 1 | 1 | 3 | 3 | 3 | 3 | 3 | 0 | 0 | 1 | 0 | 0 | 1 | 0 | 0 | 1 |

Table 3. Assignment of rats to experiments. (+) the animal participated in the experiment, (±), the animal participated, but data were excluded from the analysis.
Experiment/Rat #
1
2
3
4
5
6
7
8
9
10
11
12
Initial Learning (

n

= 6)
+
+
+
+
+
+
Matching (

n

= 3)
+
+
+
Adaptation (

n

= 3)
+
+
+
Punishment (

n

= 6)
+
+
+
+
+
+
Quinpirole (

n

= 10)
+
+
+
+
+
±
+
+
+
+
+
Eticlopride (

n

= 9)
+
+
+
+
+
±
±
+
+
+
+
Hote-Plate Test (

n

= 6)
+
+
+
+
+
+

© 2019 by the authors. Licensee MDPI, Basel, Switzerland. This article is an open access article distributed under the terms and conditions of the Creative Commons Attribution (CC BY) license (http://creativecommons.org/licenses/by/4.0/).