HNF4α and CDX2 Regulate Intestinal
YAP1

Promoter Activity

1

Department of Science and Environment, Roskilde University, Universitetsvej 1, 4000 Roskilde, Denmark

2

Department of Clinical Immunology, Næstved Hospital, Ringstedgade 77B, 4700 Næstved, Denmark

3

Department of Surgery, Center for Surgical Science, Enhanced Perioperative Oncology (EPEONC) Consortium, Zealand University Hospital, Lykkebækvej 1, 4600 Køge, Denmark

*

Author to whom correspondence should be addressed.

Received: 6 May 2019 / Revised: 10 June 2019 / Accepted: 16 June 2019 / Published: 18 June 2019
Abstract
The Hippo pathway is important for tissue homeostasis, regulation of organ size and growth in most tissues. The co-transcription factor yes-associated protein 1 (YAP1) serves as a main downstream effector of the Hippo pathway and its dysregulation increases cancer development and blocks colonic tissue repair. Nevertheless, little is known about the transcriptional regulation of
YAP1
in intestinal cells. The aim of this study to identify gene control regions in the
YAP1
gene and transcription factors important for intestinal expression. Bioinformatic analysis of caudal type homeobox 2 (CDX2) and hepatocyte nuclear factor 4 alpha (HNF4α) chromatin immunoprecipitated DNA from differentiated Caco-2 cells revealed potential intragenic enhancers in the
YAP1
gene. Transfection of luciferase-expressing
YAP1
promoter-reporter constructs containing the potential enhancer regions validated one potent enhancer of the
YAP1
promoter activity in Caco-2 and T84 cells. Two potential CDX2 and one HNF4α binding sites were identified in the enhancer by in silico transcription factor binding site analysis and protein-DNA binding was confirmed in vitro using electrophoretic mobility shift assay. It was found by chromatin immunoprecipitation experiments that CDX2 and HNF4α bind to the
YAP1
enhancer in Caco-2 cells. These results reveal a previously unknown enhancer of the
YAP1
promoter activity in the
YAP1
gene, with importance for high expression levels in intestinal epithelial cells. Additionally, CDX2 and HNF4α binding are important for the
YAP1
enhancer activity in intestinal epithelial cells.
View Full-Text
►

▼

Figures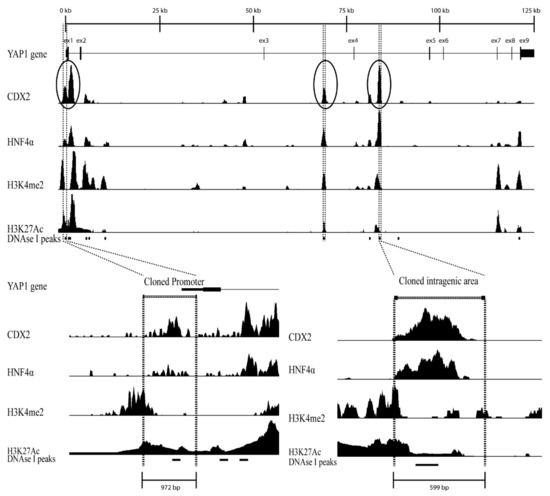 Figure 1
This is an open access article distributed under the
Creative Commons Attribution License
which permits unrestricted use, distribution, and reproduction in any medium, provided the original work is properly cited (CC BY 4.0).

Share & Cite This Article
MDPI and ACS Style
Larsen, S.; Davidsen, J.; Dahlgaard, K.; Pedersen, O.B.; Troelsen, J.T. HNF4α and CDX2 Regulate Intestinal YAP1 Promoter Activity. Int. J. Mol. Sci. 2019, 20, 2981.
Note that from the first issue of 2016, MDPI journals use article numbers instead of page numbers. See further details here.
Related Articles
Comments
[Return to top]