The Association of Periodontitis and Peripheral Arterial Occlusive Disease—A Systematic Review
1
Department of Vascular Medicine, University Heart Center Hamburg, University Medical Center Hamburg-Eppendorf, 20251 Hamburg, Germany
2
Department of Surgery, University Medical Centre Schleswig-Holstein, Campus Luebeck, Ratzeburger Allee 160, 23538 Luebeck, Germany
3
Department of Prosthetic Dentistry, Center for Dental and Oral Medicine, University Medical Center Hamburg-Eppendorf, 20246 Hamburg, Germany
*
Author to whom correspondence should be addressed.
Received: 6 May 2019 / Revised: 10 June 2019 / Accepted: 12 June 2019 / Published: 15 June 2019
Abstract
Background
: Observational studies support an association between periodontitis (PD) and atherosclerotic vascular disease, but little is known specifically about peripheral arterial occlusive disease (PAOD). Objectives: To systematically review the evidence for an association between PD and PAOD. Data Sources: Medline via PubMed. Review Methods: We searched the Pubmed database for original studies, case reports, case series, meta-analyses and systematic reviews that assessed whether there is an association between PD (all degrees of severity) and PAOD (all degrees of severity). The reporting of this systematic review was in accordance with the Preferred Reporting Items for Systematic Reviews and Meta-Analyses (PRISMA) statement following the Population, Intervention, Control, and Outcome (PICO) format. Results: 17 out of 755 detected studies were included in the qualitative synthesis. Nine studies demonstrated associations between PD and PAOD, and two studies reported associations between tooth loss and PAOD. Six studies addressed the pathomechanism regarding PD as a possible trigger for PAOD. No study that dismissed an association could be detected. Odds ratios or hazard ratios ranged from 1.3 to 3.9 in four large cohort studies after adjusting for established cardiovascular risk factors. Conclusions: The presented evidence supports a link between PD and PAOD. Further studies which address the temporality of PD and PAOD and randomized controlled intervention trials examining the causal impact of PD on PAOD are needed. Although our results cannot confirm a causal role of PD in the development of PAOD, it is likely that PD is associated with PAOD and plays a contributing role.
View Full-Text
►

▼

Figures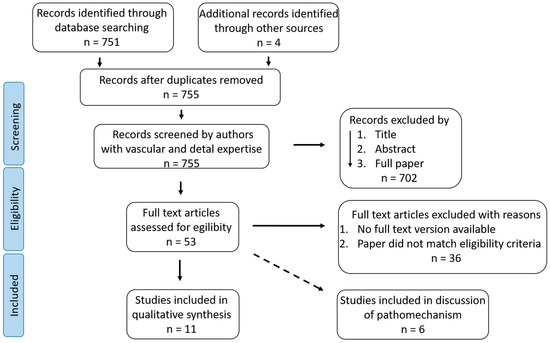 Figure 1
This is an open access article distributed under the
Creative Commons Attribution License
which permits unrestricted use, distribution, and reproduction in any medium, provided the original work is properly cited (CC BY 4.0).

Share & Cite This Article
MDPI and ACS Style
Kaschwich, M.; Behrendt, C.-A.; Heydecke, G.; Bayer, A.; Debus, E.S.; Seedorf, U.; Aarabi, G. The Association of Periodontitis and Peripheral Arterial Occlusive Disease—A Systematic Review. Int. J. Mol. Sci. 2019, 20, 2936.
Note that from the first issue of 2016, MDPI journals use article numbers instead of page numbers. See further details here.
Related Articles
Comments
[Return to top]