Mechanisms Underlying Spontaneous Action Potential Generation Induced by Catecholamine in Pulmonary Vein Cardiomyocytes: A Simulation Study
1
Department of Bioinformatics, College of Life Sciences, Ritsumeikan University, Shiga 525-8577, Japan
2
Institute of Cardiovascular Research, Southwest Medical University, Luzhou 640000, China
3
Department of Cell Physiology, Graduate School of Medicine, Akita University, Akita 010-8543, Japan
*
Author to whom correspondence should be addressed.
Received: 11 May 2019 / Revised: 11 June 2019 / Accepted: 12 June 2019 / Published: 14 June 2019
Abstract
Cardiomyocytes and myocardial sleeves dissociated from pulmonary veins (PVs) potentially generate ectopic automaticity in response to noradrenaline (NA), and thereby trigger atrial fibrillation. We developed a mathematical model of rat PV cardiomyocytes (PVC) based on experimental data that incorporates the microscopic framework of the local control theory of Ca
2+
release from the sarcoplasmic reticulum (SR), which can generate rhythmic Ca
2+
release (limit cycle revealed by the bifurcation analysis) when total Ca
2+
within the cell increased. Ca
2+
overload in SR increased resting Ca
2+
efflux through the type II inositol 1,4,5-trisphosphate (IP
3
) receptors (InsP
3
R) as well as ryanodine receptors (RyRs), which finally triggered massive Ca
2+
release through activation of RyRs via local Ca
2+
accumulation in the vicinity of RyRs. The new PVC model exhibited a resting potential of −68 mV. Under NA effects, repetitive Ca
2+
release from SR triggered spontaneous action potentials (APs) by evoking transient depolarizations (TDs) through Na
+
/Ca
2+
exchanger (AP
TD
s). Marked and variable latencies initiating AP
TD
s could be explained by the time courses of the α1- and β1-adrenergic influence on the regulation of intracellular Ca
2+
content and random occurrences of spontaneous TD activating the first AP
TD
. Positive and negative feedback relations were clarified under AP
TD
generation.
View Full-Text
►

▼

Figures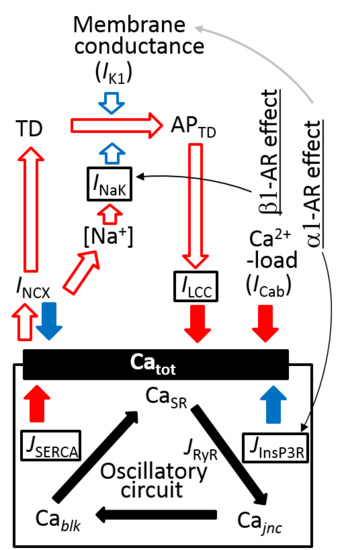 Graphical abstract
This is an open access article distributed under the
Creative Commons Attribution License
which permits unrestricted use, distribution, and reproduction in any medium, provided the original work is properly cited (CC BY 4.0).

Share & Cite This Article
MDPI and ACS Style
Umehara, S.; Tan, X.; Okamoto, Y.; Ono, K.; Noma, A.; Amano, A.; Himeno, Y. Mechanisms Underlying Spontaneous Action Potential Generation Induced by Catecholamine in Pulmonary Vein Cardiomyocytes: A Simulation Study. Int. J. Mol. Sci. 2019, 20, 2913.
Note that from the first issue of 2016, MDPI journals use article numbers instead of page numbers. See further details here.
Related Articles
Comments
[Return to top]