Identification of Proteins Differentially Expressed by Adipose-derived Mesenchymal Stem Cells Isolated from Immunodeficient Mice
1
Department of Regenerative Medicine, Graduate School of Medicine, University of the Ryukyus, Okinawa 903-0215, Japan
2
Department of Infectious, Respiratory, and Digestive Medicine, Graduate School of Medicine, University of the Ryukyus, Okinawa 903-0215, Japan
3
Department of Tropical Medicine and Parasitology, Faculty of Medicine, Juntendo University, Tokyo 113-8421, Japan
4
Department of Basic Laboratory Sciences, School of Health Sciences in the Faculty of Medicine, University of the Ryukyus, Okinawa 903-0215, Japan
5
Okayama Saidaiji Hospital, Okayama 704-8192, Japan
6
Department of Nephrology, Rheumatology, Endocrinology and Metabolism, Okayama University Graduate School of Medicine, Dentistry and Pharmaceutical Sciences, Okayama 700-8558, Japan
7
Division of Pediatric Dentistry, Graduate School of Medical and Dental Science, Niigata University, Niigata 951-8514, Japan
8
Department of Urology, Okayama University Graduate School of Medicine, Dentistry and Pharmaceutical Sciences, Okayama 700-8558, Japan
*
Author to whom correspondence should be addressed.
Received: 16 March 2019 / Revised: 28 May 2019 / Accepted: 28 May 2019 / Published: 30 May 2019
Abstract
Although cell therapy using adipose-derived mesenchymal stem cells (AdMSCs) regulates immunity, the degree to which cell quality and function are affected by differences in immunodeficiency of donors is unknown. We used liquid chromatography tandem-mass spectrometry (LC MS/MS) to identify the proteins expressed by mouse AdMSCs (mAsMSCs) isolated from normal (C57BL/6) mice and mice with severe combined immunodeficiency (SCID). The protein expression profiles of each strain were 98%–100% identical, indicating that the expression levels of major proteins potentially associated with the therapeutic effects of mAdMSCs were highly similar. Further, comparable levels of cell surface markers (CD44, CD90.2) were detected using flow cytometry or LC MS/MS. MYH9, ACTN1, CANX, GPI, TPM1, EPRS, ITGB1, ANXA3, CNN2, MAPK1, PSME2, CTPS1, OTUB1, PSMB6, HMGB1, RPS19, SEC61A1, CTNNB1, GLO1, RPL22, PSMA2, SYNCRIP, PRDX3, SAMHD1, TCAF2, MAPK3, RPS24, and MYO1E, which are associated with immunity, were expressed at higher levels by the SCID mAdMSCs compared with the C57BL/6 mAdMSCs. In contrast, ANXA9, PCBP2, LGALS3, PPP1R14B, and PSMA6, which are also associated with immunity, were more highly expressed by C57BL/6 mAdMSCs than SCID mAdMSCs. These findings implicate these two sets of proteins in the pathogenesis and maintenance of immunodeficiency.
View Full-Text
►

▼

Figures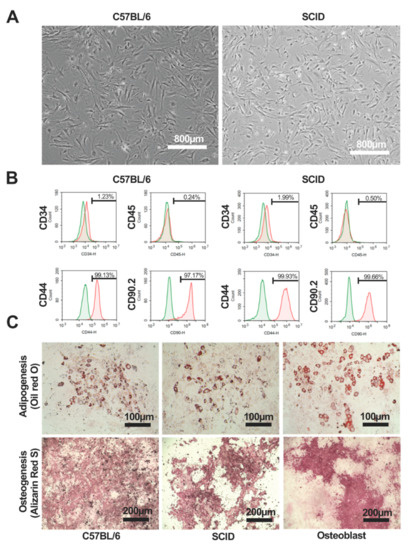 Figure 1
This is an open access article distributed under the
Creative Commons Attribution License
which permits unrestricted use, distribution, and reproduction in any medium, provided the original work is properly cited (CC BY 4.0).

Share & Cite This Article
MDPI and ACS Style
Nakashima, Y.; Nahar, S.; Miyagi-Shiohira, C.; Kinjo, T.; Kobayashi, N.; Kitamura, S.; Saitoh, I.; Watanabe, M.; Fujita, J.; Noguchi, H. Identification of Proteins Differentially Expressed by Adipose-derived Mesenchymal Stem Cells Isolated from Immunodeficient Mice. Int. J. Mol. Sci. 2019, 20, 2672.
Note that from the first issue of 2016, MDPI journals use article numbers instead of page numbers. See further details here.
Related Articles
Comments
[Return to top]