Open Access This article is
freely available
re-usable
Review
Leptin-induced Trafficking of KATP Channels: A Mechanism to Regulate Pancreatic β-cell Excitability and Insulin Secretion
Department of Chemical Physiology & Biochemistry, Oregon Health & Science University, Portland, OR 97239, USA
*
Author to whom correspondence should be addressed.
Received: 4 May 2019 / Accepted: 27 May 2019 / Published: 30 May 2019
Abstract
:
The adipocyte hormone leptin was first recognized for its actions in the central nervous system to regulate energy homeostasis but has since been shown to have direct actions on peripheral tissues. In pancreatic β-cells leptin suppresses insulin secretion by increasing KATP channel conductance, which causes membrane hyperpolarization and renders β-cells electrically silent. However, the mechanism by which leptin increases KATP channel conductance had remained unresolved for many years following the initial observation. Recent studies have revealed that leptin increases surface abundance of KATP channels by promoting channel trafficking to the β-cell membrane. Thus, KATP channel trafficking regulation has emerged as a mechanism by which leptin increases KATP channel conductance to regulate β-cell electrical activity and insulin secretion. This review will discuss the leptin signaling pathway that underlies KATP channel trafficking regulation in β-cells.
Keywords:
Leptin; ATP-sensitive potassium (K
ATP
) channel; β-cell; Insulin secretion
Author Contributions
V.C. wrote the manuscript and S.-L.S. edited the manuscript.
Funding
This work was supported by National Institutes of Health grants R01DK057699 to S.-L.S.
Acknowledgments
We thank Bruce Patton for comments on the manuscript.
Conflicts of Interest
The authors declare no conflict of interest.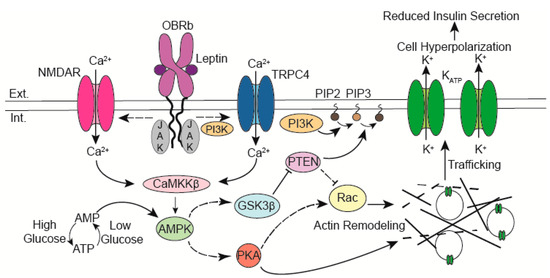 Figure 1.
Leptin binding to its receptor (OBRb) leads to a calcium influx through calcium-permeant ion channels. The rise in intracellular calcium activates CaMKKβ which then phosphorylates and activates AMPK. Downstream of AMPK actin remodeling is triggered through PTEN inhibition and activation of PKA. Depolymerization of the cortical actin cytoskeleton allows vesicles containing K
ATP
channels to traffic to the membrane. The increased abundance of K
ATP
channels reduces β-cell excitability thereby suppressing insulin secretion. Abbreviations: Extracellular (Ext.), Intracellular (Int.),
N
-methyl-
d
-Aspartate Receptor (NMDAR), Calcium (Ca
2+
), Janus Kinase (JAK), Ca
2+
/calmodulin kinase kinase β (CaMKKβ), AMP-activated protein kinase (AMPK), Leptin receptor (OBRb), phosphoinositide 3-kinase (PI3K), phosphatidylinositol (4,5)-bisphosphate (PIP2), phosphatidylinositol (3,4,5)-trisphosphate (PIP3), phosphatase and tensin homolog (PTEN), Glycogen synthase kinase 3 β (GSK3β), cAMP-dependent protein kinase A (PKA), Transient receptor potential channel 4 (TRPC4), Potassium (K
+
).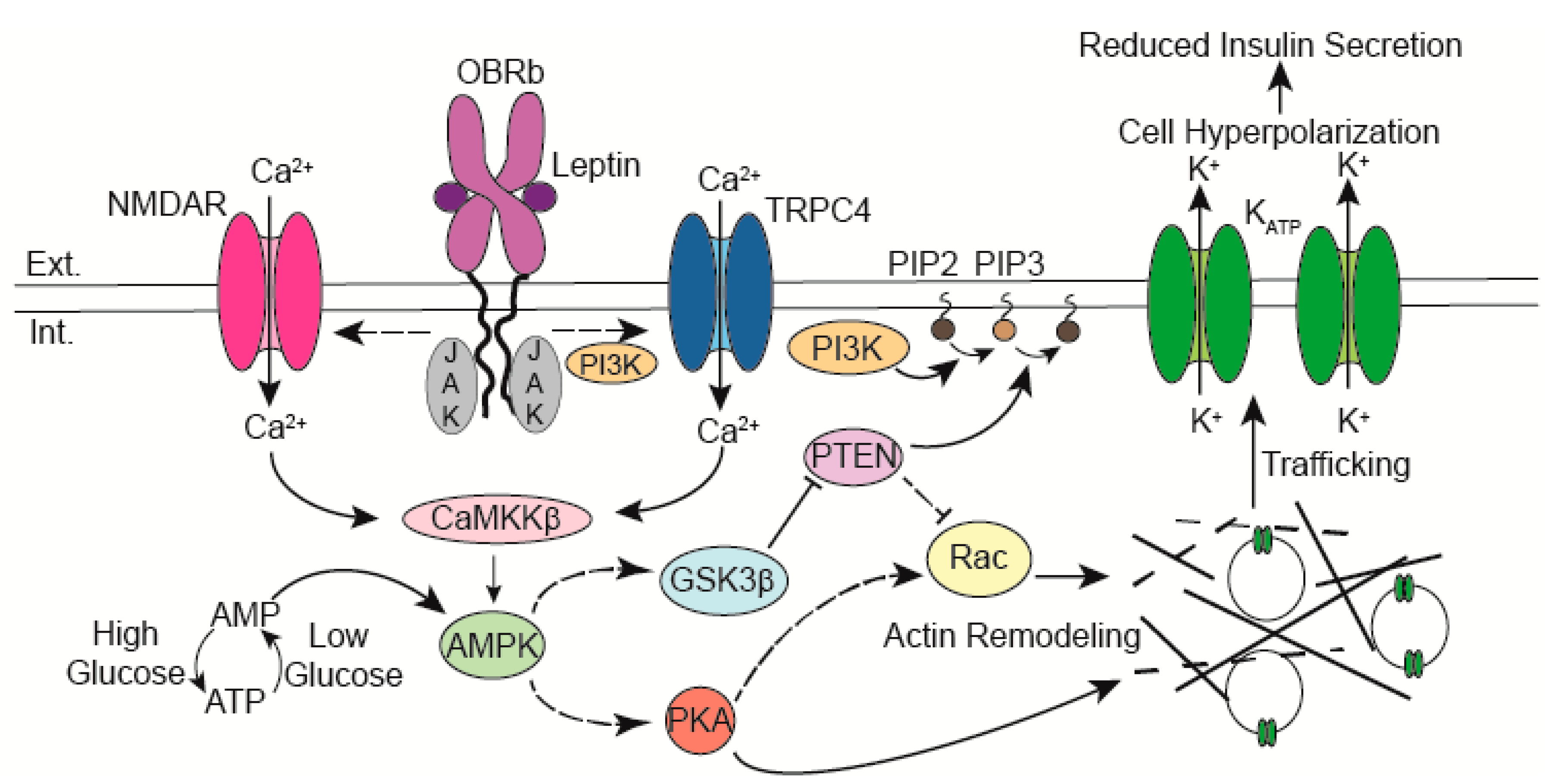 © 2019 by the authors. Licensee MDPI, Basel, Switzerland. This article is an open access article distributed under the terms and conditions of the Creative Commons Attribution (CC BY) license (http://creativecommons.org/licenses/by/4.0/).