Open Access This article is
freely available
re-usable
Review
Cas Endonuclease Technology—A Quantum Leap in the Advancement of Barley and Wheat Genetic Engineering
Plant Reproductive Biology, Leibniz Institute of Plant Genetics and Crop Plant Research (IPK) Gatersleben, 06466 Seeland, Germany
†
These authors contributed equally to this work.

Received: 8 May 2019 / Accepted: 24 May 2019 / Published: 29 May 2019
Abstract
:
Domestication and breeding have created productive crops that are adapted to the climatic conditions of their growing regions. Initially, this process solely relied on the frequent occurrence of spontaneous mutations and the recombination of resultant gene variants. Later, treatments with ionizing radiation or mutagenic chemicals facilitated dramatically increased mutation rates, which remarkably extended the genetic diversity of crop plants. However, a major drawback of conventionally induced mutagenesis is that genetic alterations occur simultaneously across the whole genome and at very high numbers per individual plant. By contrast, the newly emerging Cas endonuclease technology allows for the induction of mutations at user-defined positions in the plant genome. In fundamental and breeding-oriented research, this opens up unprecedented opportunities for the elucidation of gene functions and the targeted improvement of plant performance. This review covers historical aspects of the development of customizable endonucleases, information on the mechanisms of targeted genome modification, as well as hitherto reported applications of Cas endonuclease technology in barley and wheat that are the agronomically most important members of the temperate cereals. Finally, current trends in the further development of this technology and some ensuing future opportunities for research and biotechnological application are presented.
Keywords:
cereals; CRISPR; crops; genetic engineering; genome editing; plant;
Triticeae
1. Introduction
1.1. Historical View of Genetic Modification in Crop Plants
1.2. Platforms of Customizable Endonucleases
In plant research and biotechnology, four platforms of customizable endonucleases have been used so far; meganucleases, zinc-finger nucleases (ZFNs), transcription activator-like effector nucleases (TALENs), and the RNA-guided, clustered, regularly interspaced, short palindromic repeats (CRISPR)-associated (Cas) endonucleases.
2. Methodological Aspects of Cas Endonuclease Technology
2.2. Criteria for Target Motif Selection and in Silico gRNA Design
In cases where genetic modifications are intended to be performed in genotypes other than those with reference genomes, it is recommended to countercheck pre-selected target motifs for their presence and integrity, because even single nucleotide polymorphisms typically result in a dramatic drop in gRNA/Cas efficiency.
2.3. Delivery of Cas Endonucleases and Associated Reagents into Plant Cells
2.4. From Site-Directed Mutagenesis to Precise Genome Editing
Current utilization of Cas endonuclease technology is still largely limited to random alterations of the DNA sequence at the user-defined genomic sites. This comparatively simple approach of site-directed mutagenesis relies on the error rate of the DNA repair mechanism, called non-homologous end-joining (NHEJ), which is predominant in plant cells. In this process, the two DNA ends resulting from a double-strand break are recognized and relegated irrespective of their nucleobase sequence.
Increased predictability of site-directed modifications was shown to result, for example, from two simultaneously induced DNA breaks, which can lead to the precise deletion of the interjacent fragment [
22
]. In addition, microhomology-based DNA repair produces predictable deletions in a comparatively simple way, provided that identical sequence repeats are present at both DNA ends that are to be relegated [
100
].
A more ambitious approach is the so-called base editing, in which a single nucleotide is specifically converted into another so that no more than one amino acid of the encoded protein is altered at a time [
101
]. For this purpose, a Cas-based nickase, that is, a Cas endonuclease derivative that cuts only one strand of DNA due to the mutative alteration of one of its two nucleolytic domains, is bound to a natural or artificial nucleobase deaminase enzyme [
102
]. Cytidine deaminases can convert C/G basepairs to T/A in the target region, whereas adenosine deaminases induce A/T to G/C conversions [
102
,
103
]. The functionality of cytidine and adenosine deaminases has already been demonstrated in several plant species, including wheat [
104
,
105
]. The effective base editing area ranges in dependence of the base editor used, e.g., the cytidine deaminase used by Zong et al. [
104
] can convert positions 1 to 17 within the target site and the adenosine deaminase used by Li et al. [
105
] is capable of converting positions 4 to 8.
In addition to the aforementioned error-prone non-homologous end-joining (NHEJ) DNA repair mechanism that predominates in plant cells, homology-directed repair (HDR) can also be used to generate precise genome alterations, albeit this process is much less active in somatic cells. Homology-directed repair naturally involves the sister chromatid of the same chromosome or the homologous chromosome as the correct sequence template, allowing the original sequence to be restored, even in cases of comparatively severe DNA damage. By using artificial DNA repair templates that are partially complementary to the site of the plant genome to be modified, it is possible to make even fairly large modifications precisely, as specified by the experimenter [
106
]. However, due to the methodological challenges, there are very few examples of this precise editing in plants published thus far. A first experimental approach involved the stable integration of the repair template together with the gRNA- and Cas-encoding expression units into the plant genome. The integrated repair template is flanked by the target sequences of the gRNA-mediated endonuclease used, so that it is cut out by the Cas restriction enzyme. This principle has proven to be sufficient in
Arabidopsis
[
107
]. The use of paired Cas9 nickases, which generate two single-strand breaks on the two opposite DNA strands, has increased the efficiency of homology-directed DNA repair [
50
,
108
,
109
]. With geminivirus replicons as carriers of the repair template, the dose per cell is increased. In this case, a strain of the Bean Yellow Dwarf Virus was modified so that only the elements essential for the method remained and the artificial repair template was amplified with high frequency [
110
]. In barley and wheat, precise editing has been achieved either only at the cellular level [
98
] or has the limiting prerequisite that the obtained genetic modification leads to an in vitro selectable trait, e.g., an herbicide resistance [
111
].
2.5. Identification and Characterization of Site-Specifically Modified Plants
4. Regulation
Parallel to the development of the Cas endonuclease technology, science organizations, politicians, and society are dealing with the effects of the technology. The following section will briefly address some related aspects, in particular the regulation of plants that carry site-directed mutations. The focus here is on the USA and Europe, as these two have very contrasting approaches.
For the United States, Wolt and Wolf [
121
] summarized the regulation of the so-called green biotechnology, and in particular the use of customizable endonucleases. Commencing at the Asilomar conference on biosafety in 1975, a regulatory framework for plants with recombinant DNA has been developed in the USA since the mid-1980s. Over the years, this framework became more and more complex due to more accompanying research and the increasingly lengthy periods needed for decision-making. Although the focus of regulation in the United States is on the product, the procedure also includes process-based facets. For example, genetically engineered plants have to undergo special approval procedures. However, these differ between plants that have been transformed by use of the plant pathogen
Agrobacterium
and those that have been ballistically transformed. If plants with an identical trait are produced without genetic engineering, no special regulation takes place. For plants bred by use of customized endonuclease technology, the portal "Am I regulated?" has been established, in which the USDA made case-by-case statements at short notice as to whether a plant needs to be regulated or not. In 2017, work began on revising the regulations on biotechnology. The major trigger for regulation was shifted towards the process by a redefinition of "genetic engineering" as "mean techniques that use recombinant or synthetic nucleic acids with the intent to create or alter a genome". This is not applied to processes of targeted genome modification that cause deletions or base edits or result in the targeted insertion of a DNA fragment, which would also be possible by conventional breeding, conventionally induced mutagenesis or even without any human intervention [
121
].
In a detailed report in 2017 [
122
], the European Academies' Science Advisory Council (EASAC) stressed the possibilities that targeted genome modification offers. In plant breeding, improved precision compared to undirected mutagenesis methods represents a significant advance. At the same time, some representatives of non-governmental organizations and political parties are viewing biotechnological breeding methods critically. According to EASAC, this gives science a special responsibility to explain its work. In regards to plant breeding, EASAC recommends to politicians not to regulate transgene-free plants carrying site-directed modifications as being "genetically engineered" in the sense of the EU Directive 2001/18/EC on the deliberate release into the environment of genetically modified organisms. Additionally, it advises a revision of the European genetic engineering legislation with a stronger focus on the product instead of the breeding process. The need for international compatibility of regulation is emphasized and reference is also made to best practices from other countries, such as the United States, where site-directed mutagenesis is not regulated as genetic engineering [
122
].
While some countries, including the United States, Argentina, Brazil, Chile, and more recently Australia, have already made decisions to regulate targeted mutagenesis on a case-by-case or general basis not differently than conventional methods of plant breeding, in Europe, those varieties are the subject of the Directive 2001/18/EC. According to that, field trials with plants carrying targeted mutations need special permission on application, and placing respective varieties on the market needs tedious and very costly approval procedures. The European plant research community has responded to this with demands for a revision of European genetic engineering legislation. For more details see Sprink et al. [
123
] or the position paper of 95 European plant research institutions (
http://www.vib.be/en/news/Documents/Position%20paper%20on%20the%20ECJ%20ruling%20on%20CRISPR%2012%20Nov%202018.pdf
).
In many countries in the world, decisions on how to regulate plants generated using customized endonucleases are currently pending. They will play a key role in deciding how and by whom these technologies and their possibilities can be used.
5. Perspective
The new possibility of utilizing customized endonucleases in barley and wheat opens up a broad spectrum of opportunities for applications. A generally limiting aspect, however, is that the genetic transformation of cereals poses a particular challenge. In the context of the question for new or improved methods of transferring DNA into regenerable cells of cereals, it has to be considered that a number of methods have already been developed, but have not yet been utilized for the application of Cas endonucleases. A remarkable example of this is the use of isolated microspores or embryogenic pollen cultures generated from them for DNA transfer using
Agrobacterium
[
87
], ballistics [
89
] or electroporation [
124
]. When it comes to the development of new methods, particular attention must also be paid to the fact that they should be applicable to a broad spectrum of genetic backgrounds, which unfortunately does not apply to any of the methods used to date. On the other hand, the particular advantage of Cas endonuclease technology will only be fully exploited if it is possible to directly modify any plant genotype of choice. This is the only way to completely overcome the cumbersome introgression of advantageous gene variants into elite germplasms, and above all, the genetic coupling of desired alleles with undesired ones. In this context, the dissection and culture of ovules is another remarkable possibility for the in vitro regeneration of wheat and barley [
125
,
126
]. For the
Agrobacterium
-mediated DNA transfer into cultivated ovules, in which the T-DNA is transferred into few-celled proembryos, it was shown that this method has comparatively low genotype dependence [
127
].
In all studies published to date in which heritable site-directed modifications have been achieved in the barley and wheat genomes using Cas endonuclease technology, the POLYUBIQUITIN1 promoter from maize was used to express the cas9 gene. For the stable expression of protein-encoding transgenes in the
Triticeae
, however, a vast number of further promoters with different activity profiles are available, some of which may also be used for Cas endonucleases [
128
,
129
,
130
]. In addition, there is, thus far, unexploited potential for the expression of gRNAs in barley and wheat. For instance in rice, a t-RNA processing-based system was established, in which multiple gRNAs are released from a complex transcript by endogenous RNases [
50
,
131
].
To keep pace with the frequent emergence of novel Cas and gRNA formats, as well as regulatory and further functional elements, several modular vector systems have been developed that allow for a rapid and versatile assembly of any combination of components of choice. Some of these systems may also be useful for the application in the
Triticeae
cereals [
45
,
50
].
Whereas site-directed mutagenesis represents the currently well-established state of the art of Cas endonuclease technology, more precise techniques of targeted genome modification have unfortunately not yet become routine, and are at best exemplary in plants. A portfolio of chimeric Cas derivatives is now available for the so-called base editing using nucleoside deaminases, which allows conversions from G to A, C to T, T to C, and A to G. Thus, the vast majority of spontaneous point mutations occurring in nature can be specifically generated, or if desired, the corresponding wild-type alleles can be restored as well [
103
]. A broad application of precise genome editing in association with DNA repair templates, on the other hand, still poses particularly great methodological challenges. Homology-based repair, for example, is comparatively rarely occurring, which entails a correspondingly low efficiency of conventional selection marker genes whose genomic integration and expression is too poorly associated with template-mediated repair events. In addition, the artificial repair templates must compete with the naturally recruited homologous sequences present in the cell on sister chromatid and homologous chromosome(s), which further reduces the efficiency of targeted modification.
A further limitation of Cas endonuclease technology is that the binding site of the gRNA/Cas complex cannot be predefined entirely at will. The most commonly used enzyme for target sequence-specific genome modification is Cas9 from
Streptococcus pyogenes
. This enzyme requires the aforementioned protospacer-adjacent motif (PAM) NGG for binding to the genomic target. However, there are several other Cas9 variants that require other cognate DNA motifs. Such Cas9-orthologous enzymes are known from various representatives of the genera
Streptococcus
,
Staphylococcus
,
Campylobacter
, and
Neisseria
[
132
,
133
,
134
]. In
Arabidopsis
, for example, the
Staphylococcus aureus
and
Streptococcus thermophilus
Cas9 variants have already been used in addition to the standard SpCas9 [
135
]. Furthermore, in order to extend the flexibility in the choice of targets beyond the naturally occurring PAMs, Hu et al. [
136
] developed an artificial Cas9 variant. The advantage of this "expanded" Cas9 (xCas9) is that almost any nucleobase triplet is accepted for its binding to the genomic target. The synthetic Cas9-NG, which was developed in a different way and published shortly thereafter, proved to be even more efficient than xCas9 in many PAM variants [
137
].
While Cas9 endonucleases are widely employed in plants, Zetsche et al. [
138
] described another Cas endonuclease, namely Cas12a (Cpf1) from
Francisella novicida
, that can also be used to induce targeted alterations in genomes. Later, Cas12a-orthologous enzymes from other bacteria were also successfully used [
139
]. Besides some other peculiarities, Cas12a, in contrast to Cas9, produces 5′- overhangs rather than blunt DNA ends. This provides a particularly attractive option for the establishment of robust methods of precise genome editing using homology-directed DNA repair.
Cas endonucleases have also been modified in such a way that they induce single-strand breaks in double-stranded DNA. Among such nickases, there are specific variants for each of the two DNA strands [
12
,
140
]. In
Arabidopsis
, paired nickases derived from Cas9 were used to demonstrate that both the specificity of the binding to the genomic DNA and the efficiency of homology-directed DNA repair can be increased [
50
,
108
,
109
].
Whereas knockouts are the standard outcome of site-directed mutagenesis, the possibility to achieve quantitative changes in the functionality of target genes has not yet been exploited in cereals. Using tobacco as experimental model, Schedel et al. [
141
] have shown that in-frame mutations can maintain gene functionality to a reduced extent. This can be of particular value for the targeted modification of genes that are essential for the plant or the generation of new allelic diversity for the use in plant breeding. In a particularly elegant approach, Rodriguez-Leal et al. [
142
] produced tomato lines with various CLAVATA3 alleles by simultaneous expression of several gRNAs specified for different target motifs in the promoter of this gene. The resultant gene variants led to a whole series of lines with different fruit sizes according to the individual strength of CLV3 expression.
In other crop plants, there are various application examples of customizable endonucleases, which may also be considered for breeding programs in the
Triticeae
cereals. Since every characteristic of plants is largely genetically determined, it must in fact be possible to improve every trait that is relevant for the utility value of crops by employing Cas endonuclease technology. Due to these extensive possibilities, only a few of the promising options can be mentioned here as examples. A potential field of application for Cas endonucleases is the establishment of resistance to various potyviruses, which has already been achieved, for example, in cucumber. The established resistance relies on the knockout of the host plant's EIF4E gene, which is essential for the translation of viral mRNAs [
143
]. Resistance-conferring alleles are also known from a related barley gene [
144
,
145
]. In addition, there are a number of susceptibility genes for diseases caused by other pathogens, which is similarly suitable for resistance breeding.
The ability of Cas endonucleases to completely eliminate the function of a gene seems particularly attractive when it comes to freeing crops from toxic, carcinogenic, allergenic, or bad-tasting gene products or metabolites. The aforementioned study by Sanchez-Léon et al. [
113
] on the production of wheat with gluten, whose fraction of immunodominant gliadins is drastically reduced, is a promising example in this respect. Another potential use of Cas endonuclease technology results from the fact that most modern durum wheat varieties carry a mutation in a heavy metal transporter gene, which entails a reduced sequestration of cadmium in the roots so that this toxic element accumulates in the grain to an extent that is of concern in terms of human health [
146
]. The restoration of the corresponding wild-type allele would, therefore, be a particularly promising way of improving the quality of pasta, which is widely consumed across the entire globe.
As has already been demonstrated in potato [
147
] and rice [
148
], it is also possible to modify the starch quality by specifically modulating the biosynthesis of the major starch components amylose and amylopectin. While amylose-free starch is of particularly high value for the paper and chemical industries, starch with reduced amyplopectin content is referred to as resistant starch, which, due to its fiber-like properties, has the potential to counteract type-2 diabetes, a civilization disease that is now increasingly spreading even in developing countries.
For future approaches, it is also conceivable to modify many different genes in one step, for instance to influence complex processes such as photosynthesis [
149
]. Cas endonuclease technology offers unprecedented prerequisites for this due to the option of simultaneous use of numerous gRNAs.
In summary, it can be stated that the establishment of Cas endonuclease technology represents a quantum leap for plant research and breeding. Even with regard to major methodological challenges, the current pace of research and development in this field means that further very useful solutions are highly probable in the near future. The implementation of this technology, especially in the agronomically important cereals of the
Triticeae
cereals, will likely continue to gain momentum, and is thus expected to increasingly contribute to the effective production of sufficient and high-quality food, feed, and industrial raw materials, while ensuring largely improved environmental compatibility of agriculture.
Author Contributions
Conceptualization, J.K.; collection of information, I.K., C.H., R.H., J.K.; writing—original draft preparation, I.K., C.H., R.H., J.K.; writing—review and editing, I.K., C.H., R.H., J.K.; supervision, J.K.; funding acquisition, J.K.
Funding
This research was funded by the German Federal Ministry of Education and Research, project grants OSIRIS (FKZ 031B0201) and IDEMODERESBAR (FKZ 031B0199).
Conflicts of Interest
The authors declare no conflict of interest. The funders had no role in the design of the study; in the collection, analyses, or interpretation of data; in the writing of the manuscript, or in the decision to publish the results.
Appendix A

Table A1. Survey of studies employing Cas endonuclease technology in wheat and barley. If not stated otherwise, gRNA and Cas9 were delivered as transgenes, the outcome was site-directed mutagenesis (i.e., random InDels at the target sites), and genetic modifications were shown to be heritable. IEs: immature embryos, RNP: gRNA/Cas9 ribonucleoprotein.
Target Gene
Reagent Delivery, Recipient Cells, Genotype, Notes
Aim of the Study
Efficiency of Targeted Mutagenesis
Observed Phenotype
Reference
Wheat
INOSITOL OXYGENASE (INOX),
PHYTOENE DESATURASE (PDS)

Agrobacterium

, callus-derived cell suspension,
genotype not reported
method establishment
mutations detected in cell suspension,
no plants generated
not reported
[37]
MILDEW RESISTANCE LOCUS O (MLO)
ballistic,
IEs of "Kenong199"
and "Bobwhite"
resistance to powdery mildew
4 out of 72 T0 plants mutated in A-genome,
heritability not shown
not reported
[39]
GRAIN WIDTH 2 (GW2)
ballistic transfer of RNP,
IEs of "Kenong199", selection-free regeneration
method establishment
28 primary mutants from 640 IEs, heritability not shown
not reported
[96]
α‑GLIADIN gene family
ballistic, IEs of "BW208", "THA53", "Don Pedro"
reduced α-gliadin content in grains
Mutation rate in T0 not reported, 17 out of 17 analyzed T1 plants mutated, heritability of genotype and phenotype shown up to T3
reduced α-gliadin content
in grains
[113]
ENHANCED DISEASE RESISTANCE 1 (EDR1)
ballistic, IEs of "KN199"
reduced susceptibility
to Blumeria graminis
5 mutant T0 plants identified, 5 out of 207 analyzed T1 plants homozygously mutated in all 3 copies
resistance shown in homozygous T1 mutants
[150]
PHYTOENE DESATURASE (PDS)

Agrobacterium

,
IEs of "Fielder"
method establishment
up to 13 out of 73 T0 plants mutated, homozygous mutations in individual subgenomes shown in T2
not reported
(no homozygous triple mutants)
[85]
DEP1,
GRAIN WIDTH 2 (GW2)

PEG-mediated transfection, protoplasts of "Kenong199", ballistic,
IEs of "Kenong199"
establishment of base editing using adenosine deaminase fusion to nCas9
up to 7.5% of NGS reads from target amplicons showed
A -> G conversion, 5 (DEP1) and 2 (GW2) regenerated T0 plants showed heterozygous mutations, no heritability reported
not reported
[105]
ZIP4-B2
(homoeolog of B genome only)

Agrobacterium

,
IEs of "Fielder"
increase of crossover frequency
4 out of 81 analyzed T0 plants mutated,
24 T1 plants (progeny of 1 T0 plant) analyzed
increase of homologous crossovers in KO-mutants under presence of magnesium
[151]
GRAIN WIDTH 2 (GW2-ABD),
9-LIPOXYGENASE (LPX‑1-BD),
MILDEW RESISTANCE LOCUS O (MLO)
Ballistic, IEs of "Bobwhite"
GW2: increased grain size and weight,
LPX-1 and TaMLO: resistance to fungi
20 out of 102 T0 plants with triple gRNAs mutated,
6 out of 61 T0 plants with GW2-gRNA mutated, heritability analyzed by amplicon NGS in progeny of 2 T0 plants, several T1 plants heterozygous for GW2 or MLO, homozygous T1 for GW2
GW2-KO:
increased thousand-grain weight by 27%
[48]
MALE STERILITY 45 (MS45)

Agrobacterium

, IEs of "Fielder" and 'SBC0456D'
male sterility
25 out of 181 analyzed T1 plants mutated in different combinations (single, double, triple KOs)
triple mutants (ABD-KO) proved to be male sterile
[152]
GRAIN WIDTH 2 (GW2)
ballistic,
IEs of "Bobwhite"
increased grain size and weight
T1, T2, T3 mutants derived from Wang et al. (2018a)
used to generate single, double, and triple KO-mutants
thousand-grain weight increased, dosage effect of homeoalleles shown
[118]
PUROINDOLINE b
(PINb),
GRANULE-BOUND STARCH SYNTHASE (WAXY), DA1

Agrobacterium

,
IEs of "Fielder"
(DA1 only)
PINb: grain hardness, WAXY: starch composition,
DA1: grain size
13 out of 24 T0 plants DA1-target mutated in A or B genome,
heritability not shown
not reported
[153]
Barley
PM19-1 and PM19-3

Agrobacterium

,
IEs of 'Golden Promise'
seed dormancy
3 out of 13 analyzed T0 plants mutated (PM19-1), 1 out of 10 analyzed T0 plants mutated (PM19-3), heritability of mutations shown in progeny of 4 identified mutants in T2, off-target mutations found in other copies of PM-19
not reported
[35]
Promoter of PHYTASE GENE A (PAPhy_a)

Agrobacterium

,
IEs of "Golden Promise"
reduced phytase content in the grain
28 out of 64 T0 plants 28 mutated, heritability shown in T2
homozygous T1 mutants showed reduced phytase activity
40]
ENDO-N-ACETYL-β-D- GLUCOSAMINIDASE (ENGase)
ballistic and

Agrobacterium

,
IEs of "Golden Promise", co-transformation for fragment deletion
N-glycan modification
in the grain
ballistic: 7 out of 8 T0 plants mutated, Agrobacterium: 15 out of 23 T0 plants mutated, 6 plants with targeted deletion between two targeted positions, heritability shown in T1, homozygous mutants
N-glycan modification in the grain
[112]
CYTOKININ DEHYDROGENASE (CKX)

Agrobacterium

,
IEs of "Golden Promise"
gene function in cytokinin metabolism
15 out of 23 T0 plants mutated, heritability shown in T1,
4 homozygous KO-mutants selected for further analysis
KO-mutants showed higher cytokinin content and slightly reduced root growth
[154]
PHYTOENE DESATURASE (PDS)

Agrobacterium

,
IEs of "Golden Promise"
photo-bleaching
6 out of 40 T0 plants mutated, heritability not reported
chimeric photobleaching in T0 mutants
[85]
Member of MICRORCHIDIA GHKL ATPASE subfamily (MORC1)

Agrobacterium

,
IEs of "Golden Promise"
resistance to fungal pathogens
callus screened for mutations, progeny of randomly selected T0 plants screened for mutations, 12 and 10 T1 families analyzed for two constructs, mutations in 19 of the 22 families, proportion of mutated plants not reported
homozygous morc1-KO T1 plants were less susceptible to fungal pathogens and showed higher expression of transposons
[45]
PROTEIN TARGETING TO STARCH 1 (PTST1), GRANULE-BOUND STARCH SYNTHASE (GBSS1a)

Agrobacterium

,
IEs of "Golden Promise"
starch accumulation
in the grain
6 out of 8 (PTST1) and 5 out of 9 (GBSS1a) T0 plants mutated, heritability shown in T1
ptst1-KO: starch-free grains, no germination,
gbss1a-KO: amylose-
free grains
[155]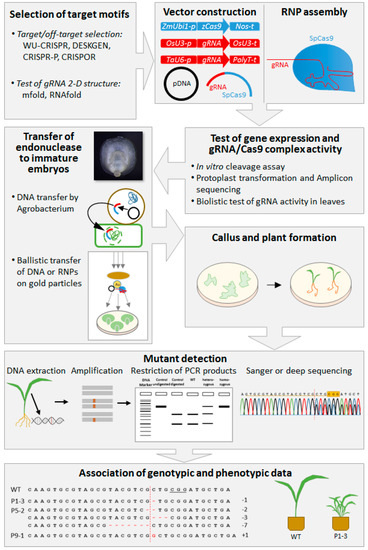 Figure 1. General workflow of targeted genome modification in barley and wheat, including target motif selection, vector construction, vector tests, gRNA and Cas9 delivery, plant regeneration, mutant detection, and genotypic and phenotypic analyses.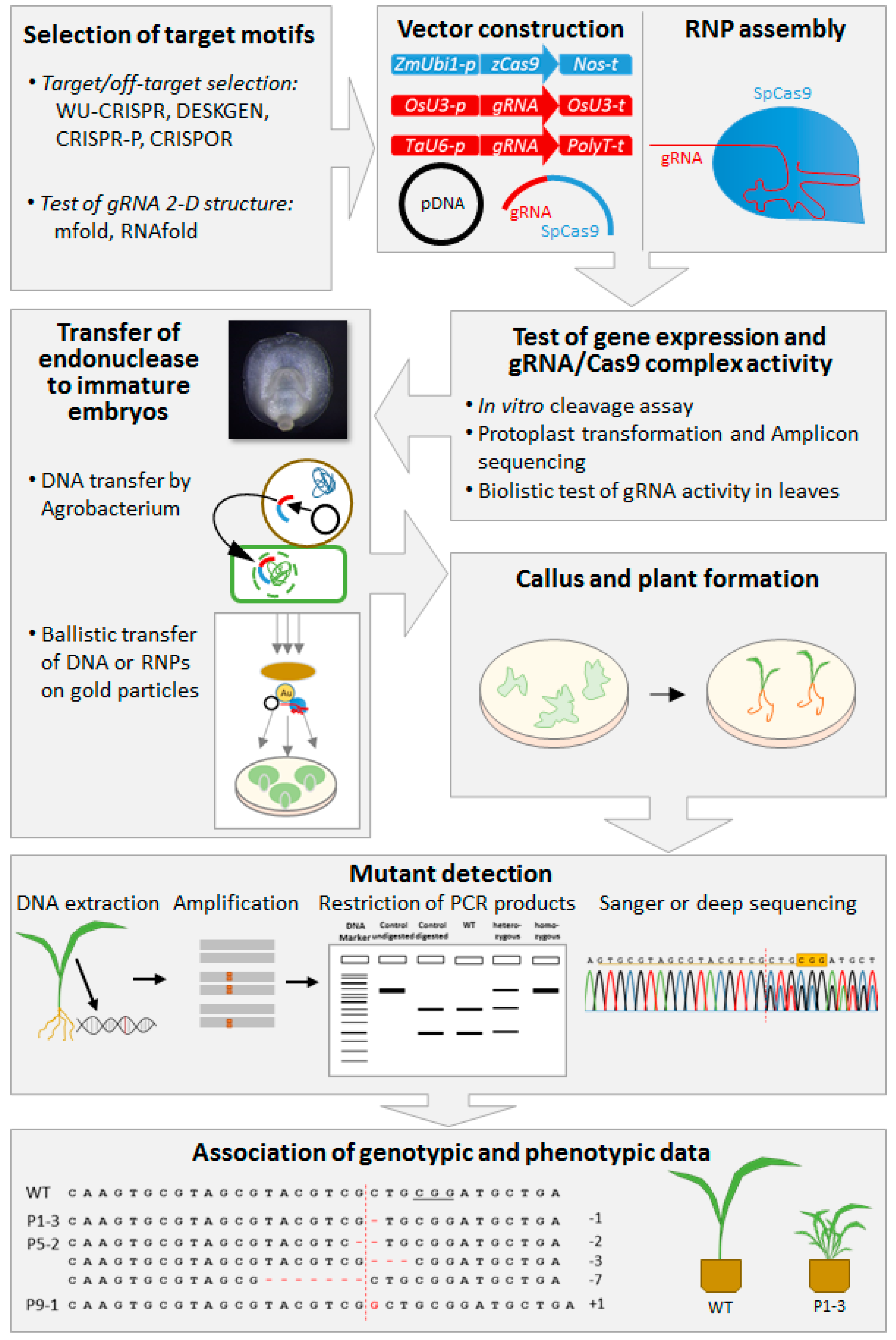 © 2019 by the authors. Licensee MDPI, Basel, Switzerland. This article is an open access article distributed under the terms and conditions of the Creative Commons Attribution (CC BY) license (http://creativecommons.org/licenses/by/4.0/).