Exosomes as Emerging Pro-Tumorigenic Mediators of the Senescence-Associated Secretory Phenotype
1
Lee Kong Chian School of Medicine, Nanyang Technological University Singapore, 59 Nanyang Drive, Singapore 636921, Singapore
2
School of Biological Sciences, Nanyang Technological University Singapore, 59 Nanyang Drive, Singapore 636921, Singapore
3
Agency of Science, Technology and Research, Institute of Molecular and Cell Biology, Singapore 636921, Singapore
*
Author to whom correspondence should be addressed.
Received: 17 April 2019 / Revised: 2 May 2019 / Accepted: 7 May 2019 / Published: 24 May 2019
Abstract
Communication between cells is quintessential for biological function and cellular homeostasis. Membrane-bound extracellular vesicles known as exosomes play pivotal roles in mediating intercellular communication in tumor microenvironments. These vesicles and exosomes carry and transfer biomolecules such as proteins, lipids and nucleic acids. Here we focus on exosomes secreted from senescent cells. Cellular senescence can alter the microenvironment and influence neighbouring cells via the senescence-associated secretory phenotype (SASP), which consists of factors such as cytokines, chemokines, matrix proteases and growth factors. This review focuses on exosomes as emerging SASP components that can confer pro-tumorigenic effects in pre-malignant recipient cells. This is in addition to their role in carrying SASP factors. Transfer of such exosomal components may potentially lead to cell proliferation, inflammation and chromosomal instability, and consequently cancer initiation. Senescent cells are known to gather in various tissues with age; eliminating senescent cells or blocking the detrimental effects of the SASP has been shown to alleviate multiple age-related phenotypes. Hence, we speculate that a better understanding of the role of exosomes released from senescent cells in the context of cancer biology may have implications for elucidating mechanisms by which aging promotes cancer and other age-related diseases, and how therapeutic resistance is exacerbated with age.
View Full-Text
►

▼

Figures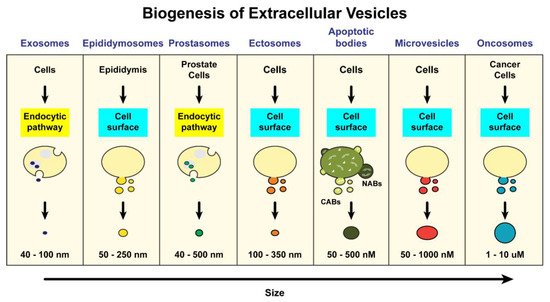 Figure 1
This is an open access article distributed under the
Creative Commons Attribution License
which permits unrestricted use, distribution, and reproduction in any medium, provided the original work is properly cited (CC BY 4.0).

Share & Cite This Article
MDPI and ACS Style
Jakhar, R.; Crasta, K. Exosomes as Emerging Pro-Tumorigenic Mediators of the Senescence-Associated Secretory Phenotype. Int. J. Mol. Sci. 2019, 20, 2547.
Note that from the first issue of 2016, MDPI journals use article numbers instead of page numbers. See further details here.
Related Articles
Comments
[Return to top]