Open Access This article is
freely available
re-usable
Review
Role of Macrophages in Cardioprotection
1
Center for Cardiovascular Research, John A. Burns School of Medicine, University of Hawaii, Honolulu, HI 96813, USA
2
Tecnologico de Monterrey, Centro de Biotecnologia-FEMSA, Monterrey, NL 264610, Mexico
3
National Heart Research Institute Singapore, National Heart Centre, Singapore 169609, Singapore
4
Cardiovascular and Metabolic Disorders Program, Duke-National University of Singapore Medical School, Singapore 169857, Singapore
5
Institute of Biochemistry, Medical School, Justus-Liebig University, 35392 Giessen, Germany
6
Institute of Fundamental Medicine and Biology, Kazan (Volga Region) Federal University, 420008 Kazan, Russia
7
Yong Loo Lin School of Medicine, National University Singapore, Singapore 117597, Singapore
8
The Hatter Cardiovascular Institute, University College London, London WC1E 6HX, UK
9
The National Institute of Health Research University College London Hospitals Biomedical Research Centre, Research & Development, London W1T 7DN, UK
†
These authors contributed equally to this work.

Received: 31 March 2019 / Accepted: 17 May 2019 / Published: 19 May 2019
Abstract
:
Cardiovascular diseases are the leading cause of mortality worldwide. It is widely known that non-resolving inflammation results in atherosclerotic conditions, which are responsible for a host of downstream pathologies including thrombosis, myocardial infarction (MI), and neurovascular events. Macrophages, as part of the innate immune response, are among the most important cell types in every stage of atherosclerosis. In this review we discuss the principles governing macrophage function in the healthy and infarcted heart. More specifically, how cardiac macrophages participate in myocardial infarction as well as cardiac repair and remodeling. The intricate balance between phenotypically heterogeneous populations of macrophages in the heart have profound and highly orchestrated effects during different phases of myocardial infarction. In the early "inflammatory" stage of MI, resident cardiac macrophages are replaced by classically activated macrophages derived from the bone marrow and spleen. And while the macrophage population shifts towards an alternatively activated phenotype, the inflammatory response subsides giving way to the "reparative/proliferative" phase. Lastly, we describe the therapeutic potential of cardiac macrophages in the context of cell-mediated cardio-protection. Promising results demonstrate innovative concepts; one employing a subset of yolk sac-derived, cardiac macrophages that have complete restorative capacity in the injured myocardium of neonatal mice, and in another example, post-conditioning of cardiac macrophages with cardiosphere-derived cells significantly improved patient's post-MI diagnoses.
Keywords:
macrophages; cardioprotection; innate immune response; myocardial infarction; cardiac repair; remodeling
Funding
This research was funded by National Institutes of Health grants R01HL081863, by Innovative Research Grant 16IRG27540027 and Grant-in-aid 16GRNT30810007 from the American Heart Association, and by the Ingeborg v.F. McKee Fund of the Hawaii Community Foundation 17ADVC-86287 to WAB. JY was supported by the National Institutes of Health grant F31HL139082. DJH was supported by the British Heart Foundation (CS/14/3/31002), the National Institute for Health Research University College London Hospitals Biomedical Research Centre, Duke-National University Singapore Medical School, Singapore Ministry of Health's National Medical Research Council under its Clinician Scientist-Senior Investigator scheme (NMRC/CSA-SI/0011/2017) and Collaborative Centre Grant scheme (NMRC/CGAug16C006), and the Singapore Ministry of Education Academic Research Fund Tier 2 (MOE2016-T2-2-021). HACF was supported by the SHF-Foundation (SHF/FG657P/2017) and by the von Behring-Röntgen-Foundation (Marburg, Germany). Part of this work was performed within the Russian Government Program of Competitive Growth of Kazan Federal University. This article is based upon work from COST Action EU-CARDIOPROTECTION CA16225 supported by COST (European Cooperation in Science and Technology).
Conflicts of Interest
The authors declare no conflict of interest.
Abbreviations
| | |
| --- | --- |
| CVD | Cardiovascular diseases |
| DALYs | Disability adjusted life-years |
| MI | Myocardial infarction |
| PE | Pulmonary embolism |
| LDL | Low-density lipoprotein |
| ROS | Reactive oxygen species |
| ER | Endoplasmic reticulum |
| MMPs | Matrix metalloproteinases |
| ECM | Extracellular matrix |
| CXCLs | Chemokine (C-X-C motif) ligands |
| CCLs | Chemokine ligands |
| MIP | Macrophage Inflammatory Proteins |
| RANTES | Regulated on Activation, Normal T Cell Expressed and Secreted – CCL5 |
| MCP | Monocyte chemoattractant protein |
| PAMPs | Pathogen-associated molecular patterns |
| DAMPs | Damage-associated molecular patterns |
| PRRs | Pattern recognition receptors |
| TLRs | Toll-like receptors |
| MYD88 | Myeloid differentiation primary response 88 |
| IRAK-4 | Interleukin-1 receptor-associated kinase 4 |
| TRAF | TNF receptor associated factor |
| IKKβ | IκB kinase β |
| NF-κB | Nuclear factor-kappa B |
| ILs | Interleukins |
| IFN | Interferon |
| NK | Natural-killer cells |
| NO | Nitric oxide |
| SR | Scavenger receptors |
| MR | Mannose receptors |
| TGF-β | Transforming growth factor-β |
| MHC-II | Major histocompatibility complex class II molecules |
| CCR | Chemokine receptors |
| ARG 1 | Arginase-1 |
| GCR | Glucocorticoid receptor |
| FN-1 | Fibronectin-1 |
| TRIB1 | Tribbles homolog 1 is a protein kinase |
| VEGF | Vascular endothelial growth factor |
| BMDM | Bone marrow derived macrophages |
| CDC | Cardiosphere-derived cells |
| GFP | Green fluorescent protein |
Figure 1. The Cardiac macrophage population, while the heart is in homeostasis, consists primarily of yolk sac-derived macrophages. However, these resident tissue macrophages diminish in number with age and are replaced by circulating bone marrow-derived monocytes even in the absence of inflammation. BMDM replenish the cardiac macrophage supply, and exhibit M2 activation in the steady-state heart. The inflammatory phase of acute myocardial infarction initiates an immune response by monocytes/macrophages, which are recruited to the injured tissue. Ly6CHigh monocytes infiltrate and accumulate in the injured area where they differentiate into "classical" M1 macrophages. M1 macrophages secrete pro-inflammatory cytokines and MMPs upon activation by DAMPs. The inflammatory response peaks at around day 5–7 and ultimately results in clearance of dead cells and cell debris, processes essential for tissue repair. Resolution of inflammation after MI marks the beginning of a proliferative phase. During which, circulating Ly6CLow monocytes infiltrate the infarcted area. Thus, the population of cardiac macrophages begins to move toward alternative activation. The presence of M2 macrophages suppresses inflammation, enhances tissue repair and promotes angiogenesis by the expression of TGF-β and IL-10. Dysregulation of either the inflammatory or proliferative phase can produce severe outcomes like ventricular weakening, fibrosis, and compromised function. Macrophages can participate in cardioprotection via cell-mediated mechanisms. For example, yolk sac-derived cardiac macrophages are required for reparative mechanisms of wound healing. Further, the identical phenotype in murine neonates has full regenerative capacity after MI and remains through adulthood although it diminishes greatly over time and post-MI. CDCs are another example of cellular cardioprotection. The cardiac type of mesenchymal stem cell, CDCs have the potential to induce M2 activation in macrophages. Post-conditioning of macrophages with CDCs results in an alternatively activated phenotype, which has been shown to improve prognosis following myocardial infarction. Abbreviations: BMDM; bone marrow derived macrophages, DAMP; damage associated molecular pattern, MMP; metallo-matrix proteinase; IL-10; interleukin-10, TGF-β; transforming growth factor-β, CDC; cardiosphere-derived cells.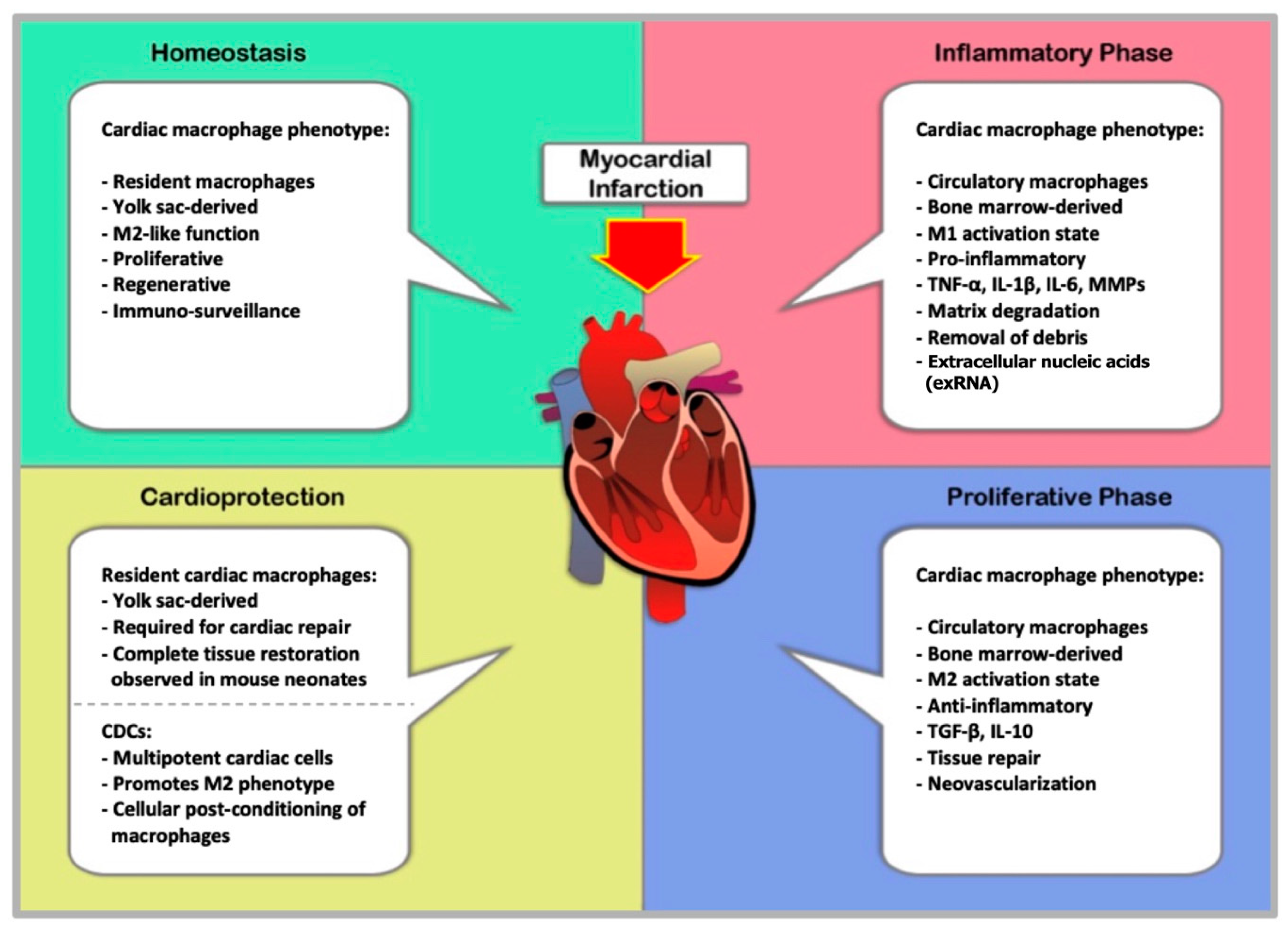 © 2019 by the authors. Licensee MDPI, Basel, Switzerland. This article is an open access article distributed under the terms and conditions of the Creative Commons Attribution (CC BY) license (http://creativecommons.org/licenses/by/4.0/).