Mesenchymal Stem Cells—Potential Applications in Kidney Diseases
1
Psychiatric Services of Thurgovia, Academic Teaching Hospital of the Medical University of Salzburg, 8596 Münsterlingen, Switzerland
2
General Practice, 43-426 Dębowiec, Poland
3
Regional Blood Donation and Blood Treatment Centre, 40-074 Katowice, Poland
4
DaVita Dialysis, 42-700 Lubliniec, Poland
5
Department of Internal Medicine, Diabetology and Nephrology, School of Medicine with the Division of Dentistry in Zabrze, Medical University of Silesia in Katowice, 41-800 Zabrze, Poland
*
Author to whom correspondence should be addressed.
†
These authors contributed equally to this paper.
Received: 29 March 2019 / Revised: 16 May 2019 / Accepted: 16 May 2019 / Published: 18 May 2019
Abstract
Mesenchymal stem cells constitute a pool of cells present throughout the lifetime in numerous niches, characteristic of unlimited replication potential and the ability to differentiate into mature cells of mesodermal tissues in vitro. The therapeutic potential of these cells is, however, primarily associated with their capabilities of inhibiting inflammation and initiating tissue regeneration. Owing to these properties, mesenchymal stem cells (derived from the bone marrow, subcutaneous adipose tissue, and increasingly urine) are the subject of research in the settings of kidney diseases in which inflammation plays the key role. The most advanced studies, with the first clinical trials, apply to ischemic acute kidney injury, renal transplantation, lupus and diabetic nephropathies, in which beneficial clinical effects of cells themselves, as well as their culture medium, were observed. The study findings imply that mesenchymal stem cells act predominantly through secreted factors, including, above all, microRNAs contained within extracellular vesicles. Research over the coming years will focus on this secretome as a possible therapeutic agent void of the potential carcinogenicity of the cells.
View Full-Text
►

▼

Figures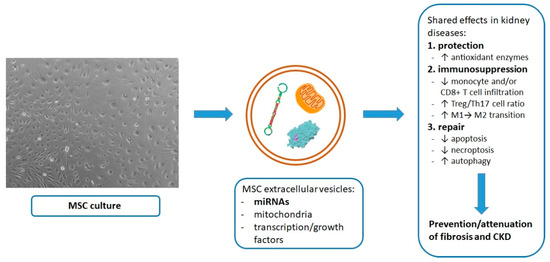 Figure 1
This is an open access article distributed under the
Creative Commons Attribution License
which permits unrestricted use, distribution, and reproduction in any medium, provided the original work is properly cited (CC BY 4.0).

Share & Cite This Article
MDPI and ACS Style
Bochon, B.; Kozubska, M.; Surygała, G.; Witkowska, A.; Kuźniewicz, R.; Grzeszczak, W.; Wystrychowski, G. Mesenchymal Stem Cells—Potential Applications in Kidney Diseases. Int. J. Mol. Sci. 2019, 20, 2462.
Note that from the first issue of 2016, MDPI journals use article numbers instead of page numbers. See further details here.
Related Articles
Comments
[Return to top]