Open Access This article is
freely available
re-usable
Review
Leptin and Immunological Profile in Obesity and Its Associated Diseases in Dogs
1
Department of Veterinary Medicine and Animal Productions, University of Naples Federico II, 80137 Naples, Italy
2
Department of Science, University of Basilicata, 85100 Potenza, Italy
3
Department of Translational Medical Sciences, University of Naples Federico II, 80131 Naples, Italy
4
Department of Advanced Biomedical Sciences, University of Naples Federico II, 80131 Naples, Italy
5
Institute of Biostructures and Bioimages (IBB), National Research Council (CNR), 80131 Naples, Italy
†
These authors contributed equally to this work.

Received: 1 April 2019 / Accepted: 8 May 2019 / Published: 14 May 2019
Abstract
:
Growing scientific evidence has unveiled increased incidences of obesity in domestic animals and its influence on a plethora of associated disorders. Leptin, an adipokine regulating body fat mass, represents a key molecule in obesity, able to modulate immune responses and foster chronic inflammatory response in peripheral tissues. High levels of cytokines and inflammatory markers suggest an association between inflammatory state and obesity in dogs, highlighting the parallelism with humans. Canine obesity is a relevant disease always accompanied with several health conditions such as inflammation, immune-dysregulation, insulin resistance, pancreatitis, orthopaedic disorders, cardiovascular disease, and neoplasia. However, leptin involvement in many disease processes in veterinary medicine is poorly understood. Moreover, hyperleptinemia as well as leptin resistance occur with cardiac dysfunction as a consequence of altered cardiac mitochondrial metabolism in obese dogs. Similarly, leptin dysregulation seems to be involved in the pancreatitis pathophysiology. This review aims to examine literature concerning leptin and immunological status in obese dogs, in particular for the aspects related to obesity-associated diseases.
Keywords:
leptin; dog; obesity; immune function; physiology; human
1. Introduction
Obesity is a metabolic disorder arising due to abnormal and frequently ectopic white adipose tissue deposition, as a consequence of an altered balance between energy intake and consumption, usually dependent on the body's inefficiency to convert caloric intake in energy. Literature has been focused on the role of leptin in determining obesity and related diseases in humans. The economic impact of obesity on the world health care system stimulated research interest [
1
] on the underlying molecular and biochemical mechanisms of obesity-associated comorbidities such as diabetes mellitus, metabolic disorders [
2
], orthopaedic disease [
3
], respiratory dysfunction [
4
], and altered renal function [
5
]. Growing incidences of obesity highlighted its relevance in domestic animals and, in particular, in dogs [
6
].
From its first characterization in 1994 to today, the relationship between leptin and its involvement in supporting inflammatory processes becomes increasingly relevant also in the determinism of autoimmunity [
7
,
8
].
In this regard, white adipose tissue has been considered not only a fat storage compartment able to regulate energy homeostasis, but also a key provider of several biomolecules able to deeply modulate tissue physiology in individuals [
9
,
10
,
11
,
12
]. Leptin production is mainly based on adipocytes secretion, the level of such a hormone correlates with white adipose tissue mass and contributes to an inflammatory state in overweight and obese humans [
12
]. In addition to the control of the biological processes involved in energy homeostasis, leptin has systemic effects that include the regulation of endocrine function, the immune response, and haematopoiesis [
13
,
14
,
15
]. Therefore, obesity can be considered as a chronic and complex pathological state associated with multiple systemic and tissue-specific alterations. This review intends to examine the physiological role of leptin, the possible relationship between leptin, immune function, and metabolism in dogs, and to highlight possible perspectives for human studies.
2. Physiological Role of Leptin and Its Relationship with Obesity
3. Role of Leptin in the Relationship between Obesity and Immune-Modulation.
4. Leptin and Associated Diseases in Humans and Dogs
5. Conclusions
Leptin constitutes a relevant hormonal "actor" in obesity, immune-system homeostasis and in several associated metabolic-related as well as immune-mediated diseases [
8
]. Recent clinical studies on autoimmune disease patients demonstrated that high serum leptin levels may play a causal role in the disease progression and could represent a diagnostic marker for clinical application. It remains to be established if leptin could be a potential therapeutic target in treating human autoimmune diseases [
30
,
216
].
Circulating leptin correlates with fat mass and is considered a useful marker of adiposity in veterinary settings. However, no studies are available concerning other clinical applications of such a hormone, and about the involvement of leptin in canine immune-mediated diseases.
The growing worldwide scientific attention for obesity and leptin—in consideration of the important implications for quality of life in humans and animals—must motivate further studies, able to generate information on the molecular mechanism exerted by leptin in the course of the disease, and to therefore identify possible therapeutic targets for obesity as well as other associated diseases. Furthermore, the most recent interest in the study of obesity and related diseases in animal species appears to be intriguingly "translational" to better understand the human etiopathology of the metabolic syndrome. In fact, domestic animals, particularly the dog, represent the natural biological indicators of the habits of life in, correlating with human aspects. Therefore, the need for studies to understand the pro-inflammatory role of leptin and weight gain in canine diseases seems to be of great importance, not only for veterinary medicine, but also to protect human health and to contain health-related expenditure generated by many widespread chronic metabolic diseases.
Funding
This research received no external funding.
Conflicts of Interest
The authors declare no conflict of interest.
Abbreviations
| | |
| --- | --- |
| apoE | Apolipoprotein E |
| AP | Acute pancreatitis |
| BCS | Body condition score |
| CDi | Cardiac disease |
| CHF | Congestive heart failure |
| CNS | Central nervous system |
| CRP | C-reactive protein |
| DC | Dendritic cells |
| GBM | Gallbladder mucocele |
| HF | Heart failure |
| IFN | Interferon |
| IL | Interleukin |
| JAK | Janus kinase |
| LEPR | Leptin receptor |
| LVH | Left ventricle hypertrophy |
| MAPK | Mitogen-activated protein kinases |
| MC | Mammary carcinoma |
| MCP-1 | Monocyte chemoattractant protein-1 |
| MS | Metabolic Syndrome |
| VEGF | Vascular growth factor |
| VL | Visceral Leishmaniasis |
| ROR | Retinoic acid-related orphan receptor |
| ROS | Reactive oxygen species |
| NK | Natural Killer |
| STAT | Signal transducer and activator of transcription |
| TNF | Tumour necrosis factor |
| Treg cells | Regulatory T cells |
| VSMCs | Vascular smooth muscle cells |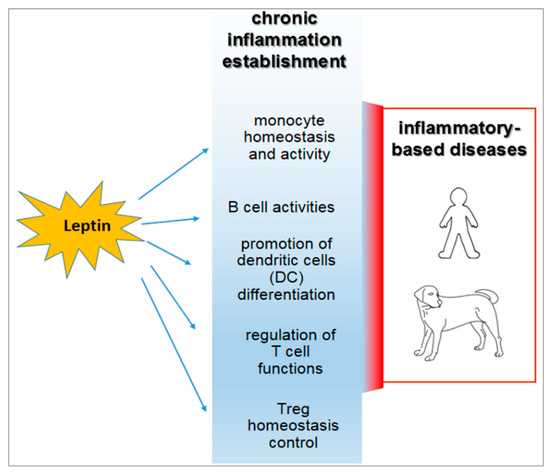 Figure 1. Inflammatory roles of leptin in the course of obesity and their relevance in both human and veterinary medicine.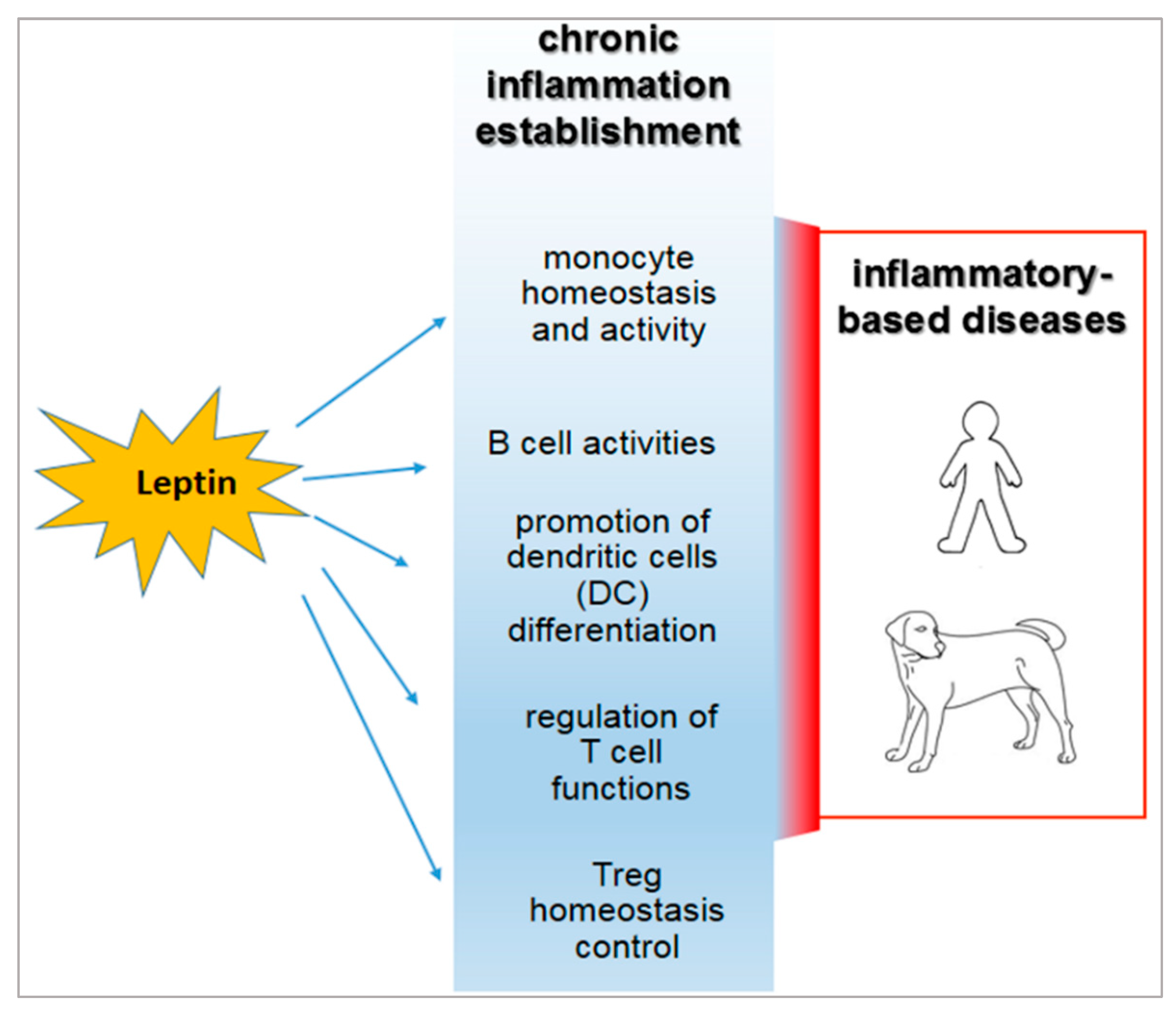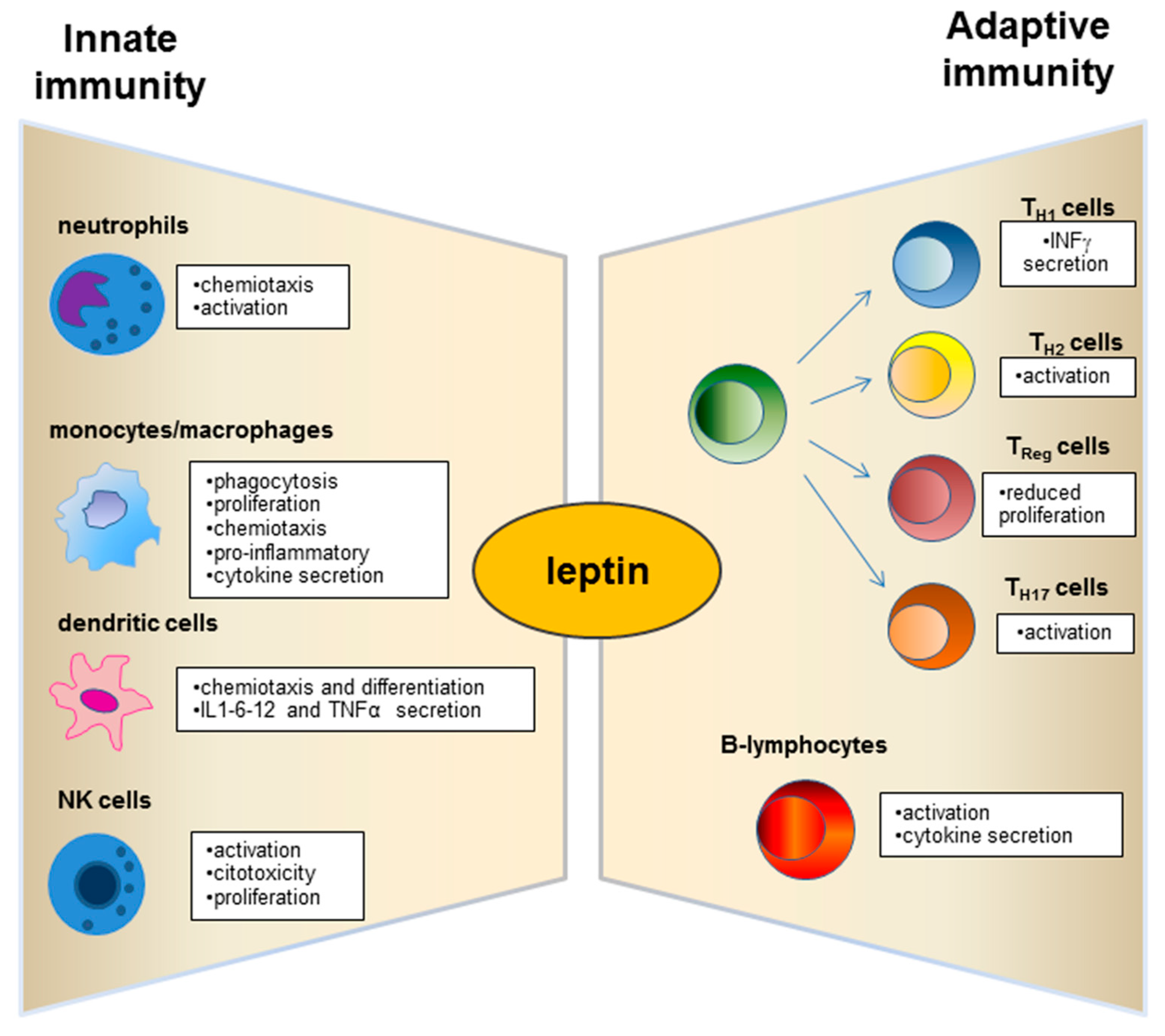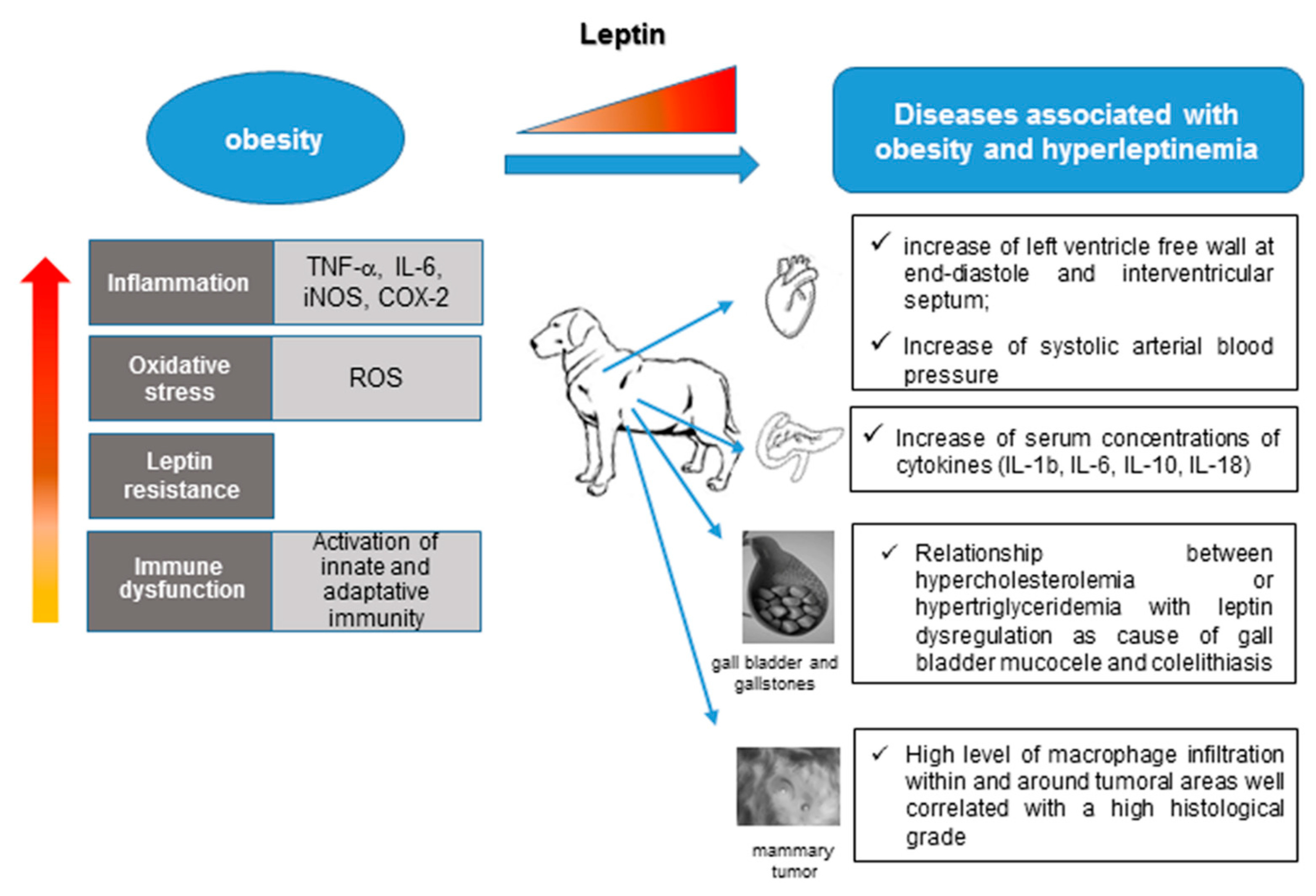 © 2019 by the authors. Licensee MDPI, Basel, Switzerland. This article is an open access article distributed under the terms and conditions of the Creative Commons Attribution (CC BY) license (http://creativecommons.org/licenses/by/4.0/).