Targeting Telomerase and ATRX/DAXX Inducing Tumor Senescence and Apoptosis in the Malignant Glioma
1
Department of Pediatrics, Department of Medical research, Tungs' Taichung Metroharbor Hospital, Wuchi, Taichung 435, Taiwan
2
Department of Life Sciences, National Chung Hsing University, Taichung 402, Taiwan
3
Department of Rehabilitation, Jen-Teh Junior College of Medicine, Nursing and Management, Miaoli 356, Taiwan
4
The iEGG and Animal Biotechnology Center, and Ph.D. Program in Translational Medicine, National Chung Hsing University, Taichung 402, Taiwan
5
School of Medicine, Chung Shan Medical University, Taichung 402, Taiwan
6
Department of Pediatrics, Chung Shan Medical University Hospital, Taichung 402, Taiwan
7
Department of Pediatric Neurology, Kuang-Tien General Hospital, Taichung 433, Taiwan
8
Department of Nutrition, Hungkuang University, Taichung 433, Taiwan
9
Buddhist Tzu Chi Bioinnovation Center, Tzu Chi Foundation, Hualien 970, Taiwan
10
Department of Neurosurgery, Buddhist Tzu Chi General Hospital, Hualien 970, Taiwan
11
Department of Pathology, Buddhist Tzu Chi General Hospital and Tzu Chi University, Hualien 970, Taiwan
*
Author to whom correspondence should be addressed.
Received: 12 December 2018 / Accepted: 2 January 2019 / Published: 8 January 2019
Abstract
Glioblastoma multiforme (GBM) is a type of brain tumor that is notorious for its aggressiveness and invasiveness, and the complete removal of GBM is still not possible, even with advanced diagnostic strategies and extensive therapeutic plans. Its dismal prognosis and short survival time after diagnosis make it a crucial public health issue. Understanding the molecular mechanisms underlying GBM may inspire novel and effective treatments against this type of cancer. At a molecular level, almost all tumor cells exhibit telomerase activity (TA), which is a major means by which they achieve immortalization. Further studies show that promoter mutations are associated with increased TA and stable telomere length. Moreover, some tumors and immortalized cells maintain their telomeres with a telomerase-independent mechanism termed the "alternative lengthening of telomeres" (ALT), which relates to the mutations of the α-thalassemia/mental retardation syndrome X-linked protein (ATRX), the death-domain associated protein (DAXX) and H3.3. By means of the mutations of the telomerase reverse transcriptase (TERT) promoter and ATRX/DAXX, cancers can immortalize and escape cell senescence and apoptosis. In this article, we review the evidence for triggering GBM cell death by targeting telomerase and the ALT pathway, with an extra focus on a plant-derived compound, butylidene phthalide (BP), which may be a promising novel anticancer compound with good potential for clinical applications.
View Full-Text
►

▼

Figures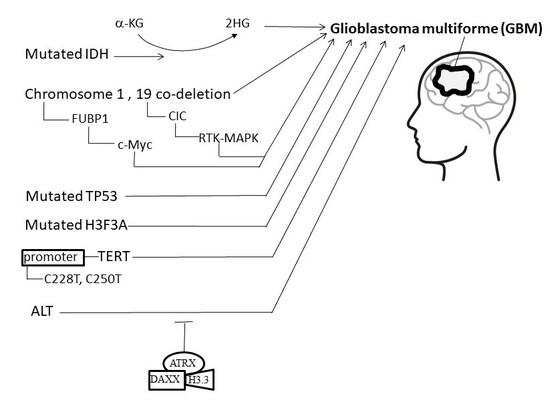 Graphical abstract
This is an open access article distributed under the
Creative Commons Attribution License
which permits unrestricted use, distribution, and reproduction in any medium, provided the original work is properly cited (CC BY 4.0).

Share & Cite This Article
MDPI and ACS Style
Fan, H.-C.; Chen, C.-M.; Chi, C.-S.; Tsai, J.-D.; Chiang, K.-L.; Chang, Y.-K.; Lin, S.-Z.; Harn, H.-J. Targeting Telomerase and ATRX/DAXX Inducing Tumor Senescence and Apoptosis in the Malignant Glioma. Int. J. Mol. Sci. 2019, 20, 200.
Note that from the first issue of 2016, MDPI journals use article numbers instead of page numbers. See further details here.
Related Articles
Comments
[Return to top]