Open Access This article is
freely available
re-usable
Review
Structural Determinants of the Prion Protein N-Terminus and Its Adducts with Copper Ions
1
Department of Chemistry, Center for Research and Advanced Studies (Cinvestav), 07360 Mexico City, Mexico
2
Institute of Neuroscience and Medicine (INM-9) and Institute for Advanced Simulation (IAS-5), Forschungszentrum Jülich, Wilhelm-Johnen-Strasse, 52425 Jülich, Germany
3
Jülich Supercomputing Center (JSC), Forschungszentrum Jülich, 52428 Jülich, Germany
4
Department of Oncology, Hematology and Stem Cell Transplantation, Faculty of Medicine, RWTH Aachen University, Pauwelsstraße 30, 52074 Aachen, Germany
5
Department of Physics and Department of Neurobiology, RWTH Aachen University, 52078 Aachen, Germany
6
Institute for Neuroscience and Medicine (INM)-11, Forschungszentrum Jülich, 52428 Jülich, Germany
†
Current Address: Instituto de Biología Molecular y Celular de Rosario (IBR-CONICET), Ocampo y Esmeralda, 2000 Rosario, Argentina.

Received: 3 December 2018 / Accepted: 18 December 2018 / Published: 20 December 2018
Abstract
:
The N-terminus of the prion protein is a large intrinsically disordered region encompassing approximately 125 amino acids. In this paper, we review its structural and functional properties, with a particular emphasis on its binding to copper ions. The latter is exploited by the region's conformational flexibility to yield a variety of biological functions. Disease-linked mutations and proteolytic processing of the protein can impact its copper-binding properties, with important structural and functional implications, both in health and disease progression.
Keywords:
N-terminal prion protein; copper binding; prion disease mutations
1. Introduction
Prion diseases or transmissible spongiform encephalopathies (TSEs) are rare neurodegenerative diseases exhibiting symptoms of both cognitive and motor dysfunction, vacuolation of the grey matter in the human central nervous system, neuronal loss, and astrogliosis [
1
]. A crucial event for the diseases' development is the misfolding of the extracellular, membrane-anchored human prion protein (HuPrP
C
) into the fibril-forming isoform called "scrapie" (HuPrP
Sc
), the major or only component of the infectious particle [
2
]. This eventually leads to protofibril and fibrillar structures. Accordingly, with the "Protein only hypothesis" by Nobel Laureate Prusiner [
3
], the feature to undergo induced or spontaneous misfolding depends basically on intrinsic features of the protein. These include the amino acid sequence [
4
,
5
] as well as secondary structure elements [
6
,
7
,
8
], the highly flexible amino terminal region of the protein [
9
], and posttranslational modification elements [
10
]. The propensity to form the scrapie form is modulated by a variety of external factors. These include pH [
11
,
12
,
13
], cofactors like metal ions [
14
,
15
], or the presence of proteins [
16
,
17
]. Pathogenic mutations (PM) in HuPrP
C
are linked to the spontaneous generation of prion diseases [
18
,
19
,
20
,
21
].
HuPrP
C
is ubiquitously expressed throughout the body. It is mostly found in the central nervous system. After being synthesized in the rough endoplasmic reticulum, it transits through the Golgi compartment, and it is released to the cell surface where it resides in lipid membrane domains [
22
]. Though its physiological role is still not clear, HuPrP
C
might be involved in neuronal development, cell adhesion, apoptotic events, and cell signaling in the central nervous system. Moreover, HuPrP
C
can interact with different neuronal proteins or proteins of the extracellular matrix, as well as with other binders including glycosaminoglycans, nucleic acids, and copper ions [
23
]. Hence, HuPrP
C
has been also proposed as a copper sensing or transport protein [
24
].
The protein features two signal peptides (1–22 and 232–235,
Figure 1
), a folded globular domain (GD, residues 125–231), and a naturally unfolded N-terminal tail (N-term_HuPrP
C
, hereafter, residues 23–124), which is the focus of this review. The GD consists of two β-sheets (S1 and S2), three α-helices (H1, H2, and H3), one disulfide bond (SS) between cysteine residues 179 and 214, and two potential sites for N-linked glycosylation (green forks in
Figure 1
) at residues 181 and 197 [
25
]. H2 and H3 helices linked by the SS-bond constitute the H2 + H3 domain. A glycosylphosphatidylinositol anchor (GPI, in blue in
Figure 1
) is attached to the C-terminus, which is located on the outside cellular membrane.
The HuPrP
C
→HuPrP
Sc
interconversion involves mostly the GD. It may entail increasingly β-stranded intermediate structures [
33
] (
Figure 1
C), leading to small aggregates, protofibrils, and finally ordered rigid fibrils [
34
,
35
,
36
,
37
,
38
]. Experimental structural information for these is lacking [
34
,
35
,
36
,
37
,
38
].
While the structure of the GD of HuPrPC has been resolved experimentally, the intrinsically disordered nature of the N-term_HuPrPC has represented a challenge for structural studies. In this paper, the structural properties of the N-term_HuPrPC are discussed, with a focus on recent insights obtained from computational approaches and on the functional and disease-related implications of copper–N-term_HuPrPC interactions.
2. The N-Term: Function and Structural Determinants
4. Conclusions
Recent advances in computational biophysics [
31
,
32
,
52
] have led, for the first time, to a description of the conformational ensemble on the full-length N-term MoPrP
C
, a fully disordered domain of 125 amino acids, with high similarity to the human domain. This has made it possible to probe the impact of disease-related mutations on the structural properties of this flexible region of the protein.
N-term_HuPrP
C
binds copper ions in vivo [
24
]. It yields a diverse range of Cu coordination modes, each with distinct redox properties and binding affinity features. The Cu-binding properties of the N-term region provide HuPrP
C
with the ability to respond to the wide range of Cu concentrations that the protein is exposed to at the synapse, adopting different metal-induced conformations, which in turn may have distinct functional implications. On the other hand, Cu
2+
-PrP
C
interactions and their perturbation by disease-related mutations may play a role in protein aggregation and prion disease progression.
While the interplay between metal ion binding and conformational flexibility in the entire N-term remains to be understood, it is well established that copper displays site-specific effects on its folding, either by promoting stabilizing interactions or inducing conversion to beta-sheet folds. Conversely, molecular simulations suggest that some disease-related mutations may affect the local conformation around the Cu anchoring sites, thus affecting the Cu-binding properties of the N-term_HuPrPC and the stability of the protein.
Combined computational and experimental studies on the structural impact of Cu
2+
binding and disease-related mutations at the N-term_HuPrP
C
, such as those on copper(II)-alpha-synuclein—an intrinsically disordered protein undergoing fibril formation in Parkinson's disease [
118
]—could advance dramatically our understanding of the functional role of Cu
2+
-PrP
C
interactions in health and disease.
Author Contributions
Conceptualization, all the authors; Writing-Review & Editing, all the authors.
Funding
This research received no external funding.
Acknowledgments
C.S.L. acknowledges SECITI CDMX, Mexico for the postdoctoral fellowship.
Conflicts of Interest
The authors declare no conflict of interest.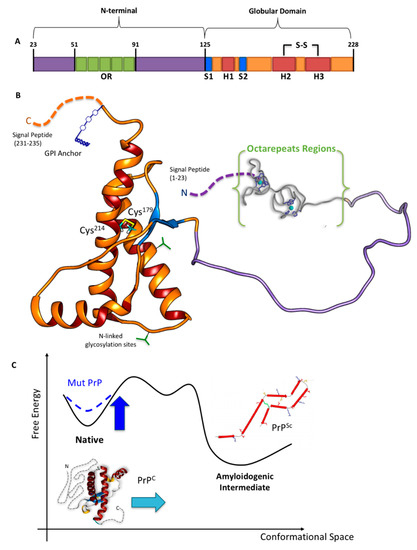 Figure 1.
(
A
) Schematic and (
B
) tridimensional view of HuPrP
C
. (
C
) Qualitative scheme illustrating the Gibbs free energy change in the conversion from HuPrP
C
(left) to HuPrP
Sc
(right) [
26
]. The depicted amyloidogenic intermediate is the parallel, in-register β-structure model for the core of recombinant PrP90–231 amyloid fibrils formed in vitro [
27
], one of the models among others [
28
,
29
,
30
], whereas the native globular domain (GD) of the HuPrP
C
is the nuclear magnetic resonance (NMR) structure by Zahn et al. [
25
]. Adapted from [
31
,
32
].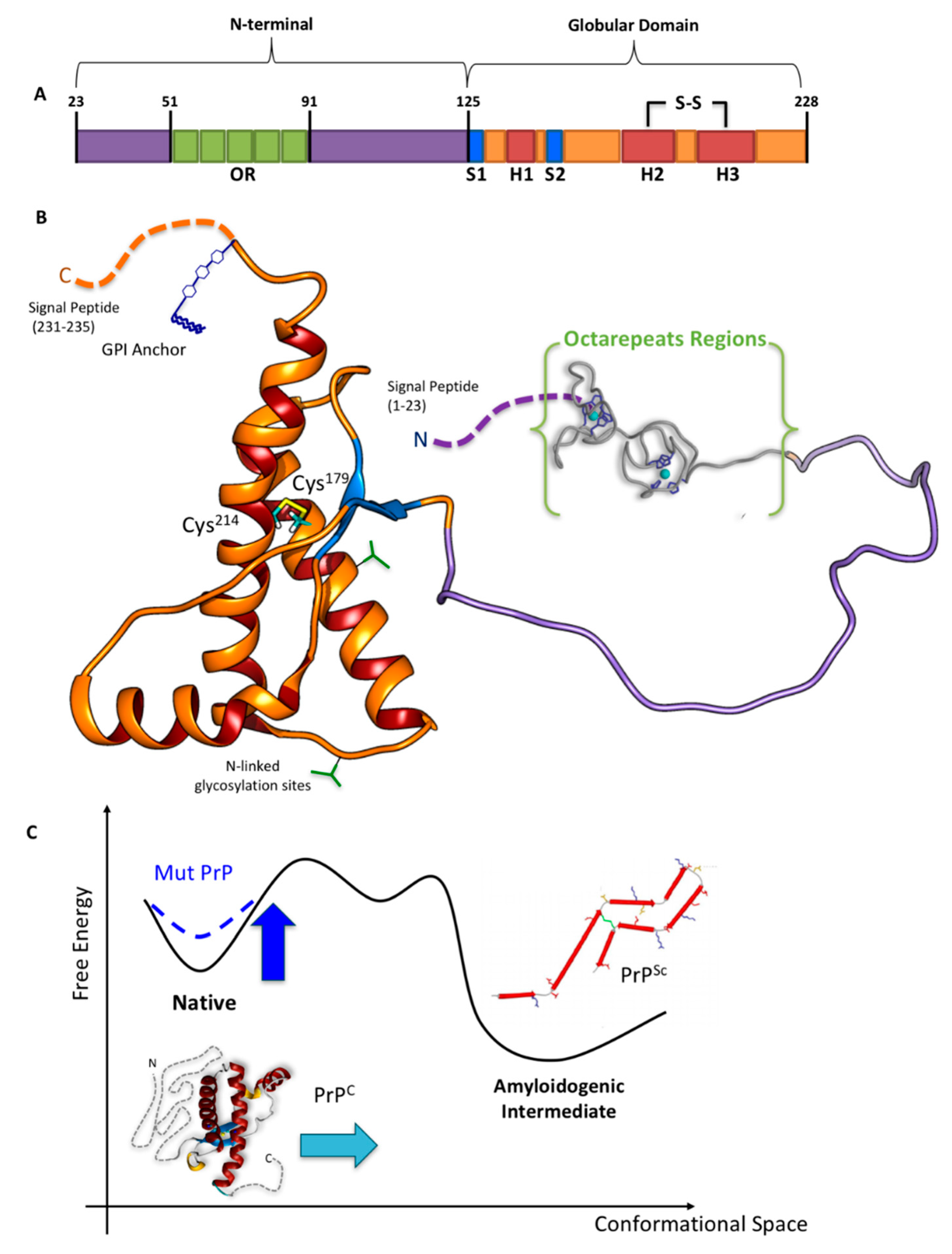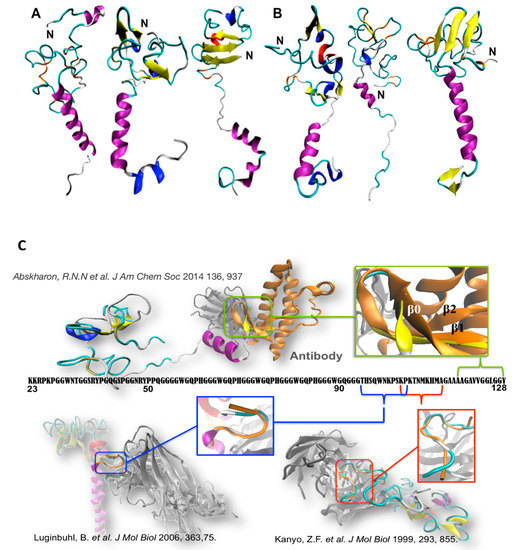 Figure 2.
Selected conformations of (
A
) WT N-term_MoPrP
C
and (
B
) one PM (N-term_MoPrP
C
_Q52P) emerging from molecular simulation [
31
,
52
]. These contain transient α-helix (in violet), β-sheet (yellow), β-bridge (orange), β-turn (cyan), 3
10
-helix (blue), and p-helix (red) elements. (
C
) Superimposition of our conformational ensemble (orange) with available fragments of N-term deposited structures. Readapted from [
31
,
52
].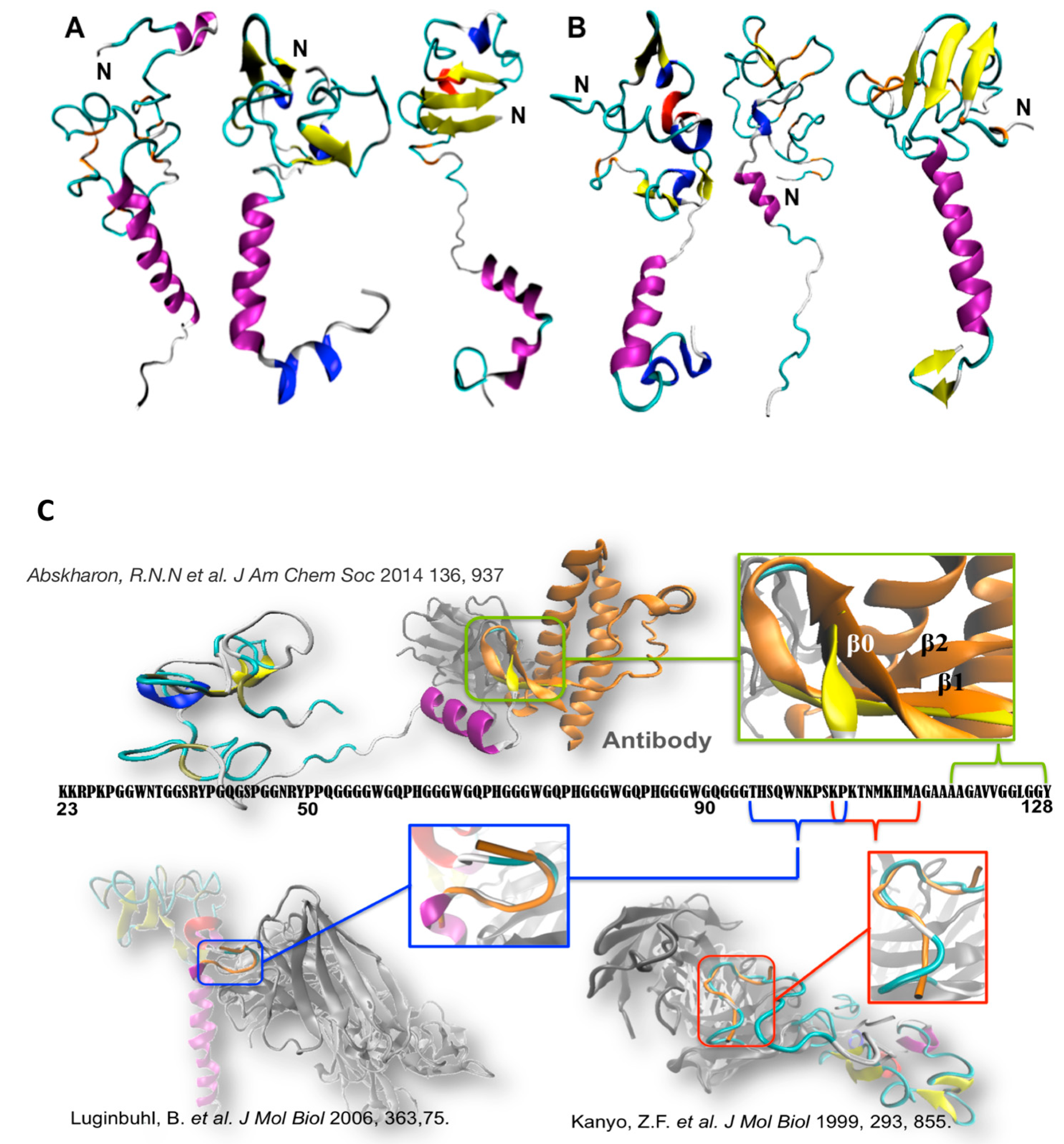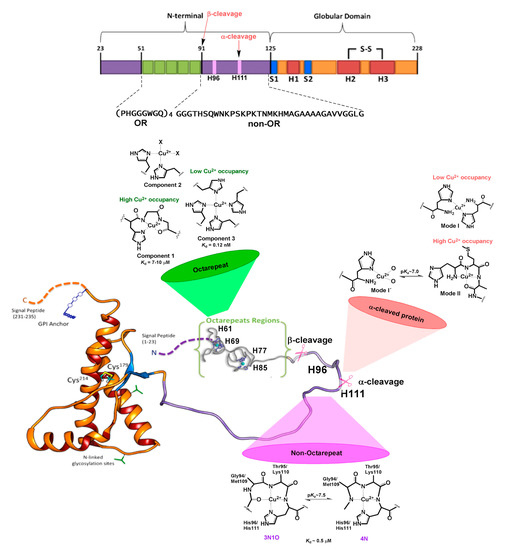 Figure 3. Cu coordination properties of the N-terminal region of human HuPrPC. The six His residues that act as anchoring sites for Cu ions are highlighted: His61, His69, His77, and His85 in the OR region, and His96 and His111 in the non-OR region. The models for the different Cu2+ coordination modes identified at each site at physiological pH are drawn. The impact of α-cleavage processing on the His111 binding site is also shown.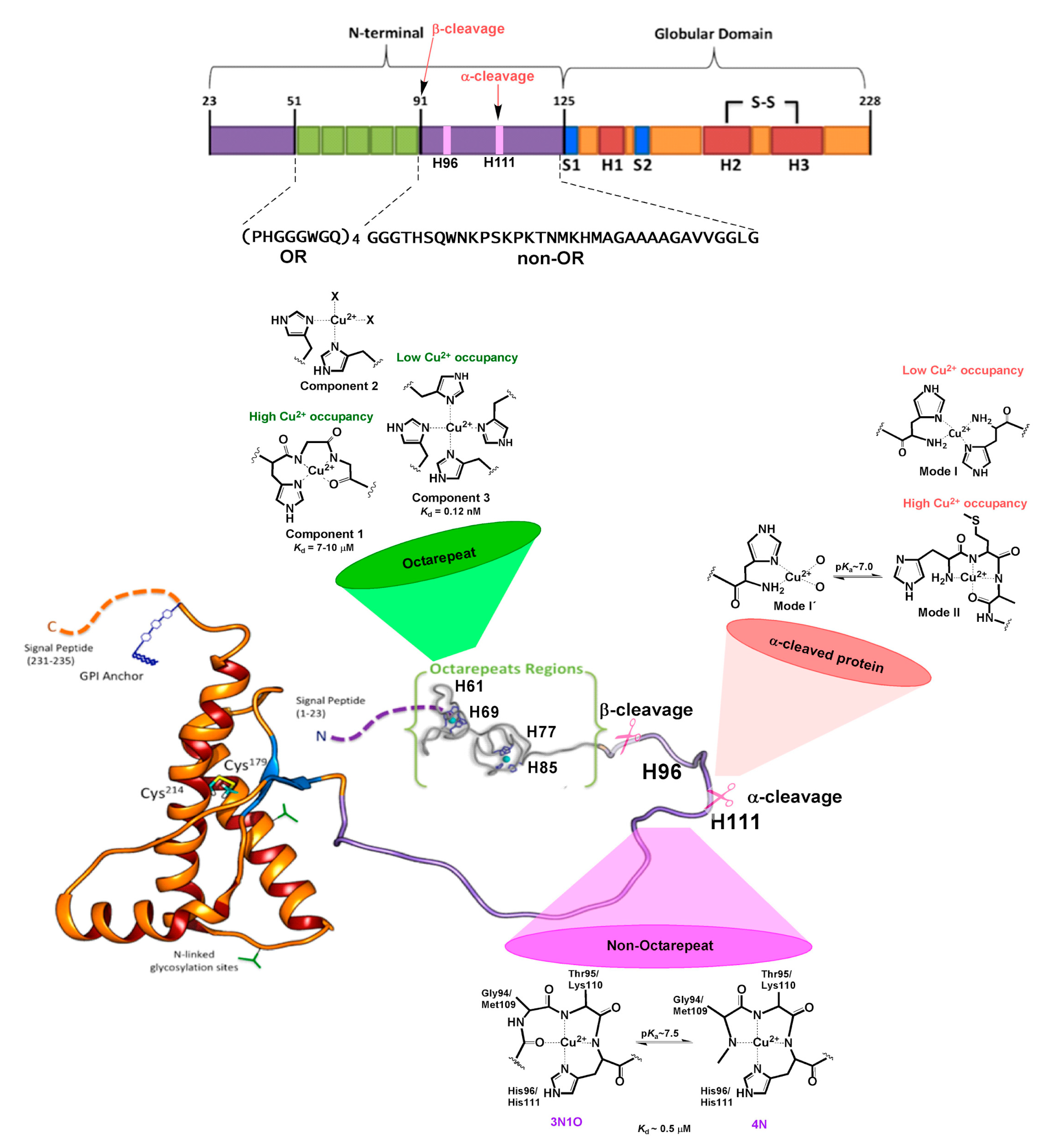 © 2018 by the authors. Licensee MDPI, Basel, Switzerland. This article is an open access article distributed under the terms and conditions of the Creative Commons Attribution (CC BY) license (http://creativecommons.org/licenses/by/4.0/).