Voltage-Dependent Calcium Channels, Calcium Binding Proteins, and Their Interaction in the Pathological Process of Epilepsy
1
Epilepsy Research Laboratory of Human Anatomy and Histoembryology Department, Key Laboratory of Environment and Genes Related to Diseases (Xi'an Jiaotong University), Xi'an Jiaotong University School of Basic Medical Sciences, Ministry of Education, Xi'an 710061, China
2
Radiation Physiology Laboratory, Singapore Nuclear Research and Safety Initiative, National University of Singapore, 1 CREATE Way #04-01, CREATE Tower, Singapore 138602, Singapore
*
Author to whom correspondence should be addressed.
Received: 13 July 2018 / Revised: 6 September 2018 / Accepted: 7 September 2018 / Published: 12 September 2018
Abstract
As an important second messenger, the calcium ion (Ca
2+
) plays a vital role in normal brain function and in the pathophysiological process of different neurodegenerative diseases including Alzheimer's disease (AD), Parkinson's disease (PD), and epilepsy. Ca
2+
takes part in the regulation of neuronal excitability, and the imbalance of intracellular Ca
2+
is a trigger factor for the occurrence of epilepsy. Several anti-epileptic drugs target voltage-dependent calcium channels (VDCCs). Intracellular Ca
2+
levels are mainly controlled by VDCCs located in the plasma membrane, the calcium-binding proteins (CBPs) inside the cytoplasm, calcium channels located on the intracellular calcium store (particular the endoplasmic reticulum/sarcoplasmic reticulum), and the Ca
2+
-pumps located in the plasma membrane and intracellular calcium store. So far, while many studies have established the relationship between calcium control factors and epilepsy, the mechanism of various Ca
2+
regulatory factors in epileptogenesis is still unknown. In this paper, we reviewed the function, distribution, and alteration of VDCCs and CBPs in the central nervous system in the pathological process of epilepsy. The interaction of VDCCs with CBPs in the pathological process of epilepsy was also summarized. We hope this review can provide some clues for better understanding the mechanism of epileptogenesis, and for the development of new anti-epileptic drugs targeting on VDCCs and CBPs.
View Full-Text
►

▼

Figures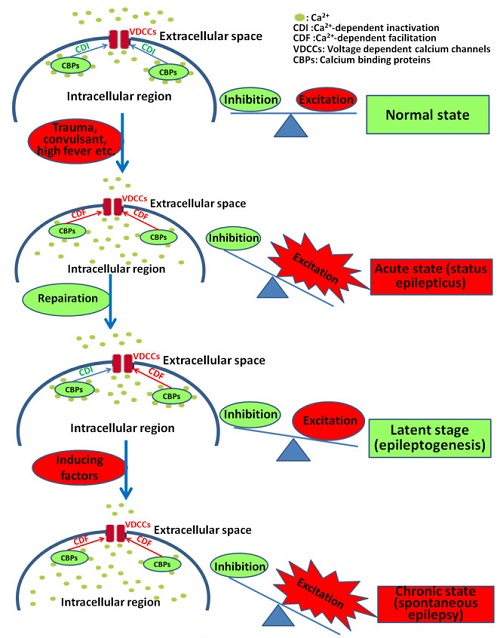 Graphical abstract
This is an open access article distributed under the
Creative Commons Attribution License
which permits unrestricted use, distribution, and reproduction in any medium, provided the original work is properly cited (CC BY 4.0).

Share & Cite This Article
MDPI and ACS Style
Xu, J.-H.; Tang, F.-R. Voltage-Dependent Calcium Channels, Calcium Binding Proteins, and Their Interaction in the Pathological Process of Epilepsy. Int. J. Mol. Sci. 2018, 19, 2735.
Note that from the first issue of 2016, MDPI journals use article numbers instead of page numbers. See further details here.
Related Articles
Comments
[Return to top]