The Cancer Prevention, Anti-Inflammatory and Anti-Oxidation of Bioactive Phytochemicals Targeting the TLR4 Signaling Pathway
1
School of Medical and Health Sciences, Fooyin University, Ta-Liao District, Kaohsiung 83102, Taiwan
2
Department of Nursing, Tzu Hui Institute of Technology, Pingtung County 92641, Taiwan
3
School of Medicine, Yichun University, Yuanzhou District, Yichun 336000, China
*
Author to whom correspondence should be addressed.
Received: 21 August 2018 / Revised: 4 September 2018 / Accepted: 10 September 2018 / Published: 12 September 2018
Abstract
Toll-like receptors (TLRs) are a well-known family of pattern recognition receptors that play an important role in a host immune system. TLR triggering leads to the induction of pro-inflammatory cytokines and chemokines, driving the activation of both innate and adaptive immunity. Recently, an increasing number studies have shown the link between TLRs and cancer. Among them, the toll-like receptor 4 (TLR4) signaling pathway is associated with inflammatory response and cancer progression. Dietary phytochemicals are potential modulators of immunological status with various pharmacological properties including anti-cancer, anti-oxidant and anti-inflammatory. Curcumin, 6-gingerol, 6-shogaol, 1-dehydro-10-gingerdione, epigallocatechin gallate (EGCG), luteolin, quercetin, resveratrol, caffeic acid phenethyl ester, xanthohumol, genistein, berberine, and sulforaphane can inhibit TLR4 activation. The aim of the present review is to describe the role of the TLR4 signaling pathway between inflammatory response and cancer progression. We further introduce bioactive phytochemicals with potential anti-inflammation and chemoprevention by inhibiting TLR activation.
View Full-Text
►

▼

Figures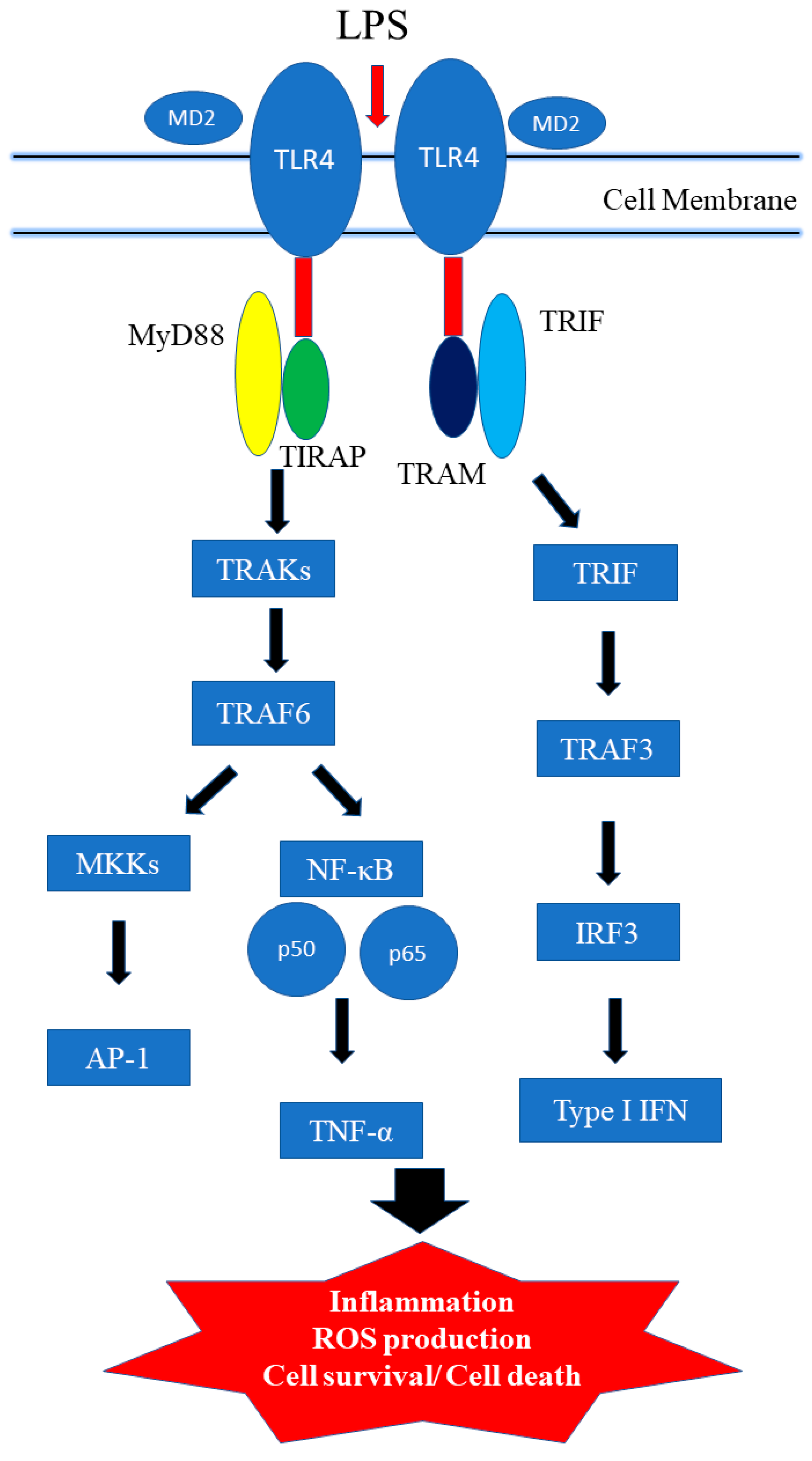 Figure 1
This is an open access article distributed under the
Creative Commons Attribution License
which permits unrestricted use, distribution, and reproduction in any medium, provided the original work is properly cited (CC BY 4.0).

Share & Cite This Article
MDPI and ACS Style
Chen, C.-Y.; Kao, C.-L.; Liu, C.-M. The Cancer Prevention, Anti-Inflammatory and Anti-Oxidation of Bioactive Phytochemicals Targeting the TLR4 Signaling Pathway. Int. J. Mol. Sci. 2018, 19, 2729.
Note that from the first issue of 2016, MDPI journals use article numbers instead of page numbers. See further details here.
Related Articles
Comments
[Return to top]