Characterization and Functional Analysis of
FaHsfC1b

from

Festuca arundinacea

Conferring Heat Tolerance in Arabidopsis

1

College of Agro-grassland Science, Nanjing Agricultural University, Nanjing 210095, China

2

Department of Plant Biology and Pathology, Rutgers University, New Brunswick, NJ 08901, USA

*

Authors to whom correspondence should be addressed.

Received: 26 July 2018 / Revised: 27 August 2018 / Accepted: 28 August 2018 / Published: 11 September 2018
Abstract
Heat transcription factors (
Hsfs
) belong to a large gene family classified into A, B, and C groups, with classes A and B
Hsfs
being well-characterized and known for their roles in plant tolerance to abiotic stresses. The functions and roles of Class C
Hsfs
are not well-documented. The objectives of this study were to characterize a class C
Hsf
gene (
FaHsfC1b
) cloned from tall fescue (
Festuca arundinacea
), a perennial grass species, and to determine the physiological functions of
FaHsfC1b
in regulating heat tolerance by overexpressing
FaHsfC1b
in
Arabidopsis thaliana
. Full length cDNA of
FaHsfC1b
was cloned and the sequence alignment showed that it had high similarity to
OsHsfC1b
with typical DNA binding domain, hydrophobic oligomerization domain, and a nucleus localization signal. Transient expression with
FaHsfC1b
-eGFP in protoplasts of Arabidopsis leaves indicated its nucleus localization. qRT-PCR analysis showed that
FaHsfC1b
responded to heat, osmotic, salt, and cold stress in leaves and roots during 48-h treatment. Physiological analysis showed that
FaHsfC1b
overexpression enhanced plant survival rate, chlorophyll content, and photochemical efficiency, while it resulted in decreases in electrolyte leakage, H
2
O
2
and O
2−
content under heat stress. qRT-PCR showed that endogenous
HsfC1
was induced in transgenic plants and the expression levels of heat protection protein genes, including several
HSPs
,
AtGalSyn1
,
AtRof1
, and
AtHSA32
, as well as ABA-synthesizing gene (
NCED3
) were significantly upregulated in transgenic plants overexpressing
FaHsfC1b
under heat stress. Our results first demonstrate that
HsfC1b
plays positive roles in plant tolerance to heat stress in association with the induction and upregulation of heat-protective genes.
HsfC1b
may be used as a candidate gene for genetic modification of cool-season plant species for improving heat tolerance.
View Full-Text
►

▼

Figures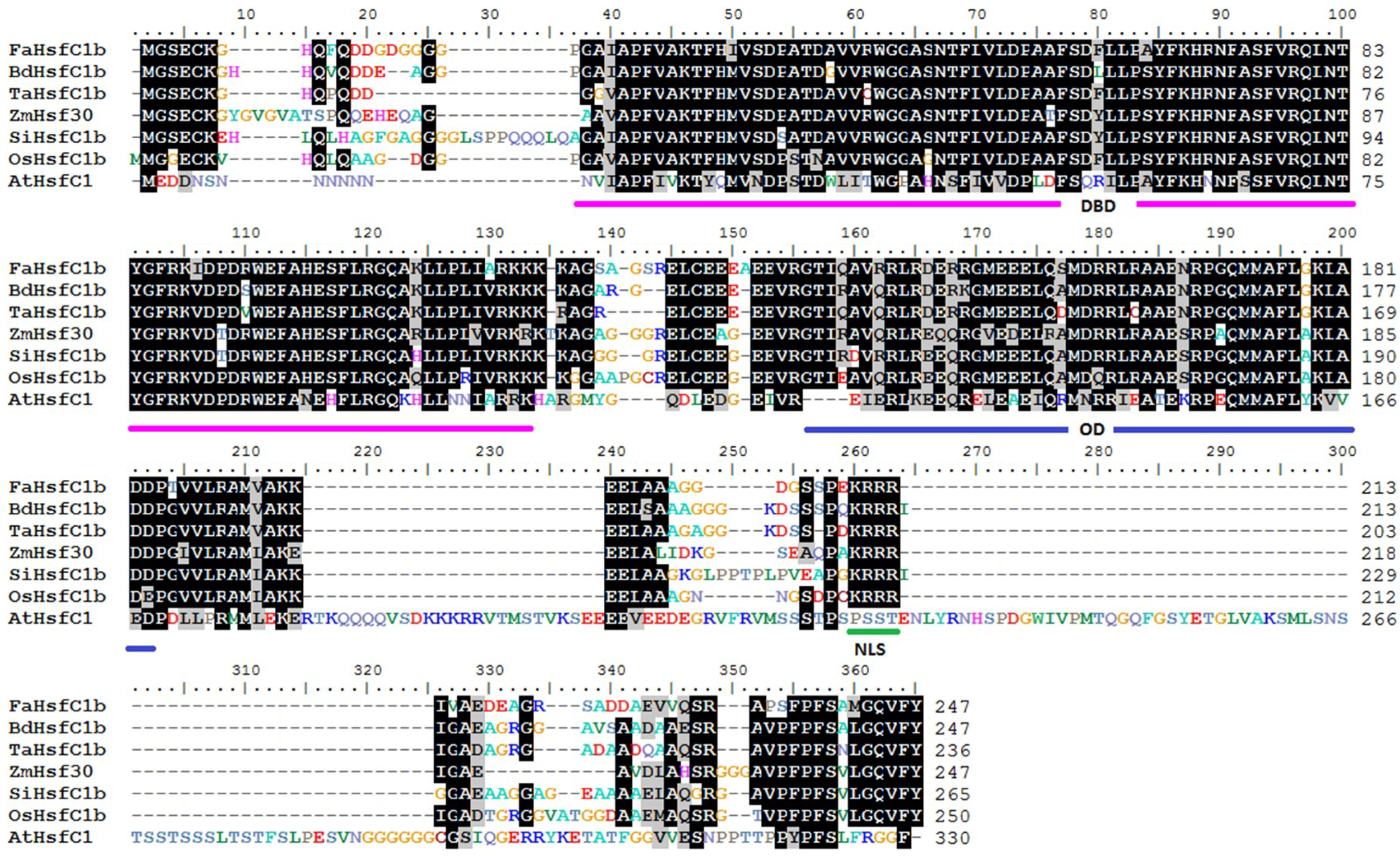 Figure 1
This is an open access article distributed under the
Creative Commons Attribution License
which permits unrestricted use, distribution, and reproduction in any medium, provided the original work is properly cited (CC BY 4.0).

Share & Cite This Article
MDPI and ACS Style
Zhuang, L.; Cao, W.; Wang, J.; Yu, J.; Yang, Z.; Huang, B. Characterization and Functional Analysis of FaHsfC1b from Festuca arundinacea Conferring Heat Tolerance in Arabidopsis. Int. J. Mol. Sci. 2018, 19, 2702.
Note that from the first issue of 2016, MDPI journals use article numbers instead of page numbers. See further details here.
Related Articles
Comments
[Return to top]