Open Access This article is
freely available
re-usable
Review
Targeting Amyloid Aggregation: An Overview of Strategies and Mechanisms
1
Department of Molecular Medicine, Institute of Biochemistry, University of Pavia, Via Taramelli 3b, 27100 Pavia, Italy
2
Department of Earth and Environmental Sciences, University of Milano-Bicocca, Piazza della Scienza 1, 20126 Milano, Italy
3
Department of Biotechnologies and Biosciences, University of Milano-Bicocca, Piazza della Scienza 2, 20126 Milano, Italy
4
Milan Center for Neuroscience (Neuro-MI), 20126 Milano, Italy
5
Centre for Misfolding Diseases, Department of Chemistry, University of Cambridge, Cambridge CB2 1EW, UK
*
Authors to whom correspondence should be addressed.
Received: 7 August 2018 / Accepted: 5 September 2018 / Published: 9 September 2018
Abstract
:
Amyloids result from the aggregation of a set of diverse proteins, due to either specific mutations or promoting intra- or extra-cellular conditions. Structurally, they are rich in intermolecular β-sheets and are the causative agents of several diseases, both neurodegenerative and systemic. It is believed that the most toxic species are small aggregates, referred to as oligomers, rather than the final fibrillar assemblies. Their mechanisms of toxicity are mostly mediated by aberrant interactions with the cell membranes, with resulting derangement of membrane-related functions. Much effort is being exerted in the search for natural antiamyloid agents, and/or in the development of synthetic molecules. Actually, it is well documented that the prevention of amyloid aggregation results in several cytoprotective effects. Here, we portray the state of the art in the field. Several natural compounds are effective antiamyloid agents, notably tetracyclines and polyphenols. They are generally non-specific, as documented by their partially overlapping mechanisms and the capability to interfere with the aggregation of several unrelated proteins. Among rationally designed molecules, we mention the prominent examples of β-breakers peptides, whole antibodies and fragments thereof, and the special case of drugs with contrasting transthyretin aggregation. In this framework, we stress the pivotal role of the computational approaches. When combined with biophysical methods, in several cases they have helped clarify in detail the protein/drug modes of interaction, which makes it plausible that more effective drugs will be developed in the future.
Keywords:
amyloid diseases; biocomputing; drug design; natural antiamyloids
1. Introduction
Finally, in the last chapter we will highlight how in vitro and in silico approaches have contributed to the present knowledge and how they have complemented each other.
2. The Main Classes of Anti-Amyloid Compounds
2.1. Probes and Diagnostic Molecules
2.2. Anthracyclines and Tetracyclines
The generic effect of tetracyclines in interfering with amyloid formation inspired further investigation on the mechanism of interaction with amyloid structure and consequent blocking of amyloid growth.
The best investigated type of tetracyclines is doxycycline (DOX), not only because is one of the most effective conformers on several type of fibrils in vitro, but also because it has been used in vivo for many years as a wide-spectrum antibiotic with no appreciable adverse effects. Its use in amyloidosis just represents the repurposing of an old drug on a new target.
2.3. Sterols
Sterols are a class of steroids, which are naturally produced by several organisms, including plants and bacteria. In particular, a broad-spectrum of them has been isolated from the dogfish shark
Squalus acanthias
, initially for their antibiotic properties against both Gram-negative and Gram-positive bacteria, and fungicidal anti-protozoa activity [
89
]. Among these molecules, the compound squalamine has been proved to be effective against cancer [
90
] and, very recently, against PD. In particular, squalamine is able to inhibit the aggregation of the protein α-syn [
35
], whose deposition into Lewy bodies in a hallmark of PD [
91
]. In this regard, the mechanism of action of squalamine is an example of indirect effect of a molecule on the aggregation of an amyloidogenic protein. α-syn is known for being very soluble at normal pH, even at very high (mM) concentrations. In order to aggregate, α-syn requires the presence of hydrophobic surfaces, such as lipid membranes, where α-syn monomers are attracted to and nucleate [
30
]. Squalamine has been proved to inhibit α-syn aggregation by displacing monomers from the membranes [
35
].
Recently, a squalamine derivative, called trodusquemine, has been shown to affect the aggregation of α-syn as well [
36
]. In addition to displacing α-syn monomers similar to the mechanism fulfilled by squalamine, trodusquemine directly interacts with α-syn to inhibit the secondary nucleation of aggregation [
36
].
2.4. Peptides and Engineered Antibodies
2.5. Polyphenols
Polyphenols are a class of compounds whose structure is characterized by the presence of several phenol units. They include a wealth of structurally diverse molecules, although they also share in part the mechanisms of action. Besides their capability to prevent or retard amyloid aggregation, several additional effects have been assigned to them, which are beneficial for human health. Most notably, they are endowed with antioxidant and anticancer properties, the latter being mediated by inhibition of antiangiogenesis. The main types of polyphenols are discussed below.
2.5.1. (−)-Epigallocatechin-gallate (EGCG) and Related Compounds
2.5.2. Resveratrol
Natural sources rich in resveratrol (3,5,4′-trihydroxy-trans-stilbene, RES), are grapes, berries, red wine and other plants [
120
]. Several protective effects have been assigned to this compound, including antioxidant, antiinflammatory, anticarcinogenic properties, as well as a neuroprotective action in models of neurodegenerative diseases [
121
,
122
]. RES has been shown to substantially affect the amyloidogenic pathway of Aβ and IAPP. In particular, the effects on Aβ amyloid aggregation are the best characterized. This drug does not prevent oligomer formation, but retards fibril formation and even disaggregates preformed fibrils. Concomitantly, it mitigates Aβ-induced toxicity, suggestive of significant structural modifications in the oligomeric species [
123
]. A recent study provides structural details on the effects of RES on the mode of Aβ oligomerization [
124
]. In particular, it was shown that Aβ42 forms disc-shaped low molecular weight and high molecular weight oligomers (1.5–2 and 3–5 nm high, respectively), the latter resulting from the stacking of the former, and that RES prevents the stacking process, which also suggests that the largest aggregates are the most toxic ones.
The capability of this polyphenol of inhibiting the aggregation of the membrane-associated IAPP has been observed even in the presence of aggregation-fostering negatively charged lipid interfaces [
125
]. Based on NMR data and molecular simulations, it has been suggested that this molecule prevents ring stacking intermolecular interactions between the residues His18 and Tyr37 from adjacent polypeptide chains, quite likely via its aromatic rings [
126
].
2.5.4. Oleuropein
Oleuropein, the main phenolic compound of olive oil [
139
], is endowed with several beneficial effects on human health, the most prominent being anti-tumor [
139
], anti-inflammatory [
140
] and antioxidative activities [
141
], besides its capability to prevent the formation of toxic amyloid aggregates. This compound and its aglycone form have been proved to exert anti-amyloidogenic effects on Aβ [
142
], α-syn [
143
], β2-m [
144
], TTR [
145
], IAPP [
146
], and tau protein [
147
]. Similar to other polyphenols, the described modes of action are somewhat different depending on the protein assayed, but also share the basic features. Most often, the aggregation is redirected towards non-toxic, off-pathways. Furthermore, oleuropein displays the remarkable capacity of hindering protein binding to the plasma membrane, a key event in inducing cytotoxicity, as shown in the case of α-syn, IAPP and TTR. Interestingly, the decreased toxicity of the aggregates generated by this latter protein is likely related to the poor interaction between the resulting TTR/oleuropein aglycone complexes and monosialotetrahexosylganglioside 1 (GM1) found in the lipid rafts domains of the plasma membrane [
145
]. Thus, although no data are available as regards oleuropein's functional groups involved in protein interaction, it is well established that its action on the amyloidogenic pathway results in significant cytoprotective effects.
2.6. Compounds Retarding Transthyretin Aggregation
In the context of the present review, a special mention deserves the class of rationally designed compounds capable of retarding TTR aggregation. This protein can cause familial forms of systemic amyloidosis in the presence of gene mutations, but also the wild type can form in the elderly amyloid deposits, mostly localized in the heart.
TTR is a homotetrameric plasma protein presenting a well defined binding site for a maximum of two tyroxines that bind the protein through a negatively cooperative manner resulting in two different affinity constants in the nanomolar and micromolar range.
In 1992, the pionieering work of Jeff Kelly [
148
] revealed that aggregation of TTR requires the disassembly of the tetramer into monomer and dimers and that the native tetramer is otherwise protected from the aggregation. The demonstration that tetramer disassembly, achievable in vitro under denaturing conditions, can be inhibited when the binding pockets are occupied by the natural ligand (thyroxine) or analogues have triggered an extraordinary pharmaceutical action in order to make drugable analogues of thyroxine suitable for stabilizing the TTR tetramer in vivo.
In particular, the screening of a library of substituted benzoxazoles led to the identification of tafamidis meglumine as an effective TTR stabilizer [
56
]. This compound is now tested in clinical trials and the early results suggest that even though a mild benefit from the treatment is achievable, there is space for improving the efficacy of this approach because a discrepancy still exists between the non physiologic in vitro model of aggregation used, so far, in drug discovery and the pathologic process occurring in vivo.
Bellotti's group has recently discovered that disassembly of TTR and fibrillogenesis can be achieved under physiologic conditions by mechano-enzymatic mechanism consisting of a proteolytic cleavage permitted by the perturbation of the folded state in the presence of physiologic biomechanical forces [
149
,
150
]. Fibrils formed through this procedure display chemical and structural properties extremely similar to those extracted from natural deposits and highlight the role of a truncated form of TTR [
149
] in priming the amyloidogenesis. TTR ligands, including tafamidis, can protect TTR from the mechanoenzymatic mechanism of amyloidogenesis; however, the efficacy highly depends on the capacity of ligands to occupy both binding sites and this task is difficult to achieve in vivo due to the negative cooperativity and the low affinity of most of ligands for the second site. A good candidate for a better inhibition of the mechanoenzymatic mechanism might be Tolcapone and analogues for their property of high affinity for both binding sites and a lack of negative cooperativity. Very promising drug candidates are bivalent compounds that not only simultaneously occupy the two binding sites, but also occupy the inner channel of TTR [
57
].
2.7. Nanoparticles
Besides small molecule compounds and protein therapeutics, in recent years an increasing number of studies have focused on nanoparticles as potential inhibitors of amyloid aggregation. Nanoparticles are intriguing because they are able to cross the blood brain barrier at low concentrations, and show a certain degree of specificity towards amyloid deposits depending on their composition. In particular, while gold nanoparticles have been proved to be effective anti-aggregation molecules for insulin [
151
] and Aβ [
152
,
153
], polytrehalose nanoparticles have been shown to inhibit the aggregation of poly-Q proteins [
154
], and silver and iron oxide nanoparticles are instead capable of interfering with the aggregation of amylin [
155
]. Thus, despite concerns about their toxicity in some cases, nanoparticles represent a growing field, which could lead to novel anti-amyloid therapeutic approaches.
3. Lipid-Modulated Amyloid Aggregation and Antiamyloid Drugs
As mentioned in the introduction, it is well known that the toxicity of amyloid oligomers is largely mediated by their capability of interacting with and perturbing biological membranes [
16
,
23
]. However, further data, mostly acquired in recent times, conversely show that such interactions may also affect in several ways the mode of aggregation, thus enhancing, at least in some cases, the appearance of toxic species. Obviously, the underlying mechanisms are diverse, depending on both the protein and the membrane component involved. The interaction of specific residues of a protein with hydrophobic or charged groups in the membrane may result in unfolding and generate aggregation-prone conformations [
156
]. In this respect, the lipid composition plays a key role in modulating the process [
157
]. In particular, the interaction with negatively charged groups, such as those of anionic phospholipids, may trigger protein misfolding [
158
]. Furthermore, monosialotetrahexosylganglioside 1 (GM1), an abundant ganglioside that is a major component of lipid rafts, is strongly involved in favouring protein aggregation and cytotoxicity, quite likely mediated by interactions with the negatively charged sialic acid residue [
159
,
160
]. As far as cholesterol is concerned, there are contrasting reports regarding its effects on amyloid aggregation, in that it can apparently either promote or inhibit the process. Indeed, a complex picture emerges from the available data [
161
,
162
,
163
].
Despite the diversity of mechanisms by which membrane components stimulate amyloid aggregation, antiamyloid agents may also prevent protein/membrane interactions besides displaying classical inhibitory mechanisms of amyloid aggregation as such, which is relevant to the present review. In addition to the case of squalamine (discussed in
Section 2.3
.), another proof supporting this possibility was provided by experiments, whereby the interaction of α-syn with plasma membrane models was investigated in the presence or the absence of EGCG. Actually, EGCG rescued the toxicity of oligomers by reducing the flexibility of the C-terminus, which in turn completely prevented membrane permeation or disruption. Nevertheless, the flavonoid did not change the secondary structure or the size of the isolated αSN oligomers, as substantiated by solid state NMR [
164
]. These observations suggest that, when developing new antiamyloid drugs, their capability of interfering with protein/membrane interactions should be also carefully assessed.
4. The Contribution of the Computational Approaches
5. Final Remarks and Perspectives
In the present review, we have discussed relevance and mechanism of action of several classes of compounds capable of contrasting amyloid aggregation. As far as low-molecular weight molecules are concerned, they can be classified into two subgroups: (i) natural compounds and (ii) synthetic molecules, the latter generally developed on the basis of drug design approaches.
As regards natural compounds, in the present review we have highlighted that they exert a wealth of beneficial effects (antioxidant, antiangiogenetic, anti-inflammatory, etc.); not only their antiamyloidogenic effect is well established, but plenty of evidence also supports the idea that this latter underlies much of the observed cytoprotective effects.
The mechanism of action of these compounds appears to be—to a certain extent—unspecific, as supported by both their capability of inhibiting the aggregation of several unrelated proteins, and by their binding affinities, in the order of micromolar. Outcomes of molecular modelling studies are in line with evidence provided by the in vitro experimentation, which indicates that rigid hydrophobic groups in active polyphenols, tetracyclines/anthracyclines and sterols play a major role in interfering with the amyloid aggregation. Also, these inhibitors generate stable patterns of hydrogen bonds with the target proteins, which are crucial in establishing a significant inhibition of the amyloidogenic pathway. In the framework of these achievements, it comes with little surprise that compounds belonging to the cited classes of inhibitors display largely superimposable effects, notwithstanding the significant structural differences they hold. In view of their cytoprotective action and their natural origin, many of the anti-amyloid compounds can be regarded as molecules to be used not only in therapy, but also in the context of amyloidosis prevention.
Instead, synthetic molecules are meant to be used exclusively in the case of overt amyloidoses. Design and development of such molecules can take advantage of knowledge stemming from both theoretical and experimental investigations on the mode of action of natural compounds. In particular, there is surely room for developing more effective compounds starting from the natural ones used as lead compounds. High-throughput screening studies of compounds libraries (also in the form of virtual libraries) have built on previous knowledge on inhibition mechanisms, thus disclosing new perspectives for the development of novel classes of inhibitors. Interestingly, high-throughput computational methods are expected to become increasingly useful not only in view of the development of low-molecular weight organic molecules as anti-amyloid agents, but also as a support in the efficient screening of peptide libraries for the selection of the most effective compounds against amyloid aggregation (i.e., for instance, peptide-based inhibitors derived from original amyloid sequences). Notably, this might have a significant impact also on the area of motif-grafted antibodies development, at least on the long run. Also noteworthy, in this respect, is that several 3D structures of drug/protein complexes are currently available, which quite likely will help design more and more effective molecules (some representative examples are shown in
Figure 3
).
In conclusion, although specificity represent at the moment a big challenge in the field of drug discovery against amyloidoses, we anticipate that the use multidisciplinary approaches that combine computational and high-throughput experimental methods on molecules of different nature could lead to anti-amyloid compounds of potential therapeutic interest and capable to inhibit in a specific manner the aggregation of amyloidogenic proteins.
Author Contributions
S.G. wrote and revised the paper; C.G. wrote and revised the paper; P.T. designed, wrote, revised the paper and performed the final editing; F.A.A. wrote, revised the paper and performed the final editing.
Funding
F.A.A. is supported by a Senior Research Fellowship award from the Alzheimer's Society, UK (Grant 317, AS-SF-16-003). S.G. is supported by grants from the Cariplo Foundation (2014-0700), the Italian Ministry of Health (Ricerca Finalizzata RF-2013-02355259), Italian Ministry of Education, University and Research (grant: "Dipartimenti di Eccellenza 2018–2022").
Conflicts of Interest
The authors declare no conflict of interest.
Abbreviations
| | |
| --- | --- |
| AA | serum amyloid A amyloidosis |
| Aβ | amyloid-beta |
| Aβ2-m | β2-microglobulin related amyloidosis |
| AD | Alzheimer's disease |
| AL | immunoglobulin light chain amyloidosis |
| APrP | Prp amyloidosis |
| α-syn | alpha-synuclein |
| ATX3 | ataxin-3 |
| ATTR | transthyretin amyloidosis |
| β2-m | β2-microglobulin |
| CH | corea of Hungtington |
| CR | Congo red |
| cryo-EM | cryo electron microscopy |
| DOX | doxycycline |
| DRA | dialysis-related amyloidosis |
| EGC | (−)-epigallocatechin |
| EGCG | (−)-Epigallocatechin-gallate |
| GA | gallic acid |
| GM1 | Monosialotetrahexosylganglioside 1 |
| HEWL | egg-white lysozyme |
| htt | huntingtin |
| IAPP | amylin |
| IDOX | 4′-iodo-4′-deoxy-doxorubicin |
| LC | immunoglobulin light chain |
| MD | molecular dynamics |
| PD | Parkinson's disease |
| polyQ | polyglutamine |
| PrP | prion protein |
| RES | resveratrol (3,5,4′-trihydroxy-trans-stilbene) |
| QSAR | quantitative structure-activity relationship |
| SAA | serum amyloid A |
| SSNMR | solid-state nuclear magnetic resonance |
| TTR | transthyretin |

Figure 1. Schematic representation showing the intermediates of a generic amyloid aggregation pathway (monomers, oligomers, protofibrils and fibrils). The scheme includes a membrane as well, which in some cases can play a role in the process, such as for α-syn. In the figure, the main classes of anti-aggregation molecules discussed in this review are connected to the aggregated species to which they have been reported to preferentially bind.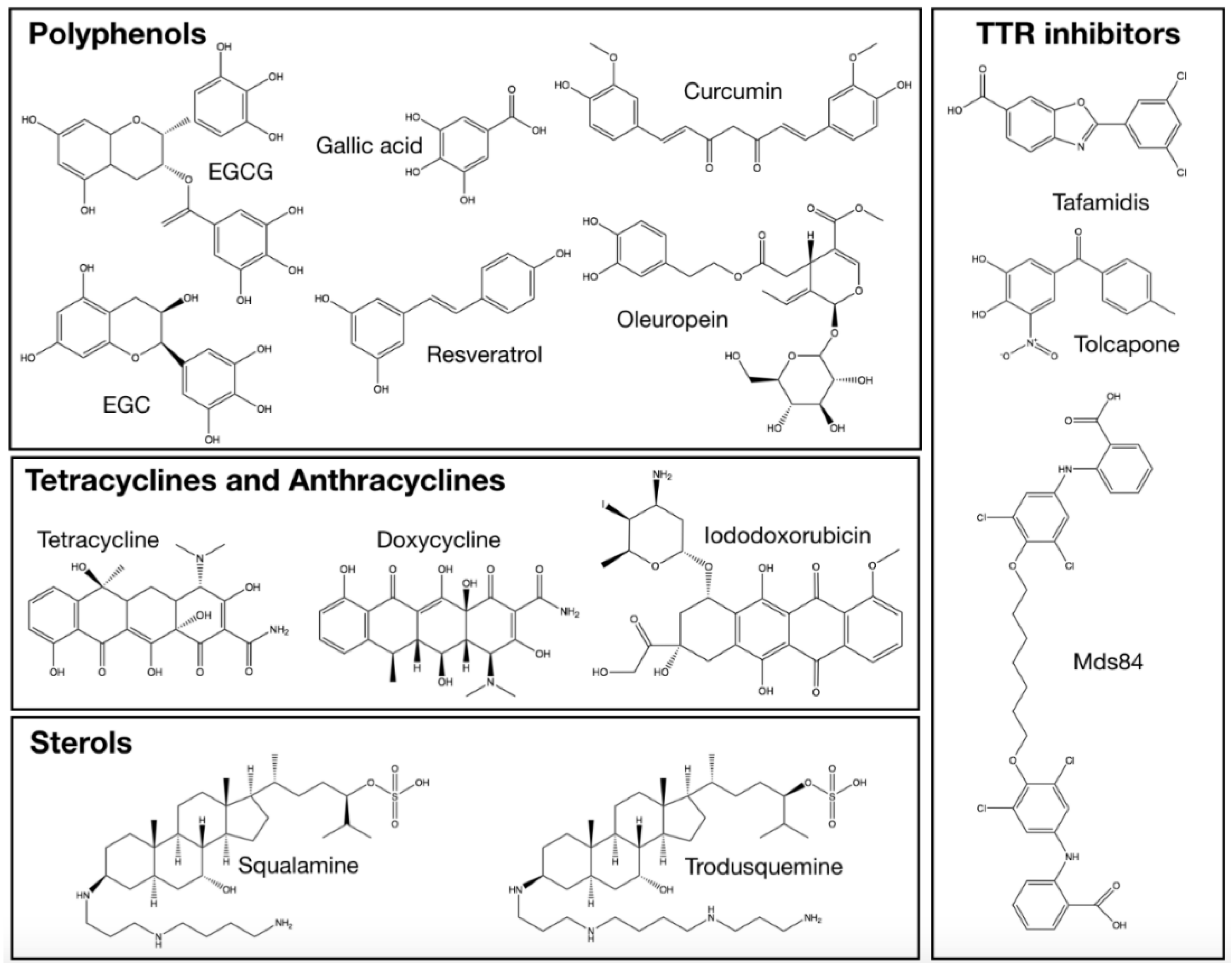 Figure 3. Three representative complexes of anti-amyloyd molecules with their respective targets: (A) TTR binding sites in the presence of tolcapone, with ligand shown as solvent accessible surface. For clarity, H2O oxygen atoms are shown as spheres with 50% of the van der Waals radius (PDB code 4D7B); (B) TTR binding sites in the presence of mds84, with ligand shown as solvent accessible surface as above (PDB code 3IPE); (C) crenezumab Fab in complex with Aβ, with backbones of the interactors coloured in red and green, respectively. Carbon atoms of selected side chains in the Fab are coloured in grey, whereas those belonging to Aβ are green (O, red; N, blue; S, yellow; PDB code: 5VZY). The pictorial representations in panels (A), (B) were taken from Ref. 134 and licensed under a Creative Commons Attribution 4.0. The image in panel (C) was created by means of PyMOL (v. 0.98), using the set of atomic coordinates available in the Protein Data Bank.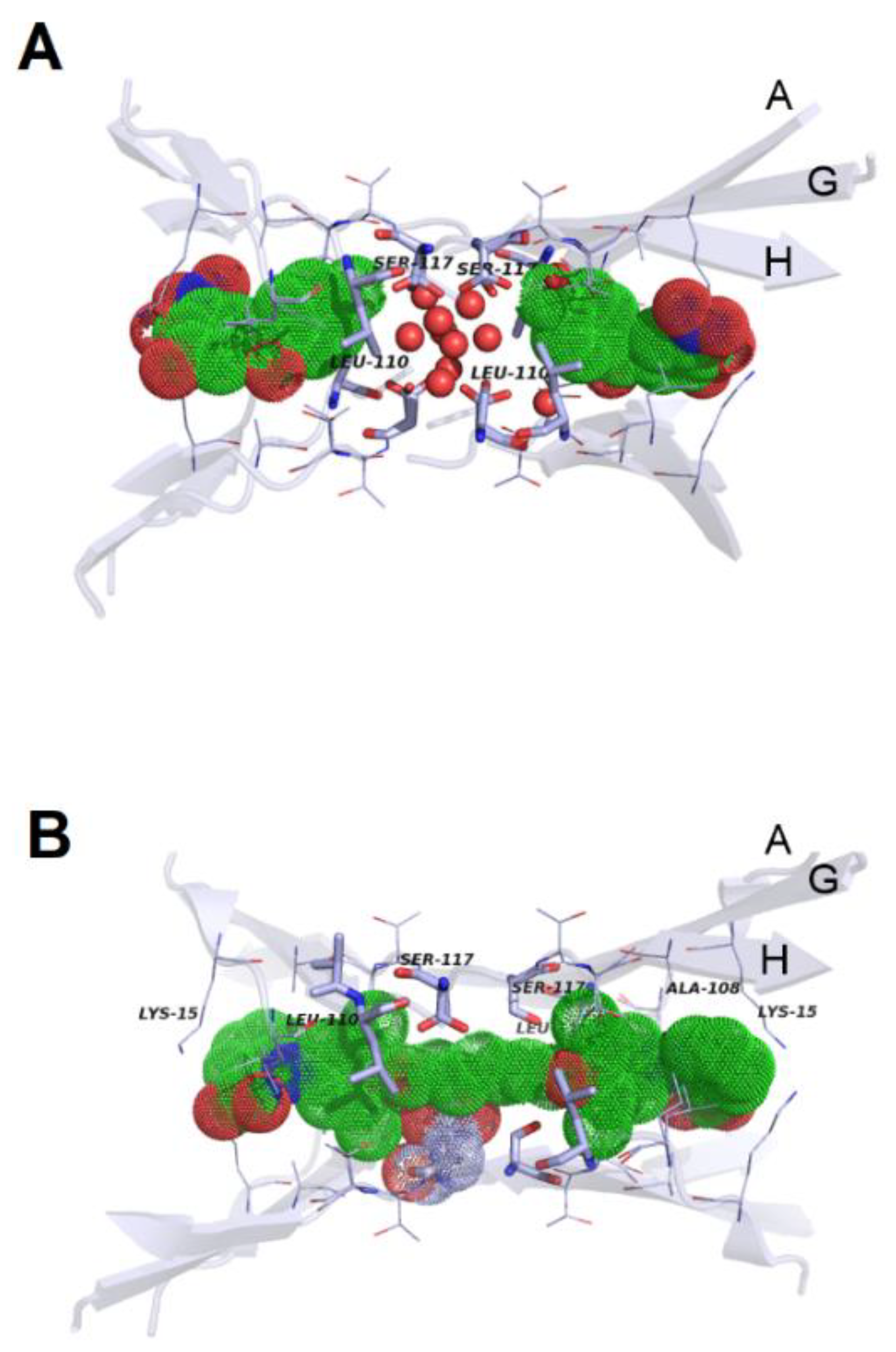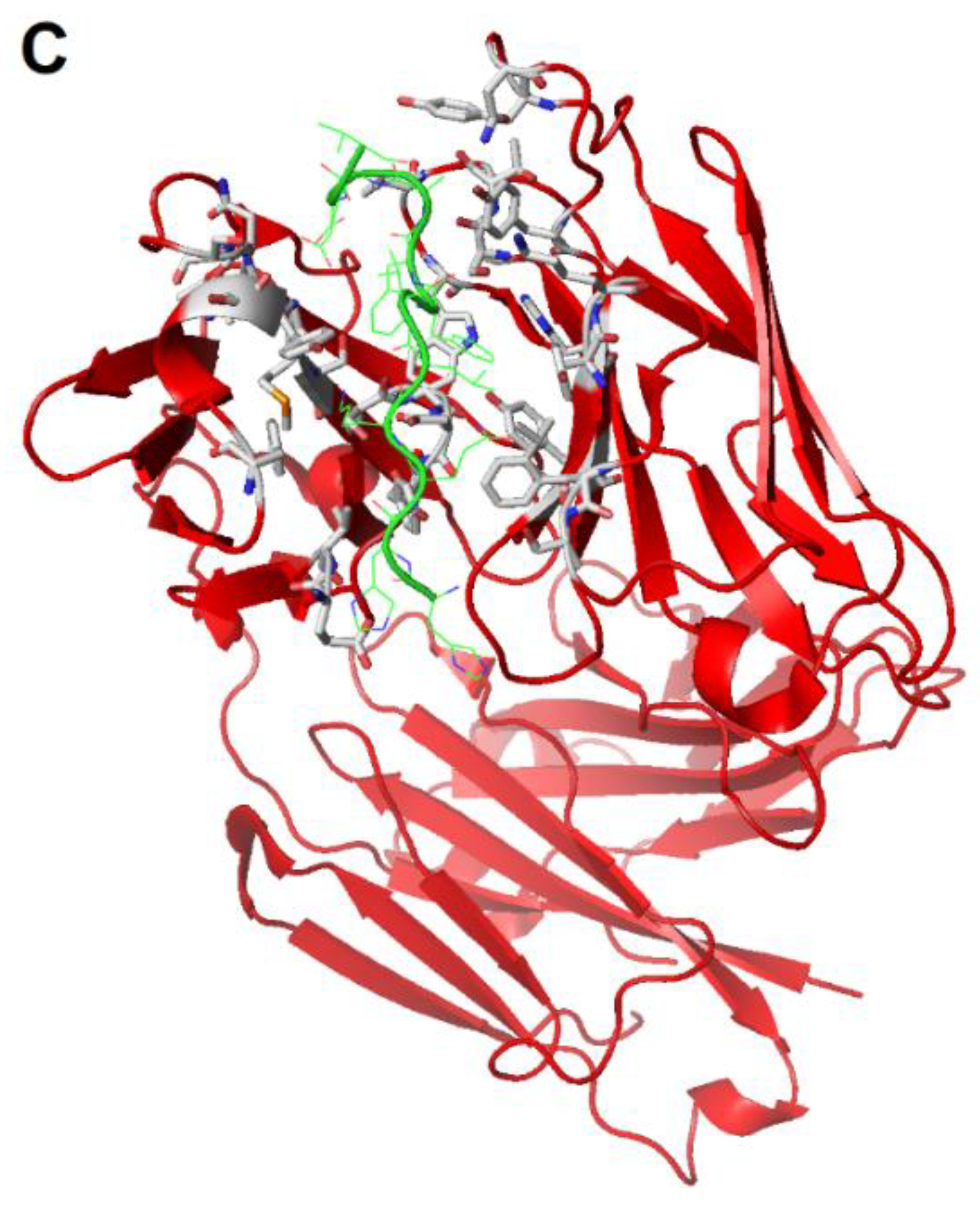 Molecule
Class
Target Protein
Disease
Key References
Squalamine *
Sterol
α-syn
PD
[35]
Trodusquemine
Sterol
α-syn
PD
[36]
Tetracycline
Tetracyclines
Prp/Aβ
APrP/AD
[37]
Doxycycline
Tetracyclines
Aβ/PrP/β2-m/TTR/LC
AD/Aβ2-m/ATTR/AL
[37,38,39,40,41,42,43,44,45]
4′Iodo-4′-doxorubicin
Anthracyclines
AL/SAA/TTR/Aβ/PrP
AD/AL/AA/ATTR/Aβ2-m
[46,47]
Acid fuchsin
Triarylmethane dye
IAPP
AD/diabetes
[48]
Fast Green FCF
Triarylmethane dye
IAPP
AD/diabetes
[49]
Crystal violet
Triarylmethine dye
tau
AD
[50]
N744
Cyanine dye
tau
AD
[51]
Congo red
Azo dye
Aβ/casein/PrP/α-syn
AD/systemic amyloidosis/prion disease/PD
[52,53]
Resveratrol
Polyphenol
Aβ/IAPP
AD/diabetes
[54]
Curcumin
Polyphenol
Aβ/tau/α-syn /htt/PrP
AD/PD/CH
[54]
EGCG
Polyphenol
Aβ/α-syn/htt/TTR/IAPP/PAP248–286/HEWL/k-casein and calcitonin/polyQ proteins
AD/PD/CH/HIV infectivity
[54]
Quercetin and myricetin
Polyphenol
Aβ/α-syn/insulin/IAPP
AD/PD/diabetes
[54]
Olive oil phenols
Polyphenol
Aβ/IAPP
AD/diabetes
[54]
Oleuropein
Polyphenol
Baicalein (quinone) **
Polyphenol
tau
AD
[55]
Tafamidis (Vyndaqel)
Benzoxazole
TTR
ATTR
[56]
Tolcapone
Benzophenone
TTR
ATTR
[57]
Mds84
Palindromic ligand
TTR
ATTR
[57]
Oleocanthal **
Aldehyde
tau
AD
[55]
Cinnamaldehyde **
Aldehyde
tau
AD
[55]
Asperbenzaldehyde **
Aldehyde
tau
AD
[55]
β-Breakers
Peptide
Aβ
AD
[58]
β-Breakers
Peptide
IAPP
AD/diabetes
[59]
β-Breakers
Peptide
IAPP
AD/diabetes
[60]
β-Breakers
Peptide
Aβ/IAPP
AD/diabetes
[61]
(Bi)Cyclic peptides
Peptide
Aβ
AD
[62]
Nanobodies
Single domain antibodies
α-syn/Aβ/lysozyme/β2-m
AD/PD/systemic
[63,64,65,66]
Rationally designed antibodies
Single domain antibodies
Aβ/α-syn/IAPP
AD/PD/diabetes
[67,68,69]
Aducanumab
Monoclonal antibody
Aβ
AD
[70]
mAb158 ***
(BAN2401)
Monoclonal antibody
Aβ
AD
[71]
Crenezumab
Monoclonal antibody
Aβ
AD
[72]
Gantenerumab
Monoclonal antibody
Aβ
AD
[73]
Solanezumab ****
Monoclonal antibody
Aβ
AD
[74]
Tanshinones
Diterpene
Aβ
AD
[75]
Dopamine and

l

-dopa
Neurotransmitter
Aβ/α-syn/IAPP
AD/PD/diabetes
[76,77]
Methylene Blue
Thiazine dye
tau/PrP/ Aβ
AD
[55,78,79]
Notes: * α-Syn aggregation is induced by its interaction with biological membranes. Squalamine inhibits the aggregation of α-syn by displacing it from the membranes, ** Covalent inhibitors, *** Murine version of BAN2401, **** not taken further. Information regarding the progress of clinical/preclinical trials of the compounds presented in the table is available at the following link: https://clinicaltrials.gov. Abbreviation: α-syn (α-synuclein); PrP (prion protein); Aβ (amyloid beta); APrP (Prp amyloidosis); β2-m (β2-microglobulin); Aβ2-m (β2-microglobulin amyloidosis); TTR (transthyretin); LC (Immunoglobulin light chain); ATTR (transthyretin amyloidosis); AL (immunoglobulin light chain amyloidosis); SAA (serum amyloid A); AA (serum amyloid A amyloidosis); IAPP (amylin); htt (huntingtin); CH (corea of Hungtington); HEWL (egg-white lysozyme); polyQ (polyglutamine); PAP248–286 (prostatic acidic phosphatase fragment); PD (Parkinson's disease); AD (Alzheimer's disease).

© 2018 by the authors. Licensee MDPI, Basel, Switzerland. This article is an open access article distributed under the terms and conditions of the Creative Commons Attribution (CC BY) license (http://creativecommons.org/licenses/by/4.0/).