Targeting Amyloid Aggregation: An Overview of Strategies and Mechanisms
1
Department of Molecular Medicine, Institute of Biochemistry, University of Pavia, Via Taramelli 3b, 27100 Pavia, Italy
2
Department of Earth and Environmental Sciences, University of Milano-Bicocca, Piazza della Scienza 1, 20126 Milano, Italy
3
Department of Biotechnologies and Biosciences, University of Milano-Bicocca, Piazza della Scienza 2, 20126 Milano, Italy
4
Milan Center for Neuroscience (Neuro-MI), 20126 Milano, Italy
5
Centre for Misfolding Diseases, Department of Chemistry, University of Cambridge, Cambridge CB2 1EW, UK
*
Authors to whom correspondence should be addressed.
Received: 7 August 2018 / Revised: 2 September 2018 / Accepted: 5 September 2018 / Published: 9 September 2018
Abstract
Amyloids result from the aggregation of a set of diverse proteins, due to either specific mutations or promoting intra- or extra-cellular conditions. Structurally, they are rich in intermolecular β-sheets and are the causative agents of several diseases, both neurodegenerative and systemic. It is believed that the most toxic species are small aggregates, referred to as oligomers, rather than the final fibrillar assemblies. Their mechanisms of toxicity are mostly mediated by aberrant interactions with the cell membranes, with resulting derangement of membrane-related functions. Much effort is being exerted in the search for natural antiamyloid agents, and/or in the development of synthetic molecules. Actually, it is well documented that the prevention of amyloid aggregation results in several cytoprotective effects. Here, we portray the state of the art in the field. Several natural compounds are effective antiamyloid agents, notably tetracyclines and polyphenols. They are generally non-specific, as documented by their partially overlapping mechanisms and the capability to interfere with the aggregation of several unrelated proteins. Among rationally designed molecules, we mention the prominent examples of β-breakers peptides, whole antibodies and fragments thereof, and the special case of drugs with contrasting transthyretin aggregation. In this framework, we stress the pivotal role of the computational approaches. When combined with biophysical methods, in several cases they have helped clarify in detail the protein/drug modes of interaction, which makes it plausible that more effective drugs will be developed in the future.
View Full-Text
►

▼

Figures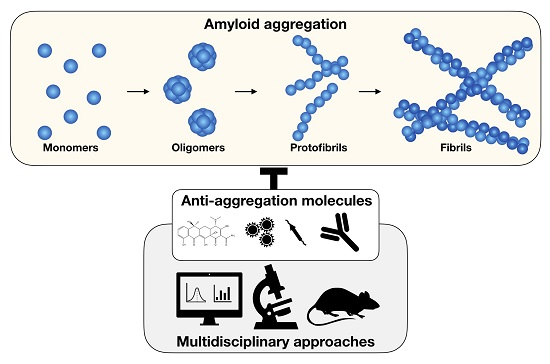 Graphical abstract
This is an open access article distributed under the
Creative Commons Attribution License
which permits unrestricted use, distribution, and reproduction in any medium, provided the original work is properly cited (CC BY 4.0).

Share & Cite This Article
MDPI and ACS Style
Giorgetti, S.; Greco, C.; Tortora, P.; Aprile, F.A. Targeting Amyloid Aggregation: An Overview of Strategies and Mechanisms. Int. J. Mol. Sci. 2018, 19, 2677.
Note that from the first issue of 2016, MDPI journals use article numbers instead of page numbers. See further details here.
Related Articles
Comments
[Return to top]