Open Access This article is
freely available
re-usable
Review
The Role of IL-33/ST2 Pathway in Tumorigenesis
1
Department of Biological Sciences, University of South Carolina, Columbia, SC 29208, USA
2
Department of Biological Sciences and Center for Colon Cancer Research, University of South Carolina, Columbia, SC 29208, USA
†
Present address: Department of Pathology, Brown University, Providence, RI 02912, USA.

‡
Present address: Department of Biotechnology, Savitribai Phule Pune University, Pune 411007, Maharashtra, India.

Received: 26 April 2018 / Accepted: 6 September 2018 / Published: 9 September 2018
Abstract
:
Cancer is initiated by mutations in critical regulatory genes; however, its progression to malignancy is aided by non-neoplastic cells and molecules that create a permissive environment known as the tumor stroma or microenvironment (TME). Interleukin 33 (IL-33) is a dual function cytokine that also acts as a nuclear factor. IL-33 typically resides in the nucleus of the cells where it is expressed. However, upon tissue damage, necrosis, or injury, it is quickly released into extracellular space where it binds to its cognate receptor suppression of tumorigenicity 2 (ST2)L found on the membrane of target cells to potently activate a T Helper 2 (Th2) immune response, thus, it is classified as an alarmin. While its role in immunity and immune-related disorders has been extensively studied, its role in tumorigenesis is only beginning to be elucidated and has revealed opposing roles in tumor development. The IL-33/ST2 axis is emerging as a potent modulator of the TME. By recruiting a cohort of immune cells, it can remodel the TME to promote malignancy or impose tumor regression. Here, we review its multiple functions in various cancers to better understand its potential as a therapeutic target to block tumor progression or as adjuvant therapy to enhance the efficacy of anticancer immunotherapies.
Keywords:
Interleukin 33; IL-33/ST2 signaling; tumor microenvironment; inflammation; cancer
Author Contributions
All authors contributed equally to the writing of this review.
Funding
This research was funded by National Institutes of Health(NIH)/National Cancer Institute (NCI) grant number R01CA154731-01A1 to M.M.O.P and NIH/National Institute of General Medical Sciences (NIGMS) P30GM103336 to the Center for Colon Cancer Research.
Conflicts of Interest
The authors declare no conflict of interest.
Abbreviations
| | |
| --- | --- |
| IL-33 | Interleukin 33 |
| ST2 | Suppressor of tumorigenesis |
| NF-κB | Nuclear factor κB |
| NK | Natural killer cells |
| MDSC | Myeloid derived suppressor cells |
| TME | Tumor microenvironment |
| HDAC | Histone deacetylase |
| IL1-RacP | IL1-like receptor accessory protein |
| MVD | Microvessel density |
| VEGF | Vascular endothelial growth factor |
| CRC | Colorectal cancer |
| NSCLC | Non-small cell lung carcinoma |
| ELISA | Enzyme linked immunosorbent assay |
| MPN | Myeloproliferative neoplasms |
| CAF | Cancer associated fibroblasts |
Figure 1. Mechanisms of modulating IL-33 localization and cytokine function. Upon synthesis, full length (FL)-IL-33 is targeted to the nucleus by a nuclear localization signal where it binds to chromatin to repress expression of inflammatory genes. Activation. In response to mechanical stress, tissue injury or damage, or necrosis, IL-33 is released into extracellular space by a poorly understood mechanism. Under inflammatory conditions, FL-IL-33 is active, but its activity is amplified upon cleaved by proteases secreted by neutrophils (cathepsin G or elastase) or mast cells (chymase or tryptase) to generate truncated forms that are 10–30-fold more bioactive. FL-IL-33 and its derivatives then bind to the ST2L receptor expressed on the cell surface of target cell. Inactivation. Under homeostatic conditions, sequestration of IL-33 in the nucleus prevents the unleashing of its cytokine function. During apoptosis, IL-33 is inactivated by the apoptotic proteases (caspase 3 and 7) to prevent its activation of the immune response upon apoptotic release. Extracellular IL-33 can be scavenged by the soluble decoy receptor sST2 or oxidized at cysteine residues to form disulfide bonds to block its interaction with ST2L receptor. Green arrows indicate activation while red arrow indicates inactivation of IL-33 or IL-33/ST2 signaling.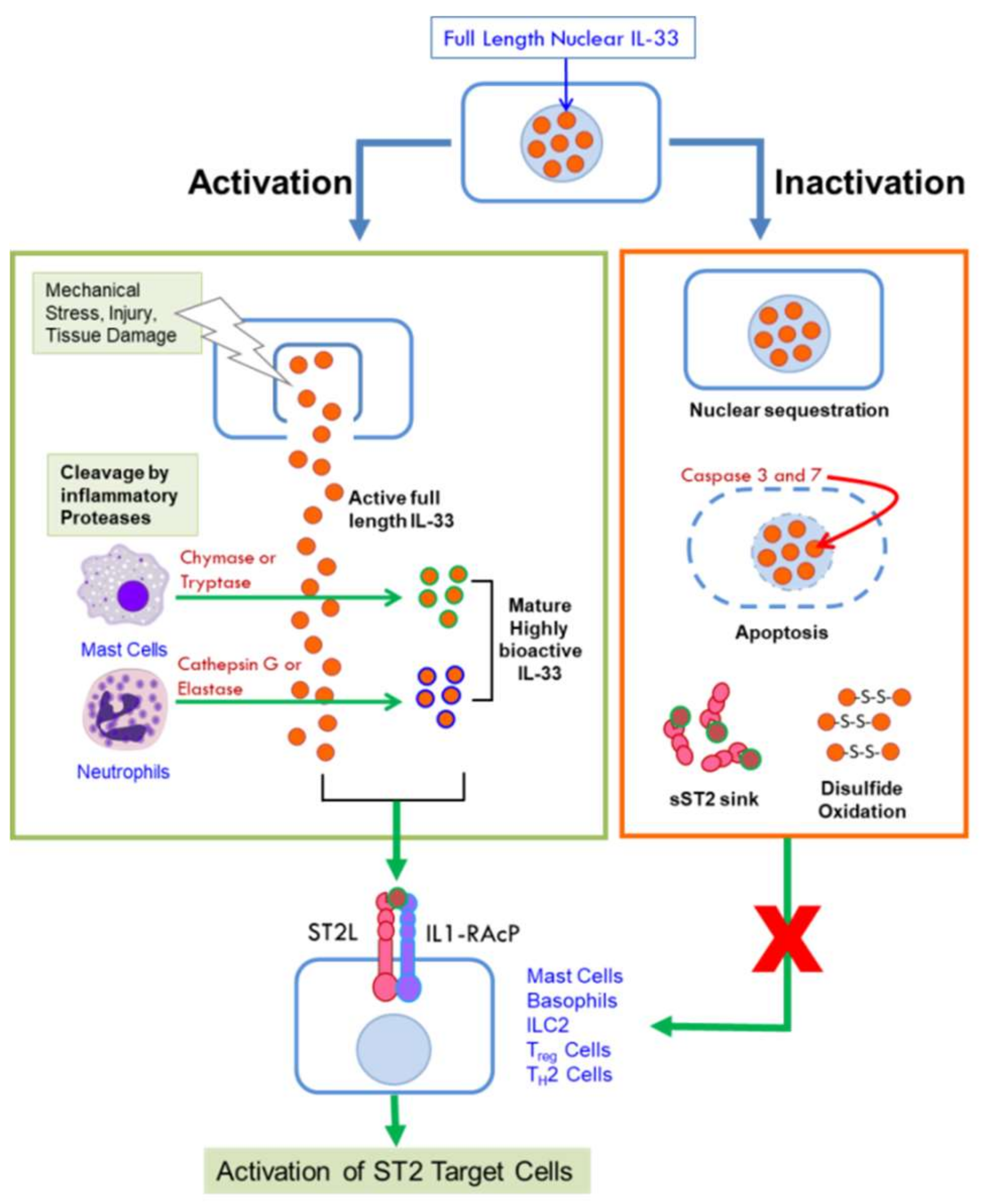 Figure 2. Activation and Attenuation of IL-33/ST2 Signaling. (A) IL-33/ST2 Signaling. IL-33 binds to ST2L causing a conformational change that leads to recruitment of IL1-RAcP. Heterodimerization of the transmembrane proteins results in interaction between their intracellular C-terminal domains that facilitates recruitment of adaptor molecules including MyD88, IRAK1, IRAK4, and TRAF6. Subsequent activation of transcription factors NF-κB, JNK, ERK, and p38 leads to expression of genes encoding cytokines, chemokines, and growth factors. (B) Attenuation of IL33-ST2 signaling. SIGIRR can disrupt the ST2L/IL1RAcP heterodimer. Phosphorylated ST2L is quickly internalized, polyubiquitinylated by the E3 ligase FBXL19 and targeted for degradation by the proteasome. Extracellular IL-33 can be sequestered by sST2 acting as a molecular decoy and can be quickly oxidized via its cysteine residues. Both processes prevent its interaction with the membrane bound ST2L receptor. Blue arrows indicate interaction between molecules, black arrows indicate gene regulation or transcriptional activation; red lines with bars indicate disruption of molecular interactions.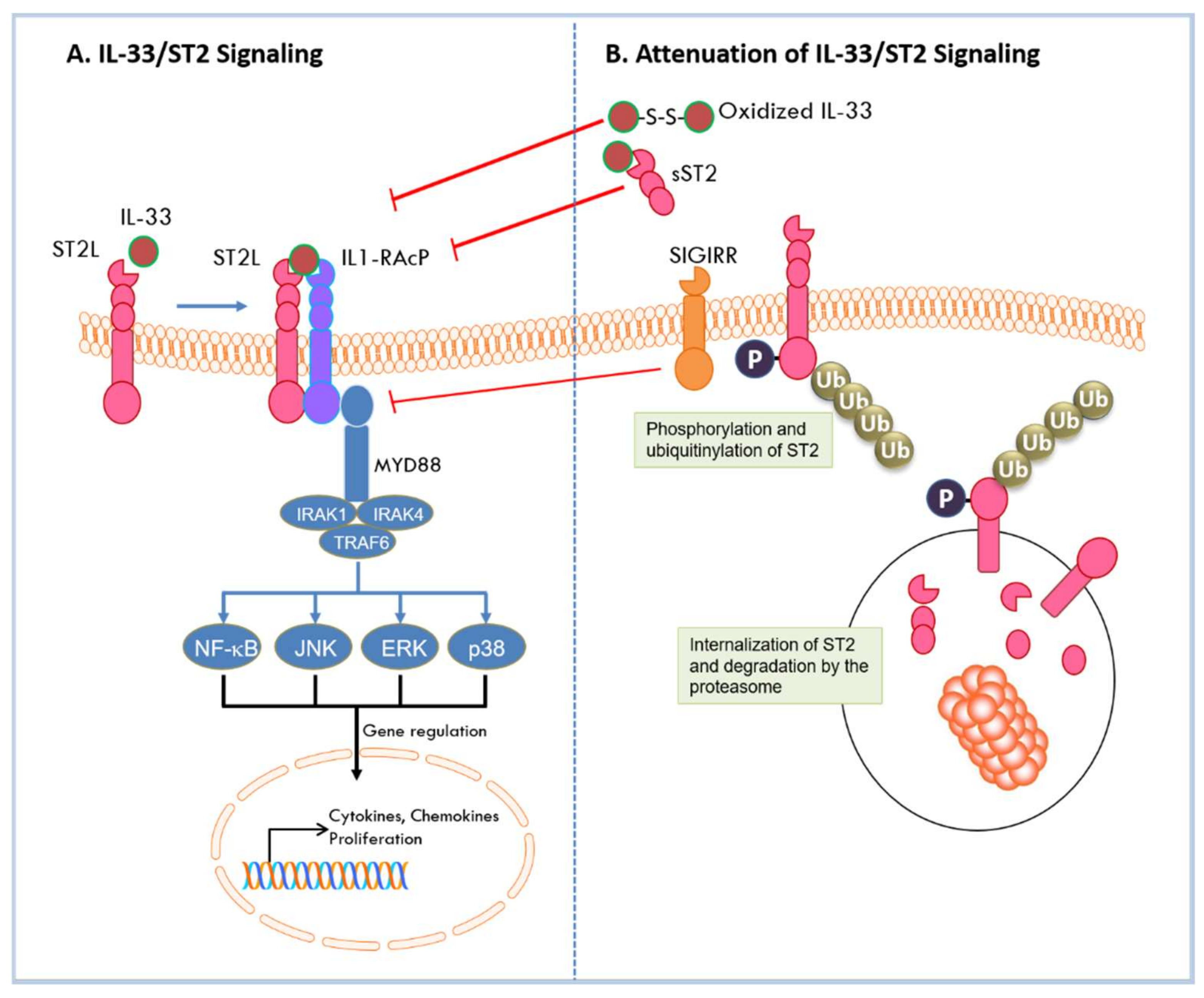 Figure 3.
Loss of IL33/ST2 signaling alters the tumor microenvironment. Analysis of tumors derived from murine MC38 colon cancer cells by fluorescent confocal microscopy showed that tumors are highly infiltrated with CD11b
+
Gr1
+
myeloid derived suppressor cells (MDSCs) in wild type (WT) C57Bl/6 mice (top panel, WT). Loss of host ST2 receptor in
ST2
knockout mice resulted in significant reduction of MDSCs in the TME and inhibition of tumor growth (lower panel, ST2
−/−
). Macrophages, mast cells, and T
regs
were similarly reduced in
ST2−/−
mice indicating that loss of IL33/ST2 signaling alters the composition of the TME (Larsen and Peña, unpublished data; images were taken at 40× magnification on a Zeiss LSM510 META confocal scanning laser microscope, **** indicates a
p
value of < 0.0001).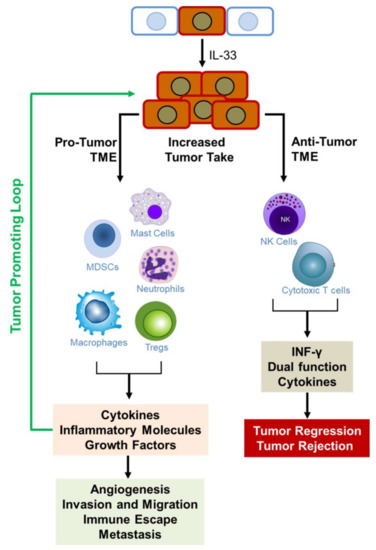 Figure 4. The opposing roles of IL-33/ST2 in cancer. IL-33 promotes increased tumor take of transplanted tumors. Pro-Tumor TME: IL-33 directs the recruitment of pro-inflammatory cells into the tumor microenvironment where they secrete molecules that promote angiogenesis, invasion and metastasis. The secreted molecules can act in paracrine and autocrine mechanisms to create a sustained loop that support continued tumor growth and advancement to malignancy. Anti-Tumor TME: IL-33 directs the recruitment of NK cells and cytotoxic T cells into the TME where they secrete molecules that lead to tumor regression and rejection. Black arrows indicate effect of IL-33 expression on immune cell recruitment, production of cytokines and pro- or anti-inflammatory molecules, and their effect on tumor behavior and phenotype in conditions that promote or block tumor growth. Green arrow indicates a tumor promoting loop mediated by cytokines secreted by immune cells that further activate IL-33 in cancer cells to sustain tumor growth.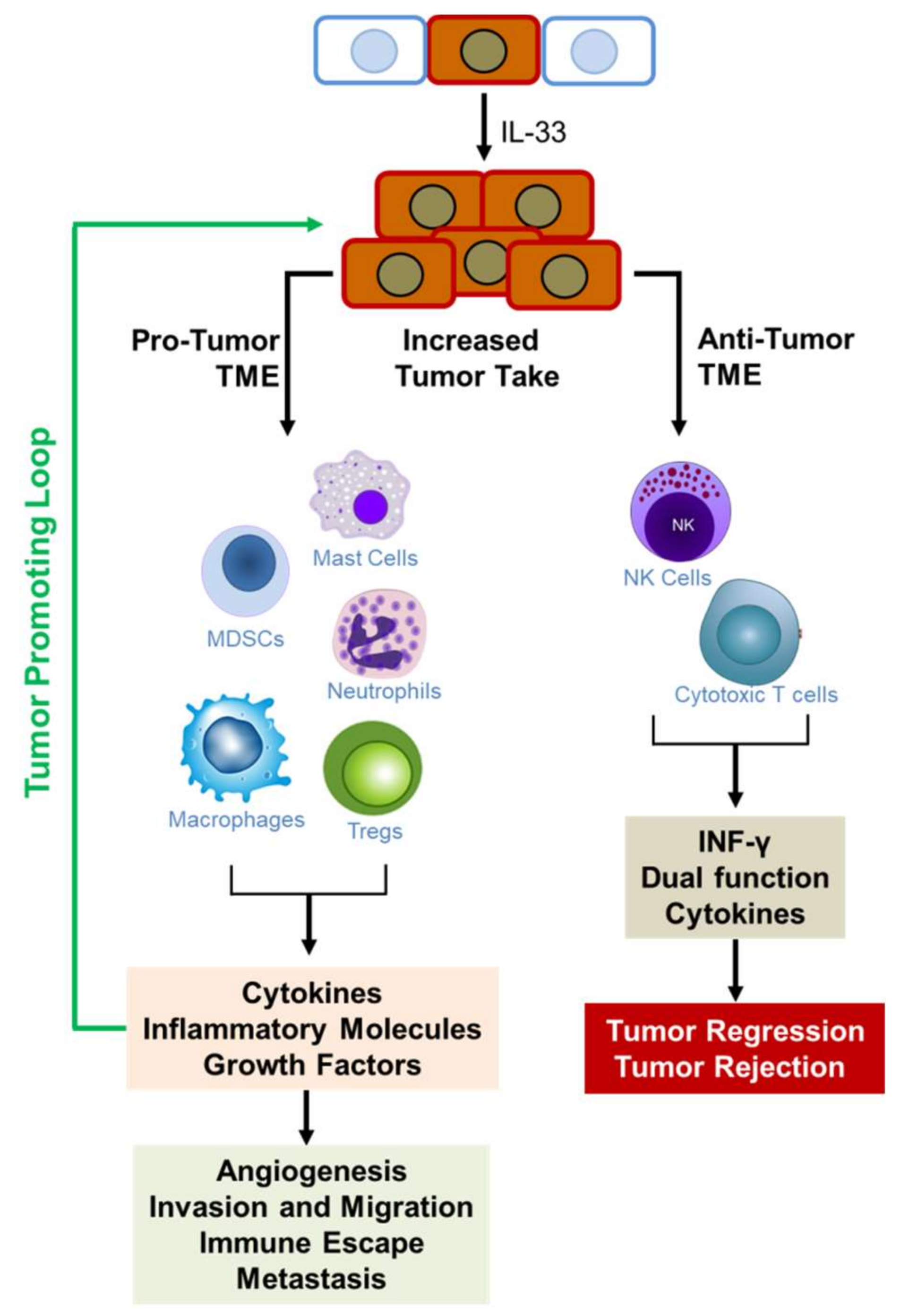 Type of Cancer
Pro- or Anti-Tumorigenic Effect on Tumor
Model Used
References
Breast
Pro-tumorigenic
Mouse models
[51,52,54,55,56,57]
Patient tissues
[56,57,58,59,60,61]
Colon
Pro-tumorigenic
Mouse model
[66,67,68,72,73,74]
Patient tissue and cell lines
[64,65,72,74]
Anti-tumorigenic
Mouse model and cell lines
[47,75]
Gastric
Pro-tumorigenic
Mouse model
[78,79]
Hepatocellular
Pro-tumorigenic
Patient sera or plasma, resected patient tissues
[80,81,82,83]
Hepatobiliary
Pro-tumorigenic
Mouse model of CCA Patient tissues
[84]
Pancreatic
Pro-tumorigenic
Cell lines, tissues
[87,88]
Lung
Pro-tumorigenic
Patient samples and cell lines
[90,91,92,93,94]
Anti-tumorigenic
Patient studies
[95,96,97]
Mouse models
[76,98,99]
Prostate & kidney
Pro-tumorigenic
Mouse Model
[100]
Anti-tumorigenic
Patient tissue
[99]
Ovarian
Pro-tumorigenic
Patient tissues and human ovarian cell lines
[101]
Uterine
Pro-tumorigenic
Patient sera
[102,103]
Endometrial
Pro-tumorigenic
Patient sera and tissues
[104]
Cervical
Pro-tumorigenic
Patient tissue and in vitro studies
[105]
Head and Neck
Pro-tumorigenic
Organotypic culture and patient tissues
[106]
Brain
Pro-tumorigenic
Patient tissue
[107]
Rat model of glioma
[108]
Mouth
Pro-tumorigenic
Human tissues
[109,111]
Mouse model of salivary gland tumor
[110]
Anti-tumorigenic
Patient tissue immunohistochemistry
[112]
Skin
Pro-tumorigenic
Mouse and human cell lines
[113]
Anti-tumorigenic
Mouse models and cell lines
[114]
Squamous cell carcinoma
Pro-tumorigenic
Mouse cell lines and model
Cell lines and patient tissues
[117,118]
Blood cancers
Pro-tumorigenic
Mouse model and patient biopsies
[119,120]
Cell lines
[121]
Patient plasma and tissues
[122,123,124]
Lymphoma
Pro-tumorigenic
Mouse model and patient tissue
[125,130]
Bone cancer pain
Pro-tumorigenic
Mouse model
[131]

© 2018 by the authors. Licensee MDPI, Basel, Switzerland. This article is an open access article distributed under the terms and conditions of the Creative Commons Attribution (CC BY) license (http://creativecommons.org/licenses/by/4.0/).