The First Dose of Fingolimod Affects Circulating Extracellular Vesicles in Multiple Sclerosis Patients
1
Multiple Sclerosis Unit, Biodonostia Health Research Institute-Donostia University Hospital, 20014 San Sebastian, Spain
2
Spanish Network on Multiple Sclerosis, 08028 Barcelona, Spain
3
Oncology Area, Biodonostia Health Research Institute-Donostia University Hospital, 20014 San Sebastian, Spain
4
Department of Neurology, Donostia University Hospital, 20014 San Sebastian, Spain
5
Laboratory of Immunology, Donostia University Hospital, 20014 San Sebastian, Spain
6
IKERBASQUE, Basque Foundation for Science, 48015 Bilbao, Spain
7
Exosomes Lab., CIC bioGUNE, CIBERehd, 48980 Derio, Spain
*
Author to whom correspondence should be addressed.
Received: 20 July 2018 / Revised: 13 August 2018 / Accepted: 14 August 2018 / Published: 19 August 2018
Abstract
Extracellular vesicles (EVs) are membrane-bound particles involved in intercellular communication. They carry proteins, lipids, and nucleotides such as microRNAs (miRNAs) from the secreting cell that can modulate target cells. We and others have previously described the presence of EVs in peripheral blood of multiple sclerosis (MS) patients and postulated them as novel biomarkers. However, their immune function in MS pathogenesis and the effect during the onset of new immunomodulatory therapies on EVs remain elusive. Here, we isolated plasma EVs from fingolimod-treated MS patients in order to assess whether EVs are affected by the first dose of the treatment. We quantified EVs, analyzed their miRNA cargo, and checked their immune regulatory function. Results showed an elevated EV concentration with a dramatic change in their miRNA cargo 5 h after the first dose of fingolimod. Besides, EVs obtained prior to fingolimod treatment showed an increased immune regulatory activity compared to EVs obtained 5 h post-treatment. This work suggests that EVs are implicated in the mechanism of action of immunomodulatory treatments from the initial hours and opens a new avenue to explore a potential use of EVs for early treatment monitoring.
View Full-Text
►

▼

Figures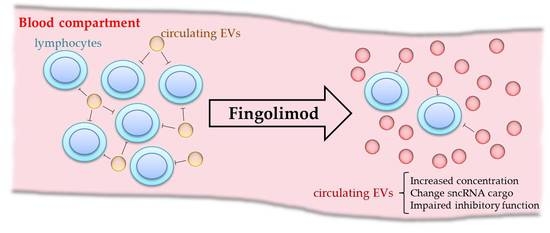 Graphical abstract
This is an open access article distributed under the
Creative Commons Attribution License
which permits unrestricted use, distribution, and reproduction in any medium, provided the original work is properly cited (CC BY 4.0).

Share & Cite This Article
MDPI and ACS Style
Sáenz-Cuesta, M.; Alberro, A.; Muñoz-Culla, M.; Osorio-Querejeta, I.; Fernandez-Mercado, M.; Lopetegui, I.; Tainta, M.; Prada, Á.; Castillo-Triviño, T.; Falcón-Pérez, J.M.; Olascoaga, J.; Otaegui, D. The First Dose of Fingolimod Affects Circulating Extracellular Vesicles in Multiple Sclerosis Patients. Int. J. Mol. Sci. 2018, 19, 2448.
Note that from the first issue of 2016, MDPI journals use article numbers instead of page numbers. See further details here.
Related Articles
Comments
[Return to top]