A Novel Splice-Site Mutation in
VEGFC

Is Associated with Congenital Primary Lymphoedema of Gordon

1

Molecular and Clinical Sciences Institute, St George's University of London, London SW17 0RE, UK

2

Institute of Cardiovascular Organogenesis and Regeneration, Faculty of Medicine, WWU Münster, 48149 Münster, Germany

3

CiM Cluster of Excellence (EXC1003 CiM), University of Münster, 48149 Münster, Germany

4

Northern Ireland Regional Genetics Service, Belfast City Hospital, Belfast Health and Social Care Trust, Belfast BT9 7AB, UK

5

South West Thames Regional Genetics Unit, St George's University Hospitals, London SW17 0RE, UK

*

Author to whom correspondence should be addressed.

†

These authors contributed equally to this work.

Received: 5 July 2018 / Revised: 26 July 2018 / Accepted: 27 July 2018 / Published: 1 August 2018
Abstract
Lymphedema is characterized by chronic swelling of any body part caused by malfunctioning or obstruction in the lymphatic system. Primary lymphedema is often considered genetic in origin.
VEGFC
, which is a gene encoding the ligand for the vascular endothelial growth factor receptor 3 (VEGFR3/FLT4) and important for lymph vessel development during lymphangiogenesis, has been associated with a specific subtype of primary lymphedema. Through Sanger sequencing of a proband with bilateral congenital pedal edema resembling Milroy disease, we identified a novel mutation (NM_005429.2; c.361+5G>A) in
VEGFC
. The mutation induced skipping of exon 2 of
VEGFC
resulting in a frameshift and the introduction of a premature stop codon (p.Ala50ValfsTer18). The mutation leads to a loss of the entire VEGF-homology domain and the C-terminus. Expression of this Vegfc variant in the zebrafish floorplate showed that the splice-site variant significantly reduces the biological activity of the protein. Our findings confirm that the splice-site variant, c.361+5G>A, causes the primary lymphedema phenotype in the proband. We examine the mutations and clinical phenotypes of the previously reported cases to review the current knowledge in this area.
View Full-Text
►

▼

Figures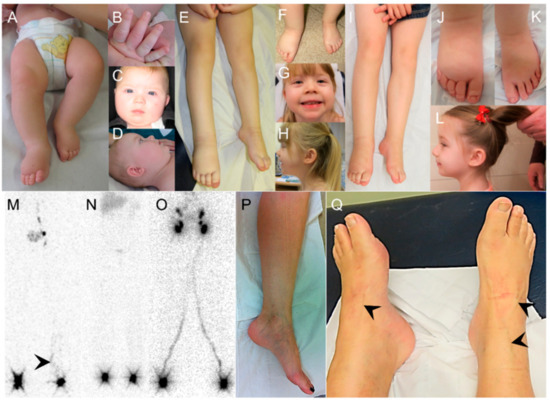 Figure 1
This is an open access article distributed under the
Creative Commons Attribution License
which permits unrestricted use, distribution, and reproduction in any medium, provided the original work is properly cited (CC BY 4.0).

Share & Cite This Article
MDPI and ACS Style
Nadarajah, N.; Schulte, D.; McConnell, V.; Martin-Almedina, S.; Karapouliou, C.; Mortimer, P.S.; Jeffery, S.; Schulte-Merker, S.; Gordon, K.; Mansour, S.; Ostergaard, P. A Novel Splice-Site Mutation in VEGFC Is Associated with Congenital Primary Lymphoedema of Gordon. Int. J. Mol. Sci. 2018, 19, 2259.
Note that from the first issue of 2016, MDPI journals use article numbers instead of page numbers. See further details here.
Related Articles
Comments
[Return to top]