PEI-Coated Fe3O4 Nanoparticles Enable Efficient Delivery of Therapeutic siRNA Targeting REST into Glioblastoma Cells
1
Department of Stem Cells and Regenerative Medicine, Key Laboratory of Cell Biology, Ministry of Public Health of China, and Key Laboratory of Medical Cell Biology, Ministry of Education of China, China Medical University, Shenyang 110122, China
2
School of Engineering, University of Warwick, Coventry CV4 7AL, UK
3
Qingdao Institute of Bioenergy and Bioprocess Technology, Chinese Academy of Sciences, Qingdao 266101, China
4
College of Basic Medical Science, China Medical University, Shenyang 110122, China
*
Author to whom correspondence should be addressed.
Received: 30 June 2018 / Revised: 21 July 2018 / Accepted: 30 July 2018 / Published: 31 July 2018
Abstract
Glioblastomas (GBM) are the most frequent brain tumors lacking efficient treatment. The increasingly elucidated gene targets make siRNA-based gene therapy a promising anticancer approach, while an efficient delivery system is urgently needed. Here, polyethyleneimine (PEI)-coated Fe
3
O
4
nanoparticles (NPs) have been developed and applied for siRNA delivery into GBM cells to silence repressor element 1-silencing transcription factor (REST). The prepared PEI-coated Fe
3
O
4
NPs were characterized as magnetic nanoparticles with a positive charge, by transmission electronic microscopy, dynamic light-scattering analysis and a magnetometer. By gel retardation assay, the nanoparticles were found to form complexes with siRNA and the interaction proportion of NP to siRNA was 2.8:1. The cellular uptake of NP/siRNA complexes was verified by prussian blue staining, fluorescence labeling and flow cytometry in U-87 and U-251 GBM cells. Furthermore, the REST silencing examined by realtime polymerase chain reaction (PCR) and Western blotting presented significant reduction of REST in transcription and translation levels. Upon the treatment of NP/siRNA targeting REST, the GBM cell viabilities were inhibited and the migration capacities were repressed remarkably, analyzed by cell counting kit-8 and transwell assay separately. In this study, we demonstrated the PEI-coated Fe
3
O
4
nanoparticle as a vehicle for therapeutic siRNA delivery, at an appropriate NP/siRNA weight ratio for REST silencing in GBM cells, inhibiting cell proliferation and migration efficiently. These might represent a novel potential treatment strategy for GBM.
View Full-Text
►

▼

Figures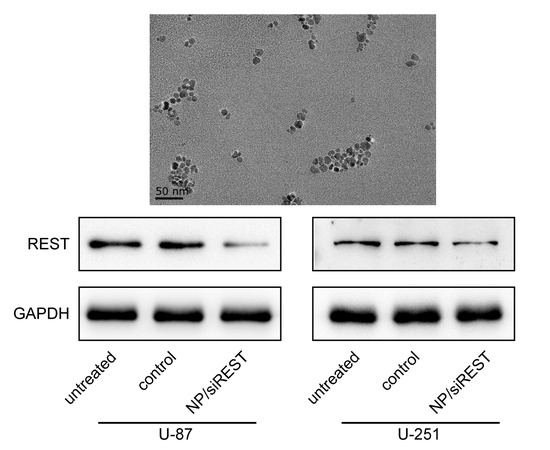 Graphical abstract
This is an open access article distributed under the
Creative Commons Attribution License
which permits unrestricted use, distribution, and reproduction in any medium, provided the original work is properly cited (CC BY 4.0).

Share & Cite This Article
MDPI and ACS Style
Wang, R.; Degirmenci, V.; Xin, H.; Li, Y.; Wang, L.; Chen, J.; Hu, X.; Zhang, D. PEI-Coated Fe3O4 Nanoparticles Enable Efficient Delivery of Therapeutic siRNA Targeting REST into Glioblastoma Cells. Int. J. Mol. Sci. 2018, 19, 2230.
Note that from the first issue of 2016, MDPI journals use article numbers instead of page numbers. See further details here.
Related Articles
Comments
[Return to top]