Comparison of the Anion Inhibition Profiles of the α-CA Isoforms (SpiCA1, SpiCA2 and SpiCA3) from the Scleractinian Coral
Stylophora pistillata
1
Istituto di Bioscienze e Biorisorse, CNR, Via Pietro Castellino 111, 80131 Napoli, Italy
2
Dipartimento Neurofarba, Università degli Studi di Firenze, Sezione di Scienze Farmaceutiche e Nutraceutiche, Via U. Schiff 6, Sesto Fiorentino, 50019 Florence, Italy
3
Department of Marine Biology, Centre Scientifique de Monaco, 8 Quai Antoine 1, 98000 Monaco, Monaco
4
Department of Chemistry, College of Science, King Saud University, P.O. Box 2455, Riyadh 11451, Saudi Arabia
5
Department of Chemistry, King Faisal University, Alahsa 31982, Saudi Arabia
*
Authors to whom correspondence should be addressed.
Received: 20 June 2018 / Revised: 16 July 2018 / Accepted: 17 July 2018 / Published: 21 July 2018
Abstract
Carbonic anhydrases (CAs, EC 4.2.1.1) are widespread metalloenzymes used by living organisms to accelerate the CO
2
hydration/dehydration reaction at rates dramatically high compared to the uncatalyzed reaction. These enzymes have different isoforms and homologues and can be found in the form of cytoplasmic, secreted or membrane-bound proteins. CAs play a role in numerous physiological processes including biomineralization and symbiosis, as is the case in reef-building corals. Previously, molecular and biochemical data have been obtained at the molecular level in the branching coral
Stylophora pistillata
for two coral isoforms which differ significantly in their catalytic activity and susceptibility to inhibition with anions and sulfonamides. More recently it has been determined that the genome of
S. pistillata
encodes for 16 CAs. Here, we cloned, expressed, purified and characterized a novel α-CA, named SpiCA3, which is cytoplasmic and ubiquitously expressed in all the cell layers including the calcifying cells. SpiCA3 is the most effective CA among the coral isoforms investigated and the most efficient catalyst known up to date in Metazoa. We also investigated the inhibition profiles of SpiCA3 and compared it with those obtained for the two other isoforms in the presence of inorganic anions and other small molecules known to interfere with metalloenzymes. These results suggest that
S. pistillata
has adapted its CA isoforms to achieve the physiological functions in different physicochemical microenvironments.
View Full-Text
►

▼

Figures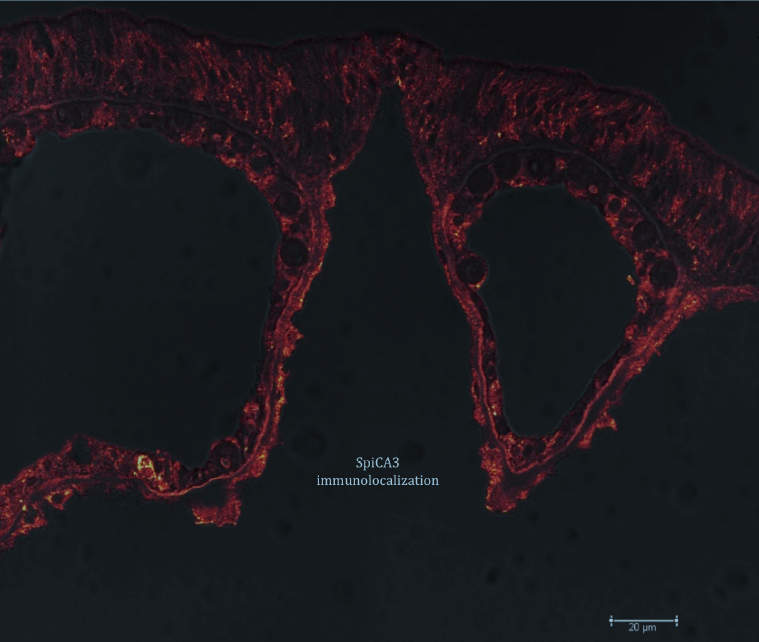 Graphical abstract
This is an open access article distributed under the
Creative Commons Attribution License
which permits unrestricted use, distribution, and reproduction in any medium, provided the original work is properly cited (CC BY 4.0).

Share & Cite This Article
MDPI and ACS Style
Del Prete, S.; Bua, S.; Zoccola, D.; Alasmary, F.A.; AlOthman, Z.; Alqahtani, L.S.; Techer, N.; Supuran, C.T.; Tambutté, S.; Capasso, C. Comparison of the Anion Inhibition Profiles of the α-CA Isoforms (SpiCA1, SpiCA2 and SpiCA3) from the Scleractinian Coral Stylophora pistillata. Int. J. Mol. Sci. 2018, 19, 2128.
Note that from the first issue of 2016, MDPI journals use article numbers instead of page numbers. See further details here.
Related Articles
Comments
[Return to top]