Unravelling HDL—Looking beyond the Cholesterol Surface to the Quality Within
Cardiometabolic Research Group, Diabetes Complications Research Centre, UCD Conway Institute, University College Dublin, Belfield, 4 Dublin, Ireland
*
Author to whom correspondence should be addressed.
Received: 1 June 2018 / Revised: 3 July 2018 / Accepted: 4 July 2018 / Published: 6 July 2018
Abstract
High-density lipoprotein (HDL) particles have experienced a turbulent decade of falling from grace with widespread demotion from the most-sought-after therapeutic target to reverse cardiovascular disease (CVD), to mere biomarker status. HDL is slowly emerging from these dark times due to the HDL flux hypothesis wherein measures of HDL cholesterol efflux capacity (CEC) are better predictors of reduced CVD risk than static HDL-cholesterol (HDL-C) levels. HDL particles are emulsions of metabolites, lipids, protein, and microRNA (miR) built on the backbone of Apolipoprotein A1 (ApoA1) that are growing in their complexity due to the higher sensitivity of the respective "omic" technologies. Our understanding of particle composition has increased dramatically within this era and has exposed how our understanding of these particles to date has been oversimplified. Elucidation of the HDL proteome coupled with the identification of specific miRs on HDL have highlighted the "hormonal" characteristics of HDL in that it carries and delivers messages systemically. HDL can dock to most peripheral cells via its receptors, including SR-B1, ABCA1, and ABCG1, which may be a critical step for facilitating HDL-to-cell communication. The composition of HDL particles is, in turn, altered in numerous disease states including diabetes, auto-immune disease, and CVD. The consequence of changes in composition, however, on subsequent biological activities of HDL is currently poorly understood and this is an important avenue for the field to explore in the future. Improving HDL particle quality as opposed to HDL quantity may, in turn, prove a more beneficial investment to reduce CVD risk.
View Full-Text
►

▼

Figures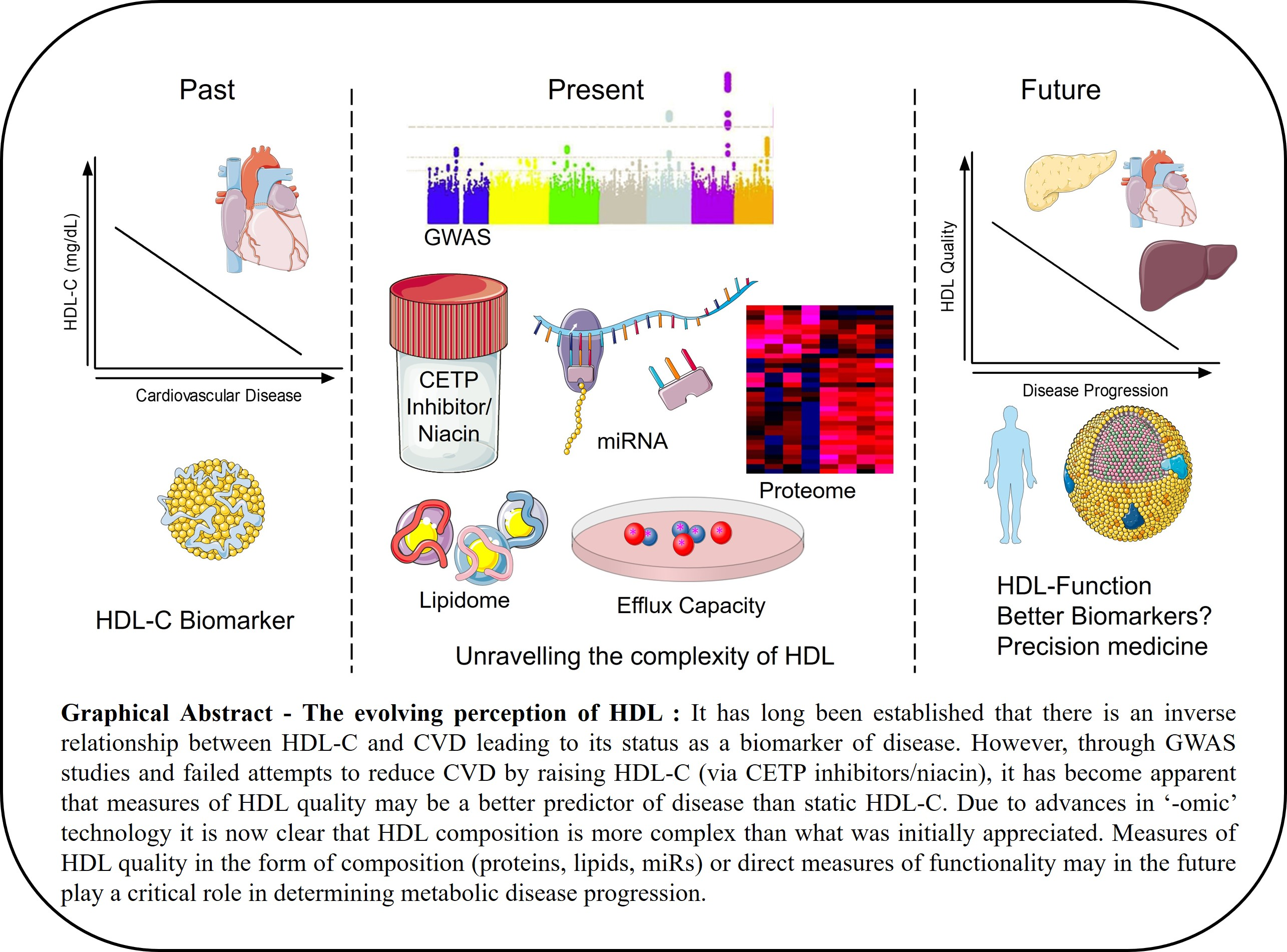 Graphical abstract
This is an open access article distributed under the
Creative Commons Attribution License
which permits unrestricted use, distribution, and reproduction in any medium, provided the original work is properly cited (CC BY 4.0).

Share & Cite This Article
MDPI and ACS Style
Kajani, S.; Curley, S.; McGillicuddy, F.C. Unravelling HDL—Looking beyond the Cholesterol Surface to the Quality Within. Int. J. Mol. Sci. 2018, 19, 1971.
Note that from the first issue of 2016, MDPI journals use article numbers instead of page numbers. See further details here.
Related Articles
Comments
[Return to top]